I don't know about you, but for me it is crucial to have at least one day every week completely free from any digital screens and other technology. It is therefore a real pleasure to have a dedicated place where I can get away from everything after about an hour and a half of driving from where I currently live in Stavanger, Norway.
As a passionate workaholic, it is always tempting to work more. However, at the end of the day it's the amount of value created and not the number of hours spent in front of the computer screen that matters. I am sure many of you have also been guilty in the past of failing to give the mind some needed rest. Especially as an entrepreneur who loves ideas and exploring new opportunities, it can be difficult sometimes to simply stop thinking. However, it doesn't take much life experience to notice how the quality of thought and productivity quickly goes down when the mind fails to be at peace, or worse, gets burned out. It has therefore been a big change in my life to not only realize the importance to periodically disconnect (I am sure we all know that we "should" do so), but to also be systematic and disciplined about it and have a full day completely away from any screens, as well as at least half an hour before heading to bed.
Before I would have quickly felt the need to do something to add value. Whether it was during my time working in the space sector where I felt that I could always learn more about the latest developments, or do something to advance my career, or now that I am working on my own blockchain business where there are always an infinite number of things to do. Being on Steem has perhaps made this even worse, where every minute spent doing something else has an opportunity cost since you're not posting content, curating or doing something else to earn tokens. However, after seeing just how much more productive I've been since making it a systematic habit to disconnect, simply reminding myself how time spent disconnected is also time invested in making the following work week more productive, it's been so much easier to let go of thoughts and to be more present to simply enjoy doing nothing!
So I'm curious to hear about your experiences? Do you have a dedicated space where you go to disconnect? Or a dedicated and time-locked period everyday, or every week, where you purposefully remove yourself from work and older distractions? If so, how do you do it and what changes have you experienced in your own life? I think this is one area where we can all learn from each other, since no matter who you are or what you do, this affect you and your well-being!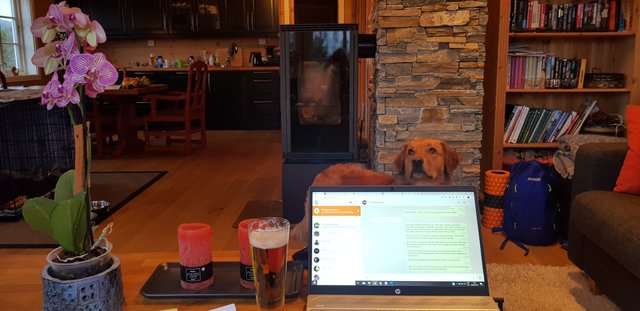 Oh, and the dog doesn't mind this place either ;)
I hope you have all had a great weekend and as always take care!
Fredrik / @fredrikaa