TODAY MARKS MY FIRST ANNIVERSARY ON #STEEM BLOCKCHAIN - I am a partaker of @Steemchurch Blessings
Today, I mark 365 days on the #steem blockchain. I was invited to join #steem earlier in February 2918 by @Uyobong, but couldn't find anything fascinating about the platform. After due and frequent persistence by him that the platform will afford me to learn many things and update my writing skills, among other numerous benefits, I sluggishly gave my consent and he did help me apply for a free account. The account - @EVEGRACE successfully got created on the 26th of March 2018 and I came onboard.
Just like I had conditioned my mind earlier, it wasn't easy to fit –in to what goes on Steemit.com which was the first app I was introduced to. I did quit after I tried to follow a few persons and got followed back by some. As advised by @Uyobong, I tried resteeming the posts of a few steemians and commenting on them, yet, could not grasp the fun on the platform. My earlier posts were were not well curated. It took much persuasion to start sharing on @STeemchurch and ever since, I do not regret doing so.
I won't stop singing...
I will extol you, O Lord, for you have drawn me up and have not let my foes rejoice over me.
O Lord my God, I cried to you for help, and you have healed me.
O Lord, you have brought up my soul from Sheol; you restored me to life from among those who go down to the pit. - Psalm 30: 1-3
Why Join @Steemchurch
Today am glad to share my stories to inspire others that God's not dead. Today am strong and comforted in the Lord who has been my source. Amazingly, he brought many people into my life to rekindle my joy and truly, members of @Steemchurch are among the list.
My Memories
@Steemchurch has been a huge blessing to me in the past few months of my committed sharing of thoughts via #steemchurch #sc-n #sc-v #sc-g and other related tags. Our friends @Sniffnscurry who just turned 365 days on #steem yesterday has been so wonderful in curating my blog and the proceeds has been one major aspect of my earnings and livelihood. God actually brought me here to enjoy the blessings and love which keeps me going. Today, I no more cry for want of financial sustenance, having lost my dad because 1 SBD in Nigeria can give a good meal. The daily curation by @Sniffnscurry, official curator of @steemchurch is always that source of blessing.
Losing a father at a tender age for me was very hard to bear, especially, as one who had enjoyed every bit of his life. To me, it was the end of my existence. Many thoughts as far as taking my life were options, yet, it pleased God to save me.
2012 was a terrific year for me. I never knew the Lord and things got worse at the demise of my father. His relatives took away his possessions and left my helpless mom, myself and siblings in a state of misery. Indeed, everyday was like a night to me and the anguish of ,my tears seems to know no end.
It was during these difficult days that a friend brought a message of salvation to me. It was difficult to accept as I tried to question the power of God whom I thought shouldn't have let my dad die. Little did I know that The morning Sun, the Bright and Morning Star, even the Light of life - Jesus Christ could bring bag life and smiles to me. That smiling picture on my avatar is deliberate.
First follows: @promotedpost @gangresteem @uyobong
First Commented post
My Introduction post
Gratitude is when you find reasons to be happy.
Gratitude is when you are happy and smile even in the midst of the storm.
Gratitude is a blessing
Gratitude is a lifestyle.
I was a girl who wanted everything and had everything I wanted. I had a caring parent, yet, felt isolated from the world. Was pampered by my loving dad until ONE DAY ...
The story changed and I struggled on my own to meet my needs.
I took up the responsibility of my dad and I LEARNT LIFE THE HARD WAY ...
I was deserted by my own relation and I felt the whole world was on me.
I felt hopeless because my loving father was not there but it never dawned on me that I had a Father who was greater, loving, caring and was willing to extend his loving hands for me to hold
I felt I could do it on my own only for me to fall into the hands of the devil, self, sin, demon and the world.
ONE THING the world can never and will never give you the best or the original, it will always give to you photocopy, a resemblance, look alike but not, camouflage. But the will of God can never be a duplicate.
Those memories may seem heartbreaking, but , each day, I grow when am aware of the Great Love of God towards me.
Hey! to you trying to give-up, wait yet a bit. Your sorrows and troubles are not the end of you. You will smile again. Jesus is the bright and morning Sun. He will lighten you day.
To @Steemchurch parishioners. Hold on and keep the hope concerning Telos Village, surely, I believe that many tears shall be wiped away.
Image source- Yours truly
---
Appreciation for this One year:
@Sirknight @Emiliocabrera @Uyobong @Darlenys01 @Liltom002 @Fatherfaith @Christian-trail @Surpassinggoogle @Stach @Ejemai @Steemchurch @Sc-n @Adedoyin-wealth @Sc-g @Sc-v @Yehey @Theycallmedan
---
I hope to see you all in @Steemchurch Prosperity Village!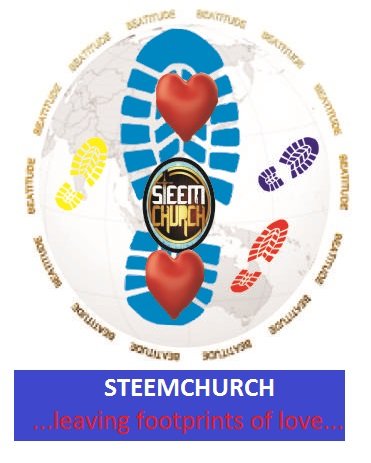 Image designed by me

I hope you'll engage my post with your comments, upvotes and resteems. Thank you.