Winter 2019 Anisong - ED List
Finally down to my last list for this season so I will just go ahead and start this one since I don't have much to talk about for now, yeah, my life is just that uneventful lol. Anyway let's begin!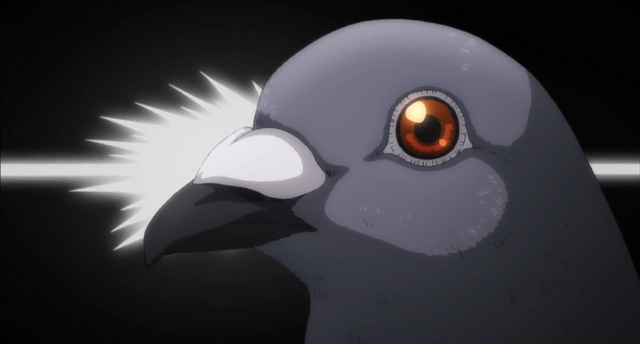 ---
1. Gray
Artist: sajou no hana
Series: Mob Psycho 100 II
---
---
The openings are all great and groovy but for this season, my personal favorite piece would be this one. It is not the song that will keep you pumping to the beat nor it is the song that will stay in your mind to play in repeat for hours but it is the song that connects deeply and works twice as effective when you've watched the heartwarming moments and character development in the series and honestly, I believe that is the most powerful effect that a song could possibly have. If the opening is there to gather attention and to keep people hyped up for the upcoming episode then the ending is there to imbue the series' essence to the people that were there and have witnessed the story that it has told. Many people ignore the presence of ending songs but don't sleep on Mob Psycho 100's endings, they are equally great if not better than the openings and that tells a lot especially this one piece, listening to it makes me remember how wonderful the character development has been in the show particularly to the duo of Reigen and Mob.
This song together with the other two ending songs of the show namely, Memosepia and Mabuta no Ura instantly turned me into a fan of sajou no hana, such a beautiful voice that packs a powerful surge of emotion.
---
2. Wagamama
Artist: Arisa Takigawa
Series: Domestic na Kanojo (Domestic Girlfriend)
---
---
I am pretty sure Domestic na Kanojo will be a competitor for both opening and ending songs in the anime trending awards, I mean they are both impeccable and unique (in anime song context that is) pieces that exudes the troublesome and sinful vibe of illicit relationship that is rarely seen in the medium, the last time I saw one was 2 years ago and that was the infamous Kuzu no Honkai (Scum's Wish). This series is a hit or miss guilty pleasure ride, but I will vouch for the OSTs, they are great listen and one last thing, Rui for the win!
---
3. Little Soldier
Artist: Azusa Tadokoro
Series: Tensei shitara Slime Datta Ken (That Time I Got Reincarnated as a Slime)
---
Little Soldier by Azusa Tadokoro
---
The second ending song for the show and I can say that this is a fitting replacement for the first one which is one of my favorites from last year's roster. This ending feels more lively and jolly but it kept the emotions intact which is a good way to end this fun lighthearted fantasy series. The visuals with Rimuru and Shizu's students going on fun adventures and the rest of the cast having a blast adds up the songs charm, this ending is 10/10 pure wholesomeness, a reflection of what the show has been.
---
4. Sayonara Gokko
Artist: amazarashi
Series: Dororo
---
---
Ending songs really delivers a lot of emotions, this one especially. I love bouncy and catchy songs but it is not so bad either to have something slow and chill like this one, makes you sentimental for no particular reason but in the future when the series that it is associated with already ends and you will stumble upon the song again after a long time, I bet that will be a pleasant feeling that may move some of us into the verge of tears because of how this song became a precious part of our memories by then.
---
5. AlegriA
Artist: D-Selections
Series: Kakegurui x x (Kakegurui: Compulsive Gambler 2nd Season)
---
---
Man that's hot, I really love the character design on this show and the action on this particular video… phew those movements and yuri bait scenes are really well done, Yumeko really is a carnivore that will devour all but I am not aware that she has a kagune, wait is this still Kakegurui? Well I I wouldn't be surprised if Yumeko is actually a ghoul all along given those crazy looking bloodshot eyes lol.
Kidding aside the song is actually a banger that I wouldn't mind it being the opening song, this series is blessed with quality pieces from the first season to this one it is also blessed with a good animating studio making a perfect pair that dishes out both visually and audibly stimulating pieces.
---
6. forget-me-not
Artist: ReoNa
Series: Sword Art Online: Alicization
---
---
Yet another new artist for the roster of Sword Art Online but I think it is no longer about the artist at this point, the series is yet to make an opening or ending that doesn't satisfy or hit the right spot. The song is a bit on the sentimental side topped with the touching animation of the trio's memories spent together and finally finished with the three of them returning to their child form, deym feels train hitting harder than truck-kun smashing idol zombie girls! See you on the continuation of the show fellas, I am quite excited on what kind of song the show has in store for us by then.
---
7. Sentimental Crisis
Artist: halca
Series: Kaguya-sama wa Kokurasetai: Tensai-tachi no Renai Zunousen (Kaguya-sama: Love is War)
---
---
This ending may have been overshadowed by the Chika dance craze but this one deserves more love, a smiling Kaguya is a sight to behold after all. I have no idea if the song's theme will connect to the story but it sure is a nice little stand alone story (dream) if it is one, also love how the protagonists here seem to be more open with their feelings than in the actual show, makes you really want to see the romance side of things soon since all we've got now is the mind game and comedy bits. Also, I believe I have mentioned it on the opening list but I would just like to mention how the animation on this show flows so smoothly, there's the close up shots and the character's color scheme too that I also find really beautiful to look at, Kaguya's red eyes and black hair truly shows what Yamato Nadeshiko is.
---
8. Sign
Artist: Aya Uchida
Series: Gotoubun no Hanayome (The Quintessential Quintuplets)
---
---
The first 20 seconds bit of the song is so addictive, same goes for the last 10 seconds but I am in now way discounting the other parts, it is just that those parts I pointed out are more outstanding than the rest and deym son, the art style man, the art style used to draw the sisters is doing me a great favor, those are very beautiful way of depicting them and the choice of white dress compliments them well now we can see clearly how bloody this waifu war will be. By the way we are still recruiting for SS Yotsuba, just comment below if you'd like to be enlisted lol.
---
9. Happy Happy Friends
Artist: Wataten☆Five
Series: Watashi ni Tenshi ga Maiorita! (Wataten! An Angel Flew Down to Me)
---
Happy Happy Friends by Wataten☆Five
Note: The ending song starts at 1:31 mark
---
Of course we are ending this list with a smile and what is a more fitting candidate than this song from the adorable cast of Wataten!. There's nothing much to say about this one, the only way to describe it is "hngggggg… that's dangerously cute". Yeah, that's all.
---
10. Wonder Caravan!
Artist: Inori Minase
Series: Endro~!
---
Wonder Caravan! by Inori Minase
---
On second thought let me add one more to this list, don't worry, that smile of yours won't be wiped off because this one is a fun and cute song too but it gives off a more relaxing vibe (the reason why I feel like this should be the one at the end of this list) reminds me of Konosuba's endings that gives me a pleasant feeling and satisfaction, like everything is all right, that there is nothing to worry because the day, no matter how bad will always come to an end and a brand new one will come and ready to give us another shot, it's mystical and an uplifting song, guess it is time to go and have some rest. Peace y'all!
---
Guess that more or less sums up my Winter 2019 seasonal lists and I will be having a special one next week, what it will be about is something that I will leave to your imagination for now so look forward to it. I don't have much to add so I will be signing off this week. See you again next time!
Ciao~
---
Disclaimer: All rights belong to their respective owners.