[UPDATE 02/08/2018] AVINOC Token distribution to ETH wallets has started.
Token distribution to your ETH wallets has started.
It lasts for 48 up to 72 hours depending on the load of the ETH network to distribute all Tokens to 300000 people. Please be patient, Some get it first, some later and this doesn't depend on us.
✈️ CHECK YOURSELF - https://etherscan.io/token/0xf1ca9cb74685755965c7458528a36934df52a3ef
PLEASE BE PATIENT YOU WILL ALL RECEIVE YOUR TOKENS
SPAMMIMG AND PM-ING THE ADMINS WON'T HELP. ALSO THE COMMANDS YOU SPAM IN HERE HAVE NO EFFECT TO THE DISTRIBUTION EVENT. ALSO ALL TYPES OF SCAM OR OTHER SPAM WILL RESULT IN A BANN. PLEASE CHECK FOR ADMIN STATE, OUR ADMINS WILL NEVER PM YOU FIRST AND YOU DON'T HAVE TO PAY ANYTHING TO GET YOUR TOKENS FOR THE AIRDROP!
❓In case of an issue please write to our official email address and use the subject "AVINOC AIRDROP - issue"
☝️HINT (maybe someone reads this ):
There will be a token sale shop on our website in a few days and some further missions or contests (new ones) will go on too ;-). Also we will be on exchanges. If you vote on major ones, maybe we will be there too in a short time - so support us for the big ones.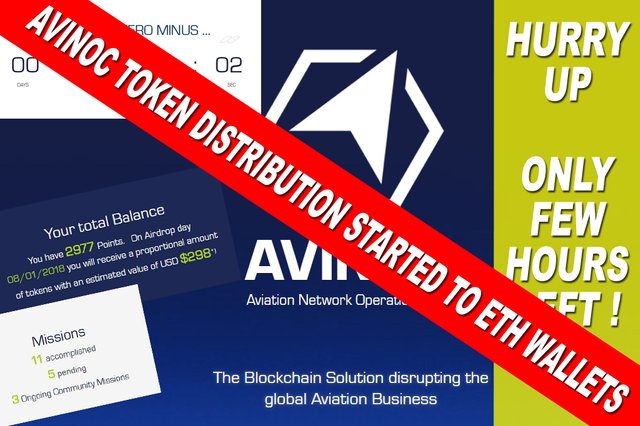 ---
-------------------[ AIRDROP ENDED !!! ]-------------------
---
Only few hours left for the AVINOC Airdrop : https://www.avinoc.com
Earn bonus points totaling $ 1,500,000.00. Accomplish current missions and get valuable bonus points to exchange them for AVINOC tokens at the Airdrop.
You just need to have an ETH compatible ERC20 address like Coinomi or Metamask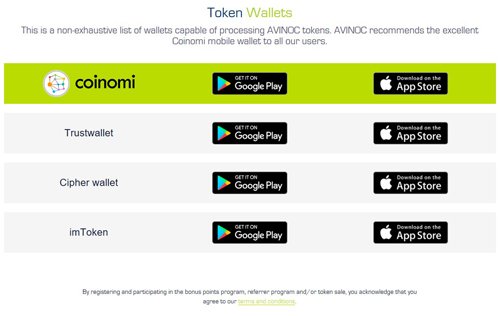 Make few account links (twitter, facebook, telegram...) to win point who will be converted at the end of the airdrop.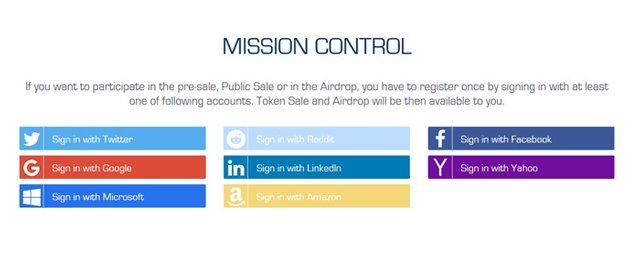 And few other actions like Community Missions or Special Missions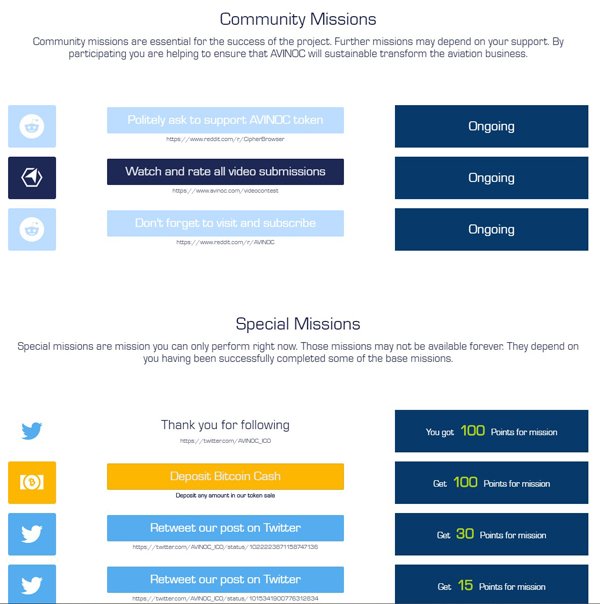 All information here: https://www.avinoc.com
Aviation Network Operation Chain (AVINOC)
a Blockchain solution for the aviation industry! With AVINOC 1.0 - Prototype made in 2006 they took time to create a global solution for the aviation and work on Transactions, Tickets, Fees, Fuel, Crews, Catering...
Don't miss it! Go take the airdrop here : https://www.avinoc.com

If you liked this post
Not hesitate to tell me with an
[ Upvote | Resteem | Comment ]
THANKS :)
@french-tech