Hello Air-Clinicians and friends,
#AIR-CLINIC ROCKS! We are sure you know that by now. This writing contest is now entering its 13th week. By the kind of topics we give you, you can absolutely tell that we are aiming to make you healthier and smarter after every contest. Keep doing good!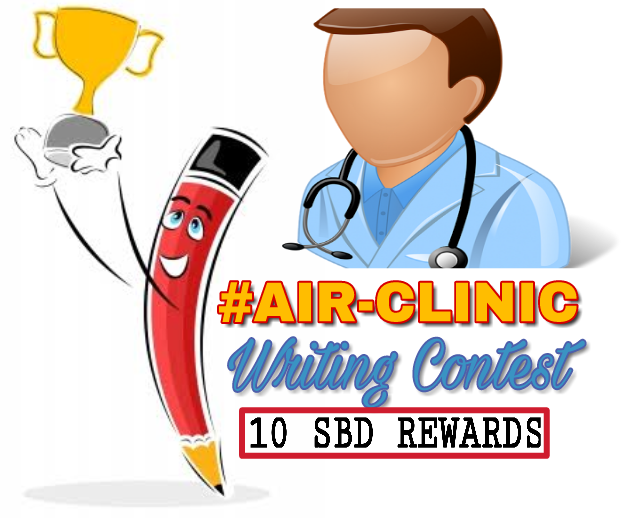 Before we proceed with the WEEK 13 contest, lets go announce the winners of last week's "DRUG ABUSE" contest...
---
---
WINNERS OF THE "DRUG ABUSE- A YOUTH DESTINY KILLER" CONTEST
OBSERVATIONS:
The #Air-Clinic Writing Contest has been very fair in giving scores to the participants based on a point system.
Quality is our number 1 priority so it carries over 50% of the total marks.
However, other instructions given are counted too. You should note that instructions are part of an exam. So endeavour to follow them to the letter for the maximum marks.
Your entry will not be accepted at all if submitted later than Wednesday. Also not following @air-clinic, not being a member of the discord channel and not resteeming the post are total disqualifiers.
If you are not a member of our discord server, endeavour to join up. See link here: https://discord.gg/rqded5m.
---
---
See his writeup here
Gets $5 SBD.
Congratulations for winning the first prize. We are glad you participated! Do Visit the #AIR-CLINIC Server more often.
---
See her writeup here
Gets $3 SBD.
Congratulations on winning the 2nd Prize. We are glad you are already a member of #AIR-CLINIC on discord. Stay active.
---
See her writeup here
Gets $2 SBD reward.
Congratulations on winning the 3rd prize. #AIR-CLINIC encourages you to be more active on the server. Cheers!
---
HONOURABLE MENTIONS:
4th- @KNEELYRAC
5th- @LORDSMAIDEN
6th- @JAJDGENUIS
7th- @ENAJO
8th- @JOEYCRACK
9th- @JAYBOSS
10th- @ESEBONEZ
Others- @PJAY96, @MRBREEZIEWRITES, @MADEPRINCE, @KINGERNIE, @AREMUADEKUNLE, @NIKISTEEM, @VINTAGEVERVE, @OLUSOLAEMMANUEL, @NOSMAS, @ESTHERLOVE1, @NJOKUOLUCHUWKU, @JOELAGBO, @THANKORI, @CHIJOSEPH, @SAMSON12, @LORDRAYDEN, @IVANLAGER, @MERCYICE, @DEECLOWN, @BJEY, @LEVITATED-MIND, @UMPHON, @WORLDGREATEST, @TESLIM, @OLAMILEKAN21, @GENIUSNAIBY.
AWESOME JOB GUYS. We are sure you will all win next time. Try and make your stories unique with humour, satire, folks, etcz. Remember that it can also be a professional essay on the subject matter.
---
---
THIS WEEK's CONTEST:
Of recent, there has been a surge of deaths relating to this dangerous illness. Many have seen their untimely graves. The health workers are particularly at risk because they are easy contacts to those sufferers. The governments are yet to really tackle this especially in the 3rd world where its prevalent. What do we do?
Narrate a knockout story on this relating it to solutions! Do your research please!!
Tell us about it and GET THE CHANCE TO WIN SBD especially now the prices are very high.

Also we will be giving UPVOTES AS CONSOLATION PRICES to every participant.
---
---
MODALITIES:
TOTAL PRIZE: $10 SBD + UPVOTES.
TOPIC: TEARS OF BLOOD- THE LASSA FEVER STORY
---
FORM OF CONTEST:
WRITE AN INTERESTING STORY (Fiction & Non-Fiction) On the topic.
Academic writeups are also accepted if up to standard.
LENGTH: 250 - 350 WORDS (write your word length at the bottom of post)
QUALITY: Must be standard with spelling checks, grammar checks, expressive language and well-edited with markdown.
MAKE A POST ON YOUR BLOG WITH THE TITLE INCLUDING "AIR-CLINIC".
TAGS: #AIR-CLINIC, #STACH
BANNER: See below.
SHARE OUR COMMUNITY LINK: https://discord.gg/rqded5m
COMMENT THE POST LINK BELOW
DEADLINE: WEDNESDAY 12:00midnight UTC
JUDGES: @ejemai, @nairadaddy, @thelovejunkie
DISTRIBUTION: $5, $3 & $2 SBD to the 1st, 2nd & 3rd Positions. THE REWARDS WILL INCREASE AS THE CONTEST GAINS TRACTION.
SPONSOR: @AIR-CLINIC
---
YOU MUST RESTEEM THIS POST.
YOU MUST FOLLOW @air-clinic.
YOU MUST BE A MEMBER OF #AIR-CLINIC ON DISCORD (see server link below)
Failure in any of these 3 last rules means automatic disqualification.
---
This is going to be a regular feature of #AIR-CLINIC. So keep a date with us every Saturday.
GOODLUCK!
SEE CLINIC LINK HERE: https://discord.gg/rqded5m