Steam Game for Crypto/STEEM - Weekly List (2019 Mar 29)
Some listed games are %80-90 cheaper than steam. Convert your steemit earnings into games!!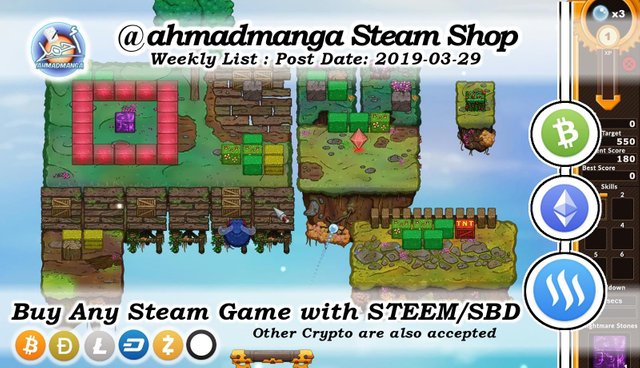 Hi, I'm @ahmadmanga, I write steemit posts and short stories these days. I also wrote books. One of them is on Amazon I love #gaming and had some experience as a hobbyist gamedev. and published one game on STEEM: Procrastination Simulator.
In these weekly posts I sell my leftover steam games from Bundles.
You can find the latest post resteemed by @ahmadgameslist!
Table of Contents
To ease your navigation of my shop.
On Demand Discounted + Humble Monthly Gifts
Featured Games This Week
Previously Bundled Games
How Does This Work?
Now You Can Buy By SBI Shares win-win for both!
Price Calculator
The Last Five Buyers!
What Games Do You Want Here?
---
Main Attractions
---
Title -> Image and Price -> Description
Steam Store
Any Game On Steam Store (%20 Off Its Current Price)
Gift Order: %20 Off
Any Steam Game
(Yes Even Pre-orders)
Want to buy a game on Steam sale?
Even cheaper than the sale itself?
I offer %20 off the USD price on any Steam Game as I buy it for you as a gift. I'm still learning how Steam gifting works. There are some region restrictions & you have to
add me on Steam
first. Let's talk before ordering.
Humble Monthly
Humble Monthly Gift <- (ref link)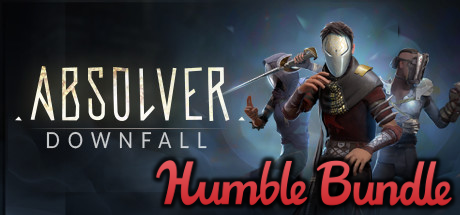 Price: $12.00 Subscription
My Price: $13.99
(Including Service Fee)
Humble Monthly is a great deal. You get to have all that month games & more. But it's a hassle to subscribe.
This is where I come in!
Many of us on Steemit are unbanked and can't subscribe. With Gift Monthly you'll get all the games & subscriber perks.
This is not for everyone but if it's for you contact me at Discord of @opgaming. More info [HERE]
---
Featured Games This Week:
Game Title -> Image and Price -> Description
Featured #1
Zombie Army: Trilogy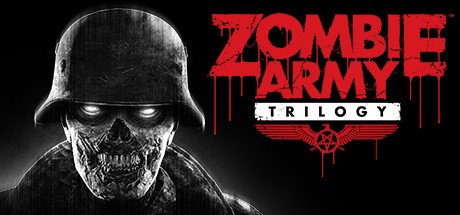 Original price: $44.99
My Price: $3.50
The cult horror shooter series comes to an apocalyptic conclusion with an epic new third chapter, a heart-pumping new horde mode, and remastered editions of the best-selling Nazi Zombie Army 1 & 2.
Featured #2
Resident Evil 6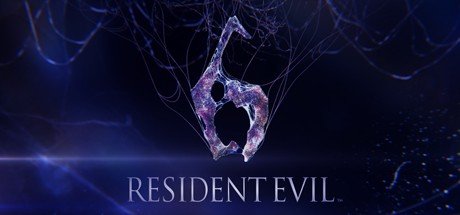 Original price: $29.99
My Price: $5.00
One of the greatest zombie shooters ever! Follow the story from three different perspective (actually four) with a scale bigger than any RE game before.
Featured #3
RWBY: Grimm Eclipse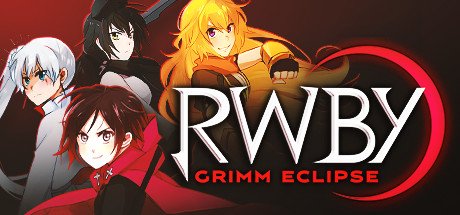 Original price: $19.99
My Price: $3.00
RWBY: GRIMM ECLIPSE is a 4 player, online co-op, hack and slash game based upon Rooster Teeth's international hit series RWBY.
---
Click on the image for Store link:
| Game/USD | Game/USD |
| --- | --- |
| | |
| [$4.00] Citis Skylines + After Dark DLC | [$4.00] Resident Evil: Revelations* |
| | |
| [$4.00] Soinc Generations* | [$3.00] Darksiders II: Definitive Edition |
| | |
| [$3.00] Immortal Redneck | [$3.00] The Dwarves |
| | |
| [$2.50] Street Fighter X Tekken | [$2.50] Day of Tentacle (Remastered)* |
| | |
| [$2.00] American Truck Simulator | [$2.00] Little Nightmares |
| | |
| [$2.00] Megaman Legacy Collection | [$2.00] Star Wars: Knights of the Old Republic |
| | |
| [$1.80] Hidden Folks | [$1.70] Dead Island: Definitive Edition |
| | |
| [$1.70] Olli Olii 2: Welcome to Olliwood | [$1.70] Tesla Effect: A Tex Murphy Adventure |
| | |
| [$1.50] Agatha Christie - The ABC Murders | [$1.50] Crazy Taxi* |
| | |
| [$1.50] Kelvin and the Infamous Machine* | [$1.50] Flinthook |
| | |
| [$1.50] Dead Rising 2: Off the Record | [$1.50] Stronghold Crusader 2 |
| | |
| [$1.50] Staxle | [$1.50] The Uncertain: Eps 1 |
| | |
| [$1.40] Mass Effect | [$1.40] NBA Playground |
| | |
| [$1.40] Renegade Ops Collection | [$1.40] Skyborn |
| | |
| [$1.20] Surgeon Simulator | [$0.70] Deadlight: Direcors Cut |
| | |
| [$0.70] Dreamstones | [$0.50] Blueprint word |
| | |
| [$0.50] F1 Race Stars | [$0.50] Cook, Serve, Delicious! |
---
Game/USD
Game/USD

]

[$7.00] GOD EATER 2
[3.00] Detention

[$2.50] Go Go Nippon + 2015+2016 DLCs
[$1.50] Japanese School Life

[$1.50] Idol Magical Girl Chiru Chiru Michiru Part 1
[$2.00] Idol Magical Girl Chiru Chiru Michiru Part 2

| Program/USD | Program/USD |
| --- | --- |
| | |
| [$6.00] Axis Game Factory: AGFPRO v3.0 + DLC | [$6.00] Game Guru + 6 DLC |
| | |
| [$3.00] RPG Maker VX (not Ace) | [$0.80] RPG Maker XP |

---

@dgameshop is a new steemit service I'm testing right now. Here I feature some of the games I've put there. Here's my review of the website. Click on the image to go to the buy link, you have to pay using SteemConnect though.

You can see my games and other sellers: Here!

---

---

How does it work?

Check the games I have above. (All prices are in USD.)
Contact me. You can comment below on Steemit/busy. Send me a tweet @ahmadmanga. Chat on OPGaming Discord or Telegram if we met there.
Add me on steam. My Steam Profile Link We can talk on another platform but I need to know your Steam name!
We have a chat and decide on the price of the game for your preferred Cryptocurrency/Token.
There we will make our deal, don't pay before we both agree on the price.

I take Steem & SBD and most of the CryptoCurrencies including as payment:
#BCH. #ETH. #BTC. #DOGE. #LTC. #DASH #ZEC. #GByte. Most #E20 Tokens.
Finally I take #steembasicincome shares

You can read the full rules here. But I changed the half part to The third of the final price with SBI shares. It's still profitable because I regard 1 SBI share as $1 now, more than two times its current price. I can work you through the steps. but you must pay at 2 thirds of the price with Steem!!

---

Price Calculator

My Prices above all are shown in USD, so if you want to pay with crypto you have to use some price calculator to understand the amount you need to pay:

Here [STEEM] & [SBD] price calculators, enter my USD price at the day of payment and you'll pay something close to the result number.
You can pay 1 SBI share for $1 for each $3 and pay the other $2 with your preferred cryptocurrency. So if you're paying for games worth that much together it's better to send steem to @steembasicincome instead, I'll show you how in our chat.

---

---

The Last 5 Buys/Buyer(s):

---

What Games Do You Want Here?

What are the games that you want to be able to buy with STEEM & SBD?

---

---

Cover image is made using a promo image from Dreamstones. All games headers are taken directly from their steam pages