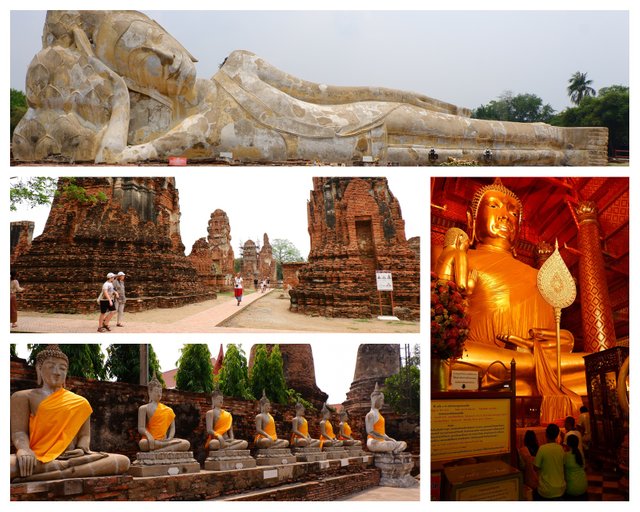 I should have researched more about Ayutthaya before going there! To be honest, I only learned about this place when I asked my friend, Ace, when I got to Bangkok. He told me I could check out this travel destination for just a day. And boy, was he wrong!
This experience was just one of those days that I just don't want to plan anything and see how things would go. And sometimes, that's when the magic really happens or it goes the other way around.
So with a quick look on the internet, I read some directions on how to get there. I took a bus going to SAMSEN STATION where I bought my one-way ticket for 20 baht. This train was a bit old and there were just about four other foreign travelers. I bought some snacks and waited for 30 minutes for the train to arrive. The trip took about an hour.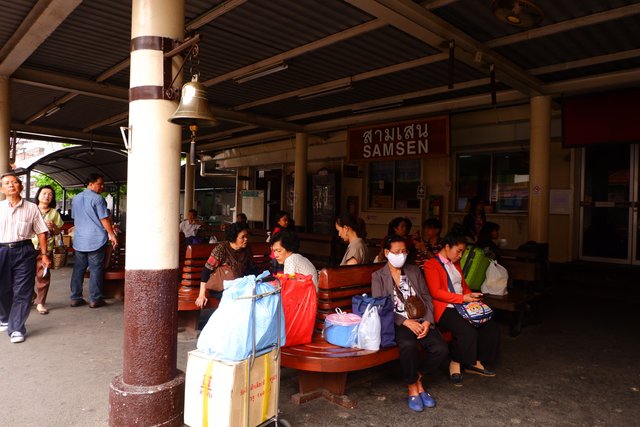 Samsen Train Station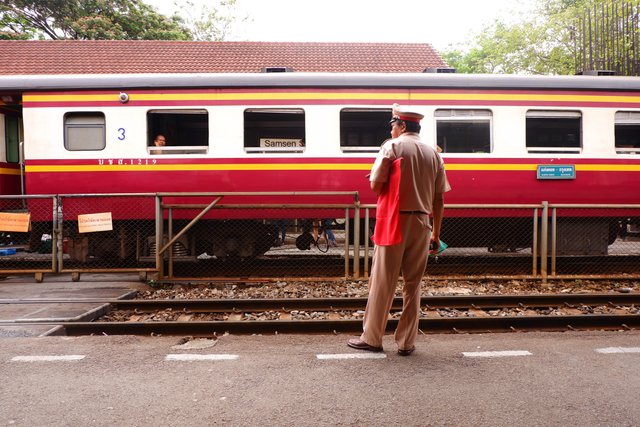 Arriving at the Ayutthaya Station, I headed to the information desk and got a map. I went out of the station and I was greeted with a lot of local drivers who were trying to sell me a tour. Someone offered me a tour for a 1000 Baht for four hours. Seriously? Now, due to my lack of research, I really don't know what to do.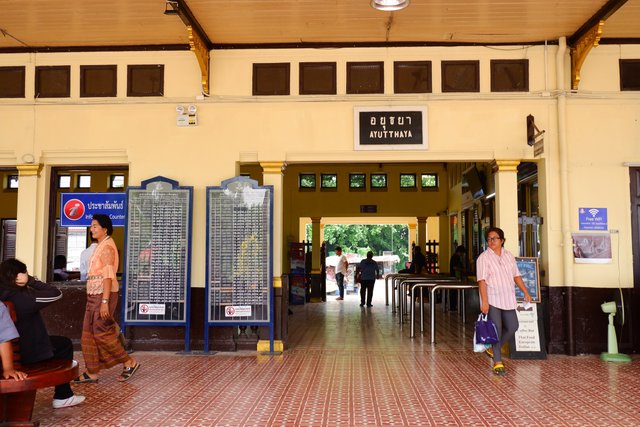 Ayutthaya Train Station
I walked about a few meters away from the station. I thought about walking to those sites but it wouldn't be the best course of action to take. Good thing, I passed by this old lonesome tuk-tuk driver and asked how much he could offer me for a tour. As much as I haggled for a cheaper price, the standard rate for a tour was 600 baht good for 4 persons for 4 hours. Now, that would probably be cheap if I was with a bunch of people but I was the "solo" traveler. I took that rather than wasting my time and not be able to visit one site there.
Anyways, I was very much excited to check out the amazing place!
AYUTTHAYA

is a monumental city due to its rich history. It was the second capital of the Siamese Kingdom in 1350. It became the world's largest urban area and flourished as a place for global trade and economics in the 14th – 18th centuries. As to why it became to what it is right now was due to the 1767 war led by the Burmese army who burned the city down.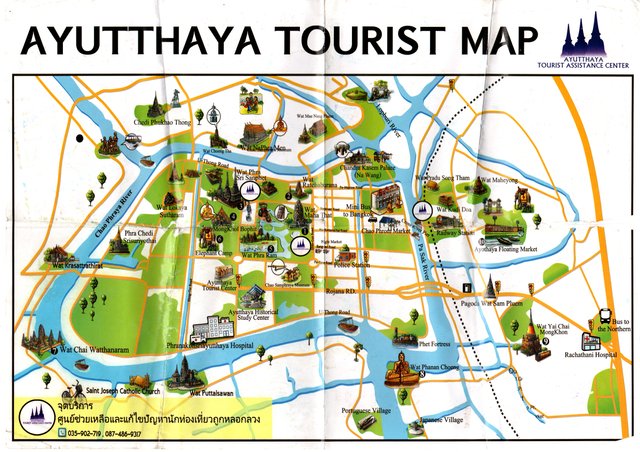 A tourist map I got at the Train Station
Now an archaeological site, the city houses remains of the past that shows how rich in architecture and culture Ayutthaya was. Ayutthaya is strategically situated on an island surrounded by rivers.
Wat Yai Chai Mongkhon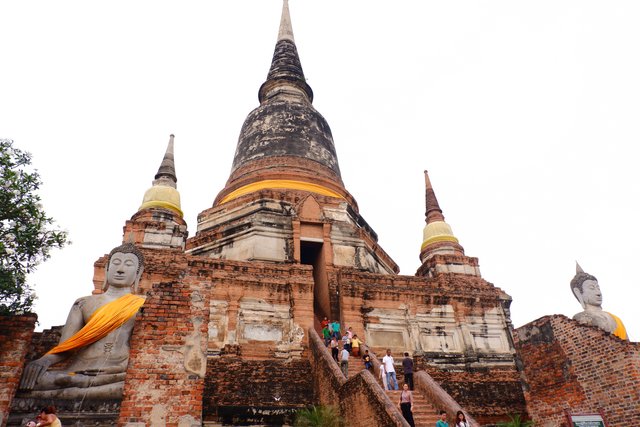 First stop was the Wat Yai Chai Mongkhon which is located a few kilometers southeast of the island, across the Pridithamrong Bride. It is considered one of the major temple in Ayutthaya. The wat is centered around one impressive stupa (chedi) which can already be seen from afar. I passed by the Ubosot( Ordination Hall), the Monastery before arriving at the stupa. The place is also surrounded by some green garden and some smaller stupas.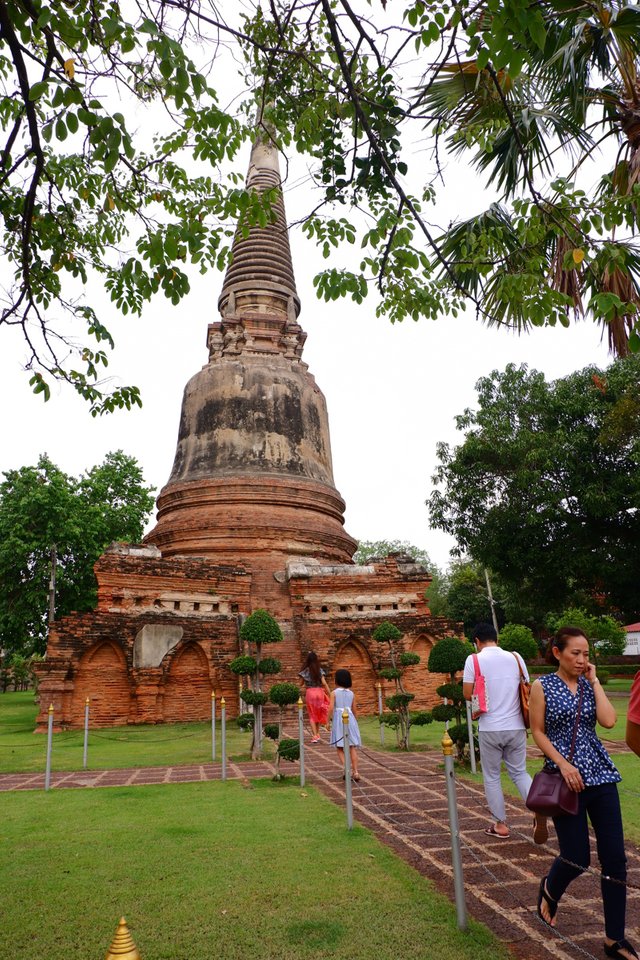 A Smaller Stupa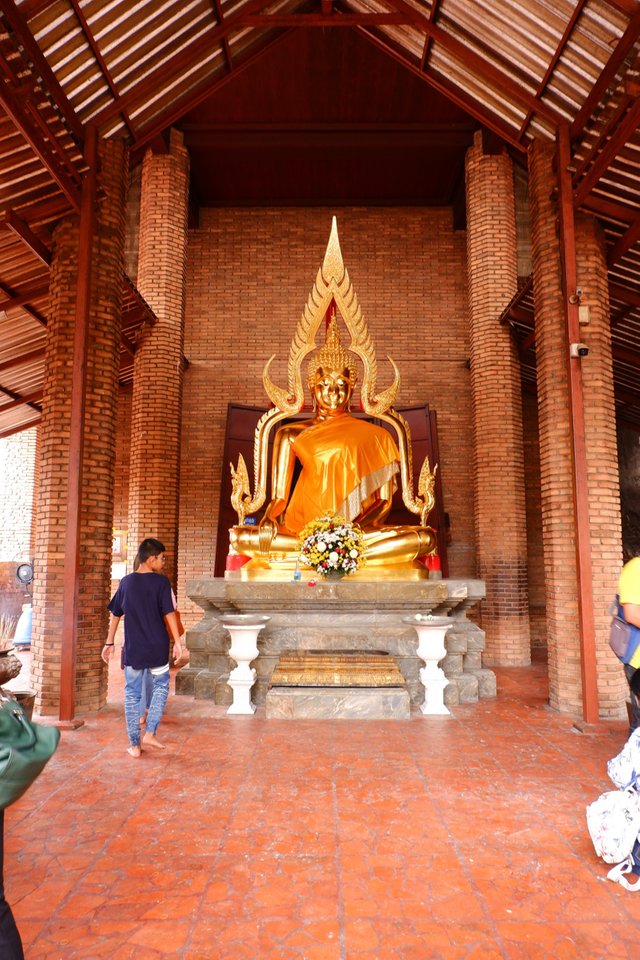 Ubosot or the Ordination Hall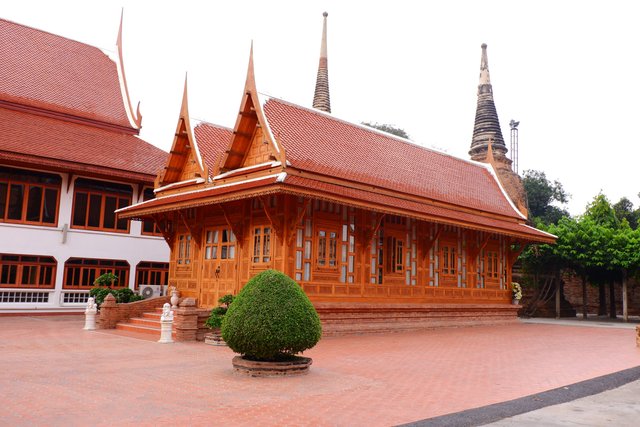 I am not so sure about this one
Once I saw the massive stupa, I was overwhelmed by its enormous size. This was built in honor of King Naresuan the Great who fought the Burmese leader in a single combat on an elephant. The two big Buddha images sitting on the sides of the stone steps seemed to be guarding the place. The ascent was steep with big steps so it was a bit challenging.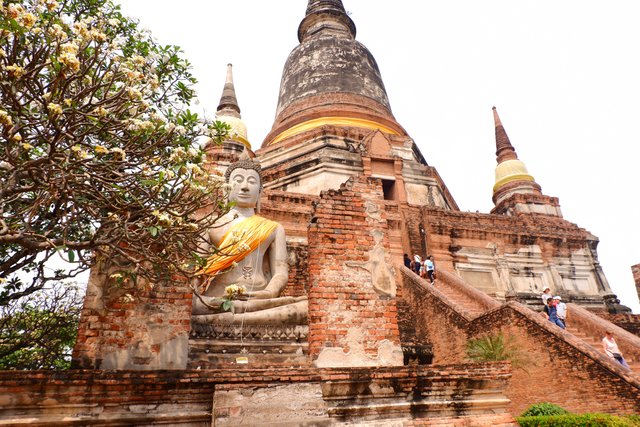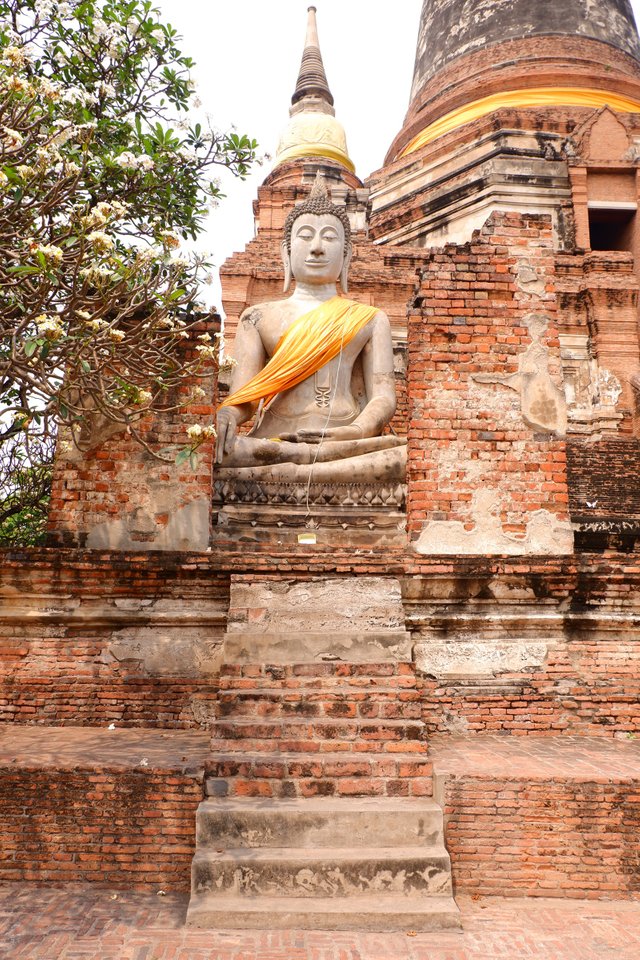 Once I reached the top, I walked around to see a 360 view of the place. When I went inside, it was like a small container. In the middle was a reliquary chamber which used to hold the remains of past royalty. Surrounding the main stupa were long rows of identical Buddha images dressed in orange robes. At the back was a white sitting Buddha image facing a garden.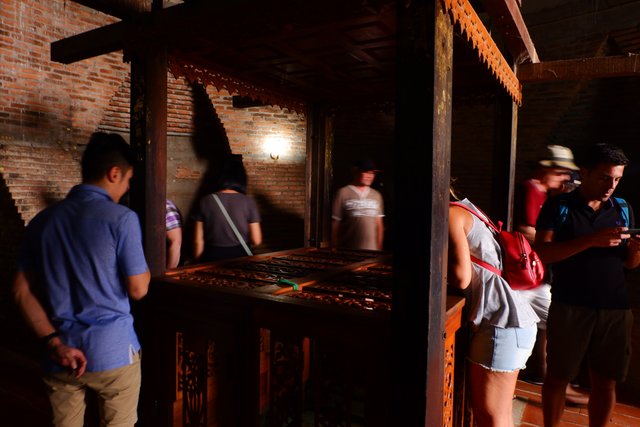 The reliquary chamber which goes a few meters below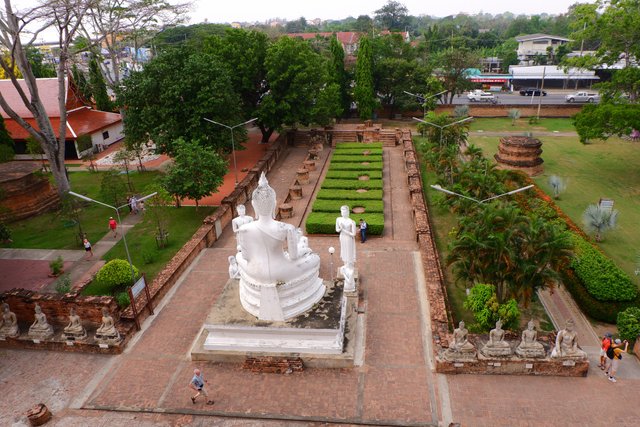 View on the back part from the top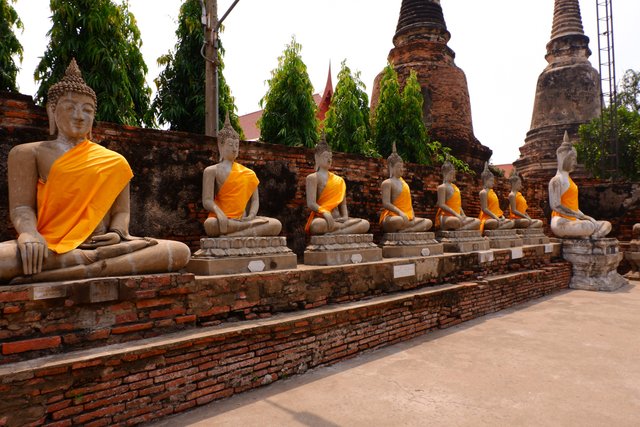 A gallery of identical Buddha images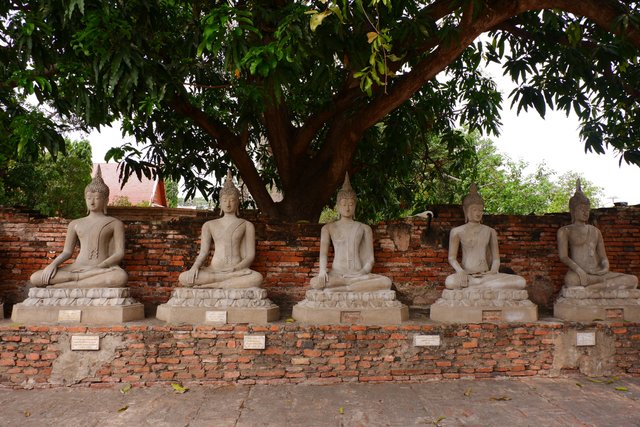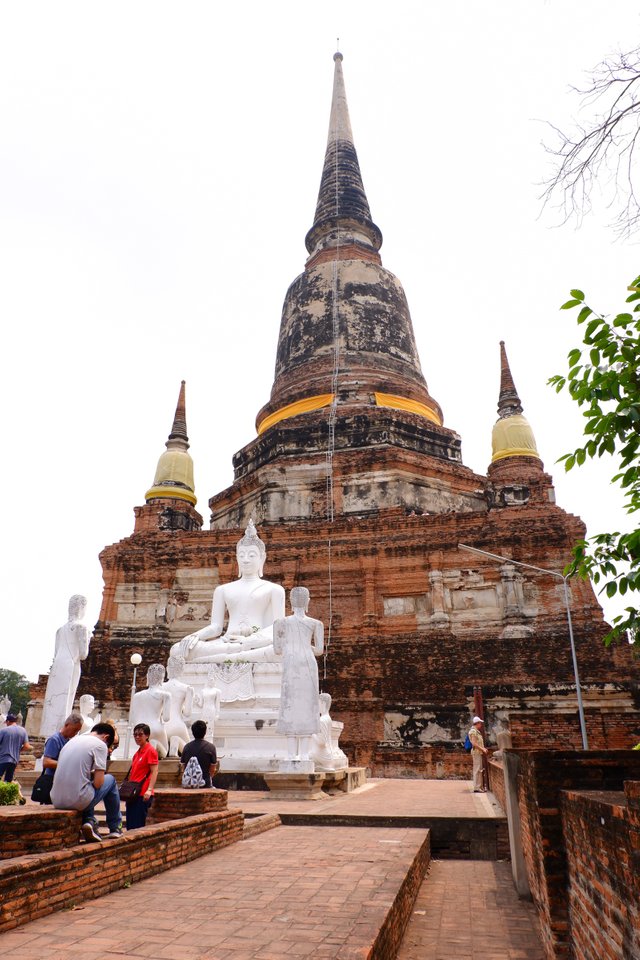 Wat Phanan Choeng
We hurried to the next stop – Wat Phanan Choeng! This temple was said to have been build even when Ayutthaya became a city. From the outside, I thought it was just a simple white temple. The place was crowded with locals and tourists alike. I left my shoes together with the rest and walked through the long corridor. When I got inside, my mouth literally uttered the word "WOW". A gigantic golden Buddha image was sitting right at the middle. This was one of the largest Buddha image found in Thailand.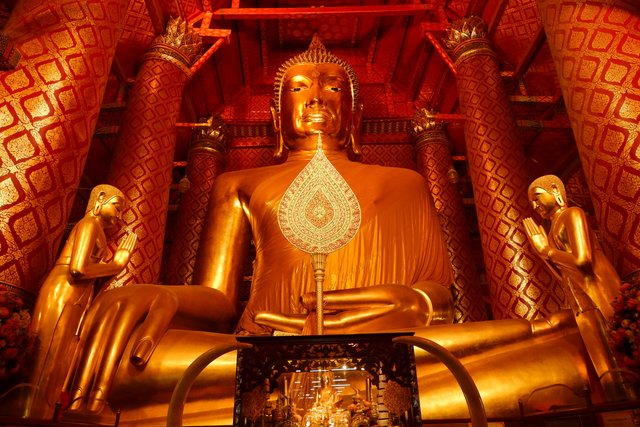 Towering 19 meters tall and 14 meters wide, the temple was specially designed to house this gigantic Buddha. There isn't much space around the Buddha anymore. From the outside, what seemed like a very simple temple, the inside was amazing with walls painted in red and gold.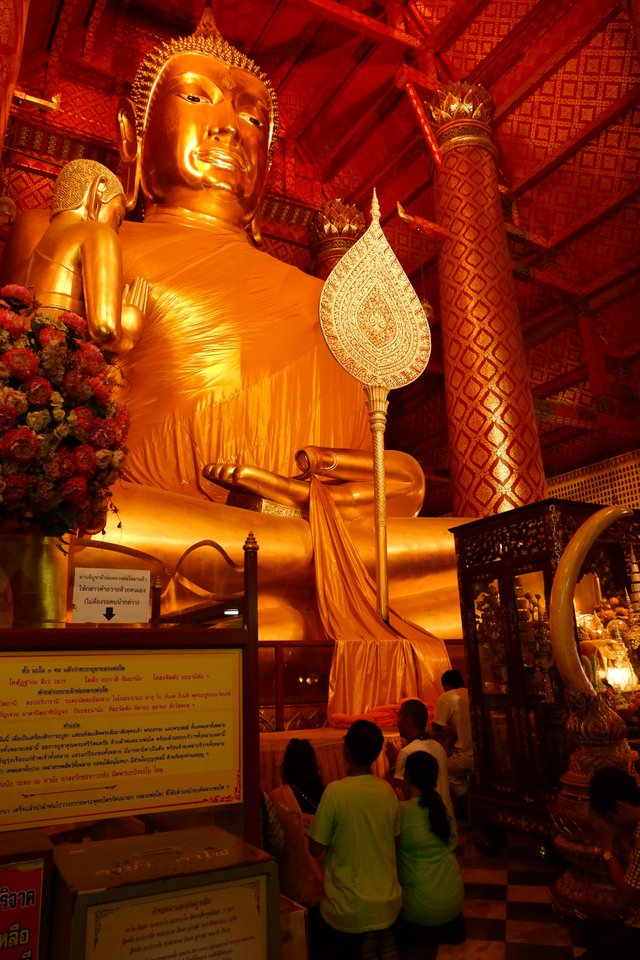 Wat Phra Mahathat
Wat Phra Maha That is also called the Monastery of the Great Relic because it houses the Buddha's holy relic. This place is found at the very heart of the island. It is one of the oldest and most significant temples in the history of Ayutthaya. It is considered as the seat of the Supreme Patriarch of Buddhism.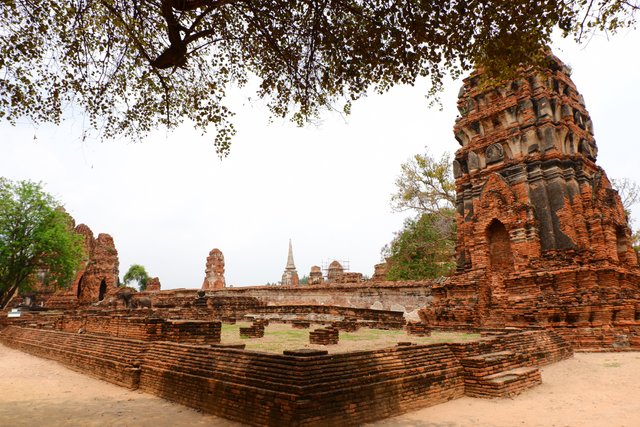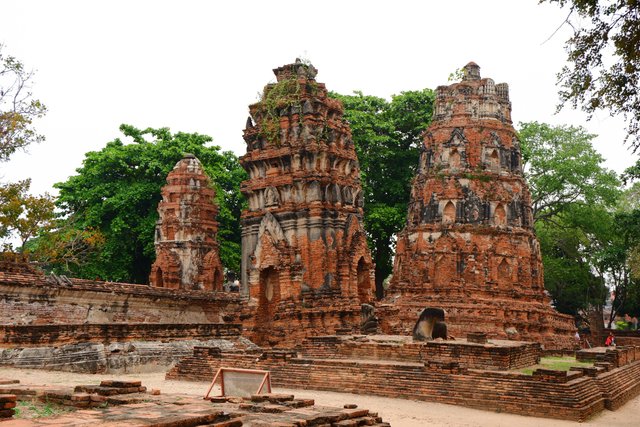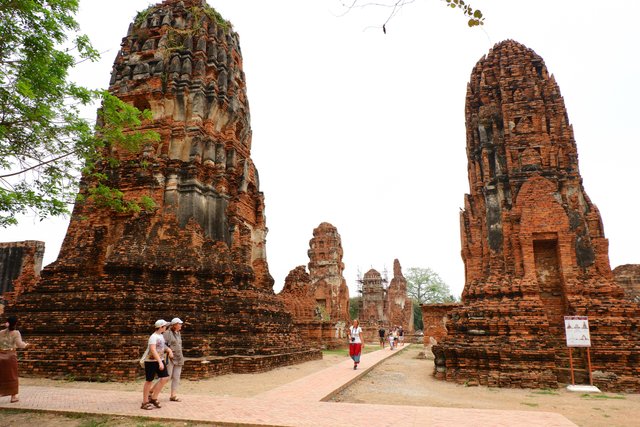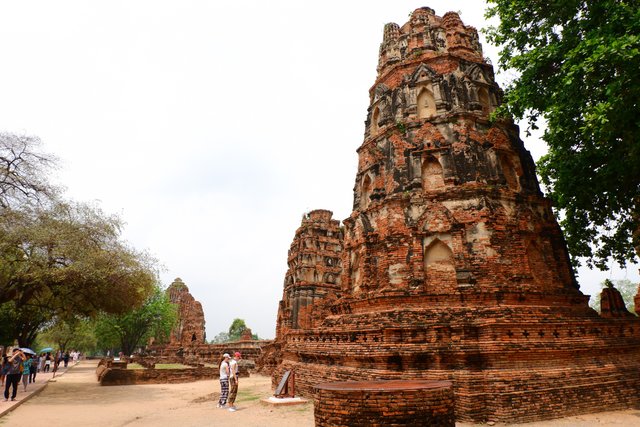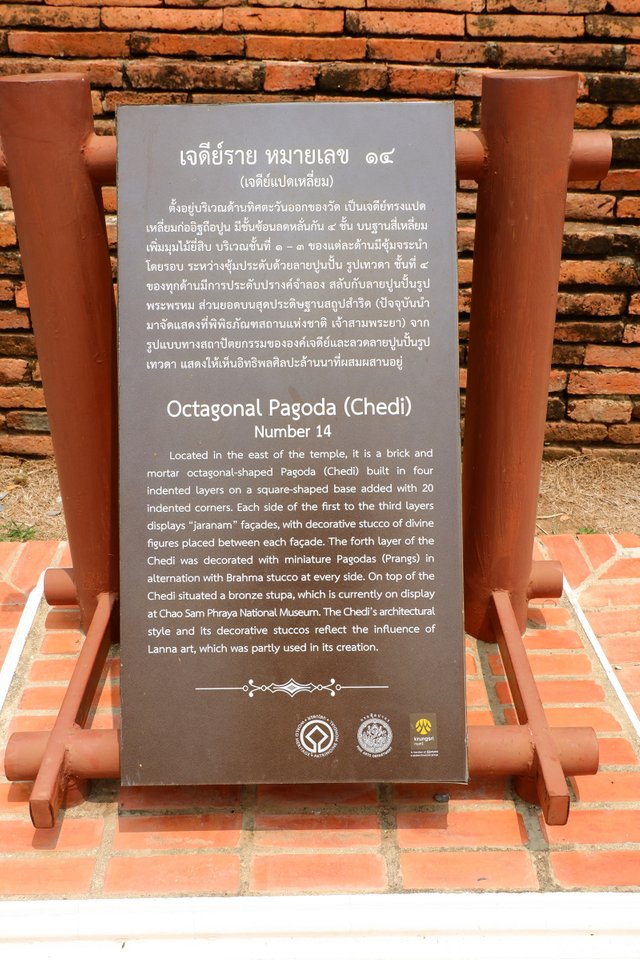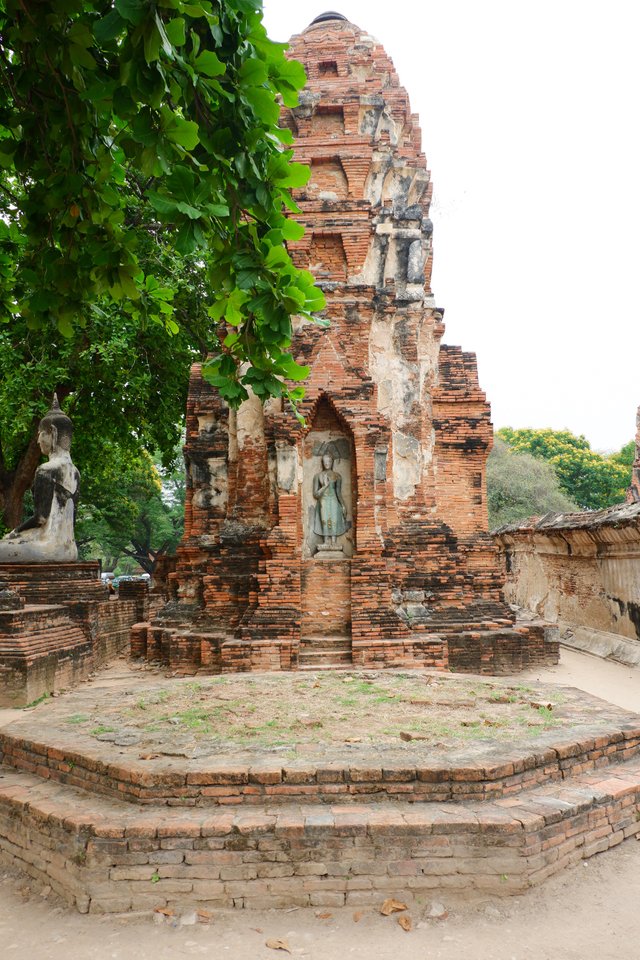 Due to the 1767 Burmese attack, this place was severely damaged and was abandoned since. The remains include pagodas, royal hall, and small temples. The architecture is found close to that of the temples of Angkor in Cambodia.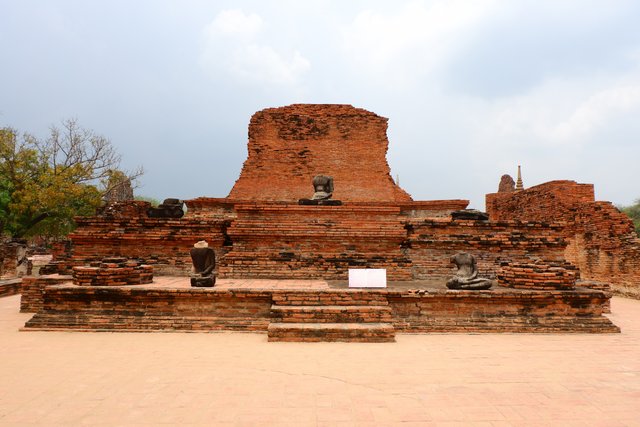 Ordination Hall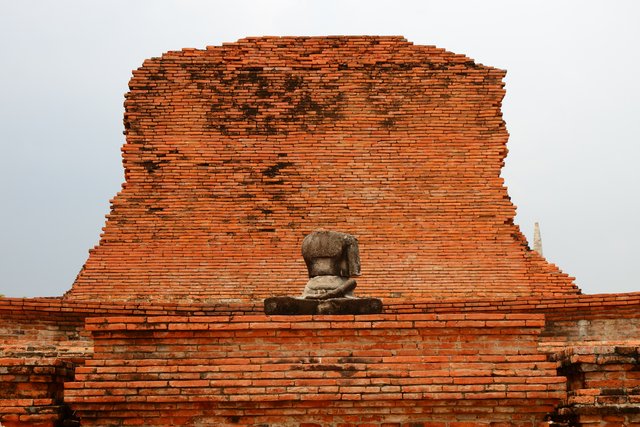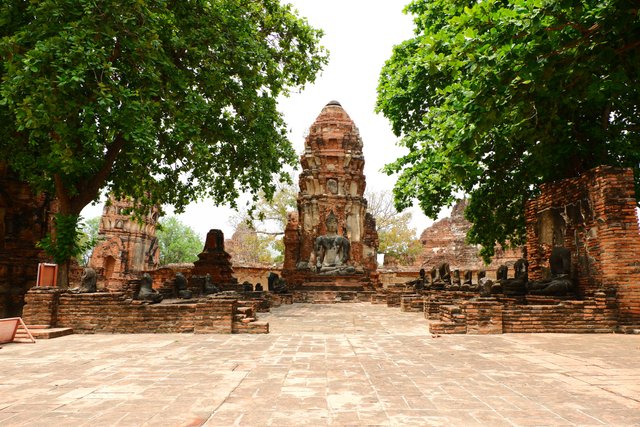 Royal Sermon Hall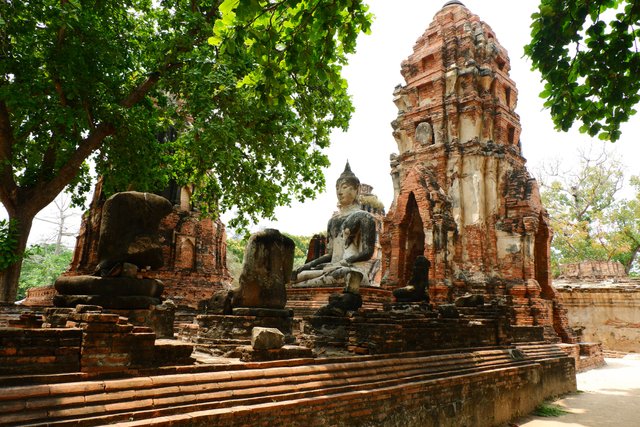 The central prang has collapsed and only the base remains. During some excavation works in the temple back in 1956, a large hollow stone container was found with relics and objects like tablets, gold ornaments, and images of Buddha inside.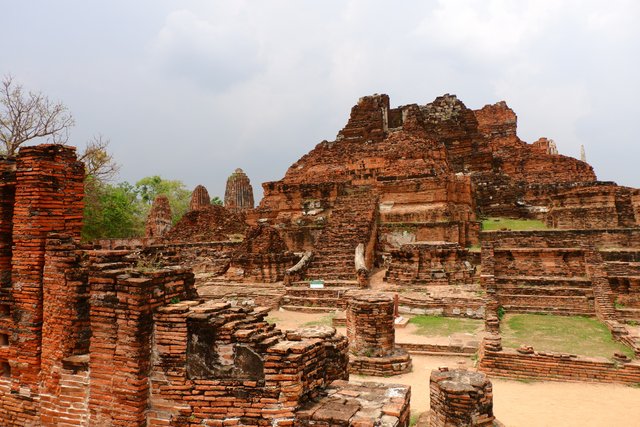 Central Prang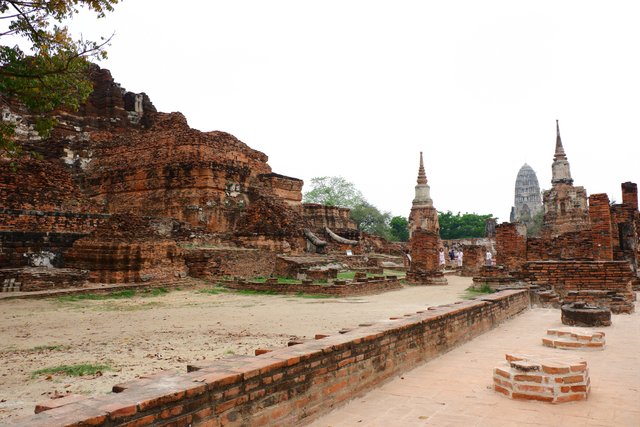 A gallery of Damaged/Broken Buddha Images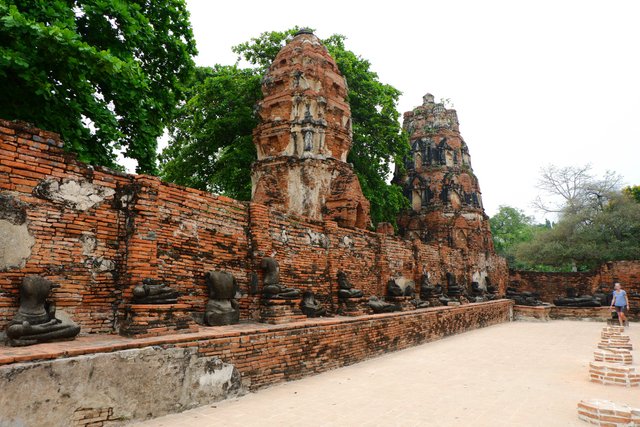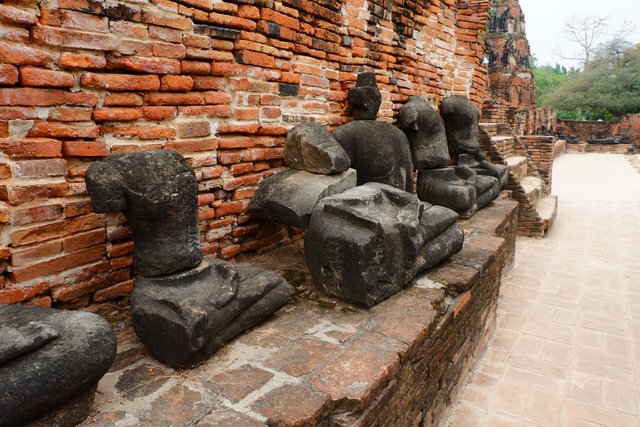 Walking around this massive site would really require much time to admire the place. Because the remains would really take you to the past.
The highlight of Wat Phra Mahathat is the iconic head of a stone Buddha image entwined in the roots of a tree. There is actually a small platform in front of it for tourists and travelers to sit and have a close-up picture of the stone image.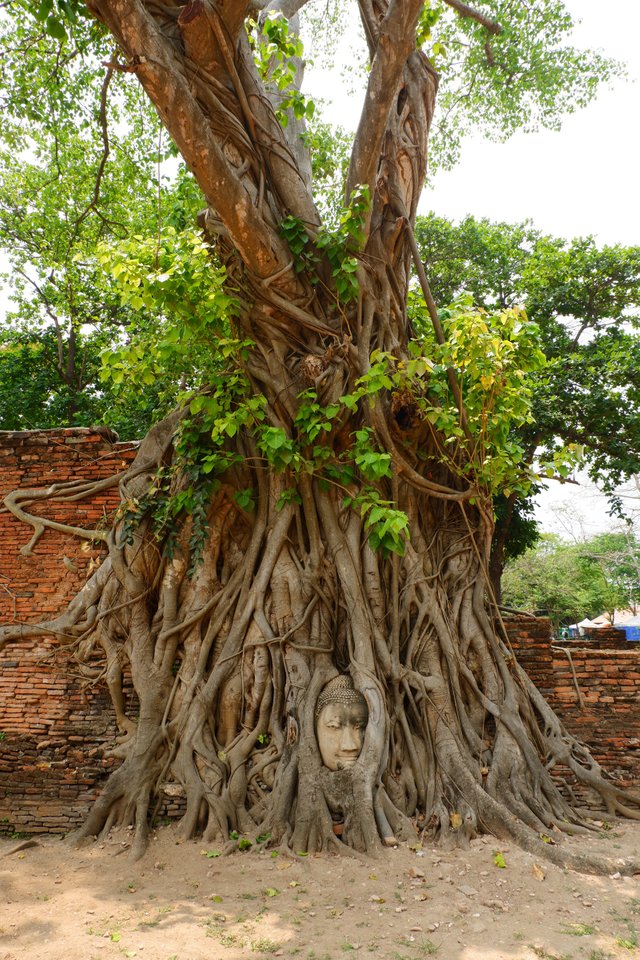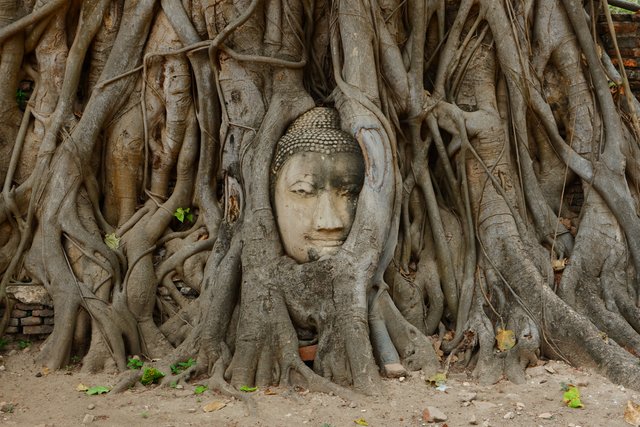 Wat Lokaya Sutharam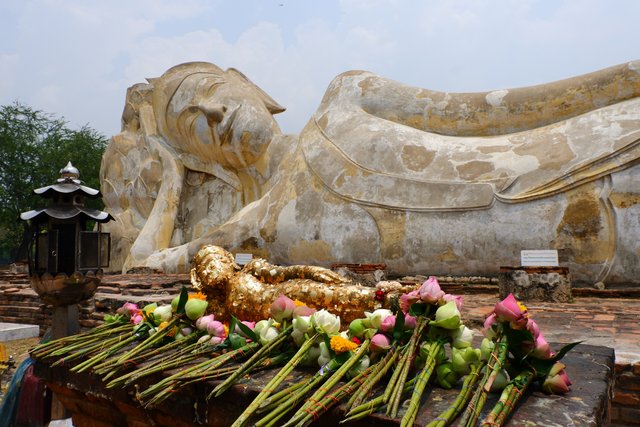 It was already noon time when we arrived at the last stop. So it was really hot by this time.
The main feature of Wat Lokaya is the big reclining Buddha image called Phra Bhuddhasaiyart. It is made of bricks and cement like the other olden Buddhas. With a length of 37 meters and a height of 8 meters high, I look like a small walking ant beside it. This reclining Buddha is considered the biggest in Ayutthaya. It was also restored and repainted a couple of times.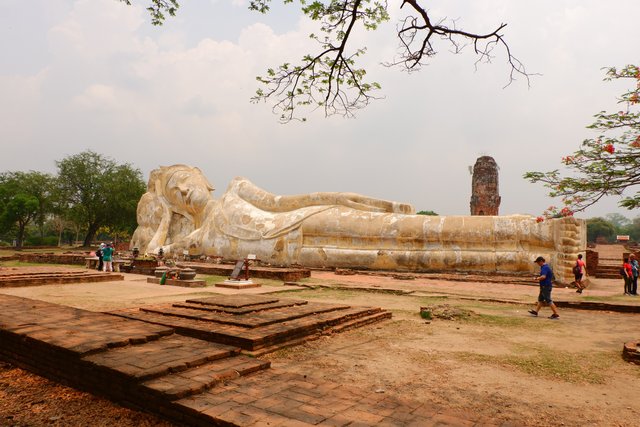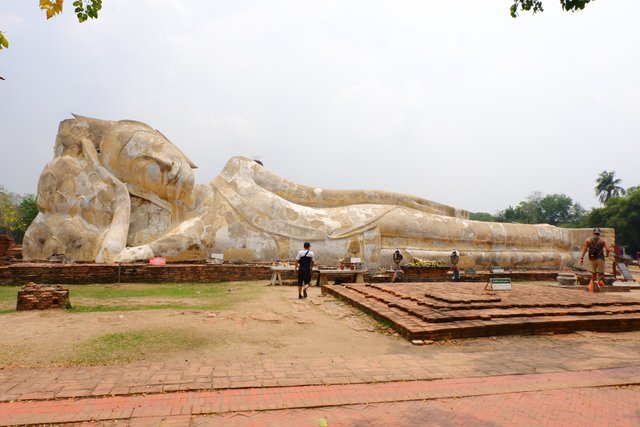 Once again, I look like a small ant alongside it. Behind the Reclining Buddha image are a few remains of an Ubosot or an Ordination Hall which is not much to see.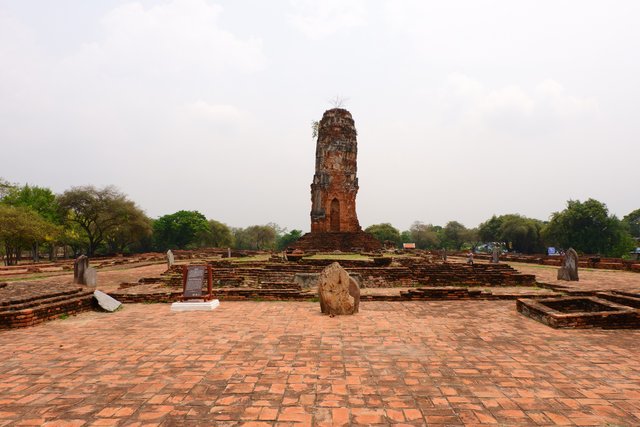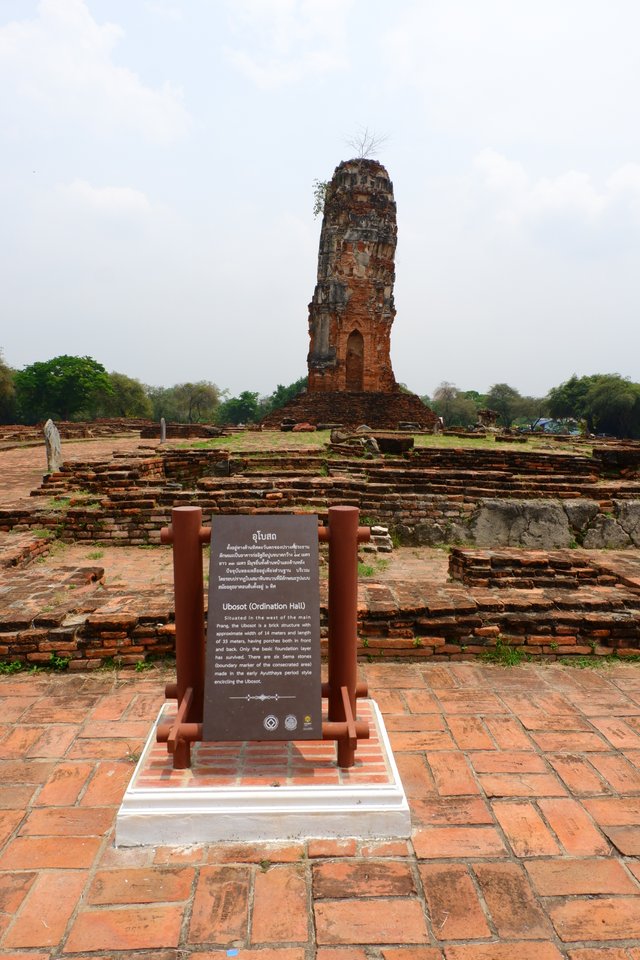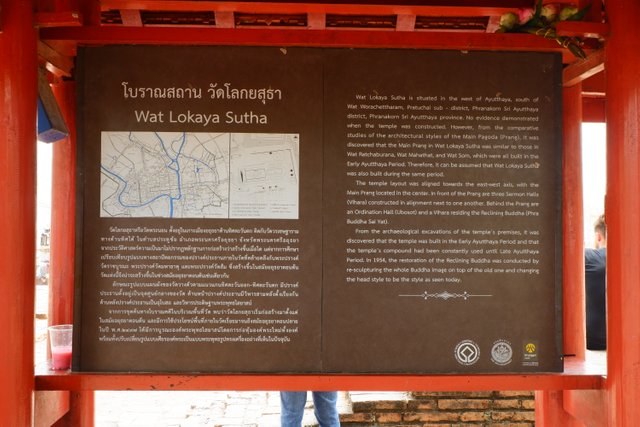 ---
After that, my driver brought me back to the Train Station. It was short but it was memorable. If there was something I would change about the experience is that I would have stayed in the city for 2 or 3 days and had a bicycle tour instead. Maybe on my next visit then!
That's all for my short trip in the amazing Ayutthaya City. This is a must-see in Thailand!
Thank you all for dropping by! This is Inday Clara sending you love and peace where ever you may be. Namaste.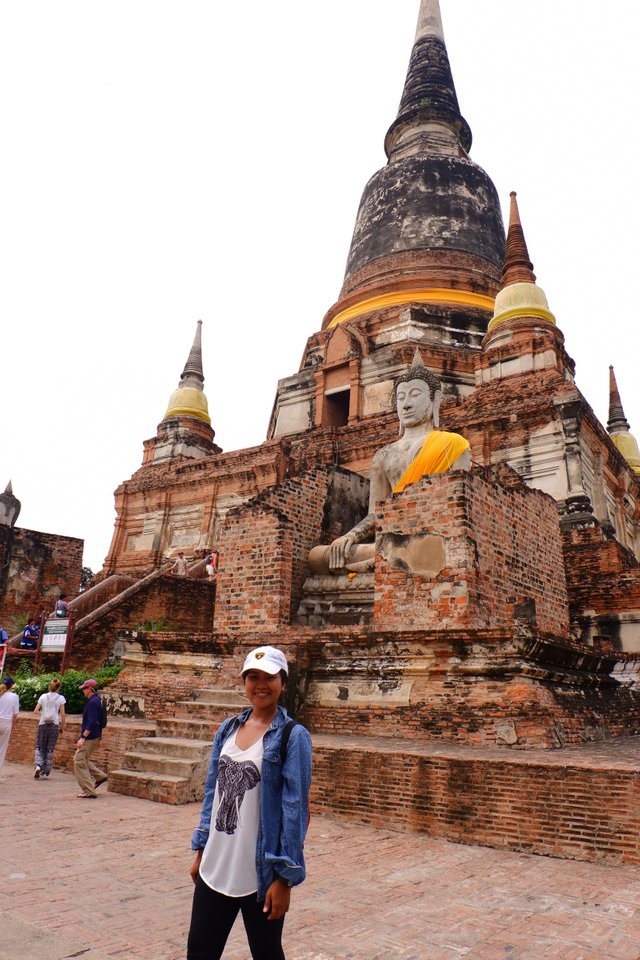 ---
Posted from my blog with SteemPress : http://indayclara.vornix.blog/2018/11/15/inday-clara-travels-solo-31-ayutthaya-in-a-day/
---