Many things have been said about the topic of addiction.
One of the most insightful, powerful, and perhaps accurate, has come from the perspective of cultures of Southern America who regularly use plant/spirit medicines for treating the ills of both their own people and westerners seeking healing - namely, that addiction is a common consequence of a lack of sense of social belonging.
Perhaps especially in their observations arising the contrast of living in their own societies, where community plays a stronger role in the lives of individuals, and the trends of "modernized" cultures where tribal dynamics have long been replaced with ways of living in which people have become more isolated from one another, the Truth within this stance becomes apparent.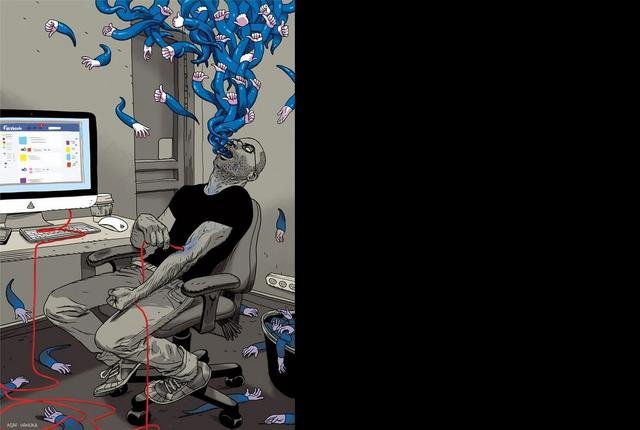 ~ source: 65 Satirical Illustrations Show Our Addiction To Technology

A few nights ago, I had a personal moment of awareness of this phenomenon.
I've always had somewhat of an "addictive personality." Usually, it was directed towards things that weren't the common substances of abuse and hence not viewed as "addictions" by most people - borderline-obsessiveness over seeking information, finding and organizing music (in my DJ days), alot more mental habits and emotional patterns of anxiety, frustration, anger (when younger).
As I've matured, the grip of those addictions loosened. Even whereas I used to smoke weed daily for a decade - which probably was part addiction for many of those latter years - the last 18 months I've been back in Canada and vaporizing, it's been more microdosing, not to "get high," and couldn't really fall into the category of "addiction." However, one thing that I can't fully deny that has been a focus of addiction is none other than technology - be it social media, checking Facebook, Steemit, and Instagram multiple times a day, and a few other websites, typically looping through patterns that are really more a waste of time than anything.
And, I probably ought to confess - in the spirit of honesty, and for the sake of the wholeness of this story - that I've also been drinking what's probably too much (for me) this year. Not likely in "alcoholic" territory, neither every day nor in large quantities. Nonetheless, I have taken a liking towards scotch and wine - and while most of the time, I followed by body's guidance on when it's okay and not okay to drink, there came a tipping point where I transitioned from feeling like I could get away with it, to feel the negative effects on my body kick in.
Anyways...
In preparation for an upcoming ayahuasca retreat, my diet needed to be cleaned up. First, no marijuana for three weeks in advance. And even though I don't use alot, I could feel not outright withdrawals, but there have been some times when it wasn't pleasant. (Although stopping has emphasized that the greatest medical benefit from using it probably comes from the CBD isolates, as my nervous system has felt a bit more unstabilized since.)
Next, two weeks: alcohol. And because I knew I had to stop, I squeezed it out until the end, drinking the last few days prior. Again, not alot. But, enough that I could sense it really wasn't doing my body all that great. And the first day not drinking, I began wondering if I've been putting myself in a danger zone - because I felt a craving. Even though I also felt it wouldn't be doing my body any good. At that point, I began questioning whether I have slipped into addiction.
However, that same day, the sense of "withdrawal" did not feel exclusive to alcohol (and or marijuana). Somehow, I could feel it was wrapped up and intertwined with the technology / social media bit - and that that was probably the biggest piece of the puzzle.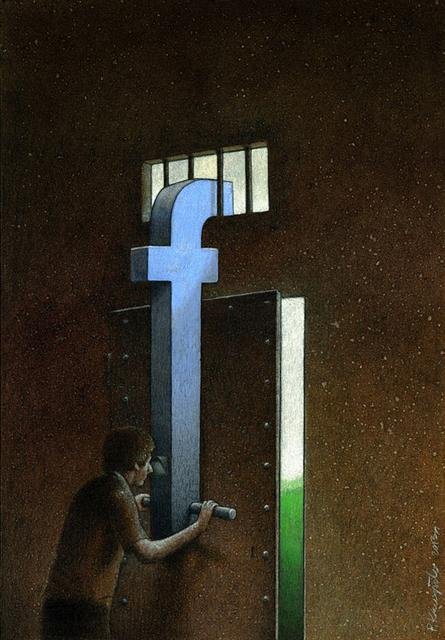 ~ source: 65 Satirical Illustrations Show Our Addiction To Technology

I used to be shitloads worse with social media, and have gotten alot better with it.
Yet nonetheless, I've still felt in the grips of an addiction.
And somehow, paired up with the cutting out herb and scotch, it opened the door for some real insight. That day, I was sort of observing the instability. And while feeling into the senses of compulsion, I had some realizations:
I wasn't constantly checking social media for likes or stimulation, as might be typically expected. I was doing it because I was craving a sense of connection.
I've gotten past the phase of scrolling through stupid ass news stories and just consuming information. I'm over the desires for validation, having been bored as fuck with generic "great post" comments here. I've wasted so much time on Facebook, that the thought of spending any longer than a few seconds there makes me almost sick.
But, I have continued to check in.
Call it addiction, if you will. But that night, I saw/felt it clearly: the hit I was looking for was that which I've found in meaningful interactions. Be it a few short words, or a longer, thoughtful dialogue. I've been extremely hungry for deep, human relation.
Just as the wise elders of medicine tribes have identified social isolation and a sense of lack of belonging in strong community as the core root of addiction, I found myself sitting right in the middle of that truth.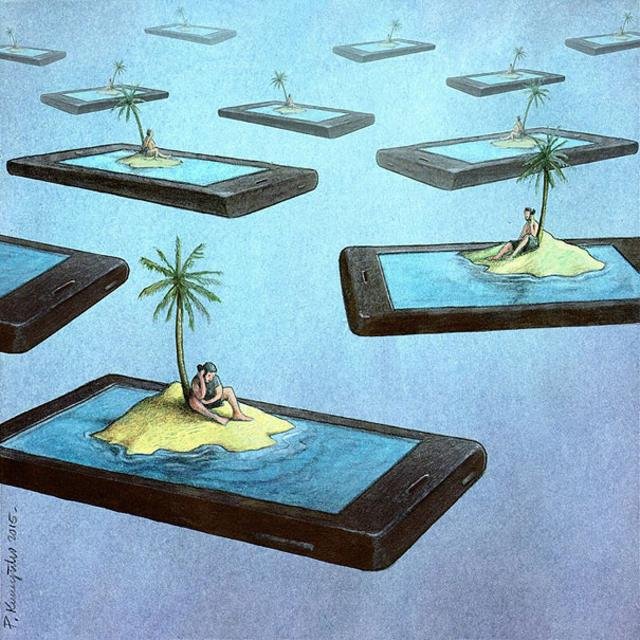 ~ source: 65 Satirical Illustrations Show Our Addiction To Technology

It's a bit of a tricky challenge, living in a modern, westernized society.
There are definitely "third world" countries where people have retained a much stronger sense of community ties, far less concerned with materialistic economics than simply being happy with what they've got and holding onto the cultural rituals which bond the members of their communities.
But in the west, we have become so isolated from one another.
And even in the midst of all this technology boom where we can connect with people all over the world, we've paradoxically distanced ourselves from those closest to us in real life.
Then again, we can't completely blame technology. There are alot of different factors at play.
Personally, myself, I've always been very much on the introverted side. I never have enjoyed random chit-chat with strangers too much. And it's rare I bump into people with whom there's any sort of attraction to invest the time necessary to grow a deeper, meaningful friendship.
And having grown up, I've also grown out of friendships I once had in this city. I've become a different person, and don't feel I could relate to alot of the same people I used to. And somehow, it feels like an empty prospect of simply going through the motions to try.
So how does one meet and connect with people to make friends that you'd actually want to spend time with?
Go to random Meetup groups on blockchain, because that's what I've been into recently? Tried that. And didn't particularly connect with anyone that I'd really want to hang out with again. And then, I've grown tired of going out to do the whole networking thing again. Been there and done that over a decade ago. Not at all in the space where I want to repeat it. And not really in the position right now either that there's really reason I need to be for any sort of business.
Maybe it's all just a matter of timing. Maybe an extended period of hibernation was essential upon returning to Canada as a different person. Maybe priorities have changed since growing up and maturing.
Whatever the case, my social life - in real life, not online - has looked like something that would validate feeling lonely. I kinda haven't felt lonely, being sort of content with being a hermit for a while. But it hasn't been fulfilling. And thus, here I've ended up - addicted to social media, in search of meaningful interactions that seem illusive to create consistently in the physical life.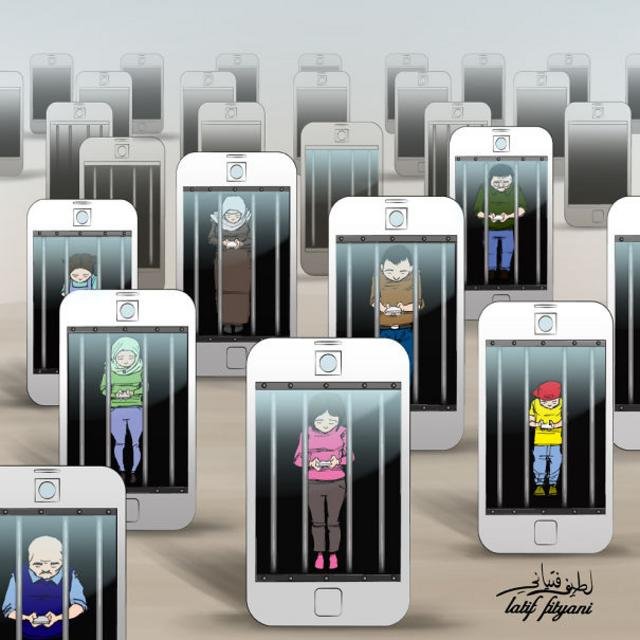 ~ source: 65 Satirical Illustrations Show Our Addiction To Technology

What next...?
I dunno. That's largely part why I'm returning for a visit to the grandmother. (Ayahuasca).
I have felt stagnant. Life hasn't been bad. But I haven't really felt alive.
I've gotten so stuck into these ruts of habit, that the deeper part of me is yearning for a life of rich, meaningful, creative friendships and collaborations - yet I've completely fucking clueless on how to step into those dimensions I've felt called to. At this point, there are no action steps to plan out, no goals to set, no linear path to proceed on with conventional motivation. That's all old-energy shit that doesn't work anymore.
The old needs surrendering. More layers of ego need to die. New perspectives are required to shed light on matters from different angles. And sometimes the only way to effectively do that is through the use of powerful plant medicines that have been used to treat all varieties of illnesses for thousands of years.
Yes, addiction may be a form of illness. But it goes so much deeper than that.
And even if tracing that back to the root of social disconnection... there too, await a tangled web of factors and illnesses that require intervention way beyond anything our petty little conscious minds could drum up.
So it is.
No moral to this story. No happy ending. Just a snapshot of the process in progress.
Nothing unique or special about this story. Just some reflections of the process, through which millions - perhaps billions - of us on this planet are going through.
Addictions of all kinds... social media, drugs, alcohol, gambling, sex, emotional abuse, all kinds of self-destructive habitual patterns of thoughts and emotion. All shades of illness epidemics, from the physical, to mental, and spiritual.
Would greater social connection and strengthening of community alone solve it?
That might be one piece of the puzzle.
Though then again, we're kind of a sick society as a whole, as of recently. There are so many cultural programs requiring healing, upgrading, and transformation - that even if were to band together with one another, we'd probably just end up perpetuating more illness, having placed so much value in all the wrong things.
Is there a way out?
I dunno. Maybe it's death. Maybe this whole life journey is but one big healing process. Maybe we never were meant to "get it right" in this lifetime and live happily ever after. Maybe there's something to those "new age" perspectives that this is but an earth school, to which we've come to learn love - the classroom being a fucking nuthouse in which there's ceaseless streams of tests for us to experience the contrasts which wear our resistances down, such that there ultimately is no other choice but complete surrender to the higher forces of compassion, and the higher orders of connection that arise through it.
Or some shit.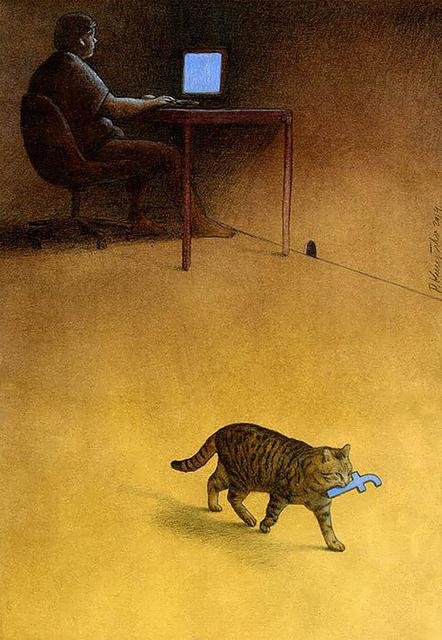 ~ source: 65 Satirical Illustrations Show Our Addiction To Technology