Můj deník 23.11.-1.12.2019
Programování tréninku
Je dost vopruz.
Zvlášť když nejste úplně specialista, začne to bejt poněkud komplikovanej úkol. Kdybych dělal třeba jen stojky, nebo jen běhal, bylo by to o něco snažší (tam jsou zase jiný komplikace), ale jak člověk trénuje sílu, vytrvalost i balanc (a další věci) zároveň, je to poněkud problematický. Každej ten komponent totiž vyžaduje trochu jinej přístup. Je to trochu jinak poskládaný a hledat v tom společný body a nějaký principy není úplně snadný.
Na druhou stranu si pořád myslim, že zkušenosti, který tím člověk získá jsou k nezaplacení. Navíc dneska v kvantu těch metod dokážu mnohem rychleji stanovovat, co fungovat spíš bude a co nebude. Dokonce jsem si na to stanovil vlastní systematickej přístup, jak věci hodnotit z hlediska jejich dlouhodobý udržitelnosti. Většina lidí si totiž skládá trénink podle ideálních dní. Teda dní, ve kterých je všechno super a vychází to. Takže vezmou trénink a zasadí ho do takovýho vlastního vakua. Jenže život je často nepředvídatelná věc a nedá se úplně dobře plánovat. Jak byl ten citát?
"Když si děláte plány, bůh se směje."
Takže já jsem to po čase začal dělat přesně opačně. Místo abych trénink plánoval podle "perfektních" dní, kdy všechno běží jako po másle, začal jsem ho plánovat podle těch "nejhorších" dní, kdy nejde vůbec nic tak, jak si člověk představuje. A pokud to nebude fungovat v těch "nejhorších" podmínkách (samozřejmě tady to berte s nadhledem, kompletní ochrnutí těla se do toho nepočítá), tak to rovnou zahazuju. Takže pokud třeba můj pracně vypiplanej trénink stojky nebude fungovat o Vánocích u babičky po dvou deci vína, ani s tím nezačínám...A to se týká i stravy. Jakmile si vybuduju dokonalej jídelníček a nejsem schopen ho dodržovat o všech myslitelnejch a nemyslitelnejch dnech, nemá pro mě smysl se tím zabejvat. Protože dřív nebo později se takový podmínky dostaví...
Tenhle přístup se mi celkem osvědčil. Tréninky skládám podle víc metod, který ale musí být sloučený, aby se podle nich dal posuzovat progres. Takže si ve všem hledám to svoje a pokouším se všechno zasazovat do vlastního kontextu. Bez toho to totiž nejde. A člověka to učí nacházet principy. Univerzální věci, který platí ne pro jednu věc, ale ideálně hned pro několik věcí naráz. Takovejch už jsem našel spoustu a moře jich ještě nevidim. Ale s trochou vůle, vytrvalosti a štěstí je třeba objevim.
Na všechno se sice přijít nedá. Na to je jeden život krátkej a objevovat se dá donekonečna, ale říká se, že důležitá je ta cesta, ne?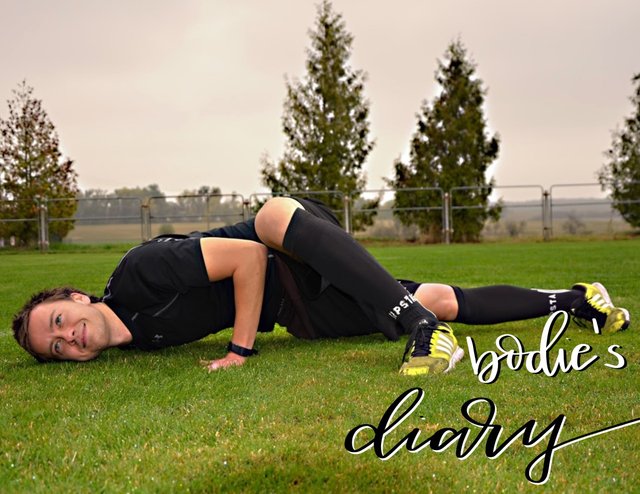 23.-30.11.2019
Proč o tom píšu má důvod. Já sem se totiž programováním tréninku teď nějakej čas zabejval. Sežralo to víc času, než bych si představoval a víc, než by mi bylo milé. Leč tak to je. Takže můj trénink teď vypadal asi tak, že jsem něco udělal, potom jsem se nad tim zamyslel, předělal to a nakonec často i zahodil. Je to trochu jako vyhodit 3/4 roku práce oknem ven, ale co se dá dělat. Ukážu vám aspoň takovou pomalou verzi ?ještěrčí chůze" víc zezhora. :)

1.12.2019
Teď už jsem se snad chytil, takže můžem pokračovat. 10 km běh s dýcháním v rytmu 4 kroky nádech, 4 kroky výdech (obé nosem). Tempo nic moc (cca 6 minut něco na kilák), ale v zimě se počítá každej kilák.
Druhá fáze byla práce na flexibilitě/mobilitě ve dřepu.

Třetí fáze stojky. Tentokrát s jiným výkopem, než na kterej jsem zvyklej, takže jsem trochu trpěl. Každopádně malej tip pro stojkaře. Stojka není jen elevace ramenního kloubu. Je tam třeba hodně stability. Naučte se proto schovat hrudník (protrakce). Je to vlastně hledání bodu někde mezi stabilitou a flexibilitou.


19414

Daily Activity, Gym, Running, Walking
| | | | | | |
| --- | --- | --- | --- | --- | --- |
| | | | | | |
| cm | | cm | | cm | |