How To Optimize SEO On YouTube Videos, Contributed by @TangerineTravels
If you're wanting to grow your YouTube channel, you need to put a lot of effort into the SEO of your videos. Video SEO goes a lot further than simply choosing an attention-grabbing title. You need excellent content, specific search terms, appropriate tags, a great description, audio transcriptions, and more.
Great title
---
You need to choose what keywords to go after and have that exact search term in your title. Your title should not only be something that people are searching for, it should also be something that will get people to click on it.
The content of the video needs to be something that makes people say "Yes, this is exactly what I was looking for." So don't use clickbait because people will quickly click away from your video and YouTube will rank your video lower because of it.
Excellent content
---
If your content isn't good, YouTube will find out, and you will get ranked lower. You need to be looking at the analytics of your videos and see how long you're holding people's attention. The longer people watch your video, the higher YouTube is going to rank it. Below are the "Audience Retention" analytics for this video.
---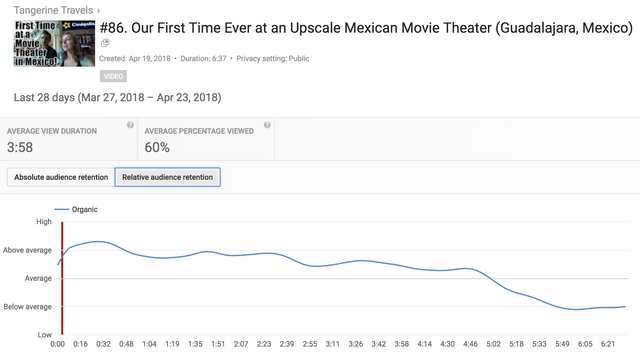 ---
For most of the video, our audience retention is above average (relative to other videos on YouTube of the same length). We see great retention here for about the first 5 minutes but then it drops off hard. We see the same thing happening at the end of all of our videos, so we need to figure something out to get more people to watch our videos until the end.
Tags
---
YouTube tags don't work the same as tags as other social media tags. Your tags should be exact search terms that people are going to search for to find your video. For example, in the video below, some of our tags are:
"going to the movies in mexico"
"upscale mexican movie theater"
"movie theater in mexico"
"going to a movie theater in mexico"
---
---
Description
---
Whichever search terms you're targeting should be included verbatim in your title, tags, and description. You'll have one or two main keywords that you're targeting in your title and you should have many other secondary keywords that you're trying to rank for in both your tags and description.
Your description should say what the video is about, it should be no less than 200 words, and it should include some keywords.
I'm going to go over my description for this video and highlight the keywords that we're targeting in the description.
---
---
Below is our description and in bold are keywords that we're targeting:
Some of our subscribers recommended we check out some upscale shopping in Mexico. Today, we went to Plaza Andares luxury mall in Guadalajara (Zapopan). Like we said in the title, we couldn't believe our eyes. All we could think was... you can find THIS in Mexico?
Andares high-end mall looks like something you'd see in Las Vegas. So what can you buy in Guadalajara, Mexico? There are a lot of US brands in Mexico. At Andares Zapopan you can find brands like Burberry, Michael Kors, Nespresso, Hollister, MAC Cosmetics, Rolex, Chanel, Hugo Boss, H&M, Liverpool, Nine West, BCBG, Lacoste, Best Buy, and many many more. Assuming you're very attached to them, you really can find plenty of United States brands in Mexico.
If you want to know what to do in Guadalajara, Mexico, this is one incredible option! Almost all of these stores are way out of our budget—it's definitely considered Mexico luxury shopping—but it's still fun to window shop and spend time around the fountains, greenery, and ambiance of the large mall.
As you can see by all of the bold phrases, we took our time writing this description and made sure it didn't sound like we were just stuffing keywords into it. But we did, in fact, stuff many search phrases into that description.
---
Stay tuned for part two as we dig a little deeper into optimizing YouTube video SEO.