The first memory of Mother's half-brother, my Uncle Clyde Hammonds was when I was too young to remember clearly. We were living with my Grandmother in the early 1940's and he was spending a few days with us. The memory was of him sitting across the room with a fuzzy, small stuffed elephant on his lap and the elephant was waving its trunk at me. That's all. Just the elephant I was sure was a real animal. Uncle Clyde had brought it for me for my first birthday. The rest of the story is because Mom told me about it later, but I do remember the little elephant dancing on his lap even if I didn't know what it was.
That Was Ellie, and Ellie was my friend until she fell apart from my constant companionship.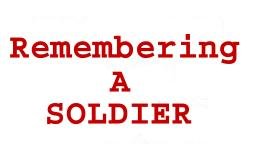 Uncle Clyde always had the aura of being a world adventurer to me. He was away in the Army and I saw him on rare occasions in my early years. Even so, he is one of the first relatives in my memory and even in my earliest years I remember him being away "fighting in the war."
Those unique contacts made him even more exotic because when I did see him, he told stories of different worlds and events that were fascinating to a young boy. I remember listening to him with more focus than I had given to any adult because his stories were of things he had done.
After WWII ended he was stationed on the West Coast and then went to Korea at the beginning of that Forgotten War.
When he returned from duty in Korea, he brought me a box of small, thrown-away things: crayons used to write on large plastic maps, spent shell casings from rifles, a field map written in Chinese, a metal tray from a mess kit, and other things, including a kit for building a model sailing ship with complete rigging and sails. Each thing came with a story and they were my most treasured possessions. I kept the small box under my bed for years and years, just as I kept the memory of those times alive.
Many years later, Clyde had retired at Fort Jackson and was living in Columbia, on Bagnal Drive. I had just left the Air Force and had a new job in Columbia. Clyde and Aunt Ruth invited me to stay with them while I got situated and I lived with them for six weeks while I started my new job and found an apartment near the University of South Carolina. I left their hospitality and moved into my new apartment a week before I got married.
It was in May. Almost daily after work, Clyde and Ruth would take the neighbors across the street – the Coles – and me to their cabin on Lake Wateree and we would fish, cook, and visit until well after dark.
I asked about his past one evening when we were sitting an fishing and he told story after story of growing up and becoming a soldier. Through that and other private conversations, I learned that he had entertained no other pastimes other then fishing and of being a soldier. The Army was his life and he was content in uniform and doing his duty.
That time is another special memory because Clyde treated me as an equal and we talked about our military service and told our "war stories." I stopped feeling like a child and became more his his equal because he treated me like one. He told me things about his life that I treasure; many of them very private things from his past that I felt he was passing on to me simply to preserve them. They were stories about events, times, and people; stories that were too private for him to share but too important to allow to be lost. I have them in my head but some need to be told because they were "soldier things" and part of a man's life that only I in the entire family know.
Maybe someday.
Sitting outdoors with crickets and mosquitoes as the only witnesses, an old soldier telling about the past. That was a good time.
Then, my marriage, college, job transfers, and life faded that relationship. That period of self-absorption and of losing touch with my uncle is one of my great regrets in my life.
Clyde's funeral was sad for me. I sat in the chapel and spent too much time thinking of what it is like to die with no close family other than a wife to share the grief. For personal reasons, I did not go to the cemetery for the burial. I needed to keep a door open on my memory of a handsome soldier who had been part of my life. He was a good man and a good soldier.
Years later, at the family reunion, in July, 2008, one of my cousins announced that there was a pile of photos on a table in the corner of the room and anyone could have anything they liked. "They're all about Hitler and Germany," was the related comment. Anything left would be "donated to a library, if nobody wants them."
I went to look.
Spread on the table were a few hundred loose photos, packets of old papers, and a few old photo albums. They were Clyde and Ruth's photo albums!
Photos had been pulled out and torn out; pages were torn and missing, and the remaining fragments of my favorite Uncle's life had been dumped unceremoniously to be hauled away by anyone.
Hitler and Germany?
They were photos of Clyde and Ruth's travels when Clyde was stationed in Germany after WWII; nothing whatever to do with Hitler! They were vacation photos! Photos of relatives, photos of Ruth in the snow, of their many pet dogs, of Raina (their maid/friend who had been in the stories told), and of Clyde in uniform. There were photos of an obviously happy couple, and a photo of their stillborn twins from when things were not happy for them in their first years together.
There were also packets of old papers.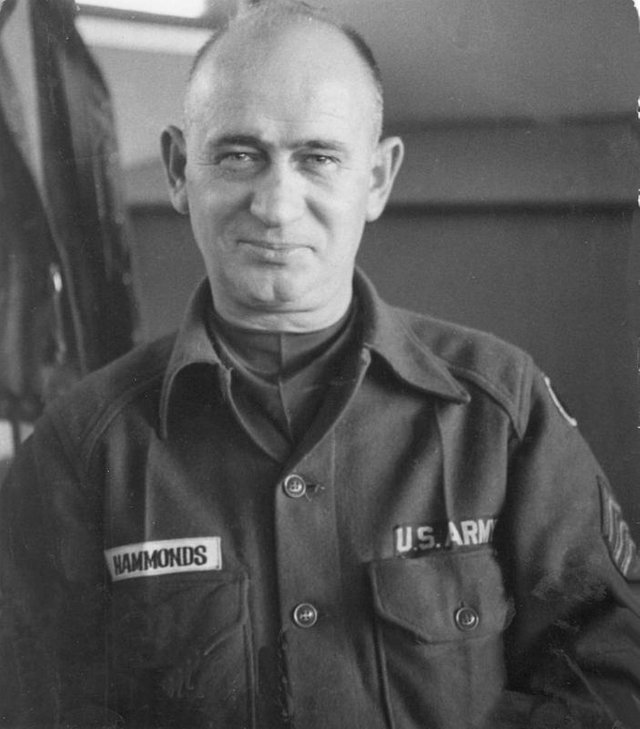 There was a constant ring of people around the table, hands shuffling through photos for recognized faces. By ones and twos, most of the photos disappeared from the collection, moving into the hands of other family members. Maybe that was an appropriate end to the life's collection of photographs.
Maybe.
Realizing what was happening, cousin Michael rescued most of the papers, and they will be safe with him. I got one small, picked-over album and an envelope with a yellowed onionskin copy of a letter; both which will go to Michael for safekeeping. I re-typed the letter's contents and saved it to have another memory of him
There should be a better process for sharing the left-behind items from a person's life. A collection of photos always tells more than an individual photograph and it was sad to see the photographs being pulled from albums and the collection dispersed. As the albums of photographs that preserved so many of Clyde's and Ruth's memories were separated, the memories shattered, dissipated, and disappeared like droplets of fog after sunrise.
At least his family participated in that final attrition of his life.
Thank you for the friendship and the stories, Uncle Clyde. You have a special place in my heart and I will always regret not having been a better friend.
I especially thank you for Ellie because she helped shape my life.
Will

~ finis ~


This is a Steemit Original