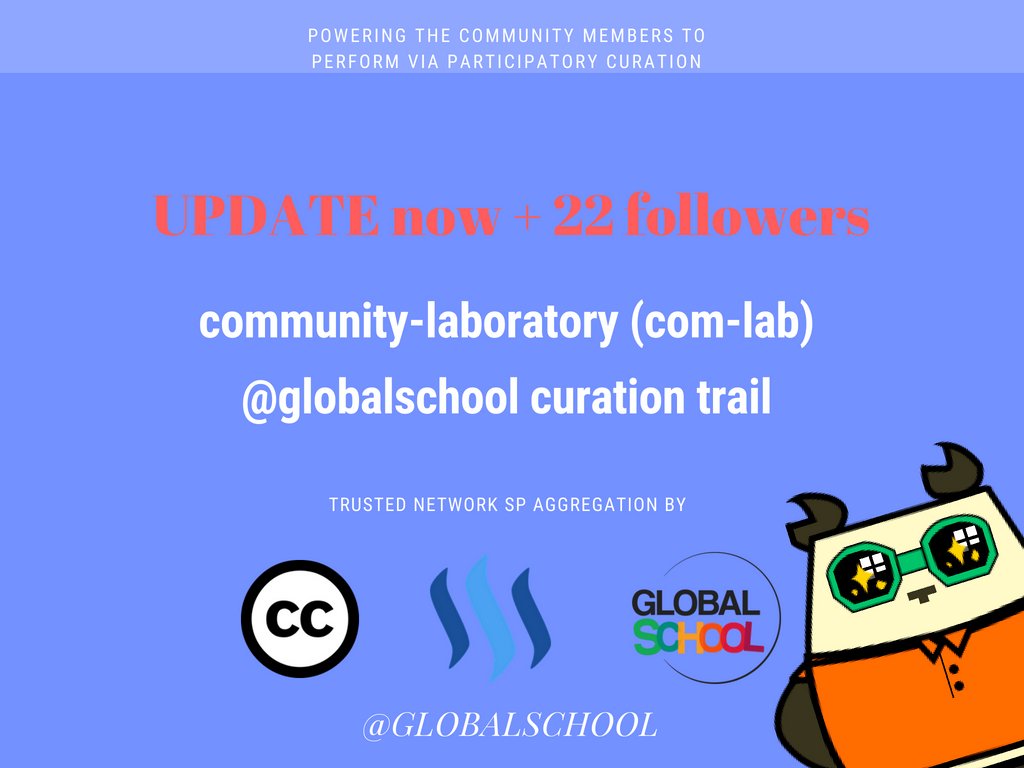 A short update to keep you informed: the @globalschool curation trails counts now 22 followers in total, which means, every time one of our mindful curator are voting you'll get notably more visibility!
For example, @creative-commons will now vote with min +25 additional votes in total (as cc counts already 3 followers in his curation trails including @globalschool). It will be similar for the upvotes of @lizanomadsoul, @manncpt , @austroboost and the ones I am making, each of them will be followed by the curation trail of @globalschool.
What is the com-lab?
Get to know more about the community laboratory by reading the post of @manncpt
Community building after the conceptualisation and experimentation phase
What is the communication control room?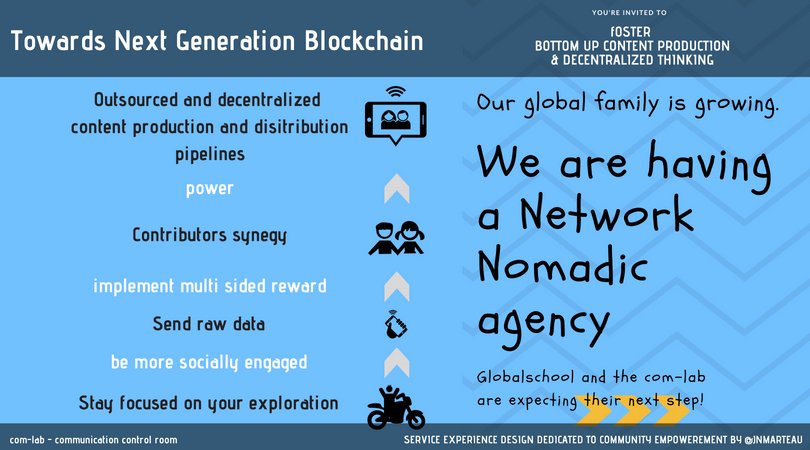 More on my article: Nomadic capabilities composability: Towards Next Generation Blockchain - What is the Communication Control Room within the com-lab?
What is a curation trail?
A curation trail, is an aggregation system for trusting supporters who are willing to automatize the vote of their account by following the patterns of votes of a trusted person or entity.
It means, on the #steem #blockchain you can via a third-party tool automatize your vote or even schedule posts. By simply following the curation trail of an account you are trusting your vote goes to great content. The account you are following will be upvoted automatically depending on your setting. You can define the weight power or at a certain ratio.
How to be part of a curation trail?
Check out my article about how to create your curation trail or join the @globalschool curation trail and how we are supporting the curation of #creative-commons. :)
Trusted participatory curation - Towards Next Generation Blockchain: Join the community laboratory curation trail
---
Other posts related to curation trails:
Here some other posts I found on the topic while trying to get to know more about this option.
https://steemit.com/steem/@upv4life/what-is-a-curation-trail
https://steemit.com/votingtrail/@acidyo/curation-trails-bad-or-good-for-the-platform
https://steemit.com/faq/@acidyo/what-are-curation-trails-and-delegated-steem-power
Join us to organize the @globalschool via discord
As @globalschool, @onoschool principle is totally collaborative! That is why we are inviting our supporters and community members to contact us for example via the com-lab (https://discord.gg/4TPPtre) when they have ideas or project they wish to implement of for which they need support, but also when they find a questionable articles, pictures, videos or anything. We can't check everything for sure, but we can eventually support you you in finding indicators of validity or not shared online and we are replying to all the questions addróessed to us.
If you also want to cooperate with , @mammasitta, @lizanomadsoul, @preinisch, @teekingtv, @for91days, @zuckerzombie, @bertille-aa, @vinyll, @neomad, @gexi, @smartcoins, @hayk-hayko, @steembay, @travelfeed, @alexvan, @manncpt and me in the community lab.
Just click on the link and join the discord server. It is an invitation for collaboration:https://discord.gg/4TPPtre
---
It always seems impossible until it is done.
Quote by Nelson Mendela
---
All the rewards of my posts are invested to take in charge @globalschool, @ccommons.art, @onofoundation activities and or to support new comers with @blocktv, @blocklaw, @inyoursteem, @covermaker, @ideamachine, @workshops, @hackathons, @steemshirts, @innovations, @neomad, @solidarity. Thanks for your support, SP delegation on @globalschool or @onoschool, upvotes and resteems!
Thanks for your attention and continuous support!
---
With a lot of love,
Jean