COLLIDER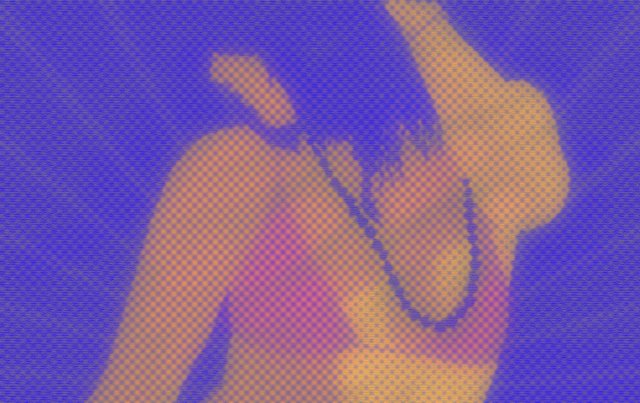 Looks like I'm married to my boss now. Somehow she's become my wife - that is, one of my wives. Head Wife, of course. Guess she'll always be the boss.
It really is strange having all of these wives around. They're loyally dedicated to an absurd degree; doting on me, cooking for me, cleaning the compound. Manning the gun ports. Killing for me. And the sex...
I keep asking myself if this is all real, that I've actually become the head of an embattled cult of beautiful women. But of course I know that "reality" has precious little to do with it. Or maybe everything...
"You are our visionary," Wife #1 is saying to me, sitting on my lap in cutoff shorts and nothing else, her bright green eyes beaming fanatical enthusiasm all over me. But in my memory she's perched on the corner of my desk in her power suit, back at the offices of the old Institute.
"Your problem is you have no vision." She flips a cool hand up from a shapely knee, tucks a lock of auburn hair behind her glasses and glances absently down at my slumped form. "That's why you look to the internet for answers."
All I want is for our Hadron Collider to matter more than all the others. So what if I look to esoteric sources? But all she cares about is her career.
I'm listening with bemusement to the gruffly clipped voice of the Chief Negotiator. He wants me to know that he knows how this is all going to end. Woven into this terse sentiment of his are the words that I've primed him to use. They echo through the shadowy communications room as I lean back in my favourite wicker chair and enjoy a foot rub from Wife (bank teller who flirted with me once) #3. These words are a mathematic code for our escape. I was always a math geek; good with numbers but hopeless with talk. Now I know that they are one and the same.
And so I speak the spell and get him to speak it in turn. A bank of monitors glow a pale blue haze before me, and through them I watch the enemy moving around outside the compound. I can even see the negotiator, unbeknownst to him. He's a lot skinnier and maybe even shorter than before, but basically the same chump he's always been. Our conversation is occasionally broken by sporadic gunfire from the girls, as per my instruction. Keeps him on his toes. To think I once actually feared this guy, back when he was my Gym Teacher.
To be honest, I'm really doing this to spite her. The way she uses and controls me and places limits one me has to warrant a response. And it's so easy to just enter the code and let the auto engineer do the rest. Just a minor adjustment to the Collider's geometry. OUR Collider.
Now they've cut the power, which is perfect. Candle time. We're gathered in a circle in the centre of the living room with all of the furniture piled in a corner, kneeling on a hardwood floor marked in chalk with various sigils. Our loudspeakers drown out the enemy with a recording of all of our negotiations – edited so that only the spell remains. The words resound in a disjointed way that breaks and reforms the rhythm of this world.
Wife # 7 (high school classmate) lies in state beneath the floorboards, sacrificed during the first shootout with the Feds. She'd already been missing the kids. Apparently before all of this went down, I'd instructed the men to leave with all of the children. And now these men are scattered across the country, raising my progeny for me... The internet had a word for guys like that, back in my old world.
My wives, sixteen in all, join hands over their fallen sister's grave and stare at me with absolute and blind devotion. But as I raise the silver blasting cap in my own hand I notice that Wife #1 has altered her expression.
"The irony is that all of your fantasizing indicates a remarkable lack of creativity. This is because you never do anything, just waste your time constructing theories. Real creativity requires action. So when are you going to do something? When are you going to take action?"
Looking from across the circle at me now, her face has regained that familiar mixture of contempt and pity that she'd always had for me, and it's at this point I realize why it it had been so easy for me to alter the Collider, why the security was so lax that evening.
I thought I'd been defying her. First she used humiliation, and then praise – ridiculous praise, let's be honest. And as the rest of the group gazes at me in grovelling servitude it occurs to me just how embarrassing my fantasies really are. To me, all of this cult stuff was just nonsense, an easy scam that I'd somehow manifested through the power of my will... But now it's finally dawned upon me that I really am in a cult - a much bigger one than just this particular group. One that goes back to my previous life; to the Collider.
A cult from which there is no escape. Because I succumbed to my pride.
I look down at my hands, the blasting cap trembling in my fingers. It takes all of my willpower to look back up at Lucy and meet her eyes, now that I know the truth.
She's always been the boss. But now her face has altered again, now there's something else... Some sort of a plea? A gesture of kindness, of hope? Most likely the gentlest of final pushes.
Time to grow up.
My thumb presses down on the blasting cap, before I have time to change my mind, or even prepare myself for this next collision.
---
Writing and images by Greg McCann, the author of this post and owner of this Steemit Channel. To view more of my work, please visit www.fireawaymarmot.com.