How I Lost #150,000 To A Guy Last Night (episodes 3 & 4) | Read Episodes 1 & 2.
Hey guys, let me welcome you to the next episodes of my true life story.
Once again, I'm Ilyas Akinbola. I'm a blogger and a freelancer online, while I'm a hair stylist offline. You can check our my #introduceyourslf story to know more about me.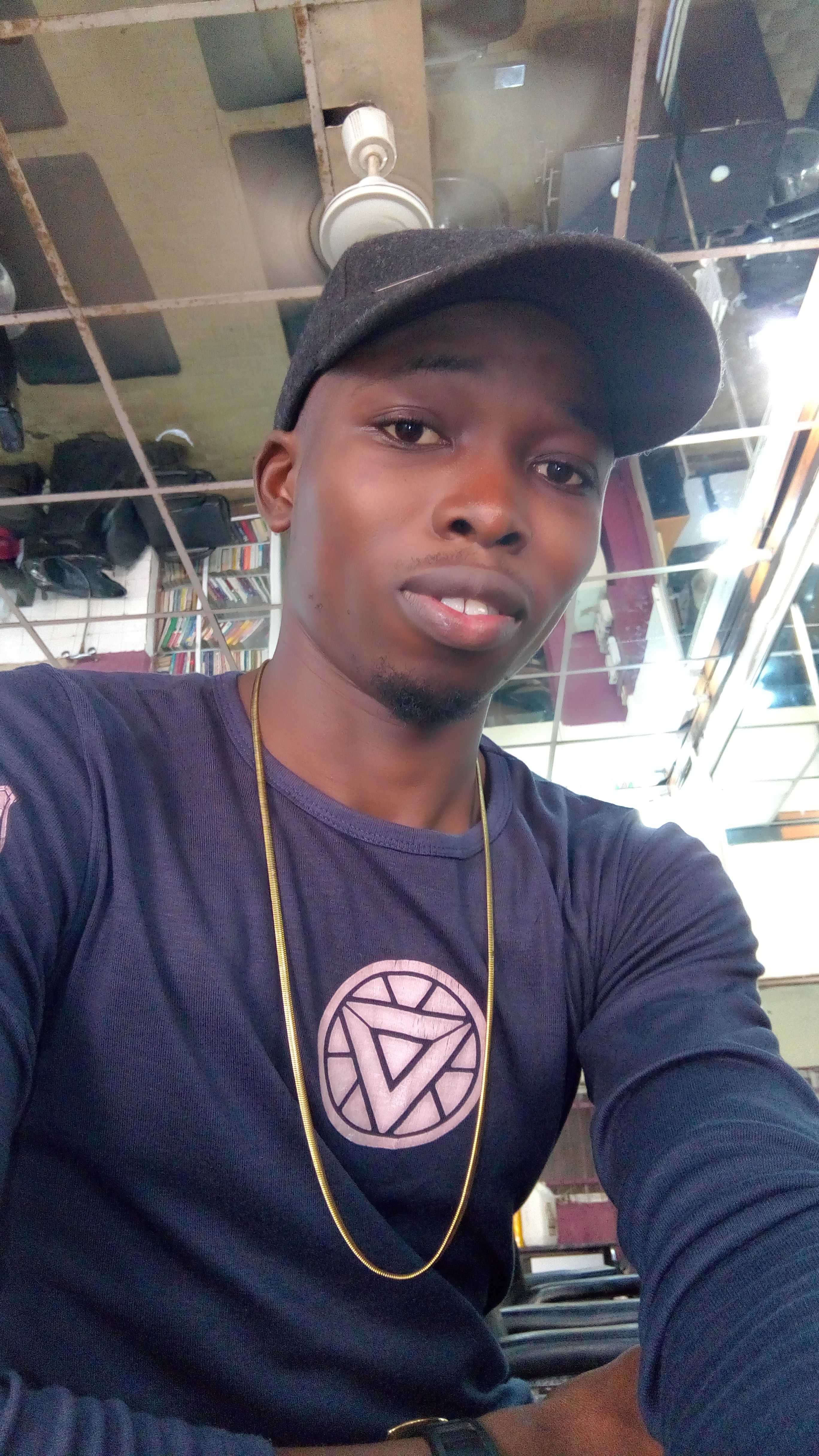 Last week, I published 2 episodes of "how I lost #150,000 to a guy last night". The story was more than touching. I received a lot of comments on my Facebook timeline from people who wanted to know how the story ended.
Well, right on this page, I will share the next two episodes (that is episodes 3 and 4). So, it remains just only episode 5 to complete the story.
I can't publish everything at once because I don't want to bore you my special readers off my story. I trust you have few other things to attend to.
So, let's get it started:
Episode 3: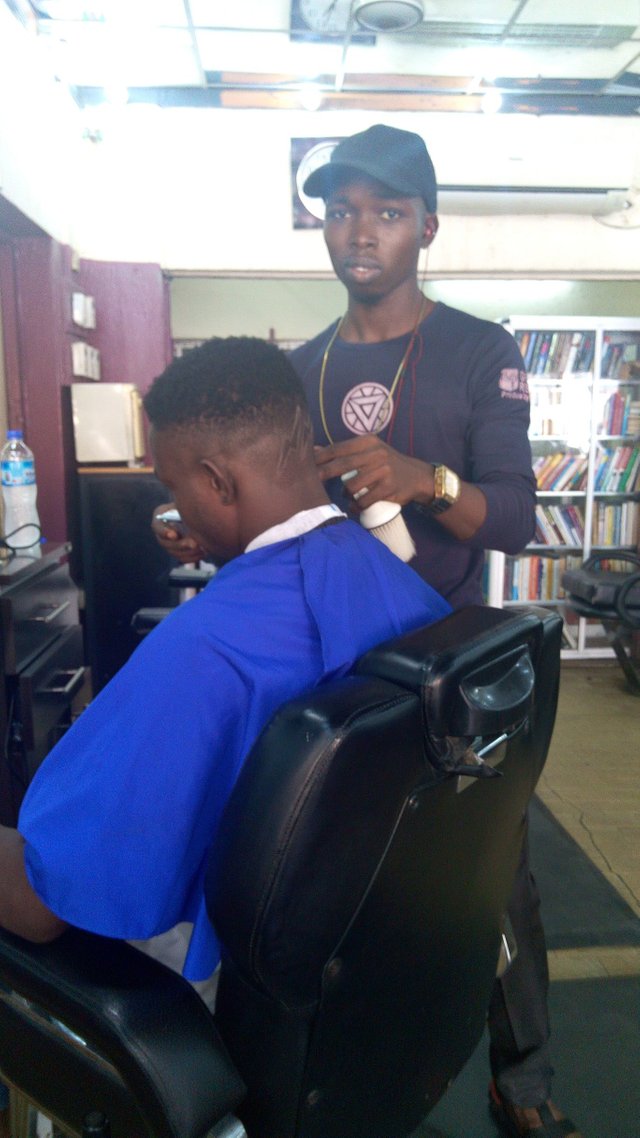 Believe me, the guy I cut was ashamed not because I didn't cut the side I focused on well, but because I didn't finish the other side. He had to wear his cap to cover the hair. Honestly, himself love what I cut on the right side. He believed in me that it was time that wasn't enough to do the same thing on the other side.
We were out, and the second batch entered for their own first round. They were also cutting the same style with us. I had a friend in the second batch. We once worked together in a popular salon in Lagos (name withheld). When he came out, he confessed to me that they used more than 15 minutes. Cheating had started.
The third batch entered, I tried to monitor the time they used. They used almost an hour. By that time, I was sad. Had it been I was among the second or third batch, I would be able to finish the hair... And probably could boosted my points.
It is well, they promised us not to teach. I couldn't complain, but I had few other contestants I discussed the issue with. Many of them agreed that my batch was cheated. It's okay. What was the result?
After about an hour, they gathered us in front of the salon to announce the winners of the first round.
The guy called names, and my name was the fifth he called out of the 14 people he called. Could it mean I took the fifth position with my half-baked bread?
Thank God Sha, my plan worked - the side I finished made me out of the first round. The guy who I said was on the 3rd sit while I was on the 2nd sit was among us. He also qualified for that round. His cut was also dope. He finished his own (probably because his model got a light hair). But I would still rebuke him for the cut if that's all he could barb even when we were not "time-framed".
The only lady among us qualified.
My friend in the second batch who we once worked in a salon didn't qualify. All the same, I thanked God I made it to second round.
Then,the moderator told us that the second and final round would take place outside (barely on the road). Anyone passing by could see us.
They began to set the stage, put everything in place. The DJ at a corner playing "one corner" (lol). We waited till 7:45am before it started. I had already spoken with my second model that the guy gave me. I believed in myself with the guy. His would be damn simple (I guessed). Very soft hair with a good front hairline.
At 7:40 pm. We were called to come on stage with our kits, plug in and put everything in place.
Next, we were asked to call our model. Guess what happened?
Before I turned around to find the guy, I saw him on another sit owned by the guy who gave me the model. What is the meaning of this?
I swear, the guy frowned at me and asked me to look for another person. He said that was who he would be using. That was another fuck up for me. What a friend! After every plan and preparation with the guy's head? We were told to get set in 2 minutes times. I nearly fainted!
A guy later showed up who happened to be one of that guy's friends. Okay fine, I begged the guy to switch the model with me. He said no, that was who he would be using. Chai! After I bought "Cway drink and gala from Shoprite for this idiot".
"Not your fault", I said. It was me who didn't have a model I brought from home. That wasn't my fault either. Most of my friends were having low-cut, I knew they wouldn't be useful. Most of my personal clients gave me one excuse or the other. Some said they were going to their workplace. Some have traveled. Some didn't turn up.
In fact, I approached people I don't know telling them if they could be my model. Those people were very funny, they would first thought I was a gay who wanted to fuck their asses. It was until I showed them the artwork of the competition before some believed me. Yet, it was these excuses from them.
Truly, I knew I tried to find models, but... That was how God wanted it to be. Okay, I would manage the guy.
We were grouped into 2 batches. There were 7 seats. 7 in the first batch, 7 in the second batch.
The moderator announced the name of the style we would be cutting. It was called "skin fade". The skin fade I knew almost look like "high cut fade" we cut in the first round. I was confused. Then, one of us requested for a picture and we were all shown. It was a bit different from "high cut fade". Well, wetin I no fit cut as long as say Na clipper I go use. I was confident. The only problem I had with the guy was just that I needed to low his hair to a certain level, and this will take extra time out of 15 minutes of course.
I cannot come and go and kill myself, I would win if God said yes. But I didn't want to go by the cutting style I used in the first round. I wanted to make sure I finish this one.
We started at once, and everything began. Come and see panic. I no know say people sabi fear. When they saw crowd watching them, fear hooked up with them... Lol
Episode 4: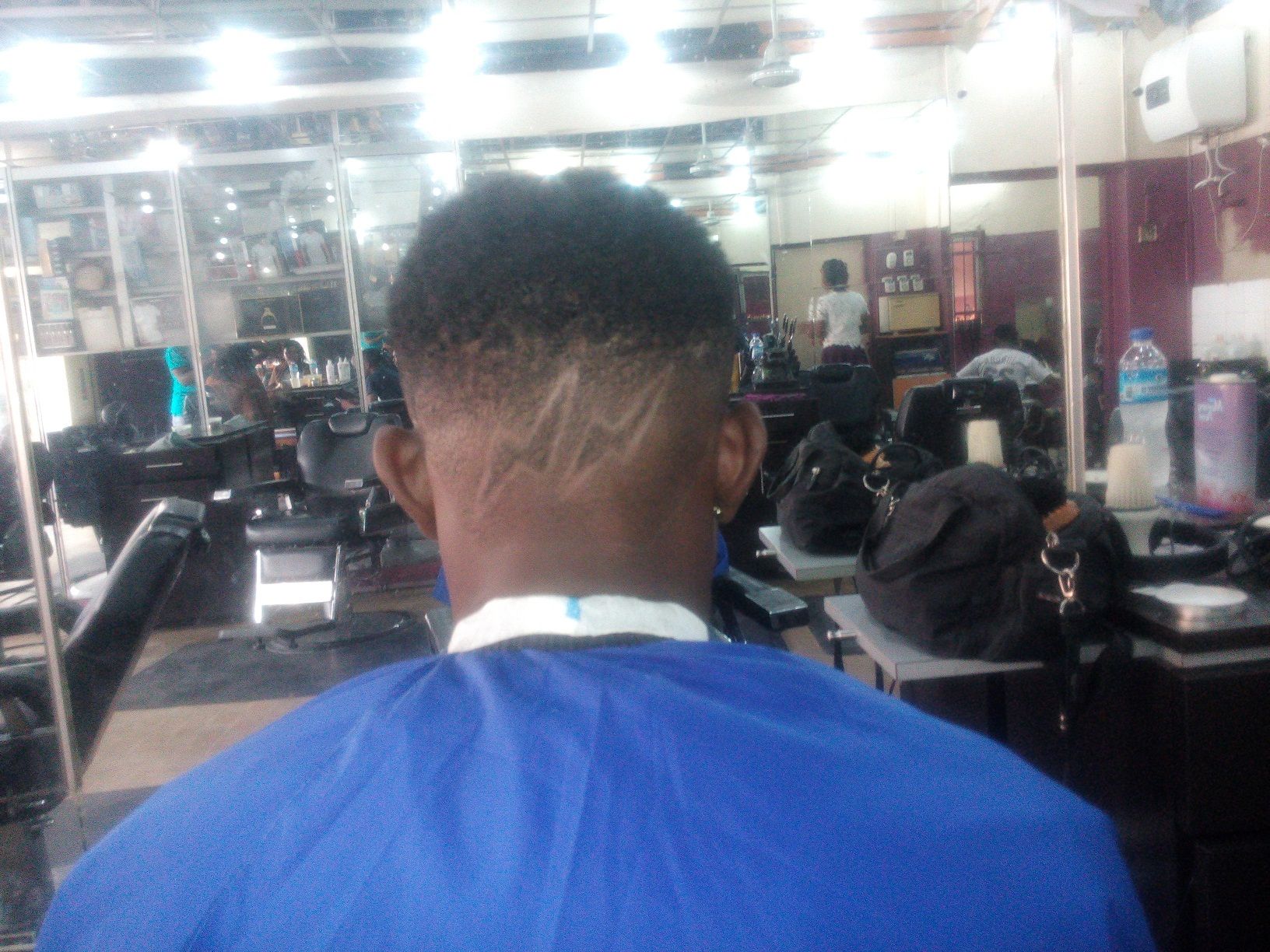 I firstly started with the guy's hair by cutting the "fade-part" away. I mean I wanted to make sure I finished the hair, unlike what I cut my first model. In less than 10 minutes, I was done with the cutting. I wondered where the supernatural power came from. I didn't believe I could be so fast. Probably because I had the same challenge in the first round.
You needed to see how my pocket was full of tools. I "shuk" scissors, combs, brushes and other tools in the four pockets I was having on my trouser jeans. The moderator didn't allow me to use my apron this time around. He said the name "Dark and lovely" written on the apron is unacceptable.
"Here is Kayzplace, not Dark and Lovely", he had told me.
I was looking around to see where I had not done right when the time keeper (actually the "MC") announced 4 minutes more. That was when I remembered that the guy I was cutting was having beards I needed to shave.
I quickly switched on my "Andis" clipper, that is one of the things the clipper is meant to do. I shaved him, not even minding if it was neat or not. They would only judged with the hair cut, and not the beards cut, I assured myself.
Two minutes to go, I brought out my scissors and combs. I started to do some crazy fading with the scissors that caught many audience attention. Nobody again could do that, I guessed - at least, no one used scissors.
I had already finished everything before the MC shouted "DJ, hold it. Hands up". All hands were up. You needed to see how we were sweating profusely despite the fact that it was in the night, the sun had fallen, and we were under fresh natural air. It wasn't easy.
We packed our things and left. The other batch climbed up the stage and work began.
Meanwhile, the guy who collected the model he gave me was in my batch while the only lady was in the second batch.
As my batch climbed down the stage, my model I believed I cut well started to murmur something I couldn't hear properly to the guy who gave me a model. I asked him what was wrong, and he told me:
"this is not what you are asked to cut. You cut a deferent style."
Huh? Different style kwa? That was when I turned around to look at other models' hair. It was truly a different style that I cut. The two styles only looked alike. At that point, I didn't get myself anymore.
I had to leave their midst and stay at the back stage. I moved far away from everyone. I already believed I was a failure. I wouldn't qualify for the final round. My dream to become the best barber, or at least get a price was over. I felt sad that I had water filled in my eyes. I just bundled myself in a corner where I was out of sight of many people. Only a few people could see where I was sitting. I also couldn't see what was happening on the stage anymore. I could only hear the MC through the speaker placed not too far away to where I was sitting, crying in silence.
After around 20 minutes that the second batch was done. I heard (through the speaker) that we should all wait for the judges to compile the results, and then the names of the qualifiers would be announced.
10 minutes later, they started to announce the name. If you asked me, I would say I wouldn't be part of the qualifiers because I cut a wrong style. I only wanted to hear the names and walk my shit out of there. It was already past 9 🕘. My house was a bit far to the venue. I had to enter 3 different busses before I reach my house. The commercial busses would spend up to a hour on the road (without hold-up). I just wanted to hear the names and get lost. One of the judges announced the names.
To my surprise, I heard "Akinbola Ilyas" as the fourth name mentioned. I couldn't believe my ears. I almost fainted. The way I jumped up with joy from where I folded myself got attention of some folks who had almost got drunk with free drinks from "Jameson".
I entered the stage, where we lined up besides ourselves,facing the crowd, I peeped to look at the other qualifiers to the final stage. We were 6 in numbers. I saw Oyinye - the only girl among us - standing next to me. Good luck to her too. I saw a guy the crowd had been hailing too. His name was "Shaggy". I saw another guy, another guy, and another guy.... But Tunde - the guy who took away the model he gave me - was no where to be found.
At that point, I wanted to say that served him right. On the other hand, I felt pity for him because he gave the model he took away from me a very nice cut. He cut the right style too. But what got him disqualified was unknown to me.
Then, what got me qualified? I didn't know either. But I guessed it due to the way I handled my tools. Remember, they were judging us in 5 criterias. I did my best to get a very good point on every aspect.
I wore hand gloves and cleaned my clippers properly (hygiene). I used many tools to cut in different styles (techniques). I faded the hair correctly and gave him a sharp outline. I was fast enough that I finished cutting him. But one thing was sure for me - I didn't cut the right style. Probably my points in the other aspects got me into the final round.
Then, the final round was about to start. But I still had another problem. Guess what it was
That's the end of episode 4. In case you've not read episode 1 and 2, here's the link to it:
Thanks for reading. Do have wonderful month.