How I lost #150,000 to a guy last night [A true life story of myself]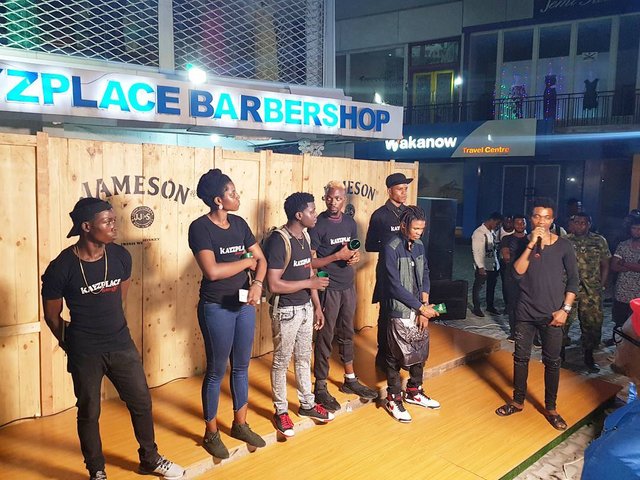 At first, I wanted to cry while I was scrolling through my picture folders. I came across some pictures I took on the day I lost this money to a guy called "shaggy".
But soon, when I remembered the last paragraph of a story I wrote on my Facebook timeline I mopped my swollen eyes with the hanky I had with me.
I decided to divide this story into episodes because I won't like to bore you off of my story... But trust me, it's a story you all gonna find interesting and somehow educative.
You can see what people were saying when I dropped the first episodes of the srory: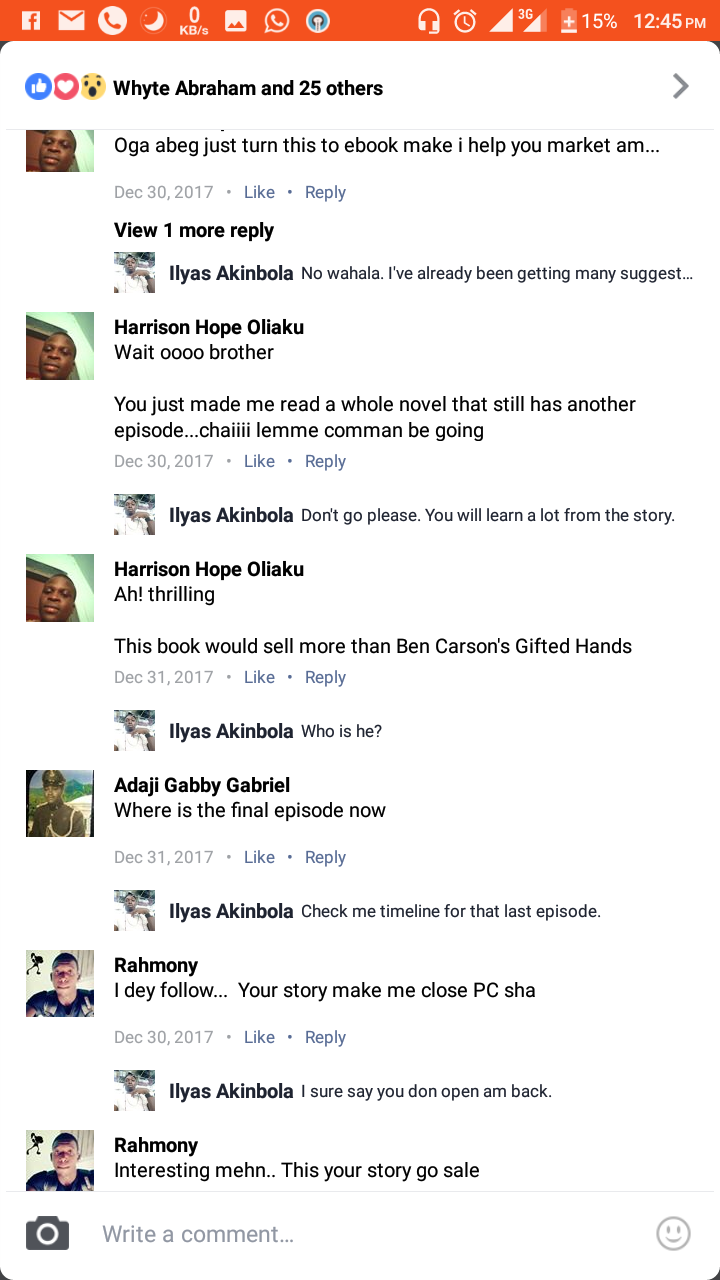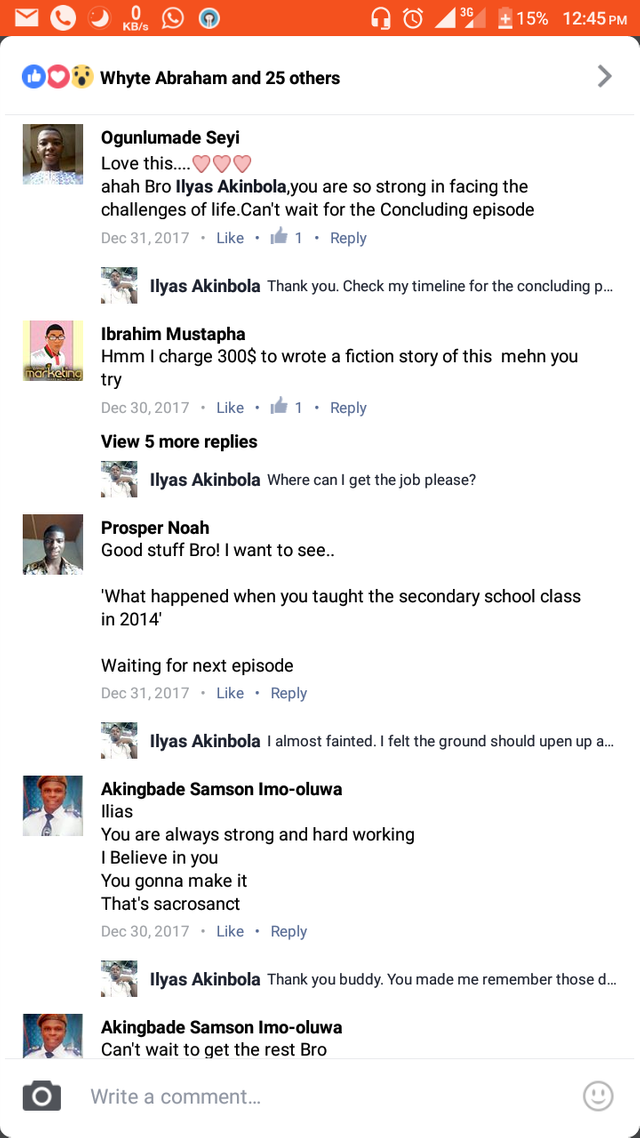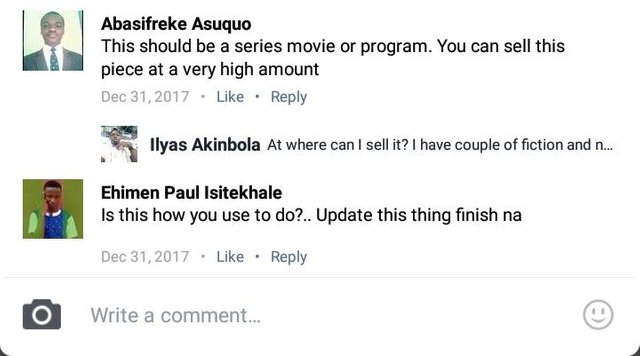 Note that this is a non-fiction story. It happened to me, @easymade. So, kindly read along and enjoy...
=============================
December 28th's night was one of the saddest moments, and of course a happy moment I've ever witnessed in my life.
Imagine a sum of #150,000 just slipped out of my hand just like that!
It has been a while now that I paused all works on easymadeblog.com, even I stopped checking my AdSense earnings. I paused everything because I wanted to focus on one thing till I achieve success, as a mentor used to advise me. I wanted to become an authority in an offline profession which is "barbing".
Last night, I was about to achieve a success followed by a sum of #150,000 but I didn't. The Lagos barbing competition hosted by Kayzplace barbershop (a salon for Lagos celebrities like Davido, Yung6ix etc) was held on December 28th, 2017 at Lekki phase 1.
I had always believed in myself that I picked up the application form on the second day of announcement of the competition. That day, at their Surulere branch, after filling the form, I asked their manager how many people had picked the form before me. He laughed and told me not to worry about that.
I concluded in my mind that I was probably the first person to submit the form. When I asked him the requirements they needed from contestants, he told me "just bring a person you would barb. That's all". I asked "what of clippers and...". Before I could land, he told me not to worry about those things, that every tools would be provided.
The competition was to hold on 28th of December, I got a message on Christmas day that we should bring 2 people (models) that we would barb alongside barbing kit (that's supposed to contain everything a barber needs to cut a good looking hair).
I felt like "Oh God, is this not how this man would have misled me if I didn't receive the text?" But I still had a problem. All my friends had travelled to their home towns for the Christmas and new year festival. I got to look for another guy, as I already got a guy who almost used rules to kill me (on top hair wey ihn no go pay shishi)
He was like "no drawing on my head, don't let my hairline go inside, my beards must be like this, my mustache mustn't be like this". Huh ! I got no option, I just loved to use him because his head was so straight and he was looking handsome. At least, if I barb him rubbish , it won't be too obvious.
Fast forward till yesterday, I had prepared so very much that I watched a lot of YouTube video tutorials on barbing (I really focused on a style called "fade" - the most popular style).
I got to the venue around 9:30am where I met 2 staff members of Kayzplace.
"Good morning, I'm here for the competition", I said and one of them replied me yes, it would start by 11.
"It would start by 11 and everywhere is like this", I murmured. Well, wetin concern me. I wanted to eat first before the worms in my stomach would start disturbing me while on stage.
As I stepped outside with my only model to find "mama put" food to eat, I met a guy (actually a contestant like me) coming with seven other young guys. I had seen his face on Kayzplace barbershop Instagram post before. I quickly approached him and told him how I knew him. He was happy to meet me too.
I immediately seized the opportunity to tell him I came with only a model. He said he came with seven models that I should choose anyone I liked to make mine 2 (as required). I took a careful observation at each person's head to know which is better, then, I chose a fair-complexioned guy who claimed to be an underground artist. He was having the same hairstyle with my model we came together.
I felt a lot relaxed, as my models were now completed. Me and my guy went to eat and as we were going, I was telling my guy that I wasn't sure if contestants were going to be many. He asked me why I said so, and I gave him up to 3 reasons which he agreed.
One of the reasons was that nobody posted about it on Kayzplace barbershop Instagram page except that guy. I checked all the comments in their recent posts, I couldn't find a comment related to the competition. I forgot that not all barbers actually uses Instagram, or some chose to be silent observer like I did too.
On getting back to the salon, I was so surprised to see a lot of crowd that I had difficulty in finding my way in. But I needed to take my kit before those Lagos hungry boys stole it.
In a nutshell, registration began and we were more than 30 (not sure if we were up to 40). After 2 hours of delay, we were called in and the moderator dictated the rules and regulations of the contest. That was when I peeped at the numbers of the whole contestants we were - 32!
Chai! Where I had been thinking we wouldn't be more than 10. We had 32 contestants with crazy hair styles on their own head that could indirectly tell that they are also good barbers . Most of them are fully grown up men that I would call "bros". Most of them were older than I. We had only a female among us.
We were grouped into 3 batches. I was among the first batch. We (in the first batch) were called in to barb a "high top fade" - a kind of hair style I was used to. We were given uniforms to wear. I was on seat 2. That guy I met that gave me a model was on seat 3. We were facing each other. The only lady among us was also in the first batch and was in seat 5. I could see everyone in my batch.
The moderator said, "we would be judging you on 5 criterias. One is presentation, two - hygiene, three - time to finish, four - blending and hairline, five - overall look".
That's episode 1.
Episode 2:
As I heard these, my heart began to beat faster. Then, I remember what I encountered the first day I would teach a secondary school class in 2014. I immediately put the fear away and grew my confidence back.
I plugged in my "Andis" clipper, my Whal clipper and my electric shaver. I set my knife blade, put my hair brush, face brush, combs, attachment combs... And other tools I can't remember. I made sure all other things were put in place.
Then, the moderator introduced the judge, saying he was the oldest barber of Kayzplace and he knew his onions well. He wouldn't cheat nor pass unfair judgement. We don hear!
He added that we would be using 15 minutes to cut the hair. That was where my first problem laid. That particular style, I could use 2 hours to cut it if I had the opportunity. I was now told to use 15 minutes to cut it. Wahala dey ooh!
Well, I was already a contestant. There was no going back. There was just only 1 thing I told myself - I would cut a side first, do all the finishing on that one side, line it and make sure that one side earned me a full thumbs up. If time like, make e no reach me to do the other side.
"One, two, start!" the moderator commanded. Not more than 5 seconds, I heard the judge telling a guy at seat 4 to walk out. He was evicted, even before he started. Why?
He didn't cover his model before he started to barb. He just put the clipper on the guy's head without using the cover cloth given to us to cover him. You know that kind of tension when you're told to eat a plate of rice under 1 minute?
Well, what concerned me? I faced my business. I focused on the side shown to people and the videographer, of course! The other side was the wall side. Not even the judge could see that side clearly.
I finished everything on the right side (as planned) when the time keeper announced 3 minutes to go. I said to myself "lemme just freestyle the other side. If them like, make dem evict me.". But I believed in the side I finished. It was surely able to get me a very high point, as I couldn't see anybody's fade that was sharper as mine - although, many of the contestants drew designs (tattoos) on their models' head. In fact, the videographer focused his video while I cutting that side for more than 3 minutes on only my side. The fade gave him joy. The way I used scissors and comb to blend it like the "Oyinbos" (when the video comes out, I will share). After all, we were not told we would be judged by the designs. But I didn't know what he meant my "overall look".
I already know the 3 minutes wouldn't be enough to do anything good. I just cut "shaku-shaku" there and time was up. "Hands up", we were told.
What was the result of the first round?
Episode 3:
Episode 3 and 4 is coming soon... So, stay glued to my blog by following me (@easymade).
*DO NOT FORGET TO UPVOTE, RESTEEM AND DROP YOUR COMMENT BELOW. It will encourage me to do more... *