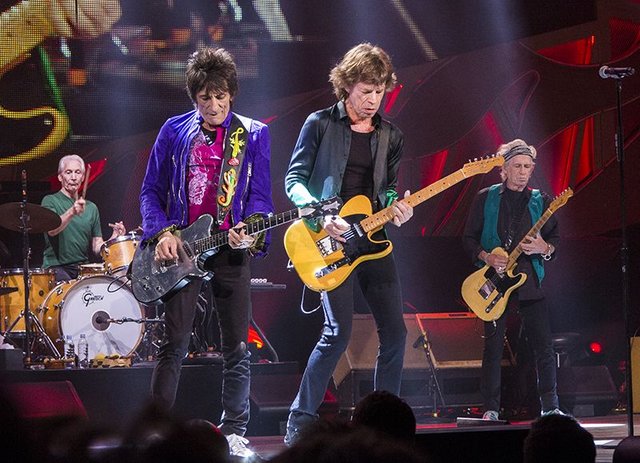 source
Rolling Stones is a rock band formed in 1962. They are coming from England.
Rolling Stones is a music group constituted of Mick Jagger, Keith Richards, Ian Stewart and Brian Jones. The group was in the beginning inspired of American rhythm and blues, and they took their name from one of Muddy Waters song «Rollin' Stone». They used in the beginning the songs to other artists, and they did it to 1964. In 1964, they got their first creation and melody in «Tell Me». It was first with their single: «I Can't Get No Satisfaction», and that was published in May in 1965, and they achieved number 1 in the USA with that song. We can be satisfied or not satisfied in life, and we should use our opportunities to have life as good as possible.
The groups manager Andrew Loog Oldham meant that one should make counterpole rather than a copy of The Beatles. We should always be creative and find our traces as being both in established and in new ways. And hence, Rolling Stones is a band as all others to find their specific brand image and orientation of being to satisfy the needs in the markets.
In learning, we should first copy the knowledges that we must aquire. And thereafter, we should find a new way of being. Accordingly, first we copy knowledges, and after that we are creative and we do things as nobody else in the world has ever thought about! Rolling Stones has had some problems with getting the members into the brand image that they should have. And Andrew Loog Oldham was responsible for the pianist Ian Stewart that he did not fit into the groups brand image. A good brand image has something to do with building strengths, using the advantages, and to establish loyalty among the bands members and among people. That loyalty should be built within people and across people to fill all the bodies that are involved. Empowerment is the answer of getting a good and strong band, and you should give your responsibility further to national and international markets.
The pianist Ian Stewart continued to play for the group both with records and with concerts until his death in 1985. He was a bit alone in the group, and nobody can ever tell you the right cores of being in life. You should find your own style and develop your personality ever!
The Rolling Stones is perhaps the most influential band inside the rock environments. When The Beatles was dissolved in 1970, The Rolling Stones called themself for «The Greatest Rock and Roll Band in the World». We should always be in the best environments in the world, and we should choose schools and universities in relation to their recognition and status around the world!
The Rolling Stones has given us much pleasure and many tears about our identity, and about where we come from. The most popular songs are: «Paint It Black», «Gimme Shelter» and «Satisfaction». These songs are about painting when painting with all the details and with all the perspectives you can think about. «Gimme Shelter» is about making defending on ourselves and on others. And «Satisfaction» is about being satisfied with what is going on! We are never satisfied in life, since there always is something better things you can do with what you did in your history!
The next concerts for The Rolling Stones will be in London, in St. Petersburg and in Arbroath. Accordingly, they are much international in their attempts and efforts. The best thing is to have concerts in rich countries, such that you are not in poverty with relevant countries, and where you must tell them about what to do how and why. Capital and knowledges are always important. You find The Rolling Stones on the internet, and also on YouTube, on Spotify and on Deezer.
Please do follow if you want to keep up with my next article. Any upvotes or resteems are hugely appreciated!
Latest article, check out :
Article - Visiting retailers and using your eyes!
Sverre Larsen
Kristiansand, Norway
Read about us? // Main page!
Latest content: Travel, Art, Food, Article, Poetry