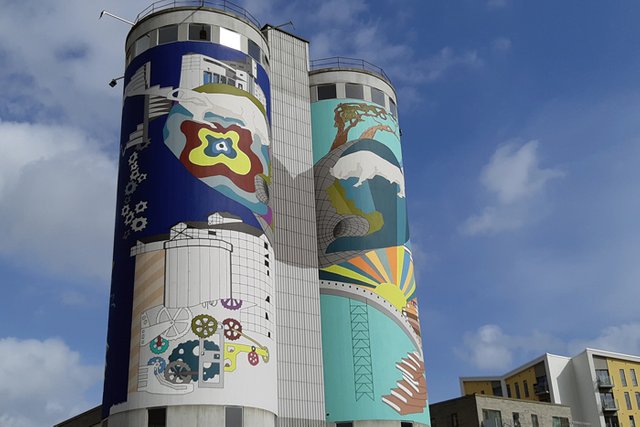 In Aalborg two old silos are situated on the grounds of the old eternit factory. They are differently decorated to show the transformation of Aalborg from industrial to a city of culture. A week-end in september I was in Aalborg to visit family. Together with my sister we went out for walk to check out some of the murals I haven't seen before. This place in the outskirts of the city was one of them.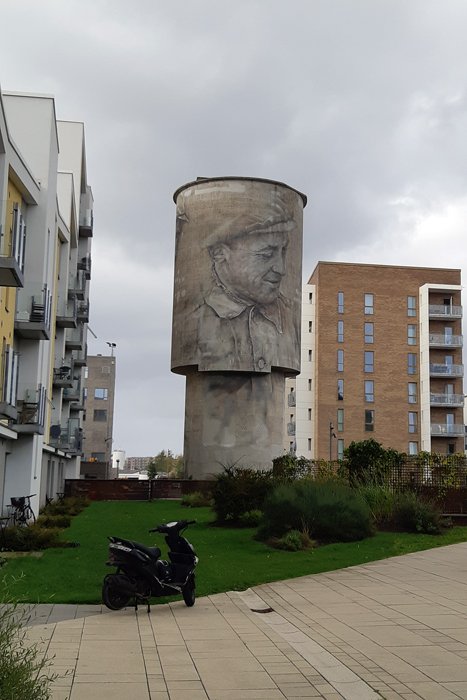 Aalborg is the fourth largest city in Denmark with a history dating back to the vikings, who founded the city in the 7th century. The city grew as an industrial city from the 17th. century due to shipbuilding, tobacco and cement factories. In recent years, this has changed. Many of the old factories has closed down. But what has been done in Aalborg is that many of the old buildings have been renovated and many have been converted into apartment complexes and cultural houses.
One of the old factories now closed is the Eternitten. Since 1927 the this factury produced eternitt, which led Aalborg to grow into the country's leading industrial city and provided work to many of the of the men living here. The area still carries physical traces from the factory, since some of the old facades have been retained as part of the new apartment complexes.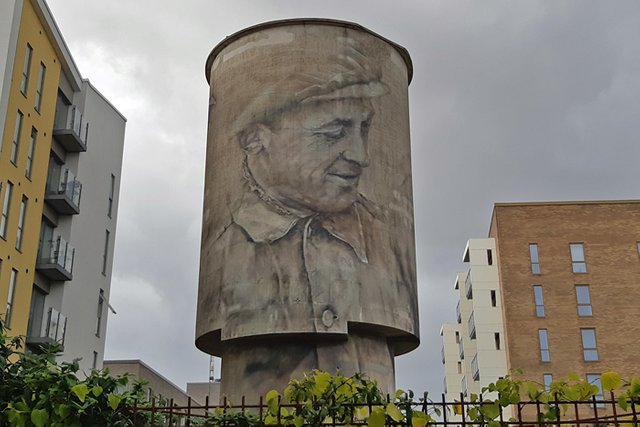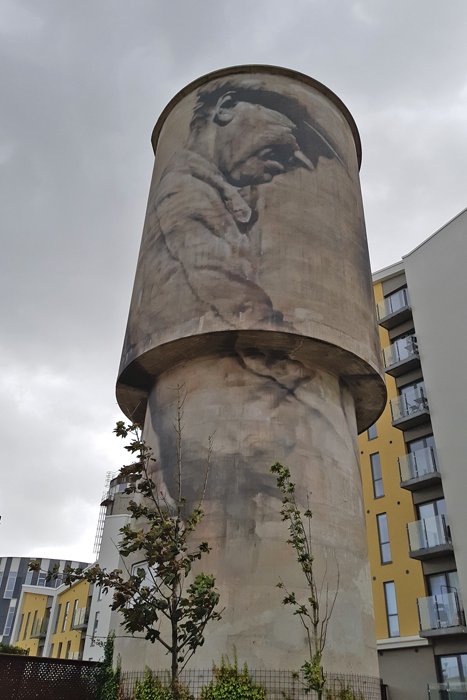 This silo is beautifully decorated with touching portraits of the workers of the old factory. When you walk arund the silo you will see all three portraits. They describes the old worker beautifully. A reminder of the old industrial Aalborg.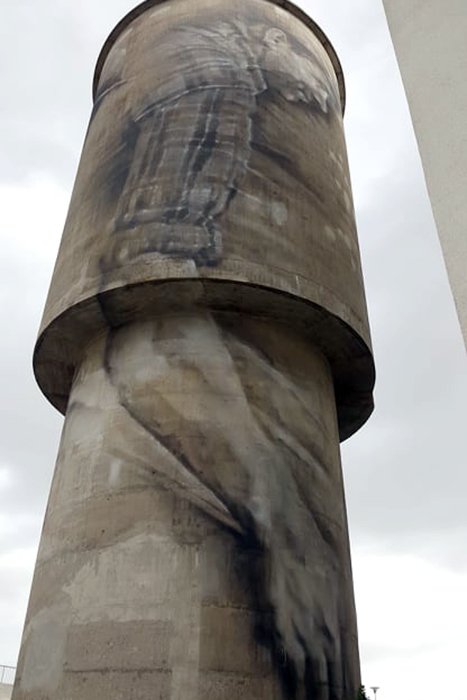 The artist is Guido van Helten, an Australian street artist, who began his career as a graffiti artist and is known for this photorealistic murals. His mural in Aalborg is now part of the story about the old eternit factory. When this mural was done, it was part of «Out in the Open» mural project by in Aalborg.
Guido van Helten: https://www.guidovanhelten.com/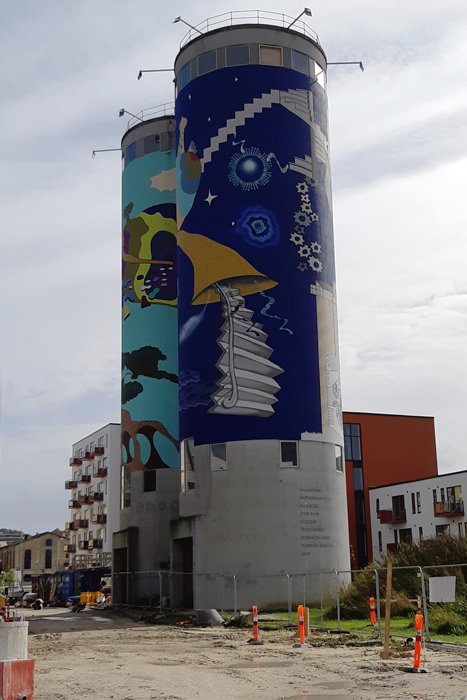 «Tvillingene» / «The twins»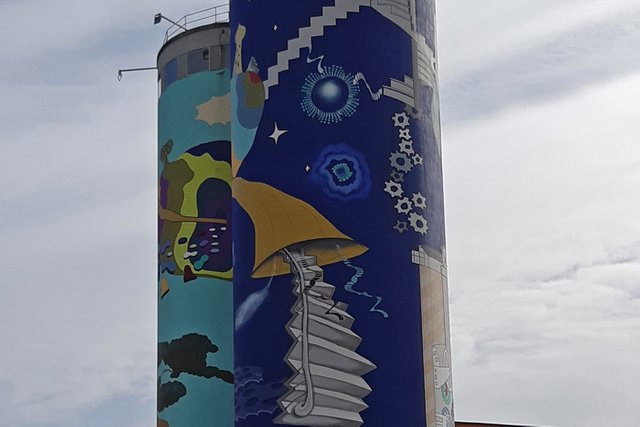 Just a ouple of minutes walk futher into the area you will find the colorful twin-silos. To give you an idea of the size, I read that they are 34 meters high and 22 meters in diameter. The mural is also the largest mural in Northern Europe until now.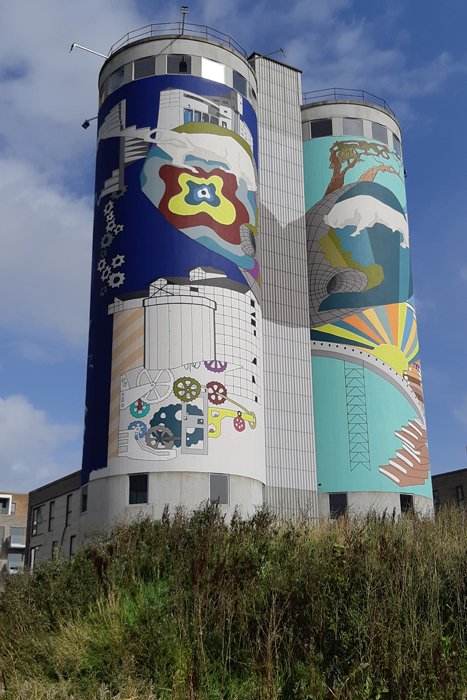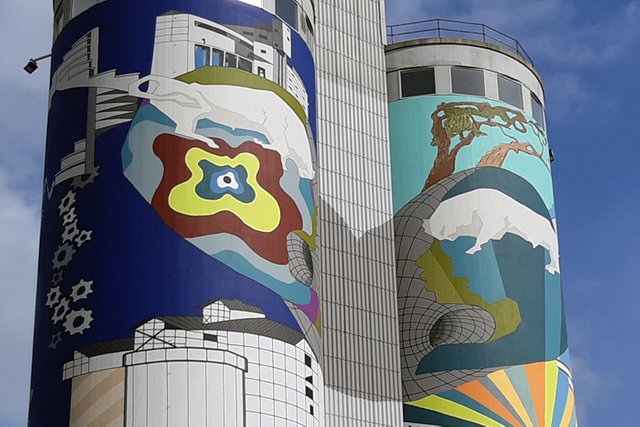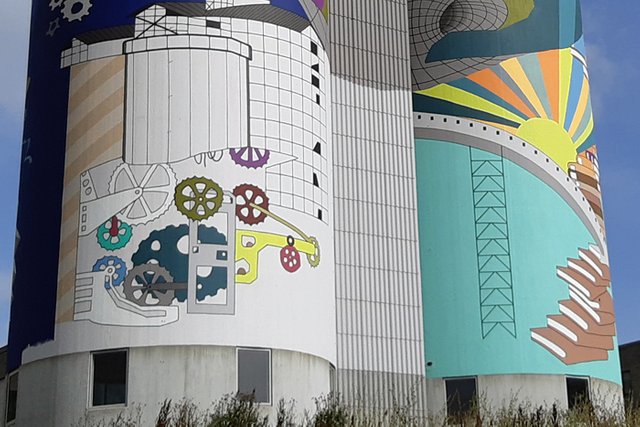 It is the Danish artist Jonas Pihl who created this in collaboration with studens from Techcollege. This mural symbolizes Aalborg's development over the decades. The motives represents the change of Aalborg from being the industrial center of Northern Denmark, to a city of knowledge and culture.
Jonas Pihl: http://www.jonaspihl.com/
Source: https://www.visitaalborg.com/ln-int/aalborg/street-art
Please do follow if you want to keep up with my next street art. Any upvotes or resteems are hugely appreciated!
Latest street art post, check out :
STREET ART #48 – It is all about street art in the city of Valparaiso (Chile)
U.J
Kristiansand, Norway
All the photoes are mine, Ulla Jensen (flickr, Instagram and facebook)
[//]:# (!steemitworldmap 57.045367 lat 9.923842 long STREET ART #49 – The remains of an old factory has now become an outdoor galleri (Denmark) d3scr)
Read about us? // Main page!
Latest content: Travel, Art, Food, Article, Poetry