Continuing on with The Posture of Innocence through the "Step Out of the Shadows" freewrite ... today, meet Commissioner Scott, sixth man in three months to occupy the office, his five corrupt predecessors ruthlessly removed by various personal and psychological means during the prequel to this tale, Black , White, and RED All Over (now available on Amazon as well as Steemit). Commissioner Scott is an honest man with a tough job ahead of him ... but he will have help in doing it!
To get caught up on the whole story, here are the prologue, day 1, day 2, day 3, day 3.5, day 4, day 4.5, day 5, day 5.5, and day 6. Away we go into day 7!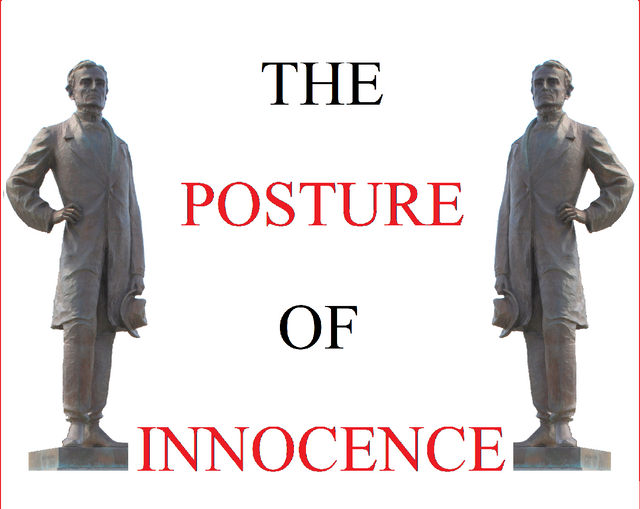 It just so happened that at the time Captain Lee and Lieutenant Anderson came back to police headquarters from seeing Mrs. DeVille, Acting Commissioner Scott was pacing the floor of his office, greatly upset. The Lofton County Free Voice had been raking the police across the county over the coals – three months after the release of records under the Freedom of Information Act, the Free Voice had been through the data and was putting it all the way out to the public.
Big Loft's police department was getting hammered, not only for the past, but because of its slowness in investigating officers involved in clear miscarriages of justice. Commissioner Scott was for those investigations, but Internal Affairs had dug in its heels because admitting the presence of so many officers who were corrupt on top of the ones who had perished in or around the Gilligan House Burning was just too much for IA to bear in a timely manner.
Then there came, inevitably, the demands from all over the county for cases involving African Americans to be reopened – with the exception of Tinyville, VA, where Captain Hamilton had already been quoted publicly in saying that he was working on 48 cases where convictions had been wrongfully obtained before he took over Tinyville's department, and where it was known he had fired all of the corrupt officers in his department.
Big Loft had nothing to show for the same three months – everybody was still on administrative leave who had survived and had been immediately revealed, and everybody since had been given the same treatment. Big Loft's police were thus vastly understaffed, with more than 40 officers having been killed or arrested around the Gilligan House Burning, and an average of three officers a week being put on leave. The Lofton County Free Voice had a comment about that: "We intend to show as much understanding and patience and mercy as our people have been shown by the Big Loft police."
Commissioner Scott, having read that quote, knew his department was really about to go into the storm – yet he was concerned with something else. The news was bad and could not be otherwise; it had been bad enough when he had been brought in as a new chief to try to turn morale around but had begun hitting stone walls of his own. In many ways, his task had not changed: he still needed to find a way for the department as a whole to step out of the shadow, to get a new, right restart.
Then, as he entered the record room, he saw somebody who was already out – Lieutenant Anderson came sailing in to retrieve some records, and it was clear the young man was walking on air.
Commissioner Scott knew the record room folks were likely no good too, and so quickly pulled an entire set of folders for his review.
"Lieutenant."
"Yes, sir?"
"I require your assistance in getting these folders to my office."
"Yes, sir."
Up the stairs back to the fourth floor, past Ms. Thornton, the commissioner's secretary, and into the office.
"Hold my calls for ten minutes, Ms. Thornton – so, Lieutenant, I just wanted to get you in here to find out why anyone is happy in this department today."
Lieutenant Anderson hesitated for just a moment, and then remembered: Commissioner Scott had Captain Lee's firm vote of confidence.
"Well, you can be happy too – Captain Lee has just solved half the Soames case!"
"Half?"
Lieutenant Anderson told him the whole story of the case, and at the end, the commissioner was more excited than the lieutenant.
"That's it, Lieutenant – that's the answer to prayers I haven't even prayed! Tom Jones, you may have just saved my department!"
A bewildered Lieutenant Anderson returned to his captain ten minutes later.
"Captain Lee," he said, "the commissioner wants you ready to talk about half the Soames case at a press conference he is arranging for later this afternoon."
"What?"
"He looked so down in the record room I told him what happened, and he started shouting about prayers he hadn't prayed and Tom Jones saving the department."
Captain Lee considered this a long moment, and then smiled thinly.
"The department needs good news, and a lot of it is coming from this division – but today, we have the means to do something the department would have suppressed firmly three months ago, and today, Commissioner Scott is going to publicly hide the entire department behind it."
"What?"
"We have exonerated a Black man, for the first time in history."
Lieutenant Anderson thought about that for a long time.
"Wow," he finally said. "I suppose that is a first."