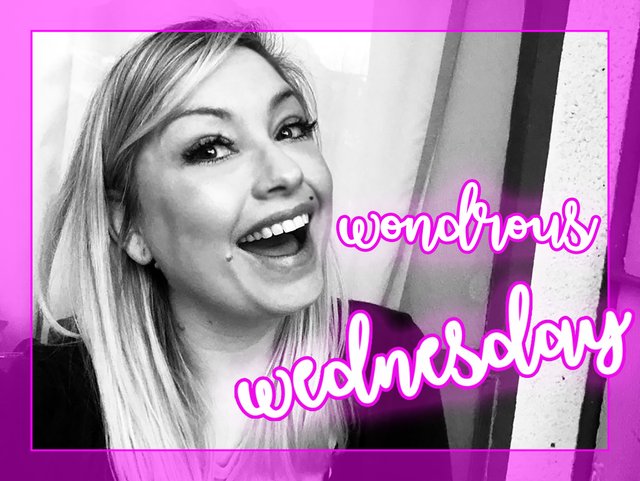 💜 Happy Wednesday Steemians! Today I want to share with you a new contest I will be running every Wednesday. 💜
You may or may not know that I have been a little down lately, and when I was reading @morkrock's post about the land appropriation issue we are having in SA, I may or may not have had a slight wobbly in the comments . My lovely friend @soyrosa had the following to say:
Take extra care of your mental health while delving into these topics <3 Even creating a small habit like writing down one good thing that happened every day might help you in the long run.

SOOOO! This inspired me to think of a few happy thoughts, and in turn think up this #wondrouswednesday contest! Yay!
---
💜 THE RULES 💜
💜Write a post listing ten good things in your life, or ten things or you are grateful for, or even ten things that make you happy, or a combination of these things
💜Make sure you use the hashtag #wondrouswednesday and also tag me (@princessmewmew) somewhere in the post so I can be notified by my awesome Steemify app!
💜Make sure to use the words Wondrous Wednesday Contest or something like that in your post title
---
💜 PRIZES! (YES, THERE ARE PRIZES!) 💜
💜I promise to read ALL the entries that meet the requirements (using the tag, and the correct title) and I will reward 5 steem to the winning post.
💜AND! (But wait, THERE's MORE!) I will give the winner my 100% upvote (currently 26 cents at this low point in Steem price history! 😦) by adding the winner to my auto voter for a week!
---
💜SO GET GRATEFUL! 💜AND DON'T SWEAT THE SMALL SHIT 💜
THE WINNER WILL BE ANNOUNCED NEXT WEDNESDAY, ONCE THIS POST IS 7 DAYS OLD
EDIT - I HAVE SO GENEROUSLY BEEN DONATED 2 STEEM BY @WHACK.SCIENCE AND ANOTHER 5 STEEM BY THE @ADSACTLY COMMUNITY, SO THE WINNER WILL GET 8 STEEM, AND THE RUNNER UP WILL GET 4.
now there's something to be grateful for!!
---

---
🌸Give Some Love to My Past Posts:🌸
---
---
---
🌸Recommended Reading:🌸