Witness and Community Update for @C-Squared (January 23, 2019)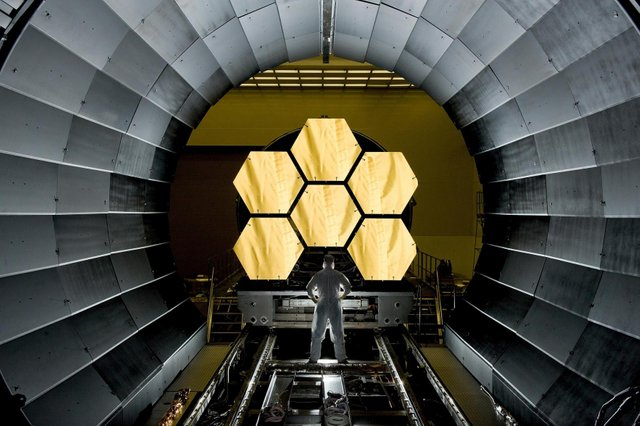 C-Squared is a fully inclusive curation collective that is open to the public, a place where anyone can be a curator and everyone is welcome. Join us on Discord and request the "curator" role to participate!
---
C² - upvoting real posts by real people
---
Posts curated through C-Squared are upvoted/resteemed on the @c-squared account after manual review, and the post author is followed by @c-squared.
See below under "C-Squared and C-Cubed Community Update" for more details on what we do.
---
C-Squared Witness Update
Technical Specifications:
Created: 2018-11-04
Dedicated Server with:
3.2GHZ 6 Core CPU
64G DDR3 RAM
250G SSD HDD
Running Ubuntu 16.04
Manual build of steemd for the quickest response time possible
Currently running @drakos pricefeed and our own witness monitoring tool that interfaces with Discord for simplified monitoring
Current Server Stats:
Total Blocks Produced: 402
Missed Blocks: 0
Current Witness Rank: 87 active / 90 overall
Number of Witness Voters: 473
Number of Witness Votes: 7,488MV
Current Version: 0.20.8
Our Witness Commitment To The Community
We believe that you should know what we are doing with any profits we make from our witness as we are a truly community-focused witness intent on providing a reliable witness service as well as helping the Steem community grow. At the moment we are running our witness at a deficit, so there are currently no profits.
Producer rewards will be used as follows:
Paying for witness operations,
Powering up the @c-squared and @c-cubed accounts to allow us to give higher rewards to content creators,
Funding prizes for engagement competitions,
Funding possible future rewards for curators, and
Supporting community initiatives that focus on community building.
We are committed to partnering and helping to support fellow communities and curation initiatives to help us all grow together. We want to be a place for all communities to come together to make Steem what we know it can be.
We are always looking forward to more partnerships in the future. Want to join forces to do more good together? Come hop in our server and let's chat!
As you can see, we are working hard to help make Steem and this platform reach its full potential.
---
C-Squared will not support any proposed hardfork that removes stake from any user.
---
Meet The C-Squared Witness Team!
Witness Operator/Tech Wizard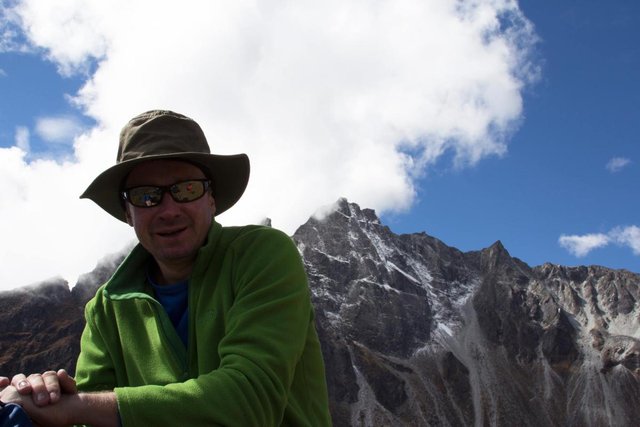 Mark is one of the co-founders of the curation collective and will be running the
@c-squared
witness. He has extensive experience running witnesses here on the blockchain, having been the operator of the
@curie
top 20 witness and having run his own personal witness as well. He also has extensive technical experience having been a developer for 15 years and a dev ops support engineer for the last 5 years. He has decided to disable his own witness and fully commit to the
@c-squared
witness.
While most of the things he has done to improve the blockchain have been behind the scenes, anyone who has had the pleasure of working alongside him can see not only his technical ability but also his commitment to Steem and supporting its communities here. He is consistently helping others through delegation, sponsorships, and just offering to help anyone in need.
He has also developed a discord bot that we use in c-squared, allowing us to manually curate at high levels, which is vital for continuing and growing a curation initiative like ours. It allows us to not only vote on posts in a designated channel (after review), but also leave a comment (multiple language options), resteem, pull voting history on a user, automated showcase posts, as well as fluctuate the vote percentage based on the current VP. We understand how this sort of tool could be extremely helpful to other curation initiatives as well as communities, and have plans to open it for these groups to use in the near future as well. So stay tuned!
Witness Sidekick/Community Rep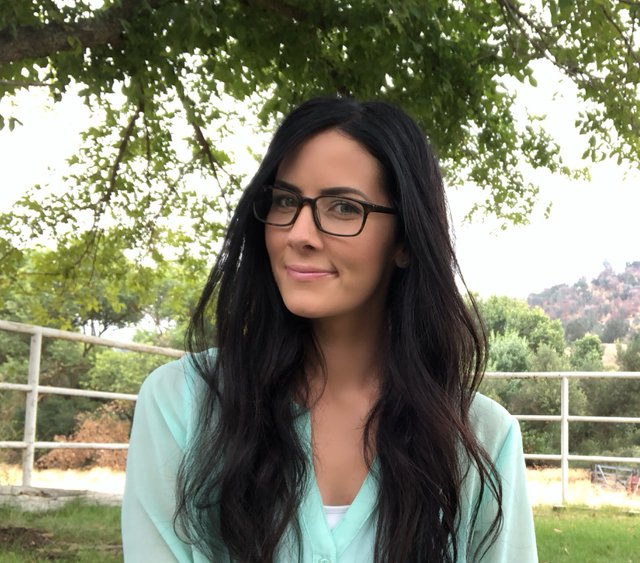 Justine is one of the co-founders of
@c-squared
as well as a former Curie Top Curator, and an all-around passionate curator who is committed to building communities, supporting new users and authors, as well as working daily to try to make this place a bit better in whatever way she can. She will be helping Mark with the community aspects of the witness, updates, and communication, while also being an extra set of eyes to ensure things are always as they should be. Every superhero needs a sidekick, right?
Witness Sidekick/Treasurer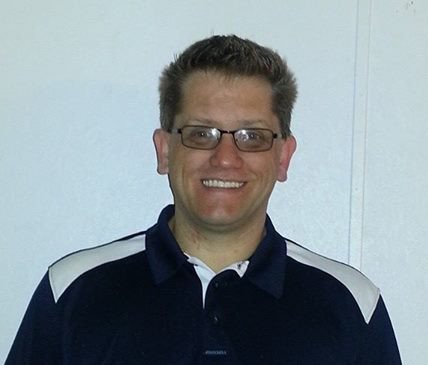 Gene is one of the co-founders of
@c-squared
as well as the current treasurer for the account. He is also a Curie Top Curator who now works as Editor in Chief of the Curie author showcases, overseeing the three authors of the showcases as well as mentoring so many up-and-coming curators. He spends his days helping others while ensuring that authors get the support they need. He is committed to building communities while uplifting authors. He is vital to the operations of c-squared and now our witness. He will be another set of eyes for the server, keeping track of funds and expenses while keeping everything nice and organized and helping us to keep communication with the community open and honest.
Chief Curation Coordinator / Contest Runner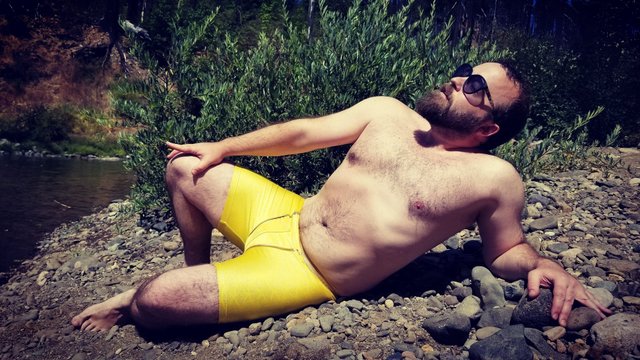 Carl is, of course, our very own Alien and the true man candy behind our amazing team. He is the powerhouse behind
@C-Squared
and its curation efforts and has been from the beginning. He not only handles many of the day-to-day tasks, but also keeps track of and monitors our weekly comment contest, as well as sponsoring it out of his own pocket. He will be continuing to focus on the Curation side of the C-Squared Initiative, allowing the three of us to take on this new task of running a truly reliable witness for the community.
C-Squared and C-Cubed Community Update
We are now in our eighth month here at @c-squared. We are closing in on 2200 members on our Discord server, and have nearly 300 curators searching the Steem Blockchain for great content to be upvoted and resteemed by @c-squared. The best part about the curation we do here on @c-squared is that it is ALL manual curation. In order for a post to be upvoted and resteemed by @c-squared, it first must be shared by a curator in one of our many curation channels on Discord. Before upvote, the post will be reviewed by one of our 40+ experienced voters to check for spam / plagiarism.
While we have topic-specific channels and curators for things like Art, Music, Crafting, Writing, Travel, and Photography, we also have channels for language-specific curation. Currently our language curation channels include Burmese, Dutch, Filipino, Indonesian, Italian, Spanish, and Turkish. For each of these channels, we have curators who actually speak these languages selecting & reviewing the posts to be curated on @c-squared. There are currently 120 language-specific curators on our Discord server.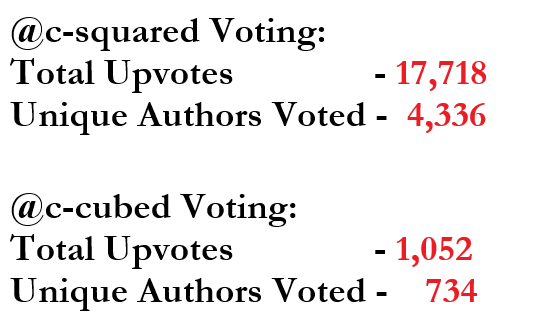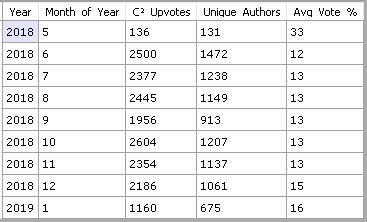 Some Voting Stats
br> In our eight months of existence, our curators have upvoted 17,718 posts from 4,336 unique Steem authors.
Additionally, since starting our daily Exponential Curation post on @c-cubed, we have now given the 100% @c-cubed vote to 1,052 posts from 734 unique Steem authors.
In the graphic on the bottom, you can see that even though the value of Steem dropped and many people have stopped posting, we have remained rather steady in the number of posts we have upvoted on a monthly basis.
Exponential!
In September we began posting Exponential! on @c-cubed. Exponential! is a daily curated post filled with ten posts manually selected from all of the posts that were upvoted and resteemed by @c-squared. These posts are chosen manually by a group of our curators. We give a 100% @c-cubed upvote to these ten posts every day.
Partnership with @we-are
After partnering with @eturnerx's @we-are-steemians, 560 previously-featured authors on @c-cubed began receiving upvotes on posting from the @we-are-steemian account. We will add more authors to the support list as they get upvoted by the c-cubed account.
@eturnerx shared the following:
"@we-are welcomes the @c-squared community to its closed beta. @we-are believes that communities are crucial to Steem. Communities are the bedrock of quality content and social stickability. The addition of the @c-squared community brings the total number of Steemians upvoted by @we-are to 1000 Steemians. This is an important scaleability milestone for the @we-are platform and @we-are looks forward to growing together."
For more details on what @we-are is, please visit @we-are-one's blog page.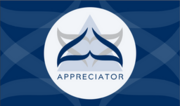 @c-squared
has now partnered with
@appreciator
as well. Five days a week,
@appreciator
will select three posts from those featured in the daily
@c-cubed
Exponential! post to be featured in Daily Quality Content Rewards post. As well as being featured in that post, the chosen posts will receive a generous upvote from
@appreciator
.
You can check out the most recent Daily Quality Content Rewards post by clicking here.
Contests
We have been running two different contests from the very beginning of the @c-squared community. They both encourage engagement on the platform. The first is the Comments contest, and the second is the Engagement League Booster contest. The contests have been run by @carlgnash from the start. He has also funded the bulk of the prizes out of his own pocket. The current 25 Steem in weekly contest prizes are coming direct from the @c-squared founders' pockets, but we hope to soon be using excess witness rewards to pay for them.
C² Comment Contest
A weekly contest paying out liquid Steem to server members who comment on the posts upvoted and resteemed by the @c-squared account. See below for full contest rules.
The winners of this past week's Comments Contest commented on an astounding 526 posts that were upvoted and resteemed by @c-squared this past week.
C² Engagement League Booster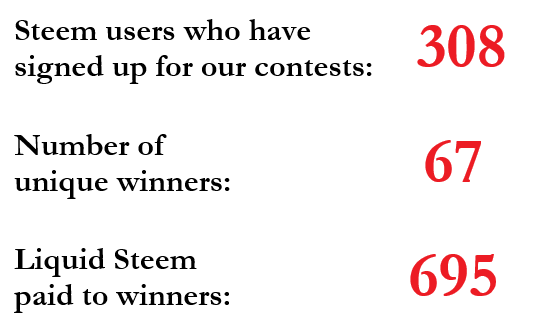 In partnership with
@abh12345
and
@steemcommunity
witness, C² pays liquid Steem to random winners who have both signed up for C² contests in the
#server-contests-signup
channel in the C² Discord server, and participate in the weekly Curation and Engagement Leagues on
@abh12345
's blog.
This week we had 55 users eligible to win prizes in the Engagement Leagues Booster contest. Five of them were chosen at random and each received 1 Steem after a manual account review to check for spam commenting.
For details on how to enter either contest please visit the most recent contest post on @c-cubed here: Engaged! C² Contest Post for week of January 6th -January 13th, 201
New Author Showcase Curation Posts
@c-cubed
. Each post is loaded with authors and posts that have been recently upvoted and resteemed by
@c-squared
. Thus far we have Showcase posts in Italian, Turkish, Spanish, Filipino, and Art communities. Each different language post is written by the curators whose native language posts are being showcased.
For these Showcase Curation posts, 100% of the post rewards will be paid to either those that author the Showcase post or the authors/artists that are being showcased.
You can check out the most recent editions of these Showcase Curation posts by visiting @c-cubed.
Supporters
We appreciate all of the support we have received from the Steem Community thus far. There are way too many to name them all, but we would like to thank the 59 people trailing our @c-squared votes, the 26 people trailing our @c-cubed votes, and the 465 witness voters.
We would also like to thank all of these great supporters for delegating to either the @c-squared or @c-cubed accounts:
@abh12345 @aggroed @blewitt @bluemist @daan @donkeydelegator @lanniebrockstein @pechichemena @roleerob @tarazkp @themarkymark
We want to be your witness!
If you feel we fit into what you are looking for as a witness, we would love to have your vote.
Vote @c-squared as your witness here

If you would like to delegate to C² you can do so by clicking on the following links:
50 SP, 100SP, 250SP, 500SP, 1000SP, 5000SP.
Be sure to leave at least 50SP undelegated on your account.
If you would like to follow our voting trail on either @c-squared or @c-cubed please visit SteemAuto.com and search the trail you want to follow.
Thank You,
The C-Squared Witness Team