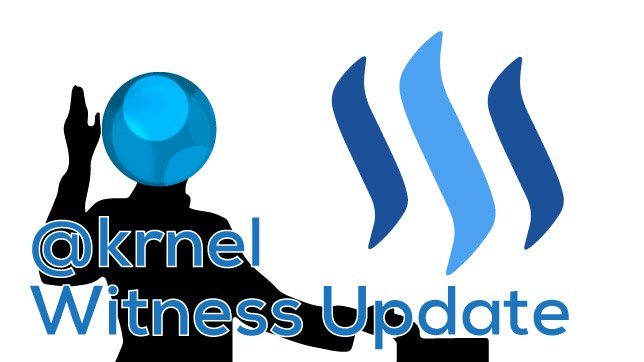 Here is a short update on my witness changes, from the next hardfork, to the price feed and my comment reward experiment.
1) Updated to Steem v0.17.0 scheduled for implementation tomorrow.
I was updating, and reached 94% of the shared DB, and then I saw the new post by @steemitblog a little late... so I stopped the update and went back to Steem v0.16.2.
There were too many large, drastic "unlimited" changes along with other things that made this hardfork anything but "simple" as was originally proposed as the release name of "Steem Simplicity". It's not adding simplicity.
I had criticized some parts when the proposal first came out in Review of "Steem 0.17 Change Proposal Introduction", mostly the comment reward pool fiasco, in addition to the removal of limits which seems like a mistake as opposed to simply increasing limits (yes, this is more simple). Unlimited, infinite, is not something "simple" to handle. The payment of 7 days is harder to keep track of things, and would seem that posts can get pumped to even larger sums for the total of 7 days. I see that as a problem anyways.
2) Witness Changes
Feed: 0.175
APR: 0.1%
Registration: 20
Missed blocks: 0

SBD APR interest set to 0.1% to reduce load of creating SBD, as per agreement with @l0k1's analysis that giving out more SBD hurts the price of STEEM more when we are at such low market value.
Registration unchanged.
And I still have 0 missed blocks, wo0ot!
3) Comment Reward Experiment
I did comment payouts from my own SBD supply from February 10th-20th. This went well. Here are the total results of payments. I think I paid out over $60 in an 11 day period.
Well, that's it for now!
I didn't like the changes for the hardfork overall. I'm glad to see it not being adopted in the end as one big package. Adopting pieces individually, or only a few that are not in dispute, was mentioned before by people, so it's good this was decided today instead of trying to push a mess of a hardfork through. If simplicity is desired, don't make so many drastic changes all at once ;)
---
Thank you for all of your support everyone! I appreciate it!
---
Please consider supporting me as a Steem Witness by voting for me at the bottom of the Witness page; or just click on the upvote button if I am in the top 50:


If you are unsure how to vote for witnesses, you can put my name in the "SET PROXY" section at the bottom of the Witness Voting page which will use my witness votes.
---
2017-03-01, 12:07pm