Empowering Curators, Community Leaders, and Minnows. Valuing engagement and positive interactions.
In this update:
Our initial thoughts and some data as a new witness, fresh on the block
The Witness Blocks Challenge by @guiltyparties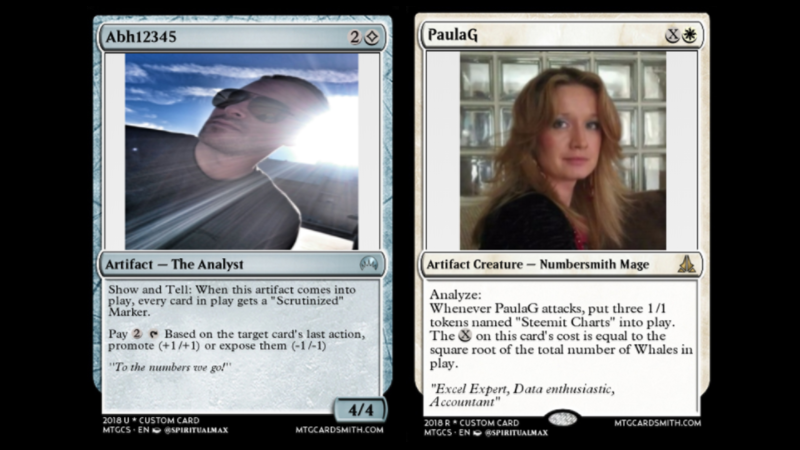 ---
Welcome to the 2nd post from @steemcommunity.
If you are visiting our page for the first time and would like to find out more about our project, please take a look at our initial contribution:
Introducing @steemcommunity - A Witness Project by @abh12345 and @paulag
We would like to begin by sincerely thanking everyone for the early support that we have had via comments and votes for our witness.
The first block was mined on the 31st March 2018 by @steemcommunity, and we currently stand at rank #95, which is more than we ever expected as a new witness.
The statistics produced by @arcange for the initial post were just amazing to see:

Thank you all very much for your support!

Witness blocks challenge
This initiative by @guiltyparties gives witnesses a good chance to show their kindness and transparency and we have @jackmiller to thank for the nomination. The criteria set is:
Do something useful for others (i.e. free delegation, account creation for others, etc.) with your witness blocks
Write a post about it
Tag it with #witness-blocks
Nominate a witness
As @steemcommunity is a new witness, the account is relatively small and so the focus will be on our personal accounts (@abh12345 and @paulag). But first, a short section on witness costs.
The witness account has currently mined 21 blocks since the 31st March, at an average of 2 blocks per day. At the current price of STEEM, this will give us around 60 blocks a month, at $1.8/STEEM - $108, which $2 short of the current server costs.
The server costs are likely to increase as we add redundancy and other hardware as required, but at present we are looking at break-even here.
Delegated Steem Power
This is something we have both being doing for a while now. And while we could choose to delegate for profit, those in most need of this support do not have the financial set-up to pay.
The decisions to delegate are based around trying to empower the most engaged, community building Steemians, so that they can then 'pay it forward' to those they see doing positive actions in our network. We do not ask for STEEM or upvotes in return - engagement is what we look out for.
@paulag's delegations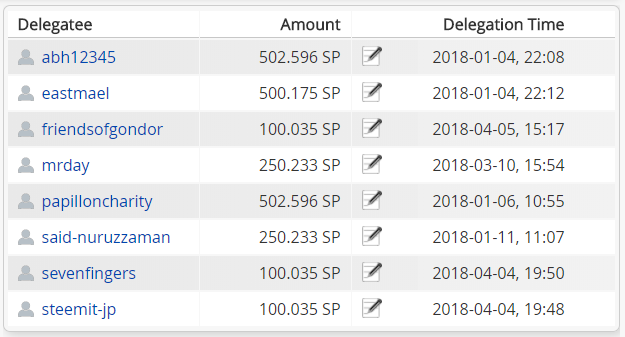 ---
@abh12345's delegations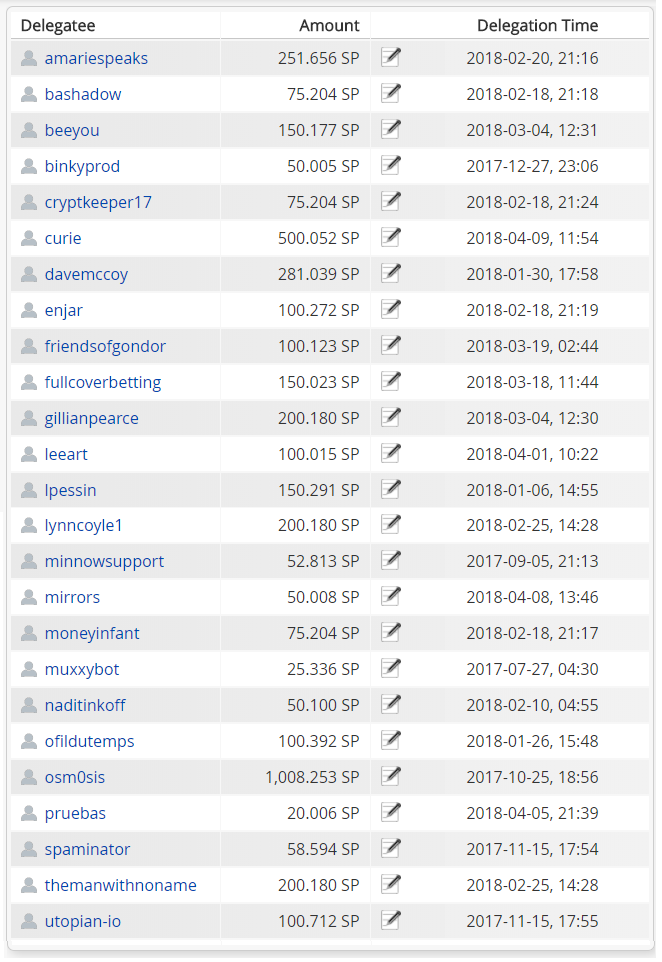 ---
The engagement levels of many of these 'user' accounts can be viewed on @abh12345's weekly Engagement League post.
These numbers work both ways as the delegator can perform a checkup on activity, and the delegatee can assess how well they are involving themselves in the community from week to week.
It is likely that in the future, this data gathering will be offered out to communities that wish to check how well their members/delegatee's are engaging.
In total, we currently have over 6000 Steem Power on loan to communities and individuals. The most recent delegation being to @curie, who we see a solid witness to support. They recently issued 'A call for Delegation', and we answered.
In summary, our witness blocks are going towards server costs, but our personal accounts have been, and will continue to support good people and good projects.
Thank you @guiltyparties for this opportunity
We would like to nominate new witness @danielsaori for this challenge!
Thank you for your time today,
Asher and Paula.

Useful links
Steemitguide: What is a Exactly is a STEEM Witness and why every User should Vote
Seriously, what is a STEEM witness? Why should I care? How do I become one? (Answer)