There is a lot of waste in the world. We consume so much and throw much of it away, often to make room for new things we keep buying. A lot of metals and plastic ends up in landfills that keep growing. And these material don't decompose fast at all. So much food is also wasted and thrown out by food markets, and by ourselves at home who either let it go to waste, or don't eat all the food we prepare or order.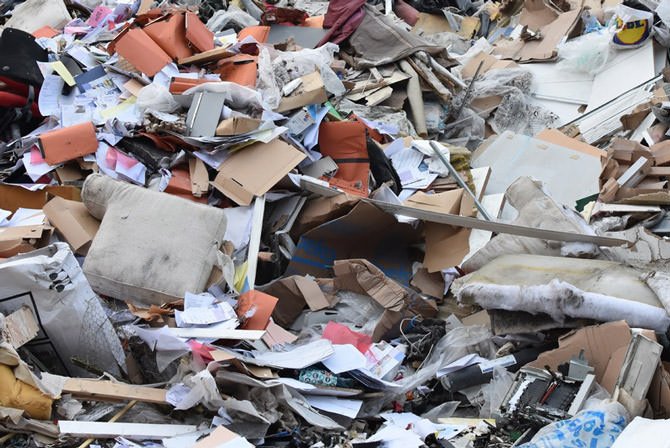 Source
When going out to a restaurant, some people have different behavior. True, at home and in a restaurant you are paying for the food, but in a restaurant you pay more, like 3 to 5 times more for food that you could make yourself. Maybe that fact that we spend more on something makes us more aware and conscious of our waste and not want to waste the money spent by wasting food we paid a lot for.
I think when someone has a lot of money, they tend to not care either way. They have so much money that it doesn't matter to them what is bought or wasted. It's obviously not a rule, and there are surely some wealthy people who don't like to splurge and waste money or throw away what they buy.
Then there is all the technology that people throw away each year, just to buy the newest tech that came out. What a waste that is. The old phone still works. It may be a year or a few years old, but there is nothing wrong with it. The allure to buy the hottest new gadget is strong in our consumerist society. We're mind controlled (in a way) to buy more and waste more.
How does our behavior change when we think of the money we're spending? Does it affect you? It affects me. I'm somewhat cheap and frugal. I don't like to waste money when I can spend less. I prefer to make food that costs me so much less than going to a restaurant. I don't let any food spoil. I eat all the cooked food. I don't leave anything on my plate when I eat either, and the dishes look "almost" clean ;)
Back in April when I went on a bike trip with my partner for a week, we stayed at a strangers place that offers a night-stay for bikers. It was free. We found it through the website Warm Showers. He was a nice guy who has done biking trips in France and Europe.
One thing that struck me, that I've seen in other forms in society, is the lack of concern for waste as long as one isn't paying for it. When I do the dishes, I drip the water pretty much, and don't use much water. It's part of my frugal minimalist way of living where I'm a "conservative" about what I do. I don't want to waste food, water, toilet paper, you name it.
I was doing the dishes after my partner and I made food, and he noticed how I don't use much water. His remark was that it's free, so don't worry about not using the free water. Since he doesn't pay for it, he didn't care about it being wasted.
It's not really free, as taxes are used to filter water in a municipality and provide clean drinking water for people's homes. And water is an important resource we shouldn't be wasting. I do my part to not try to not waste what I can avoid wasting. To only use what is needed.
This attitude of ignorance to waste and not being consciously aware of waste is disconcerting to me. We waste so much of our resources. Sometimes we're conscious of it, but it doesn't bother us for the most part because we keep getting money to keep the movement going, to keep the consumerism going, to keep the wheel of "progress" rolling. And when we're not footing the bill, when things are perceived to be "free", then we care even less about the waste of a resource.
There are probably poor people who waste too, but I think if everyone was poor then there would be less waste, lol. Alternatively, the better way is for everyone to be more conscious and aware of wasteful behavior and reduce their waste through conscious awareness and the will to do so.
---
Thank you for your time and attention. Peace.
---
If you appreciate and value the content, please consider: Upvoting, Sharing or Reblogging below.


me for more content to come!
---
My goal is to share knowledge, truth and moral understanding in order to help change the world for the better. If you appreciate and value what I do, please consider supporting me as a Steem Witness by voting for me at the bottom of the Witness page.