I'm headed back to Oregon's coastal forests to look for mushrooms. Come with me! New mushrooms are just starting to emerge!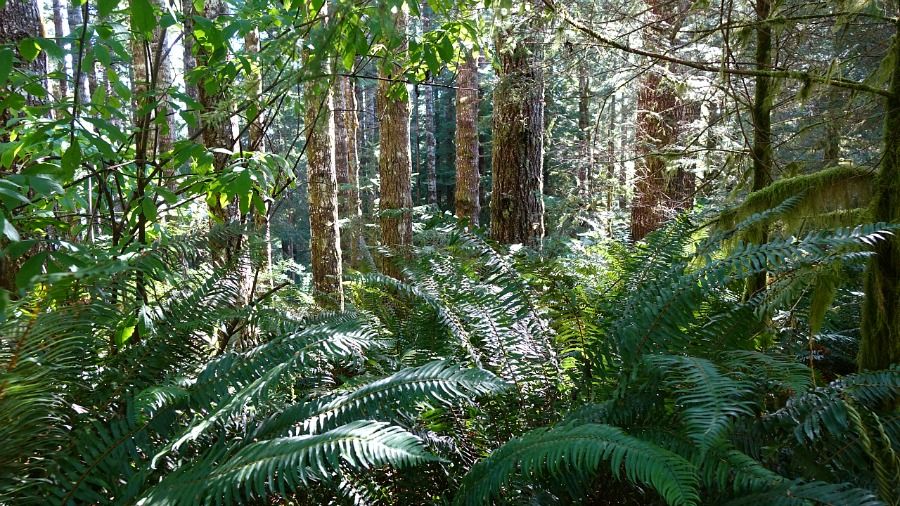 With the return of rain in September, and cooler temperatures, Oregon's mushroom season begins. I'm headed back to the Siuslaw National Forest, not far from the Pacific Ocean. Trip Date: September 22, 2017.
This is part of a series of foraging trips I made all through the autumn of 2017. I hope you will join me for the whole series -- especially if you like mushrooms! Earlier posts in this series are: Escape to the Marine Layer - Part 1 and Part 2. // Saunter in the Siuslaw - Part 1 and Part 2.

A Mighty Big Log!
I'm taking a different route to the forest today. At a little roadside rest area, there's a big, big log. I can tell it's a Douglas-fir tree from the layers in its thick bark.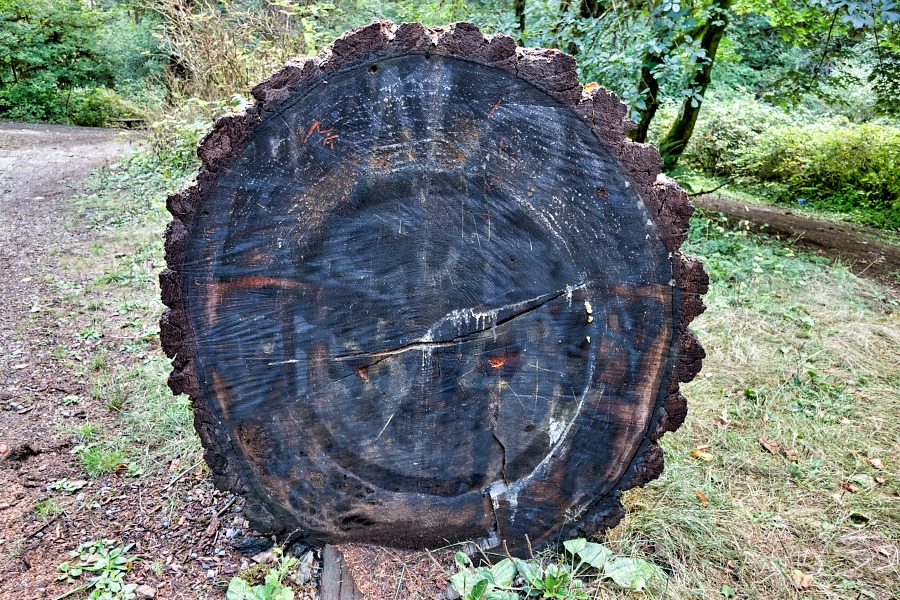 In this High Dynamic Range image, I can see why this log is still here. Somebody spray-painted "No Cut" on this log. I bet the rest of the tree was turned into lumber! But this part was left for us to appreciate Oregon's logging heritage.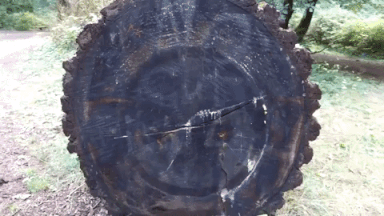 It's easy to see why "Doug-firs" are valuable timber trees. Look how uniform that log is! There's no taper in size from one end to the other, and there's no branches. That is a straight and clear bole there!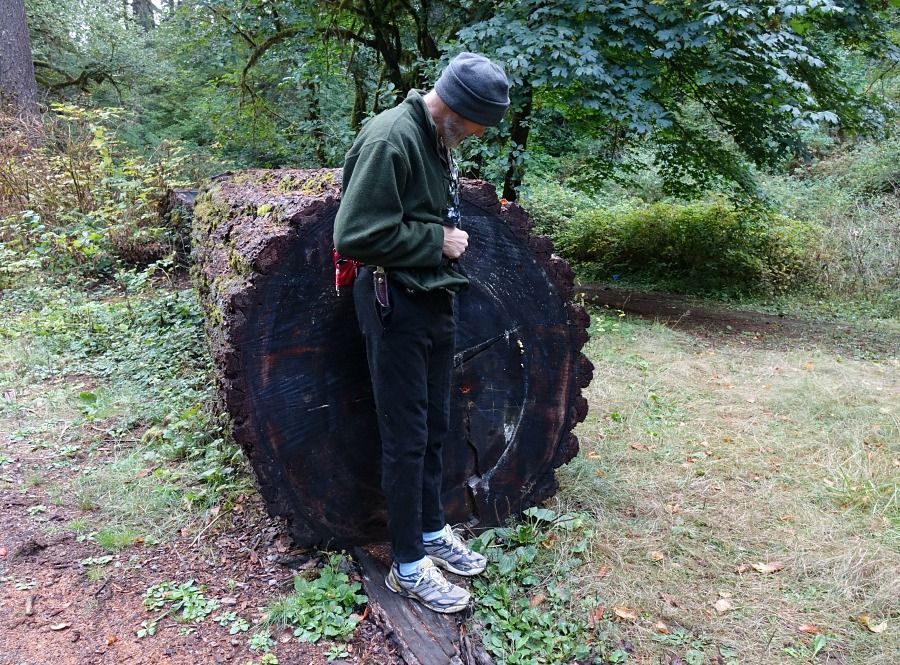 How big is that log? That fellow there is 6' 3"" tall (1.9 meters). So that log is over 4 feet in diameter! 1.2 meters!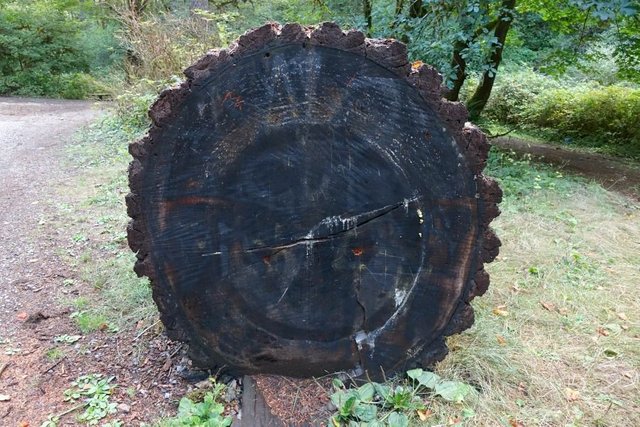 This is a more natural view of the log's cut end. Can you see the white stain in the lower right of the log? That's sap, just like we saw in a fresh-cut log in my Escape to the Marine Layer. Do you see anything else in the same growth ring as all that sap?

A Mighty Tiny Mushroom!
It's a tiny mushroom!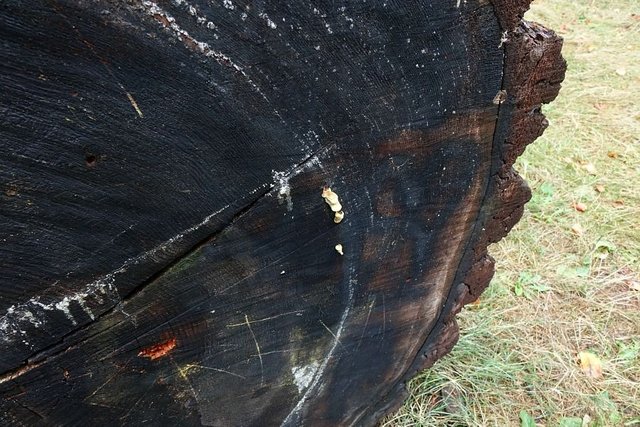 There's more here than meets the eye! Mushrooms are just the fruit of a fungus. There is a larger fungus growing inside that tree! It makes a mushroom when it has enough extra energy, and the weather conditions are just right.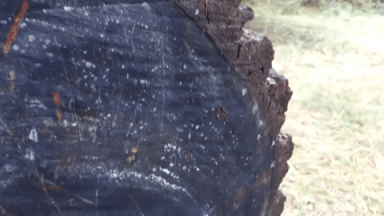 Let's take a closer look. That mushroom is coming out from the layers with all the extra flowing sap.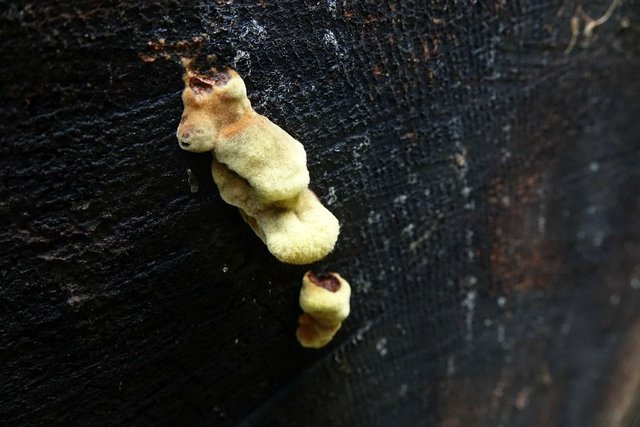 With its fuzzy yellow and orange surface, and how it's coming out as layers of mushrooms that are not quite a bracket shape (yet), it looks like a new Sulfur Shelf mushroom, also known as the Chicken of the Woods. The ones in Oregon are different species than the ones in the eastern US or Europe. Because this is growing on a Douglas-fir, a conifer, it's probably a Laetiporus conifericola[1,2], fine for eating. But this little new fungus fruit is not a good example for anyone learning to identify sulfur shelfs. And not for making any confident identification for eating, either. I'm leaving this little mushroom here.

Another Mighty Tiny Mushroom on a Mighty Big Log!
Here's a different log in the same area, from a different tree. It looks like there's a different mushroom starting to grow, too!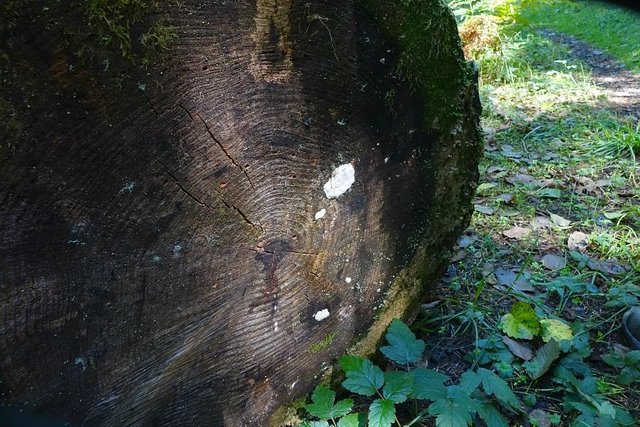 I see 3 patches of white mushrooms. But they sure don't look like a typical mushroom!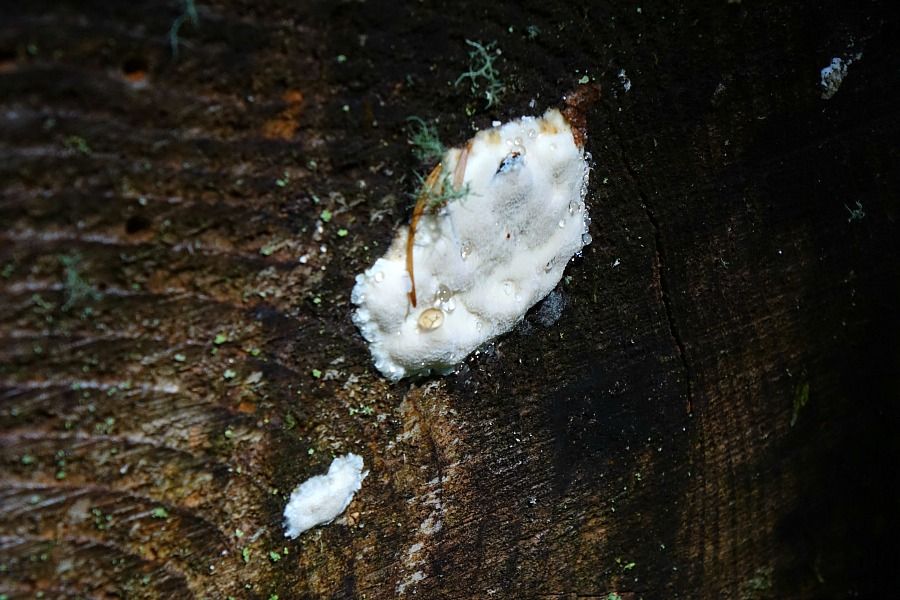 I can't tell what kind of fungus this is, just from this little mess. Some kinds of fungus never make any mushrooms at all, ever. And other kinds just make a crust, a smear, or a glob -- that's it. And others, like many of the bracket fungus, start out like this and then turn into their better-known forms. It is cool how this one is making those drops of water. That's not dew, but water pushed out by the fungus![3,4] It' a clear sign that this mushroom is actively growing -- the new mushroom season has certainly started! Yay!

A Relaxing River
Aaahh, now we are at the Siuslaw River.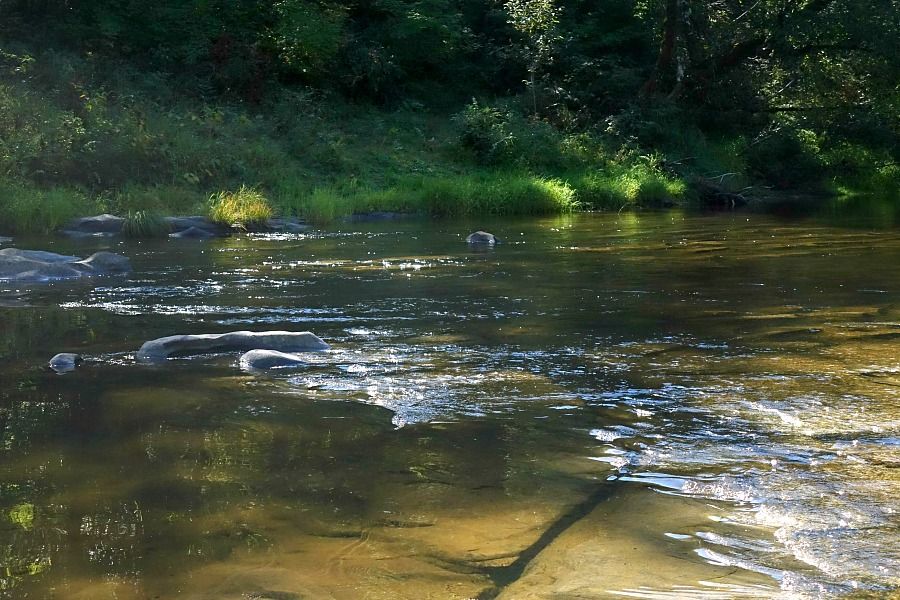 It's such a pleasant little stream in September. The water is clear and cold, coming out of the forest in the coastal mountains.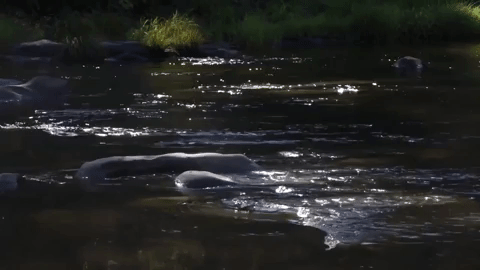 It sounds so relaxing. You will have to imagine that part yourself!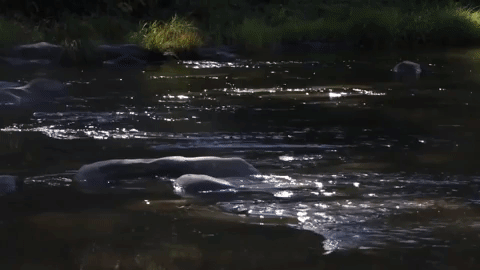 But the river is really big. By springtime, these rocks will be way underwater, from the winter snow and rain. This whole river channel will be full and flowing fast!

Soothing Moss
In the woods by the river, moss is starting to come back to life.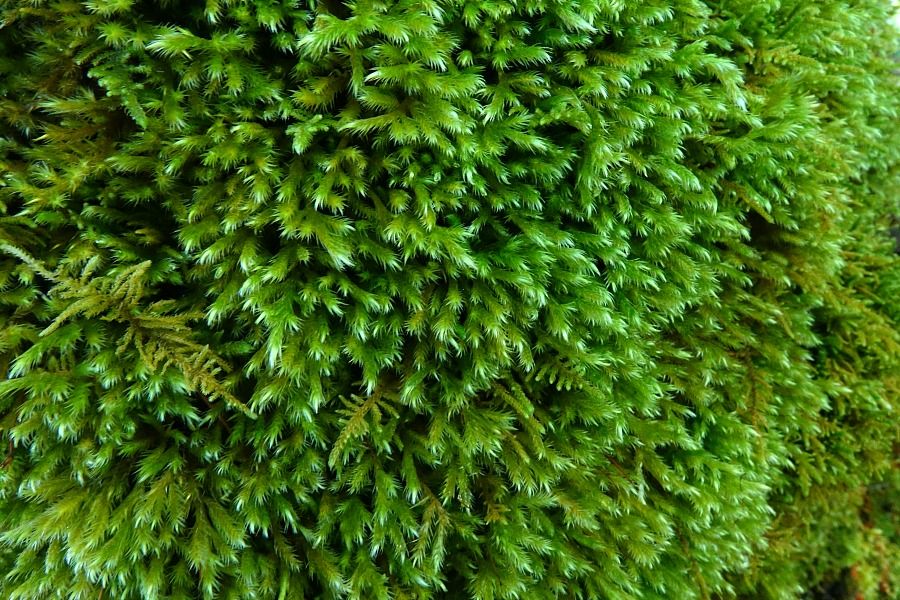 This moss is growing on the side of a tree. Read the next caption for a quick contest about moss and trees, with a prize!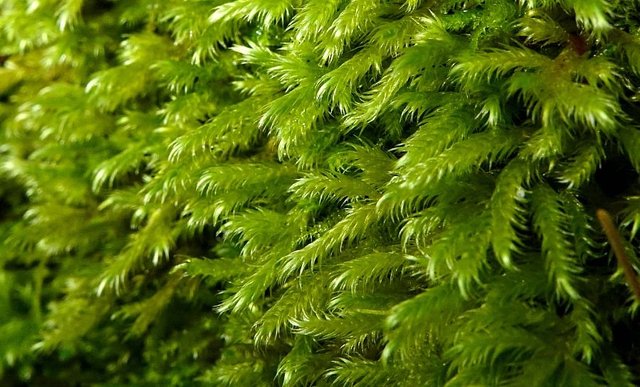 What side of a tree does moss grow on the best? Put your answer in the comments below. I'll draw a winner from the correct answers, at the end of the payout period for this post, for a $1 SBD prize.

Thanks for Walking With Me!
Let's stop here, where we can listen to the sound of the river, appreciate the moss and think about that contest question. I hope you will join me for part 2 of this walk -- that's when we find the lobsters!
What's the widest tree you have ever seen?
What time of year do you notice mushrooms the most?
What side of a tree does moss grow on the best? Let me know in the comments, to get in on the contest!

Plant List
Douglas-fir - Pseudotsuga menziesii
Sulfur shelf mushroom - Laetiporus conifericola
References:
1 - A good key to Sulfur shelf mushrooms: Kuo, M. (2017, November). The genus Laetiporus. Retrieved from the MushroomExpert.Com Web site: http://www.mushroomexpert.com/laetiporus.html
2 - Duffy, Toxic fungi of western North America
3 - Thornhill, 2014. Read it and weep: fungal guttation, Weird and Wonderful Wild Mushrooms, 24 August 2014.
4 - Parmasto and Voitk, 2010. Why do mushrooms weep? Fungi 3(4):15-17.
This post is on the Steemit World Map.
Haphazard Homestead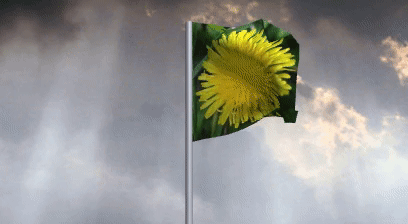 foraging, gardening, nature, simple living close to the land
All content is 100% Haphazard Homestead!
My YouTube channel: Haphazard Homestead