A Trip To The Hair Dresser Leading To A Handful Of MISSING HAIR... How To React ?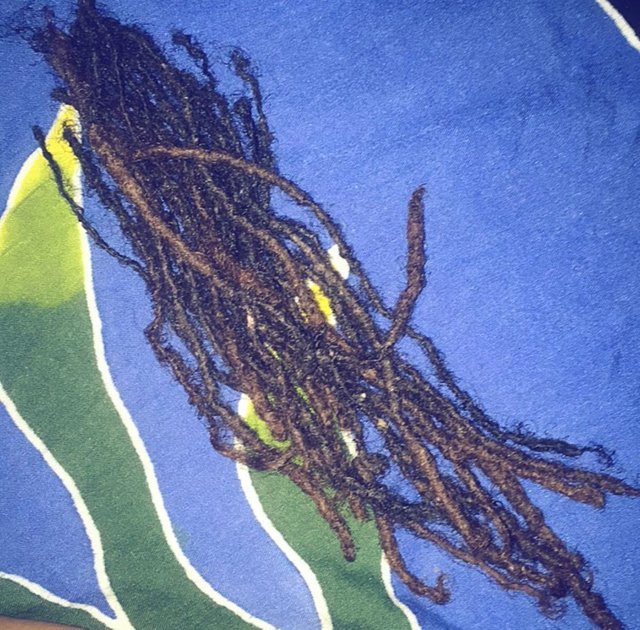 Since The Beginning Of my Pregnancy, I Found Myself To Be Exhausted, Depleted Of Energy.. No Fire 🔥, No Zest, I was The Hermit in the Major Arcana.. Recuperating my Mental & Emotional Stability.. .
This Also led me to become... VERY... Lazy with Keeping Up With My Hair.. Having Sista Locks is a Quite Tedious Process when it comes time to Retighted all five thousand and fifty of your locks.... Just Kidding! 🤤, I Only Have About 400-500 Of them..
My Exhaustion caused me to neglect my own upkeep.. And I settled to just go and get my hair done professionally. I went in and relaxed in the chair as The Kenyan Woman went to work on 9 weeks of Pregnant Woman Newgrowth.. .
The Whole entire time, she was complaining .. "It's Ssoo Muchhhh Hair!!" She kept saying. My Response to her finally was reminding her if she needed extra for her extra effort I don't mind paying. But She refused me. So I relaxed back into the chair.
While finishing my hair , I kept hearing snips in the background .. the First few snips she told me she was trimming the excess hair at my roots.. I was okay with that so I let Her Continue...
By the time I was finished, I Payed Her— Hopped Out Of the chair and saw a lockload Of Hair sprawled out onto the floor. .
WHAT... [email protected]!%#@
I Asked Her Calmly & Politely, to hand me my hair off of the floor... and Also— WHY SHE CUT IT? .
She let me Know The Hair Was Thinning at the root , and it was going to snap out anyway... Now Me Knowing My Own Hair.. & By It Being So Thick— Anytime I had A thinning lock I would just combine it with Another one.... Never would I Discard It Like it was worth Nothing! .
Two Lessons I learned: The Only Person Who will take care of you Just The Way You Like, Is You. When We make ourselves vulnerable to others, they will take care of you in the same way they do for themselves.. She did not have much hair... A Fade actually so She was a lot more comfortable with snipping than Someone with Plenty Hair would have been.. .
Lesson Number Two: I deserved It. How? From all I had been through my hair took on a lot of the hurt.. I feel to even protect my psyche from further damage..& What she cut is Now Time to leave me. I can always grow my thickness back out.. But now it's time for me to let go. Sometimes the only time we let go is when we have to..A woman's hair is so precious to her.... I could hold on to these locs with an emotional hurt attached to them but what good would that do me? It's time to let go .. ⭐️

Liked What You Read? Make Sure To Check Out..
Super Blue Blood LUNAR ECLIPSE 🌔🌓🌒🌑🌘🌗🌖 | An Oracle Reading |
Cloudy Fogs Clear Our Vision 👁 Leave Illusion FOR THE BLIND
ZOISITE - Properties Of A Healing Crystal
ETERNITY - Blue Fire & Blue Blood - A Moontime Poem
Join Our Discord Server! The Afro Magic Sacred Soul Network is Here! Click The Image Below

---
---
Join The Unity Guild ⭐️

For Feminine Support & Guidance on Steemit, Join TEAM Girl POWA !

---
---