It's back to the social media reviews for me, and today was going to be a delve into Diaspora, which to my surprise, I was invited to join back in 2013. Back then, I probably thought like many others, that I would be just fine thank you on "the Facebook", not wanting too many different log-ins, all over the place. Little did I know.
Fast forward to 2018 and on attempting sign-up, (after looking for an old conformation message from a possible, forgotten, previous attempt), I find myself snubbed. Locked out. In a reverse-Groucho Marx kind of place, wanting to belong to a club that now won't have me.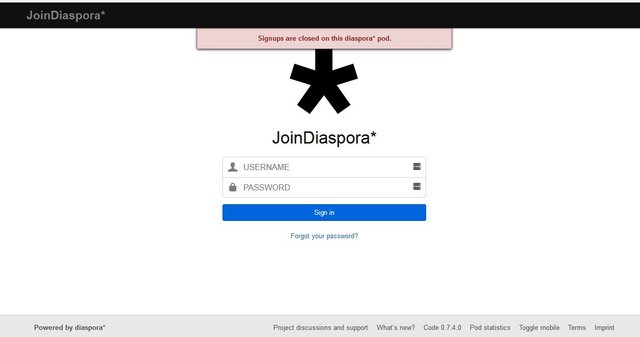 Ah well, I'll not take it personally (something I was reminded about recording today's 'Radio for a World that Works' podcast, see agreement 2 here: https://steemit.com/thefouragreements/@carlmunson/how-could-anyone-disagree-with-the-four-agreements
I'll move on.
In Diaspora's place, (none taken) ... (really), let's try signing up with Vero, another network enjoying some Cambridge Analytica-gate-induced limelight...
On their home page, Vero are leading with an offensive on 'digital addiction': "As an advertising free platform, we don't view addiction to our service as a measure of success. We want Vero to enhance your life, not detract from it. That's why we stay away from using methods like sending notifications about things we 'think' you may be interested in just to get you back into the app. Whilst Vero has not been designed to be addictive, digital addiction is rampant and many of us struggle to find a balance when using technology - particularly social apps."
All very laudable.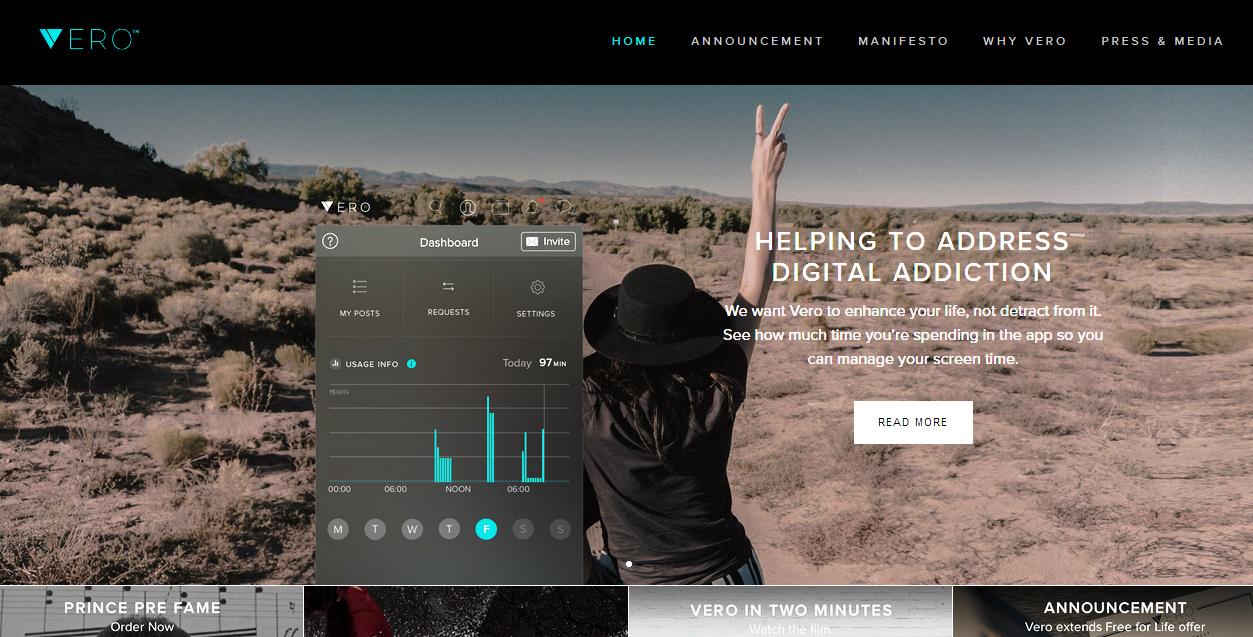 [#digitaladdiction dealt with thanks to Vero]
Excuse me while I jump on my phone and download the app; this is not a desktop-experience. While you're waiting, here's a reminder of the all-important 'Money Munson social network assessment criteria':
Brief introduction
What THEY say
Positives
Negatives
Ease of sign-up, use & connection with others
'Money' Munson's verdict
En route to app download (IOS for me), I'm confronted by a text notification from CEO and Founder at OurNet, Michael Brodie, who has taken the time to prophetically message: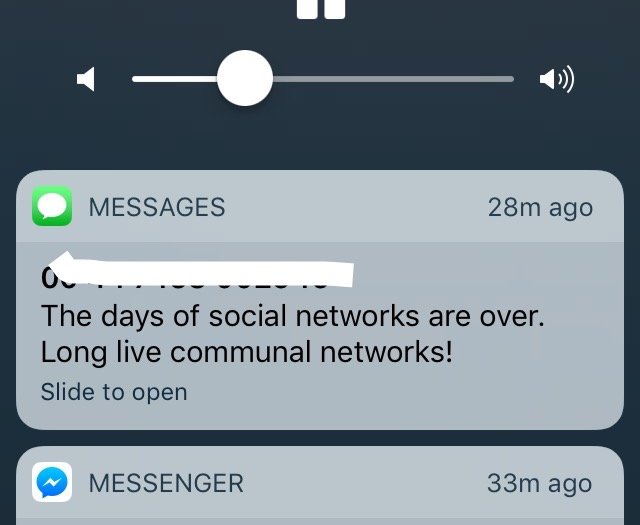 Nice! [More about OurNet at: http://about.ournet.news/] Let's find out how communal Vero is...
Brief introduction to Vero
Calling itself "True Social", "Vero is proud to be the first social network to show users how much time they are spending on the platform," which cleverly makes a virtue out of a big criticism of social media and life online. This is an interesting feature to major on, and will surely please some users at this stage in the white heat of this industry's evolution.
But perhaps the most intriguing thing about Vero is its founder, Ayman Hariri. According to CNN, in a piece published only a few days ago, Hariri is "a Lebanese billionaire who happens to be the son of a former Prime Minister of Lebanon and the half-brother of the country's current Prime Minister."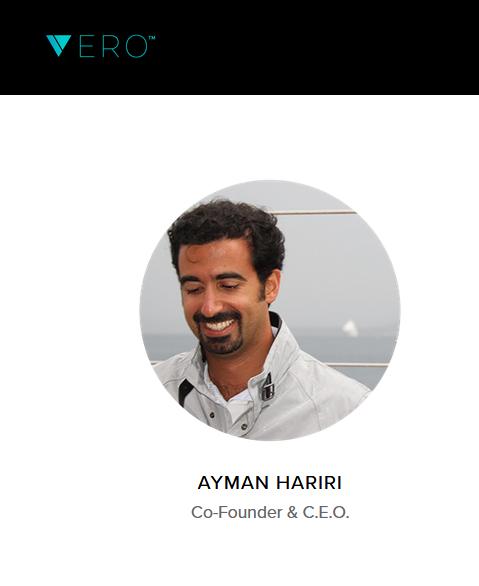 Worryingly, perhaps for Vero's credibility as an ethically-positioned network, he's alleged to have "helped run his family's now-shuttered construction business following the 2005 assassination of his father."
The "Saudi Arabia-based construction company, Saudi Oger, closed in 2017," continues CNN in the article. "One year prior, employees rioted on at least two occasions over missed paychecks."
"It's unfortunate what happened at the company," said Hariri, noting that he had already left his role at the company at the time of the riots, (according to CNN). "It was a complicated situation of having people not receive salaries and not be happy. It is the furthest thing that we wanted or could have imagined."
On a lighter note, Hariri, 39, told CNN he came up with the idea [of Vero] after he noticed Facebook friends "acting quite differently than how I knew them to be in the real world."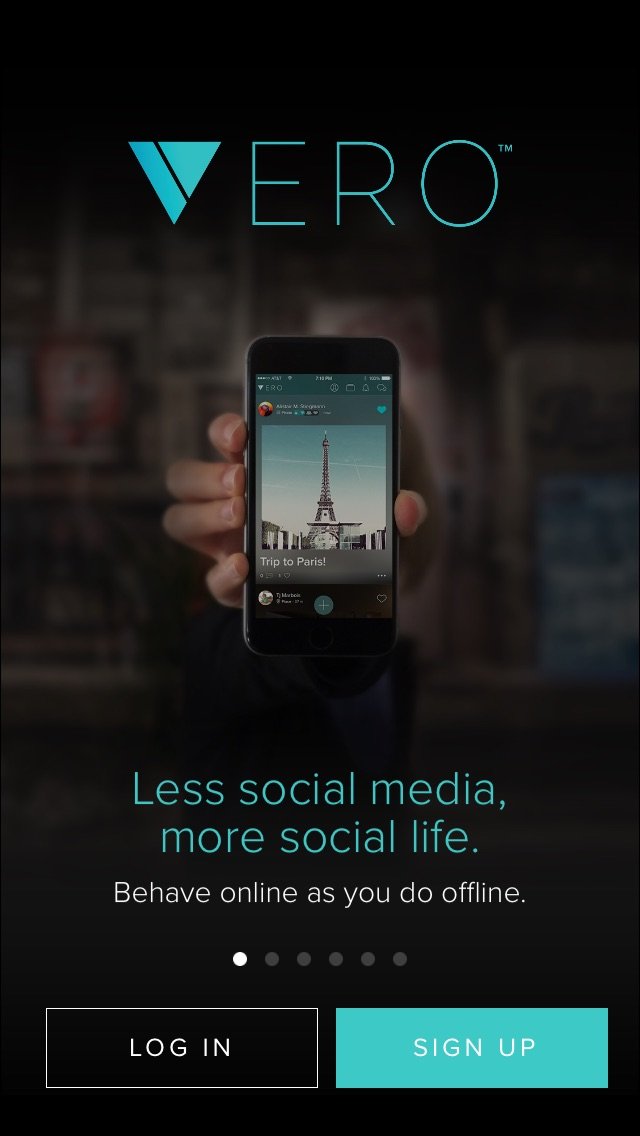 "In the real world, we don't have an audience," he said. "We treat different people in our lives differently based on our degrees of intimacy. The real, greatest social network that exists is the one that exists between people in the real world."
What THEY say
Further to being down on digital addiction, Vero have a nice little manifesto: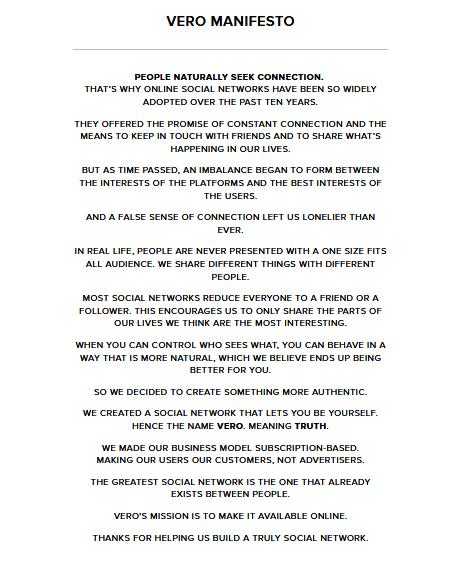 Re: their business model, Vero say:
"Unlike most of our competitors, Vero's business model isn't based on serving advertisements. As a subscription-based service, our users are our customers, not the product we sell to advertisers. Our subscription model will allow us to keep Vero advertising-free, and to focus solely on delivering the best social experience instead of trying to find new ways to monetize our users' behavior or tricking them back into the app with notifications. As promised, our first million users have access to Vero free for life."
[Aside: It's interesting to see a subscription-based future at Vero. This of course one way of addressing the 'free and always will be' illusion. The one where Facebook's free lunch lets you eat all you can without charge, but sits advertisers and big data analysts next to you, watching your every move. Bon appetit!]
Vero continue: "...given the service interruptions we experienced from the large wave of new users [quoted at 02-04-18], we are extending that offer to all new users until further notice. We will confirm the start date and pricing of Vero subscriptions soon. All our users, whether they pay a subscription or not, will be treated equally and have access to the same features and functions. In addition to individual subscriptions, we charge a transaction fee to merchants when they sell via our "Buy Now" feature that allows creators and brands to sell products directly from posts. We waive our fee on charitable donations or when using our "Donate Now" feature."
I see no indications of HOW MUCH the Vero subscription will be.
About your Vero feed, they say:

And among the Community Guidelines in the https://www.vero.co/vero-manifesto/, you'll see an interesting ask:
"Impersonation
Please do not impersonate individuals, groups, or organizations. If you wish to run a fan, commentary, parody or newsfeed account on Vero we ask that you take steps to avoid misleading or confusing other users by making it clear (in your Vero account name and/or bio) that your account is unofficial."
The emphasis at Vero is clearly on SMART fun, not hard work:
"Smarter social - Vero is a social network for anyone who loves anything enough to share it – and wants control over who they share it with. Just like we do in real life."
"Smarter Sharing - Movies, TV, music, books, places, photos, links – these are the things we really connect over, so we made them easier to share, enjoy and discover."
"Smarter Connecting - Everything's not for everyone, so we've made picking your audience completely intuitive for each post."
"Smarter searching - Every post from you and your friends goes straight in your Collections – your own personal library of recommendations and passions."
"Smarter Creating - We're already the platform of choice for a whole bunch of incredible artists and brands, creating unique and original content just for us."
"Smarter Engaging - Every post is a little world of its own. Tap to buy stuff, play music tracks, watch trailers and go deeper."
"Smarter Feed - There are no ads on Vero – just the posts you want to see. That also means there's no algorithms and no data mining. Ever."
Positives
Currently FREE
Not ad-based, no dreaded algorithms, and no 'push'iness
Select your audience choosing from 'Close Friend', 'Friend' or 'Acquaintance' - "They won't know which loop they're in"
App-based, easy sign-up, IOS is attractive and a pleasure to use/explore. That said only a 2.5/5.0 on the AppStore
Connects to Apple Music (is that a positive?!) for music sharing
Share your posts on Facebook and Twitter (allowing you to stay and share on FB without visiting so much and putting up with constant advertising?)
Negatives
Ease of sign-up, use & connection with others
Sign up via the IOS app is straightforward and requires a phone verification along with the basic details that furnish your user profile. Within minutes, I'm in and posting. And it's free to me, for life!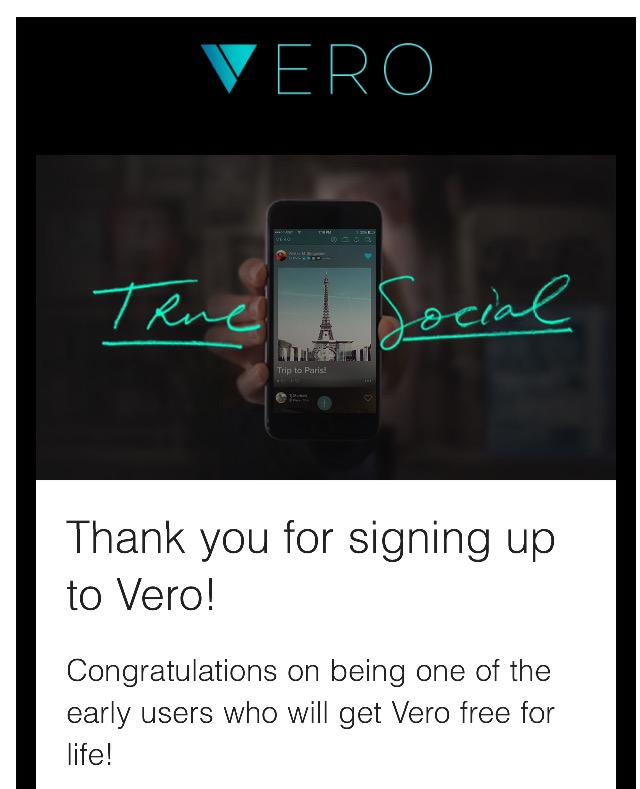 I announced my attention to join as I began to write, at lunchtime, and attracted a twitter like and reply, plus a 'follower' on the platform. Given the platform's emphasis on crowd control, I'm not surprised or unhappy to not be deluged with contact requests or tweety/tooty small talk - it's not that kind of site.
Unlike Facebook, the friend/follower distinction is very clear, which I think - along with Vero's 'loops' - will make strength of connection a lot more sophisticated and true to 'real life'. A 'friend' is a very vague term on FB, here, the subtleties and intensities of friendship are much more controllable.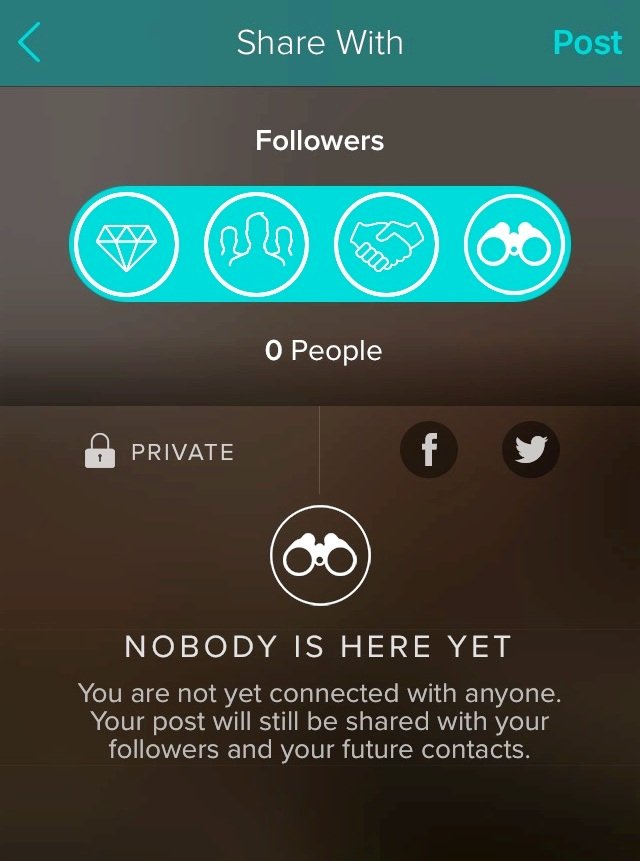 On the all-important 'nan-scale', your nan is going to need to be a competent app' downloader and smartphone user, if she's going to stay in touch with you on this platform. Vero, at the time of writing, will not work on her iPad.
'Money' Munson's verdict
Full marks to Vero on their digital addiction-bashing premise and furthermore their rejection of algorithms, ads and bots. The first million, plus until-further-notice wanna-joins, will get to use it free for life, but subs remain a mystery for all subsequent sign-ups.
Posting is easy and the curation of your posts into 'collections' is a nice idea that will bring depth through a sense of passionate curation. This feels like it might be a more rewarding experience, over time, than random, stream-of-(un)consciousness linear posting; conventional time-lining that we know and love (less and less).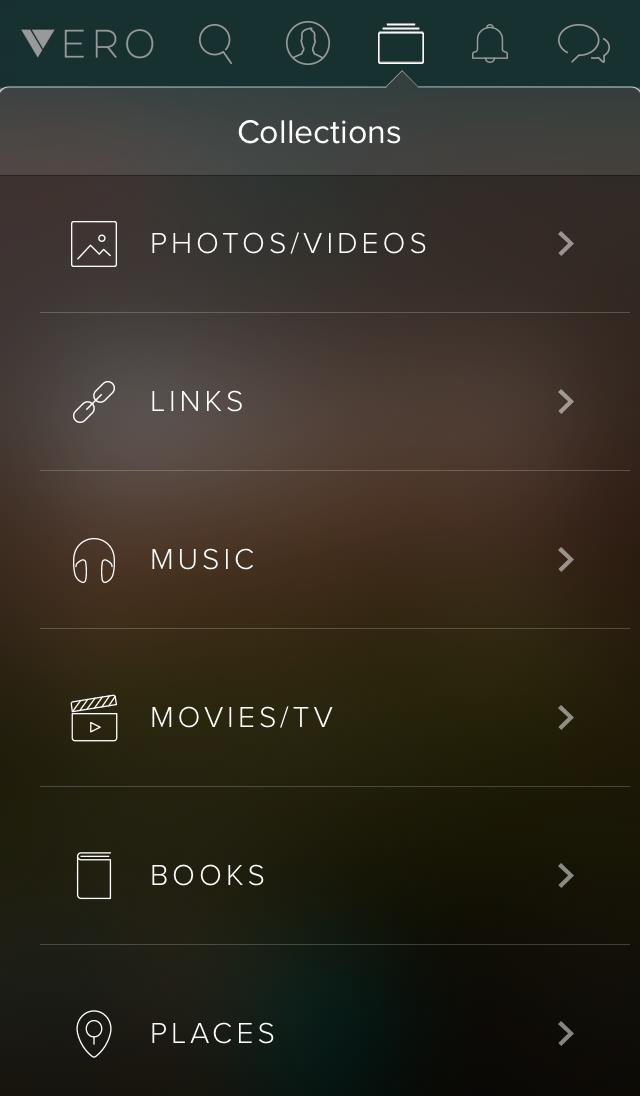 For me, app-only social networks, like Vero, feel more limited with regard to access and usability. I feel more 'professional' and potentially more productive sat at my laptop with that same attitude finding itself expressed in my browser-based networks. But time and habit, along with smartphone ingenuity, will probably deal with that in the longer term.
I think Vero, boasting as it does its moral higher ground in dealing with addiction and intrusion, may need to look into the public presentation of its wealthy founder. No one's perfect - despite their manufactured self-portrayal on line, as he's said himself it seems - but the higher the ethical stakes, the harder critics will look. I wish Vero well with how that turns out; the founder story could of course always be some ill-intentioned fake or assisted news, aimed at derailing a serious contender, in a very competitive market-place.
All that said, this is a serious alternative to, if not replacement for, the world number one. Slicker and sexier than MeWe; less demanding technically and more featured than Mastodon; more open-minded and frivolous than The Full Circle Project; and actually open for business, unlike Diaspora!
Vero is for you if you're app-happy and can bear to find out how much time you've been wasting online, playing with all their lovely features in an ad-free, controllable community. You can find me as 'Carl Munson', funnily enough.
---
Vero on App Store: http://get.vero.co/web-iOS - Vero on Android: http://get.vero.co/web-android
Please note: Features and opinions are subject to change. This review is written in good faith and intent. Comments are welcome. Relevant adjustments and edits will be gladly made. Screenshots are used with gratitude and for illustration purposes only, to promote the sites under discussion.
---
My review of MeWe: https://steemit.com/deletefacebook/@carlmunson/alternatives-to-facebook-and-the-new-social-media-mewe-reviewed
My review of Mastodon: https://steemit.com/mastodon/@carlmunson/why-tweet-when-you-can-toot-alternatives-to-facebook-and-the-new-social-media-mastodon-reviewed
My review of The Full Circle Project: https://steemit.com/fullcircleproject/@carlmunson/worrier-to-warrior-alternatives-to-facebook-and-the-new-social-media-the-full-circle-project-reviewed