So far, I've looked at MeWe and Mastodon in my review of alternatives to Facebook. In this outing, I look at a mission-based network - The Full Circle Project - which I'm evaluating using these key parameters, as with all my reviews:
Brief introduction - What THEY say - Positives - Negatives - Ease of sign-up, use & connection with others - 'Money' Munson's verdict
Brief introduction to The Full Circle Project
The Full Circle Project (FCP) is on a mission. Whereas the likes of Facebook and MeWe provide you with a virtual playground of features, through which you express yourself in just about any (legal) way, FCP is purpose driven and looks to attract and build a community in line with their declared aims. Its closest cousin is perhaps similarly purpose driven network - Miramir - which appears to have stalled in pre-launch (we'll return to Miramir in another review).
In essence, "The Full Circle Project provides an active hub to support effective common sense action undertaken by the people themselves," which gives you an idea of the dynamics here. This is NOT fluffy or frivolous, and on the 'nan-scale', if you're Grandma is not an eco or social warrior, this is not the place for her! I suspect the only cat videos you might see here, are endangered BIG cats, who are in need of saving.
This platform is built for connection, collaboration and action - via circles: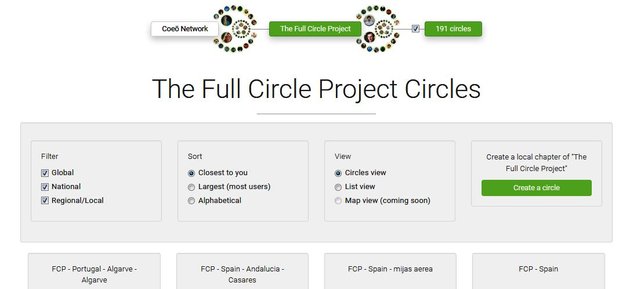 Worthy of special mention is FCP's close association with The Coeō Community and the in-built Connector. Coeō attempts to address the fact that "the problem is not the lack of a collective desire for a positive future but the lack of a collective vehicle for positive actions" [- Randy Powell]
Furthermore: "Around the world there are hundreds of thousands of groups and organisations who have social and environmental justice at the core of their objectives, from large international organisations to small local community groups. Imagine if the millions of members of these organisations, recognising their shared objectives, begin to connect and work together on a local level to take real, meaningful action starting in their own communities."
"The Coeō Community Connector was created to make this vision a reality by providing the tools for you to discover neighbours throughout your community who share your desire to take positive action and create a better future."
"The Full Circle Project has now become a significant part of the wider Coeō Network. By paricipating in the Full Circle Project you are also joining a growing network of Solutionaries helping to bring about a unity and collaboration between movements which is so desperately needed if we are to take full advantage the strength we have in our combined numbers," they add.
What THEY say
"Timing is everything, it is said. When the time came for Max Igan to start formulating the idea of The Full Circle Project in 2012, he was particularly concerned to draw attention to the plight of the Amazon forest and all the natural treasures it contains. He wanted to call people everywhere to come together and recognise the power we had as One People to change the tide of destruction and the rape of our planet. The idea was based on gathering funds to buy large parcels of land to put into trust for the original Amazonian peoples to care for as they have done throughout living memory.
However, the recognition that the might of corporate mining companies was strong in terms of financial persuasion, Max decided instead to re-focus the Full Circle Project on building community resilience in every location possible and to find effective remedy to issues of concern at a local level; something he had been advocating in his regular podcasts over the previous eight years.
Many of these concerns are also apparent on a global level and meaningful approaches can be implemented which ultimately remind us of who we truly are as we rediscover our humanity and our connection to all that is.
A series of events led to a change in direction and focus as synchronicities and resonant responses allowed the project to begin to take form and the Circle quickly demonstrated it had a life of its own; a dynamic that needed to be expressed in its own way and in its own time. Those involved in helping to 'birth' the project discovered they needed to be respectful of the inherent Power within the Full Circle itself and not try to give it direction nor identity, but rather stand back and allow it to develop organically by listening carefully and using reflective observation from a deeply held place of connection. This we pledge to continue to do as 'stewards' of the Full Circle Project. There are no leaders and there is no movement to join. This is simply a vehicle to help find our voice, our unique expression, and our common sense.
This in turn will encourage us to bring the sacred elements back into Life while taking political action and building resilient community from a spiritually informed perspective.
Changing our perspective is powerful in itself. Recognising that all the 'problems' we face, including our personal challenges, are actually opportunities to evolve and rekindle our human qualities and create an atmosphere conducive to joy, kindness and gratitude. These high spirits in and of themselves lift us beyond the reach of the controlling factors currently infiltrating our lives and we can approach relationships of all types with an imaginative, positive attitude.
The Full Circle Project was conceived to engender unity, cooperation, communication and empowerment to all seeking for, or working towards, real solutions for living a decent life in a world gone haywire. While governments and corporations seek to throttle, sicken and dumb down their populations, it is even more so a time of great awakening to our potential in facing these challenges and in helping one another during these stressful times by sharing skills and pooling resources.
Communication and community often act as a solution in themselves as those feeling isolated sense they have no alternative except perhaps finding kindred spirits online. It doesn't have to be this way. The primary intention of the project is to bring people together to bridge this gap of isolation via communication and by offering inspired forms of activism that will empower individuals and whole communities. Many are already doing this and we are approaching sincere people to collaborate in the Full Circle Project and to build upon their insights with reciprocal relationships so as to spread relevant and engaging ideas more widely, more rapidly, and with greater effect.
The success of The Full Circle Project will depend on you and your participation.
We warmly invite you to Stand Up for Life and share your unique gifts as we journey together with this 'idea whose time has come' into the Great Mystery of our conscious evolution."
Positives
Clear and engaging 'feed'/wall page with excellent user-led locality adjustment
Range of post options

'Resonance' system for rating responses and interactions
Emphasis on locality (although anonymity is respected)
Live chat
Association with The Coeō Community
Excellent and attractive topic wiki
No advertising, only crowdfunding prompts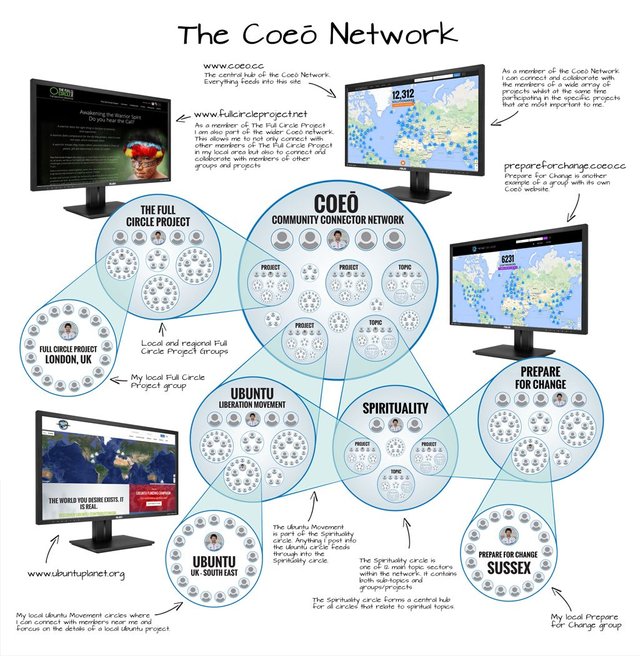 Negatives
Not, as far as I can see, a decentralised, community-owned platform, therefore a 'trust us' scenario
An agenda driven site that will polarise potential users
No option to earn from contribution or curation (forgiven, noting that FCP has a different raison d'être and agenda to sites that aim to reward content creation)
Ease of sign-up, use & connection with others
Signing up for The Full Circle Project can be done via Facebook (therein lies a delicious irony) and it's plain sailing. Once in, the feed page is delightfully clear given the complexity of the offer...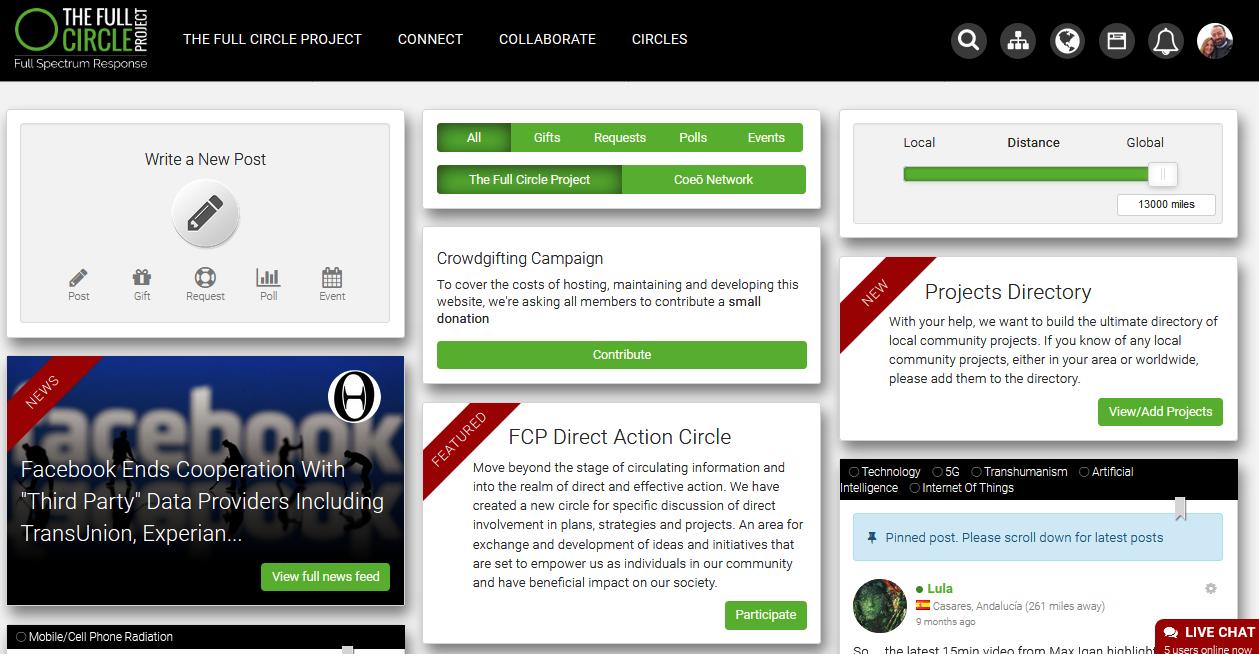 I posted, as is now customary for me, an I'm here, what's up? flag-in-ground post and was soon met by reaction...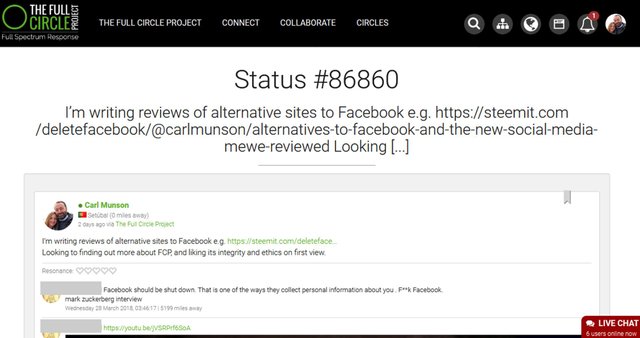 Later, a site rep responded, and we may well see a 'Radio for a World that Works' interview podcast.
As far as the vibe goes, there are clearly signs of life, locality and a live chat (bottom left of your feed screen). The latter being a brave feature when those on-line and on-site are low in number, but a great way to connect and crack on with positive interaction, nonetheless.
Members chat readily and responding to a request for feedback about the site, I received:
"I think FCP is much more than facebook. My belief is FCP was set up with the aim of using a platform where people could locate similar minded individuals in their neighborhood and meet in person thus creating a circle.
There are no set aims, intentions or missions of fcp, however it is hoped that groups could use a legal key (such as the InPower) movement to use within their local community and circles as a means of waking people and taking on the system.
I have met many people local to me through fcp and have spoken to people from all over the world."
[- Carla, South Ness, a working 8-acre croft located on the Island of North Ronaldsay, Orkney]
'Money' Munson's verdict
The Full Circle Project is not a 'plug n play' frivolity. You'll need to commit and immerse yourself here and likely have an active passion to change the world, or at least your bit of it.
The discussion topics section is encyclopedic and thorough (segment screenshot below)...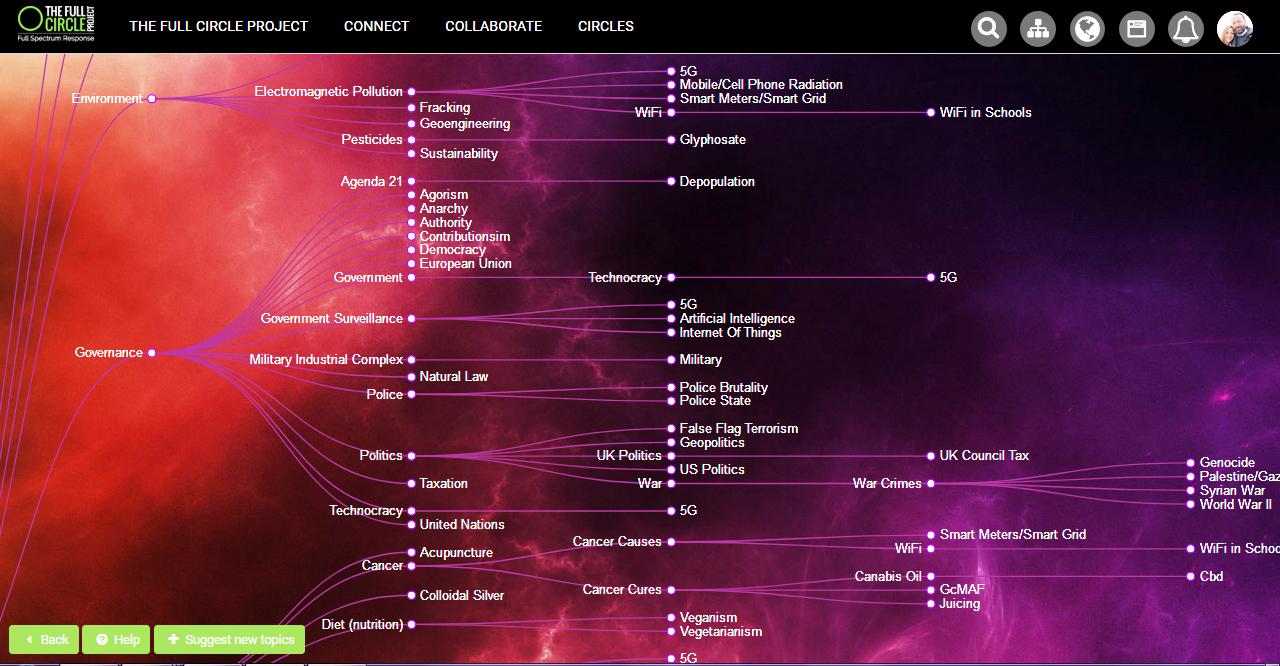 FCP appeals to my zeal and routine urge for positive action, so I'm hooked. It will be a little over-zealous for some and possibly preachy, but it's hard to lay your cards on the table without giving your hand away.
For activists and anyone believing that human life is in grave danger, as well as the health of the planet upon which it is premised, this is a well-intentioned and powerful tool.
It's not for everyone, and as said by a user above, it's "more than Facebook". This is a specialist social network with little interest in the corporate motivations of the world's number one. In fact, you could say it would be happy to see those values kicked into touch as its members come together with a "Full Spectrum Response" that "proposes a path of freedom and response-ability based in deep respect and joy for Life. A cause for celebration."
If you want to join me in an FCP 'circle' - interest or locality based - find me here: https://www.fullcircleproject.net/profile/47656/
For more on FCP's 'Full Spectrum Response' angle: https://www.fullcircleproject.net/pages/response/
---
MeWe review: https://steemit.com/deletefacebook/@carlmunson/alternatives-to-facebook-and-the-new-social-media-mewe-reviewed
Mastodon review: https://steemit.com/mastodon/@carlmunson/why-tweet-when-you-can-toot-alternatives-to-facebook-and-the-new-social-media-mastodon-reviewed
---
Please note: Features and opinions are subject to change. This review is written in good faith and intent. Comments are welcome. Relevant adjustments and edits will be gladly made.
---
Afterword: Why Leave Facebook, and Where Next?
Unless you've been living under a rock for the last week, (which given the events of the last week, wouldn't be such a bad option), you'll have noticed that the atmosphere around Facebook has changed, as fears about the security of our personal data and its exploitation, have come into sharp focus.
As bad as the sneaky collection and trading of your precious memories and musings is, the current ill feeling accompanies a more general soul-searching in the world of social media, now that we're anticipating its teenage years. It's changing, we're changing, and all bets are off as to where it will go next, given the pace of change and amount of disruption the digital age is made of. Who has the time and energy to think about it anyway?
However, even if we can't predict what it'll look like exactly, we can certainly make requests about its ethics and question the motives of those leading the way into socialmedia2.0. At the most basic level, there seems to be a mass wising-up around our child-like trust of corporations who we now find are using our smallest moments to create the biggest - and most commercial - data. Elsewhere, others see much sense in content contributors being paid for their part in making the platform what it is, rather than exploited as has been the way so far.
Decentralisation of ownership, storage and servers is a pre-occupation of some creating the next wave, they who speak of the Blockchain. Others, like OurNet, with whom I'm involved, are endeavouring to transform the very way people communicate online - away from trolling and fakery, toward respect and refinement.
We will see about all of that, but back to the status quo, and we can see Facebook's trust breach has caused some bitter reaction, ranging from an angry #deleteFacebook to a dull ambivalence about the very point of even being social online.
Whilst I sympathise with using the Facebook 'kill switch' as an act of revenge or justice, I'm too involved to just walk away. Instead, I'm exploring alternatives and taking a long-tail approach to leaving Facebook. It's a service to which I'm indebted and have deeply enjoyed, but like my move away from fast food (largely), Facebook will become something that I used to do, and be replaced by something better. And soon, I suspect.
Facebook will be fine, and executives there probably predicted this bump in their road at some point in their evolution. My prediction is that they'll move away from the personal connections market and embrace commercial life fully as an advertising and media channel fit for the 21st Century. We've all played our part in its creation and may well be becoming surplus to requirements as mere data pawns. The attraction and reason for being there on Facebook will change, as will its leaders and their bank balances.
But what of those alternatives I mentioned? Many are emerging, and have been in planning and development for years now. And the exciting thing, for me, in the wake of the #CambridgeAnalyticaGate, is that the alternatives might even get the tiniest of feet in the door. So join me as I dip my toe in the new waters of social media and splash around so that you don't have to.
---
Why we needn't worry about Facebook: https://steemit.com/facebook/@carlmunson/the-groucho-conundrum-why-facebook-will-probably-be-ok