First on my #alt2fb review list was MeWe - https://steemit.com/deletefacebook/@carlmunson/alternatives-to-facebook-and-the-new-social-media-mewe-reviewed - which I assessed using these few key parameters, the basis of all upcoming once-overs:
Brief introduction
What THEY say
Positives
Negatives
Ease of sign-up, use & connection with others
'Money' Munson's verdict
In this review, I'm getting involved with Mastodon, in many ways a very different proposition to both recently-reviewed MeWe, and the current villain of the piece and dejected 'daddy', Facebook.
Brief introduction to Mastodon
On first glance, Mastodon has what I'm looking for, fitting the 'next-generation' bill by self-proclaimed virtue of its decentrali[z]ed and open source foundations. Whilst MeWe represents nan-friendly user-experience and a worthy (literally) substitute for FB, Mastodon is for the ground-breakers among us, delivering as it does, some contextual consciousness shifts, as well as its on-screen activities and community.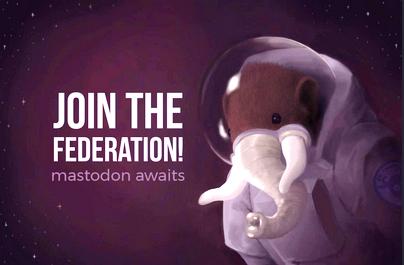 It's operational, free and exciting for early adopters, idealists and more highly Internet-literate users, especially people with open source and peer-to-peer leanings. Those people who call themselves "technophobes" because they're reluctant to pick up just a few new skills, will most likely not set foot past sign-up.
What THEY say
"Social networking, back in your hands - The world's largest free, open-source, decentralized microblogging network"
"Find your perfect community - Mastodon isn't one place and one set of rules: it's thousands of unique, interconnected communities to choose from, filled with different people, interests, languages, and needs. Don't like the rules? You're free to join any community you like, or better yet: you can host your own, on your own terms!"
"Take control of your content - With powerful tools to control who sees your posts and a 500-character limit, Mastodon empowers you to share your ideas, unabridged. The best part? All posts are in chronological order, not "optimized" to push ads into your timeline. With apps for iOS, Android, and every other platform imaginable, Mastodon is always at your fingertips."
"Putting the user first - You're a person, not a product. Mastodon is a free, open-source development that has been crowdfunded, not financed. All instances are independently owned, operated, and moderated. There is no monopoly by a single commercial company, no ads, and no tracking. Mastodon works for you, and not the other way around."
"Feel safe in your community - Mastodon comes with effective anti-abuse tools to help protect yourself from online abuse. With small, interconnected communities, it means that there are more moderators you can approach to help with a situation. This also means you can choose who sees your posts: friends, your community, or the entire fediverse."
On arrival, you're told: "In essence, Mastodon is a decentralized, open source social network. This* is just one part of the network, run by the main developers of the project 🐘 It is not focused on any particular niche interest - everyone is welcome as long as you follow our code of conduct!"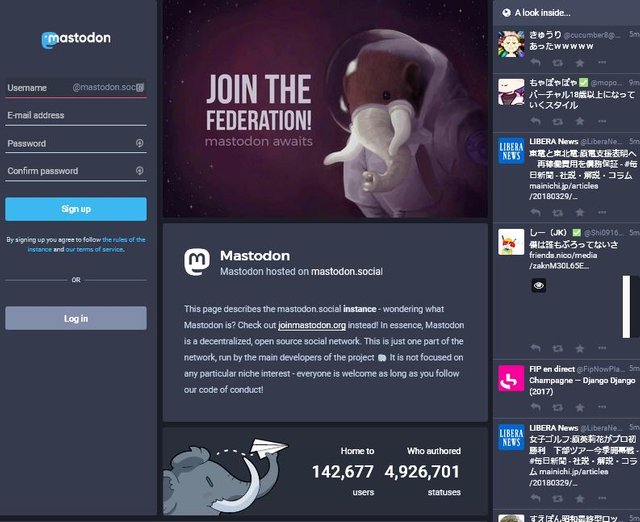 Dig deeper and in answer to the question: What is Mastodon?, they say: "Mastodon is Twitter-style social networking combined with email-style instanced servers. It's named after the metal band, but themed after the extinct megafauna."
[*'This' being the front-end social part - or 'instance' as they refer to it - of the whole Mastodon project.]
Positives
Emphasis on brief and snappy communication - 'toots' - within specialised silos - 'instances'.
Decentralised
Open Source
The kindness of strangers
No platform advertising

Negatives
Complex user interface/experience, but this offer is hard to simplify!
Not for the feint-hearted social media user
Not a social media playground with lots of fluffy features
Currently no user reward system, but really that's not what Mastodon is about
Ease of sign-up, use & connection with others
Joining Mastodon is easy enough with email verification as you might expect.
Once in, you realise that being part of this community means getting involved, taking responsibility and mucking in, in a fast-moving twitter-ish flow of information bursts. It's not a slick or superficial consumer experience, aimed at leisurely and considered curation. Other areas of the project (instances) may offer greater depth and leisure.
Uploading an image for the first time, I was greeted with a 'bad gateway' response, whatever that is. I tried again, this time with success, and want to liken being 'at' Mastodon (rather than 'on' it) to the experience of attending a festival or campsite. You do your own thing and when help is needed, it's never far away - the sense of camaraderie outweighs any whiffs of consumerism that have become the norm in the increasingly-commercialised web-based world.
'Money' Munson's verdict
I started reviewing Mastodon with a tentative sign-up at around lunchtime, suspecting a tumbleweed scenario that reflected a mixture of my technical inability and the site's slightly austere and dark first impression. It's later in the day now, and as I return to my review and the platform, I'm delighted to be met by a generous smattering of favourite-ing and boosting that's met my uploading of this rather appropriate image...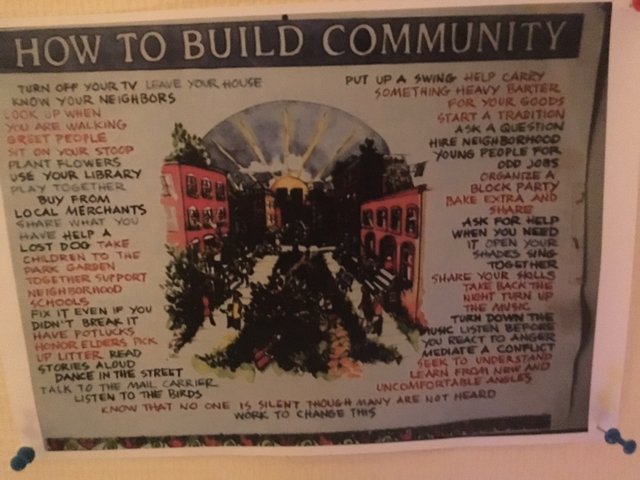 Eight strangers decided to fave this snapshot, sent to me by a friend on Facebook Messenger this morning, and six boosts further deepened the welcome and sense of connection. I wouldn't expect that level of traction and reaction from a haphazard, though well-meant posting, but Mastodon clearly glows with one-ness and esprit de corps.
Furthermore, my early cry for help (pictured below), was rapidly met with an offer of guidance from another complete stranger.

That stranger then deferred my gratitude to another stranger that had put the help guide together. This is the beauty and grace of the open source community at work. To me, it's like the 'hotel vs hostel' experience: In a hotel, so much is done for you and so much is expected; in a hostel, you get the basics and make your own fun. Both have their merits, yet an open-source, peer-to-peer life feels much more sustainable and nourishing than the 'customer is king' dysfunction of consumerism that ultimately divides and rules.
This is an alternative to Facebook, and a way of being social online, if you want to take more responsibility. You'll need to shift your consciousness from play to participation. If you want a safer, ad-free version of Facebook, go with MeWe. If you want to feel part of something, and more than the mere recipient of technology, give Mastodon a go.
The ethical base is worthy of a mention too (see below for a segment of the T&Cs) and for more about what's required of you, before you commit, try here: https://mastodon.social/about/more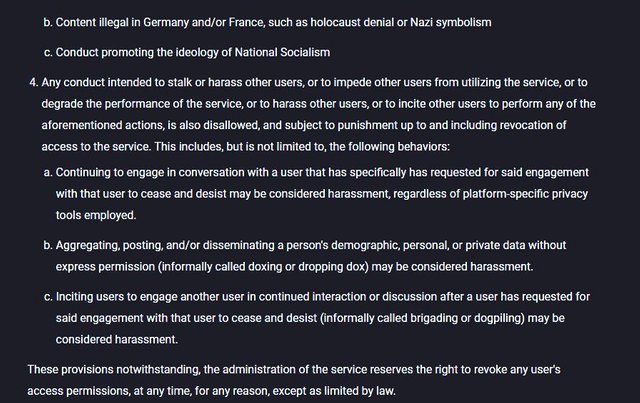 [I had no idea what doxing, brigading or dogpiling were, until I met you Mastodon]
I'm impressed and inspired. If you're up for it, find me here: @moneymunson
Sign up for Mastodon here: https://joinmastodon.org/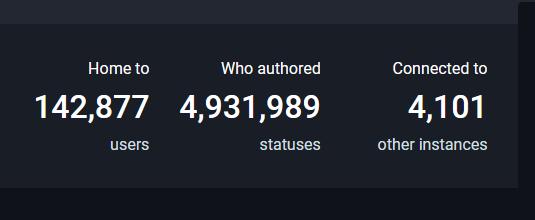 [Mastodon's numbers as of 28-03-18]
Please note: Features and opinions are subject to change. This review is written in good faith and intent. Comments are welcome. Relevant adjustments and edits will be gladly made.
---
*Afterword: Why Leave Facebook, and Where Next?
Unless you've been living under a rock for the last week, (which given the events of the last week, wouldn't be such a bad option), you'll have noticed that the atmosphere around Facebook has changed, as fears about the security of our personal data and its exploitation, have come into sharp focus.
As bad as the sneaky collection and trading of your precious memories and musings is, the current ill feeling accompanies a more general soul-searching in the world of social media, now that we're anticipating its teenage years. It's changing, we're changing, and all bets are off as to where it will go next, given the pace of change and amount of disruption the digital age is made of. Who has the time and energy to think about it anyway?
However, even if we can't predict what it'll look like exactly, we can certainly make requests about its ethics and question the motives of those leading the way into socialmedia2.0. At the most basic level, there seems to be a mass wising-up around our child-like trust of corporations who we now find are using our smallest moments to create the biggest - and most commercial - data. Elsewhere, others see much sense in content contributors being paid for their part in making the platform what it is, rather than exploited as has been the way so far.
Decentralisation of ownership, storage and servers is a pre-occupation of some creating the next wave, they who speak of the Blockchain. Others, like OurNet, with whom I'm involved, are endeavouring to transform the very way people communicate online - away from trolling and fakery, toward respect and refinement.
We will see about all of that, but back to the status quo, and we can see Facebook's trust breach has caused some bitter reaction, ranging from an angry #deleteFacebook to a dull ambivalence about the very point of even being social online.
Whilst I sympathise with using the Facebook 'kill switch' as an act of revenge or justice, I'm too involved to just walk away. Instead, I'm exploring alternatives and taking a long-tail approach to leaving Facebook. It's a service to which I'm indebted and have deeply enjoyed, but like my move away from fast food (largely), Facebook will become something that I used to do, and be replaced by something better. And soon, I suspect.
Facebook will be fine, and executives there probably predicted this bump in their road at some point in their evolution. My prediction is that they'll move away from the personal connections market and embrace commercial life fully as an advertising and media channel fit for the 21st Century. We've all played our part in its creation and may well be becoming surplus to requirements as mere data pawns. The attraction and reason for being there on Facebook will change, as will its leaders and their bank balances.
But what of those alternatives I mentioned? Many are emerging, and have been in planning and development for years now. And the exciting thing, for me, in the wake of the #CambridgeAnalyticaGate, is that the alternatives might even get the tiniest of feet in the door. So join me as I dip my toe in the new waters of social media and splash around so that you don't have to.