Introduction: Why Leave Facebook, and Where Next? (Scroll down for MeWe review)
Unless you've been living under a rock for the last week, (which given the events of the last week, wouldn't be such a bad option), you'll have noticed that the atmosphere around Facebook has changed, as fears about the security of our personal data and its exploitation, have come into sharp focus.
As bad as the sneaky collection and trading of your precious memories and musings is, the current ill feeling accompanies a more general soul-searching in the world of social media, now that we're anticipating its teenage years. It's changing, we're changing, and all bets are off as to where it will go next, given the pace of change and amount of disruption the digital age is made of. Who has the time and energy to think about it anyway?
However, even if we can't predict what it'll look like exactly, we can certainly make requests about its ethics and question the motives of those leading the way into socialmedia2.0. At the most basic level, there seems to be a mass wising-up around our child-like trust of corporations who we now find are using our smallest moments to create the biggest - and most commercial - data. Elsewhere, others see much sense in content contributors being paid for their part in making the platform what it is, rather than exploited as has been the way so far.
Decentralisation of ownership, storage and servers is a pre-occupation of some creating the next wave, they who speak of the Blockchain. Others, like OurNet, with whom I'm involved, are endeavouring to transform the very way people communicate online - away from trolling and fakery, toward respect and refinement.
We will see about all of that, but back to the status quo, and we can see Facebook's trust breach has caused some bitter reaction, ranging from an angry #deleteFacebook to a dull ambivalence about the very point of even being social online.
Whilst I sympathise with using the Facebook 'kill switch' as an act of revenge or justice, I'm too involved to just walk away. Instead, I'm exploring alternatives and taking a long-tail approach to leaving Facebook. It's a service to which I'm indebted and have deeply enjoyed, but like my move away from fast food (largely), Facebook will become something that I used to do, and be replaced by something better. And soon, I suspect.
Facebook will be fine, and executives there probably predicted this bump in their road at some point in their evolution. My prediction is that they'll move away from the personal connections market and embrace commercial life fully as an advertising and media channel fit for the 21st Century. We've all played our part in its creation and may well be becoming surplus to requirements as mere data pawns. The attraction and reason for being there on Facebook will change, as will its leaders and their bank balances.
But what of those alternatives I mentioned? Many are emerging, and have been in planning and development for years now. And the exciting thing, for me, in the wake of the #CambridgeAnalyticaGate, is that the alternatives might even get the tiniest of feet in the door. So join me as I dip my toe in the new waters of social media and splash around so that you don't have to.
First on my list is MeWe, which - to keep it light - I'm assessing via a few key parameters, namely:
Brief introduction
What THEY say
Positives
Negatives
Ease of sign-up, use & connection with others
'Money' Munson's verdict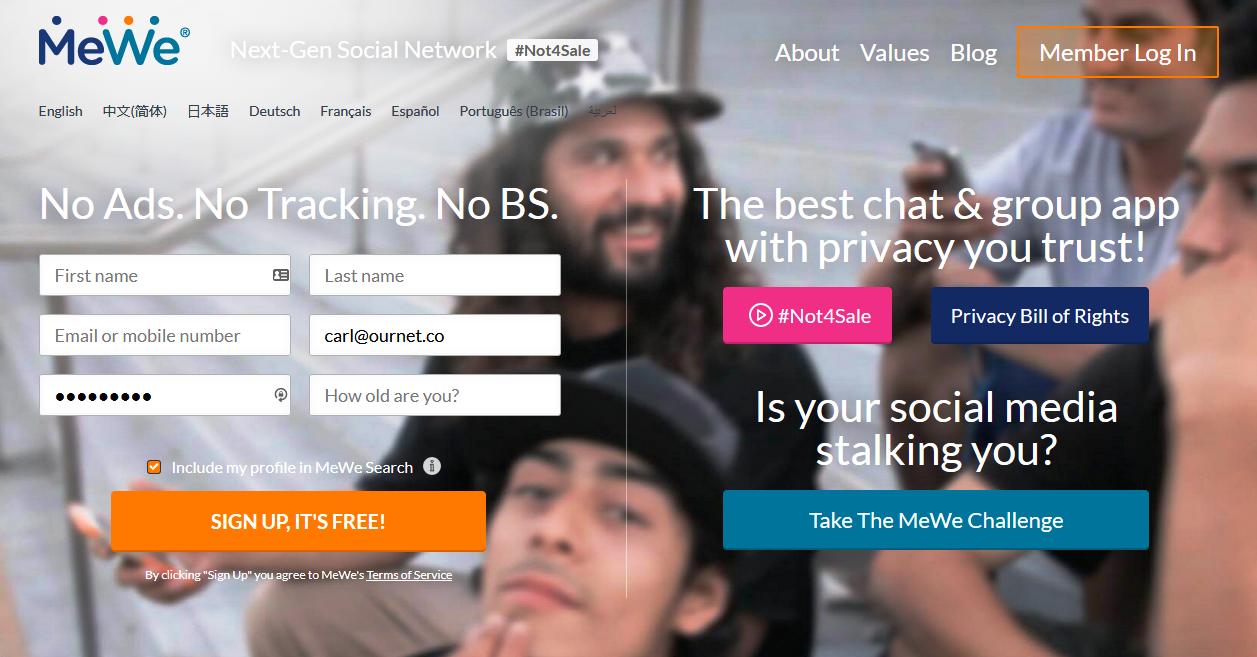 Brief introduction to MeWe
MeWe is a free, attractive and fairly straightforward pound-for-pound alternative to Facebook, rather than a disruptive next-generation platform when it comes to features. That said, it does describe itself as a 'Next-Gen Social Network', which is fair in relation to its '#Not4Sale' and 'No Ads. No Tracking. No BS.' positioning.
It has features you'd expect like a newsfeed/wall/timeline, chat, groups and events, and includes 8gb of free cloud storage as standard.

You can take MeWe's 'Is your social media stalking you?' test here https://mewe.com/challenge and read its 'Privacy Bill of Rights' on the sign-up page.
What THEY say
"MeWe began in Albuquerque, New Mexico, as a vision hatched over a dinner between good friends who were early founders of social media, Mark Weinstein and Jonathan Wolfe. With Facebook all the rage, Mark and Jonathan felt something critically human was getting lost: the spirit of our democracy and the backbone of our privacy. The big technology companies, you know who they are, had reverted to treating us as commodities. They somehow mistook people signing up to use their services as a welcome invitation to target, track, spy, and sell our information to advertisers and the government. All in all, it felt pretty creepy." - MeWe. My World. My Way™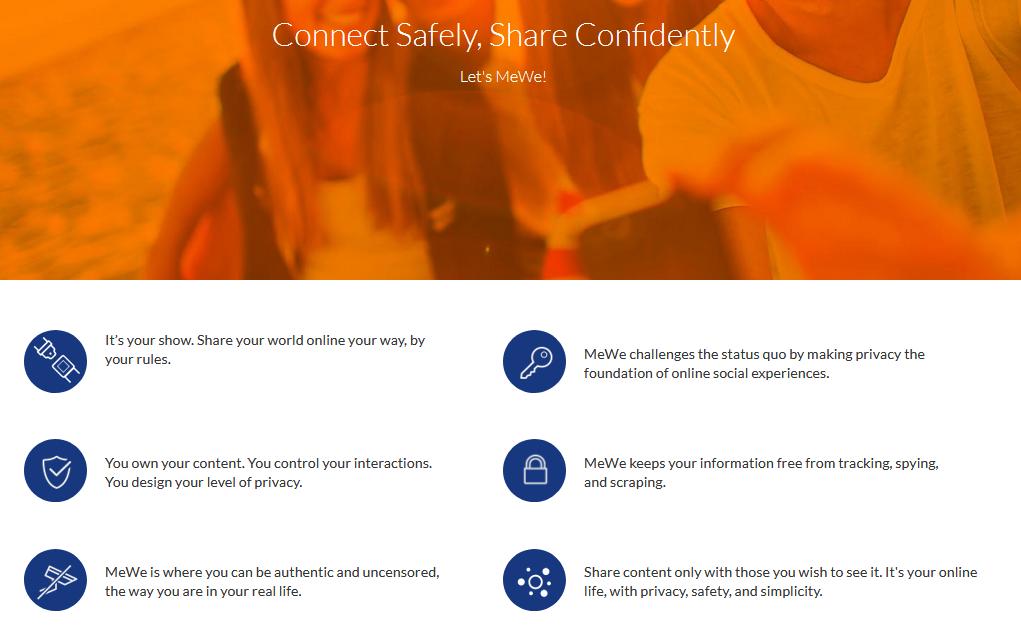 Positives
No Ads!
MeWe supports SEVEN languages.
Safety and Privacy are top priority
No data tracking
User customisation options for news feed and privacy
Android and IOS apps including a meme generator for your photos
Negatives
Currently no user reward system
Without community-ownership and decentralisation, this is still a 'trust us' scenario
You'll need to do the work to get your community buzzing and feel like you're on a thriving platform (which of course is not MeWe's fault)
Ease of sign-up, use & connection with others
MeWe is straighforward to join, striking a fair balance between security and speed. It's nice to use, with a clean and clear user experience/interface, if not exciting. There are signs of life: groups are easy to set up with clear notifications, contact requests are obvious and the chat function is clear and simple in operation, allowing video and audio calling too. Your mum, dad and nan will be able to use this site (and ruin it just like they did on Facebbook), it is accessible and easy to use and prosper within, if you can find or create the social traction - a conundrum all new networks have to face.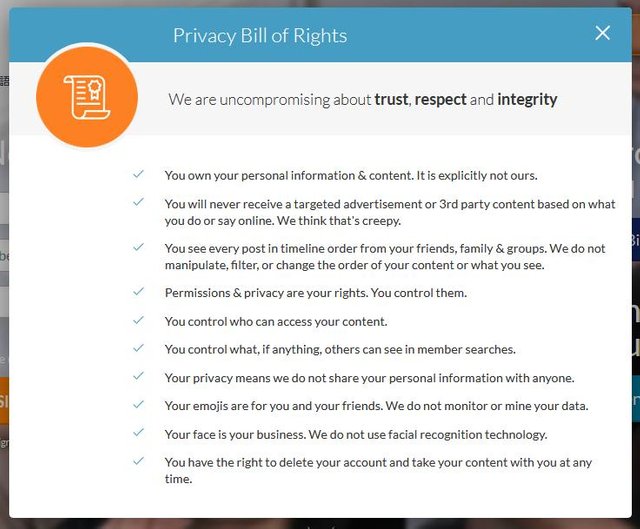 [You've got to hand it to them: No data mining; no facial recognition!]
'Money' Munson's verdict
MeWe is a very viable and pleasant alternative to Facebook, and is positioned perfectly to respond to prevailing anxiety around (in)security of personal information, data (mis)managment and - to some extent - ownership.
At a features level, it's ideal for social media users who want the functionality they're used to at the world's number one, with greater emphasis on trust, and without the nagging and intrusive presence of marketing campaigns. The interface is reassuringly and delightfully free of advertising guff and commercial complication.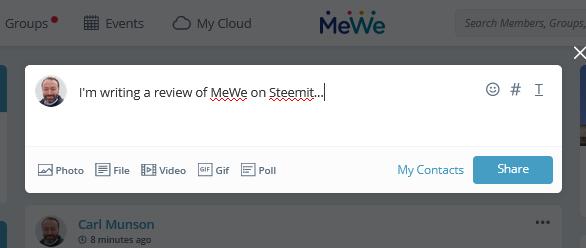 As far as I can see, there are no plans for de-centralisation of either corporate ownership or storage of information. This is an act of trust in a company, promising to do far better than we're seeing at Facebook, which they suspected could happen, giving rise to MeWe's original development.
And even the good lord (of the Internet himself), Tim Berners-Lee (who went to my school) has made mention of it in this tweet:
https://twitter.com/timberners_lee/status/976553383564840962
It's a great step, worthy of support. You can find me there: https://mewe.com/i/carl.munson
Sign up for MeWe here: https://mewe.com/
---
Please note: Features and opinions are subject to change. This review is written in good faith and intent. Comments are welcome. Relevant adjustments and edits will be gladly made.