Calling Out DTubers/Video Content Creators To Promote Utopian's Indiegogo Campaign [Earn Rewards]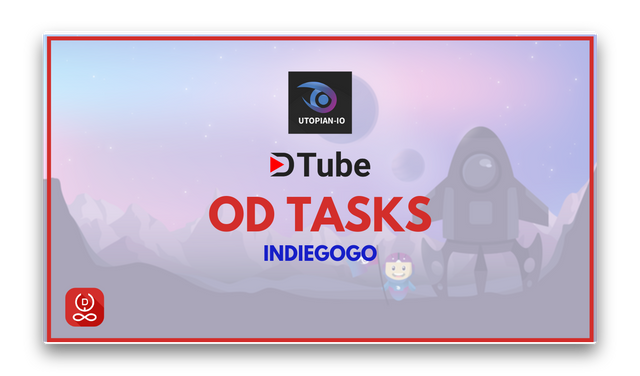 Hello Everyone, last week we launched a task to promote @Utopian-io's Indiegogo Campaign. This week we are calling out all video content creators, especially @Dtube(ers) to help us with the promotion. Let's create maximum impact.
REWARDS
All videos/vlogs created to promote the campaign will get upvotes based on the quality and visibility of the content. (Read "EXTRA TO DO" Section) Utopian will be trailing the Oracle-D upvotes to support for additional rewards.
Only video/vlogs are allowed.
TASK DURATION
Start date: 12 - Mar - 2019
End date: 19 - Mar - 2019
GOALS
Follow and Promote @utopian-io's Indiegogo campaign on Steem and other social media websites through promotional video.
PROJECT/CLIENT DETAILS & Background Research
Utopian Colony is the first crowdsourcing platform to connect open source projects and contributors from all digital professions. The culmination of a year operating a successful proof-of-concept, Utopian aims to launch the open source ecosystem into a new age where all digital professionals are empowered to take part in open source innovation. Help us release an early version of Utopian Colony by Q2-2019!
TO DO
Go the the campaign page and click on follow button:

It will turn pink once clicked.
Share using the Facebook button. Each share link is personal and can be done via Indiegogo. Sharing this link https://igg.me/at/utopian directly on Facebook is also fine, but doing it from Indiegogo via the Indiegogo button is preferred.
Create a promotional video/vlog addressing to open source community and asking them to invest on Utopian's Indiegogo campaign.
Upload on Youtube and Dtube both.
Drop video's link and all other "Proof of work" links as a single comment under this post by @oracle-d.tasks
Upvote & Resteem this task post that you are reading.
Upvote & Resteem the campaign's launch post HERE by @utopian-io.
Make sure you use the following tags in your vlogs/videos:
#UtopianColony, #OpenSource, #OpenSourceCommunity
You can also use this banner at the bottom of your posts:
<a href="https://igg.me/at/utopian">
![970x90.jpg](https://cdn.steemitimages.com/DQmZiyoT4Jh2nUJ8rLr8y8Y9a4fH86VDbD7oLX4haVMUrPt/970x90.jpg)
</a>

SOME COMMON GUIDELINES TO FOLLOW
Please follow these guidelines for best results and high upvotes:
Create only high-quality professional blogs, videos, images, graphics etc..
Video must be at least 90 seconds long.
Share your content on various social media websites and spread the word as much as you can without spamming.
Follow the instructions and task specific details.
Original content only. Plagiarism will get you banned.
Enjoy your task and upvotes.
---