1UP-Date: TribeVibes Mascot, More Community Airdrops & Official Steem Monsters Boss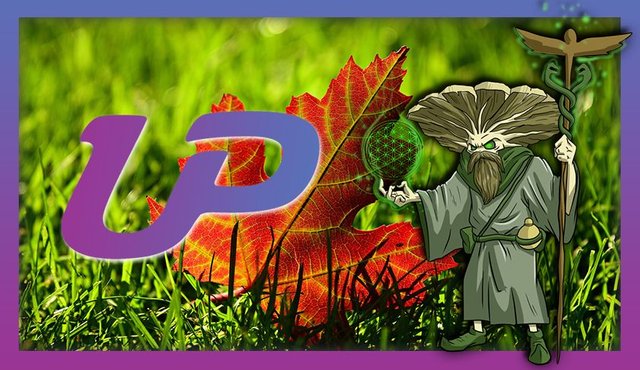 What is 1UP In A Nutshell?
1UP is a new open source communitiy upvoting app where user votes are equal. It daily upvotes the ten highest ranked posts in each community with a smart curation rewards system. We create the UP token based on Steem's upcoming Smart Media Token (SMT) and distribute it to Steemians and communities via various airdrops. UP holders will support community growth and enjoy higher than average returns through smart curation.
For more information please check out our @Fundition fundraiser below.
Open Source Repository
https://github.com/therealFlauwy/1UP
---

What exciting time to be on the Steem blockchain! We are rushing towards Smart Media Tokens and the general feeling to be here is getting better by the day. The 1UP project will bring a massive benefit to communities and individual Steemians and things come along nicely. Here are a few updates:
1UP API
Talking to all these communities made me realize that there is a huge demand to implement dApps like 1UP into other, bigger dApps like @busy.org, @steempeak, @utopian-io, @dtube and so on. This wuld be ideal for 1UP because it doesn't matter WHERE people give 1UPs to communities - all that matter is that people use the system in order to enfold all the many benefits of 1UP upon the Steem ecosystem.
---
Example Case: Utopian
Utopian could implement the voting system of 1UP but exclude all other communities but Utopian itself. This way, they would immediately get access to our new ranking lists and show their users the best open source contributions by community consensus. They could also make their own users vote directly with 1UP on their own website, having basically the entire 1UP functionality directly on their own platform.
Example Case: Dtube
I had a conversation with DTube's founder @heimindanger a long time ago. We talked a few times about 1UP and he mentioned to rather create an in-house solution for that. Since then, 1UP has totally changed and grew into something much larger and DTube has still no plans announced to create anything like that either. DTube could benefit incredibly from such an API and just use our open source system directly on their platform, looking exactly like they want.
---
The power of the UP token will make this voting system a massive extra benefit for all platforms, as their users can earn Steem, the platform SMT and the UP SMT all with one single post.
We will do a task request for that next. If you are a developer who can build that, please contact @flauwy on Discord.
After talking with @starkerz again, we are now working towards the airdrop for Steem promotion. He will create something for us and let us know during the next weeks. We hope we will have that online in October. The promotion community is of immense value to the success of Steem, which is why we decided to do a special Steem Ambassadors airdrop on top of the #promo-steem community. We will announce the details of this program soon.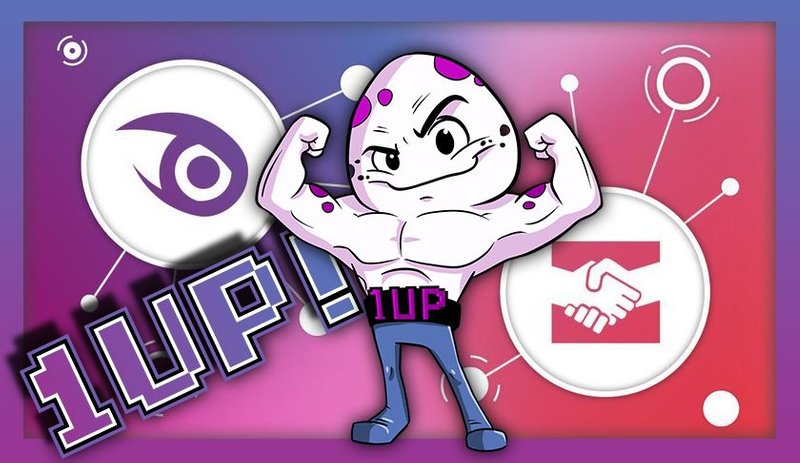 There is much to consider how we team up with Utopian. We talked with @techslut today and had some ideas for a specialized Utopian community airdrop, including rewarding task request solutions from important open source projects and a special hackathon with some beneficial outcome. These are still just ideas but sound like something we might do sooner than later. A final talk with @elear and we are hopefully ready to go.
We have finally come closer to something cool for Fundition as well: We spoke with @hightouch and he has a super cool idea of distrubuting UP tokens to Fundition backers via a special pop-up after donating. This is the major functionality of Fundition and a perfect way to make a community airdrop there. We are happy that he will develop that for us via their own API that will send us the entire distribution information. We can then connect that to our own wallet and make the UP tokens appear there automatically. This is amazing and super motivating for all backers, to see their new tokens in the wallet right away.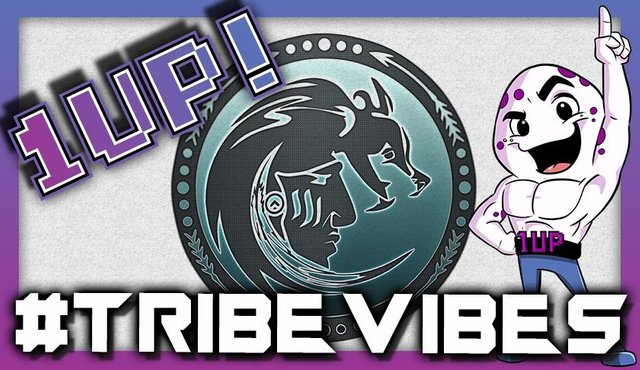 With the help of marvelous @elamental we have launched the #tribevibes airdrop and basically created that new community out of the blue. The consciousness community has now the chance to win UP tokens via a weekly writing contest. Here is the challenge for this week:
The Challenge

Write a comprehensive, professional article explaining your contributions to your Steemit communities, and how that relates to bettering the platform as a whole, and forms a better world/Earth in general. You can also include things you do outside the platform that help your communities as well, be as expansive and descriptive as possible, and set no limits on the amount of points you want to cover.

I am basically asking you to promote your positive actions by highlighting them directly, and create sort of a comprehensive conscious community resume article. Normally people like us would not create in depth articles gloating about the good we are doing, due to our humble-ish nature. It is important however that we do this at least once, in a professional format, to shine some serious light on the good all of us are doing on Steemit, for this wonderful world we call Mother Earth, and for the freedom, peace, and wellness of humanity. It is our responsibility to inspire others in this way, and this contest will make us all muses (now you should get the pun from the top of this post).
Please read the full announcement for all details: 1UP Tribe Vibes Airdrop Contest - 100K Up Tokens in Prizes
New Mushroom Monster For #TribeVibes
The amazing @kayrex has done it again: The third mushroom monster has entered the scene and will become the mascot for the #tribevibes community. It is a druid with the Caduceus staff and he casts a Flower of Life spell. This will be a very fitting mascot for the consciousness community.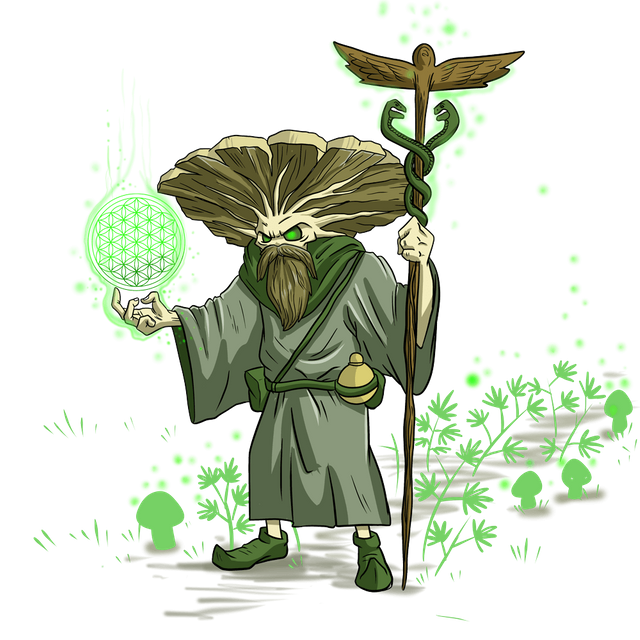 You can download all mushroom monsters from our public 1UP folder.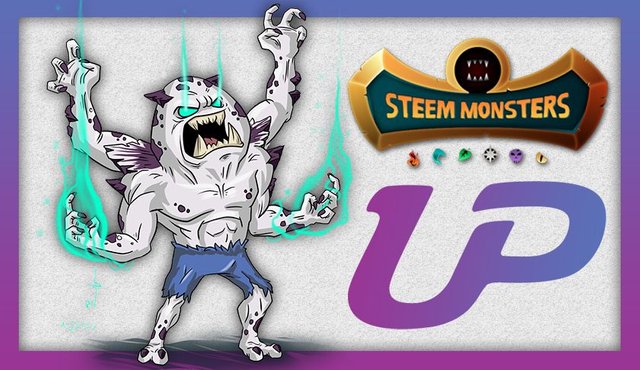 We have started the second week of the Steem Monsters airdrop with new contests. The graphic category has been replaced with a background story writing contest for the Mushroom Monsters. We also added a strategy guide contest, which should come in handy for the upcoming release of the Steem Monsters game. The giveaway contest will see another week, as that seems to be the most popular content in regards to this community at the moment.
Please learn more about the details in the report: 1UP '100K Weekly Token Airdrop' For The Steem Monsters Community - Week # 2
Another news is that 1UP will become an official Steem Monsters boss. @flauwy has privately purchased the according Fundition campaign reward from Steem Monsters and dedicates it to the 1UP project. That means, that you will be able to battle against the mightiest of all the Mushroom Monsters with your friends and guilds. We will create a special boss monster with @kayrex for that purpose!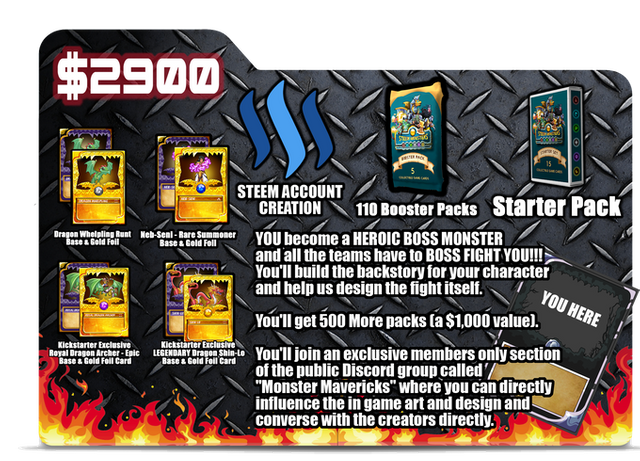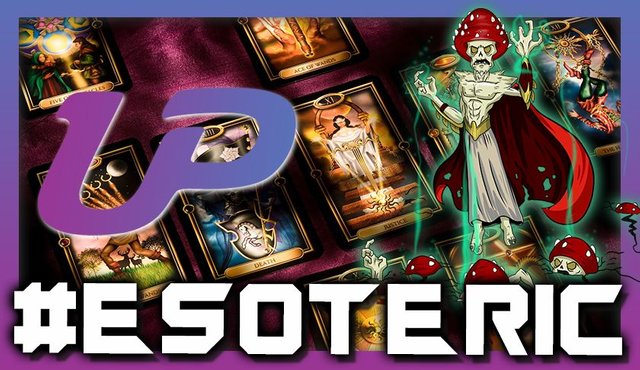 This was already mentioned in an official Utopian blog post from that community but I want to add it here as well for completion: The first airdrop week has concluded with a massive success! This was by far the biggest engagement from any of our communities so far. The winners have been announced and the second week initiated without any changes to the airdrop. Big thank you to @eftnow for running that community and make such a great job at it.
Please check out the airdrop details here: 1UP Esoteric Community Update – A New Mascot, Week One Winners and Week Two Plus Additional Rewards!
Fundraiser on Fundition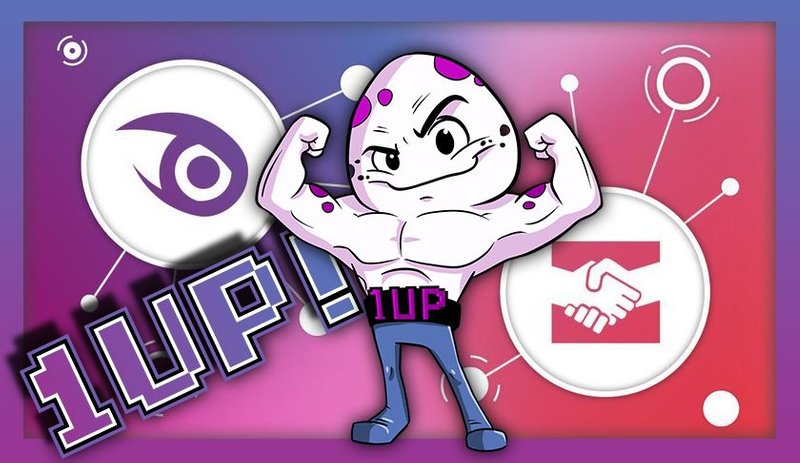 The fundraiser on Fundition is still continuing and we have received some more donations from the communities. Remember: We are giving away 6 million UP tokens to all our backers on Fundition. If you haven't donated yet than this is your chance to get a great stake. Some of our backers are also adding regularly more to their previous donations, increasing their reward bit by bit every time.
We are now at $581 donations from the $6,000 we are looking for. When we include the payouts we received, we are now at 462 SBD and 402 Steem. Only the direct donations will count towards the 6 million airdrop. Our next payment for the developer comes soon and we have not yet enough money together. So please help us to stay afloat and get some juicy UP tokens for that.
https://fundition.io/@steem-1up/0xxjea70g
Top Ten Backers
Here are our greatest supporters so far:
Resources
Series Backlinks