[Translation][Vietnamese] OroCRM (1046 words) (Part 6)

Source
This post is published in relation to the @utopian-io & @davinci.polyglot translation project, by a selected Translator for the Vietnamese language.
Repository
Project details
(This part is the same as in my previous post. So, I will just quote it from my first report)
The project that I have taken charge of is OroCRM.
As it is described, OroCRM is the most flexible Open-Source Customer Relationship Management Software. A CRM system helps companies stay connected to customers, streamline processes, and improve profitability. To be more specific, it is a strategic software which plays a profound role in the development of stable relationships with customers through making detailed research on their needs and habits in order to approach and communicate professionally, systematically and effectively.
Additionally, it also helps companies analyse datas collected to find out potential customers, thus suggesting a more appropriate approach as well as better services provided to these people. Furthermore, by using the software, any potential problems that customers are running into can be detected and resolved in a timely manner, contributing to strengthening trust placed by customers. To sum up, OroCRM is an indispensable software for enterprises due to its positive impacts mentioned above.
As a translator of the project, I have a great chance to have a deep understanding of its values and its complexity. I believe it is an incredibly useful tool for Vietnamese enterprises to keep and attract more customers, thereby making more profits. I think it is somehow beneficial for Vietnamese readers to broaden their knowledge by learning the software. Sometimes, there are several difficult terms but my other team members especially the Language Moderator and I have conferred to find the most appropriate translated words, resulting in a quality translation.
Contribution Specifications
Translation Overview:
This is my 6th translation for OroCRM project. My motivation is that I desire to be able to help Vietnamese community access enormous knowledge from overseas in the role of a translator. I hope that my work will help Vietnamese citizens especially employees working for different enterprises have a deep understanding of the software through reading the document. I also strongly believe in the concept of open source and in helping each other.
My work involves a translation of OroCRM from English to Vietnamese. This time, I had to deal with several parts of the projects. Thanks to that, I could somehow imagine clearly about what I've been taking care of and understood more about the marketing field. However, there were some terminologies that I was concerned a bit with such as Abandoned revenue and Purchase Funnel. I had to look them up in the specialized dictionary and went to the Internet to learn and search for the exact Vietnamese meanings of the words translated. Additionally, I asked Carlpei for some suggestions. I'll be listing some of them and their relevant details below.
_ Abandoned revenue (Tổng doanh thu tiềm năng)
Another translater also found it unclear and asked the project manager to clarify the strings. The clarification would make it clearer for me to translate the term correctly. I did ask Carl as well for the confirmation before turning to the outcome.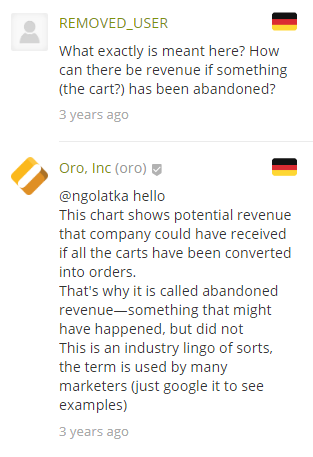 _ Purchase Funnel (Phễu mua hàng)
According to Wikipedia.com, the purchase funnel, or purchasing funnel, is a consumer focused marketing model which illustrates the theoretical customer journey towards the purchase of a product or service.
In 1898, E. St. Elmo Lewis developed a model which mapped a theoretical customer journey from the moment a brand or product attracted consumer attention to the point of action or purchase. St. Elmo Lewis' idea is often referred to as the AIDA-model, an acronym which stands for Awareness, Interest, Desire, and Action. This staged process is summarized below:
Awareness – the customer is aware of the existence of a product or service
Interest – actively expressing an interest in a product group
Desire – aspiring to a particular brand or product
Action – taking the next step towards purchasing the chosen product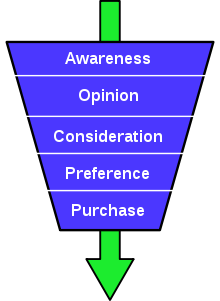 (Source)
The Purchase Funnel is also often referred to as the "customer funnel", "marketing funnel", "sales funnel" or "conversion funnel". The association of the funnel model with the AIDA concept was first proposed in Bond Salesmanship by William W. Townsend in 1924.
_ Static segments(Phân đoạn tĩnh)
Static segments are the easiest way to group your contacts for the purpose of retargeting. A static segment will remain unchanged until you manually add individuals to that segment, as opposed to dynamic segments that continuously grow as contacts meet the specific criteria.(Source)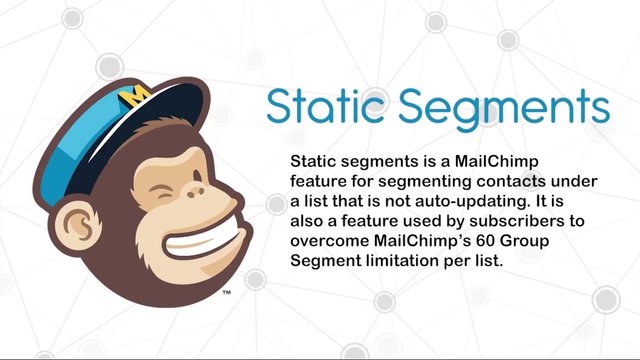 (Source)
Languages :
The project's source language is English and it was translated into Vietnamese (my mother tongue). In addition to collaborating on Open Source Projects on Crowdin, I also work as an interpreter for some projects in Vietnam. I also gained some experience of translation when doing scientific research at school. You can read more about my English ability through my application post.

Word Count:
Part 6 : 1046 translated words ( 1144 words in total, 98 untranslated words)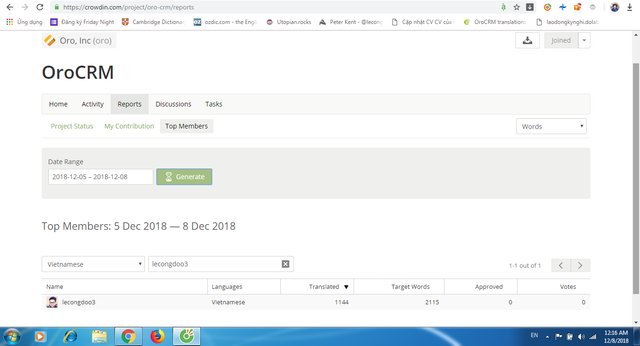 All the translated words were approved by Vietnamese Language Moderator @Carlpei
Proof of Authorship
You can lookup Crowdin project on the following link, as well as the summary of my activities:
My previous contributions
---
Credits:
Thank you - Vietnamese Language Moderator Carlpei for your tireless effort on reviewing our translations and supporting us during our translating work.

A big thank to other members of Vietnamese translation team for supporting me: lenancie, lantracy, adam.tran and symonp.

Last but not least, special thanks to Davinci & Utopian collaboration for running and developing this incredibly meaningful program.
---
I take pride in being a member of Vietnamese translation team.
Thank you all for your support !