Source
Today Jaguar Force reveals a serious case of farming via the employment of multiple accounts that engage in ID Theft and ID Deception.
Dapp/Project Farming
Exploitative Steem Reward Farming is the general term that is used to refer to several types of malicious and exploitative actions that harm the Steem ecosystem and diminish the services and resources available for honest Steemians.
Source
Dapp/Project Farming is one of these Exploitative Steem Reward Farming techniques that involves the creation of multiple accounts to receive votes from dapps such as @dtube @ntopaz @tasteem or regular curation projects.
When users use dapps and get a certain level of support from them in the form of votes they eventually find a limit, for example if they post once a day all their posts are voted, but if they post more than that the vote frequency remains the same. So with the intent to extract ("farm") more rewards from the dapp votes, the user creates alternative accounts so that the curator's assumption that a different account implies a different person results in them getting double, triple or more rewards compared to the rewards that the curators of those dapps are comfortable to allocate to a single user. In short, the user finds out that for example if they post twice a day from a single account only one post gets voted per day at max. So then they turn to posting once a day from two accounts or three, circumventing the "per user vote frequency limit" that all dapps implicitly have.
Similarly, when users post under a the specific tags of curation projects, the same "per user vote frequency limit" applies.
In most cases the user just doesn't make an intro in the secondary account and passively deceives the curators by not mentioning that the accounts are alt accounts of @x account, naming the accounts thematically and filling the bios ambiguously. In other cases as the one we present today the user steals the identity of other people and actively deceives the curators into the illusion that the accounts are operated by different persons by creating fictitious names/bios.
As we have seen in our recent The Halo Effect, ID Deception & Plagiarism post, most ID Theft cases in Steem involve the theft of the identity of a young attractive woman, and this case is not an exception.
Additionally, the user in question: @adelepazani has been already detected and reported for Art Plagiarism 4 months ago.
So today in the Jaguar Restaurant we are serving a varied and complex combo of abuse that includes ID Theft/Deception as the main course, Dapp Farming as the second course and Art Plagiarism as the dessert paired with some luscious bubbling Halo Effect to facilitate the swallowing of all that.
@adelepazani creates her account on November 22, 2017. From that date to January 8th, 2018 she makes decent rewards on her posts, getting extraordinary rewards on a few of them. Here is the list of rewards per post: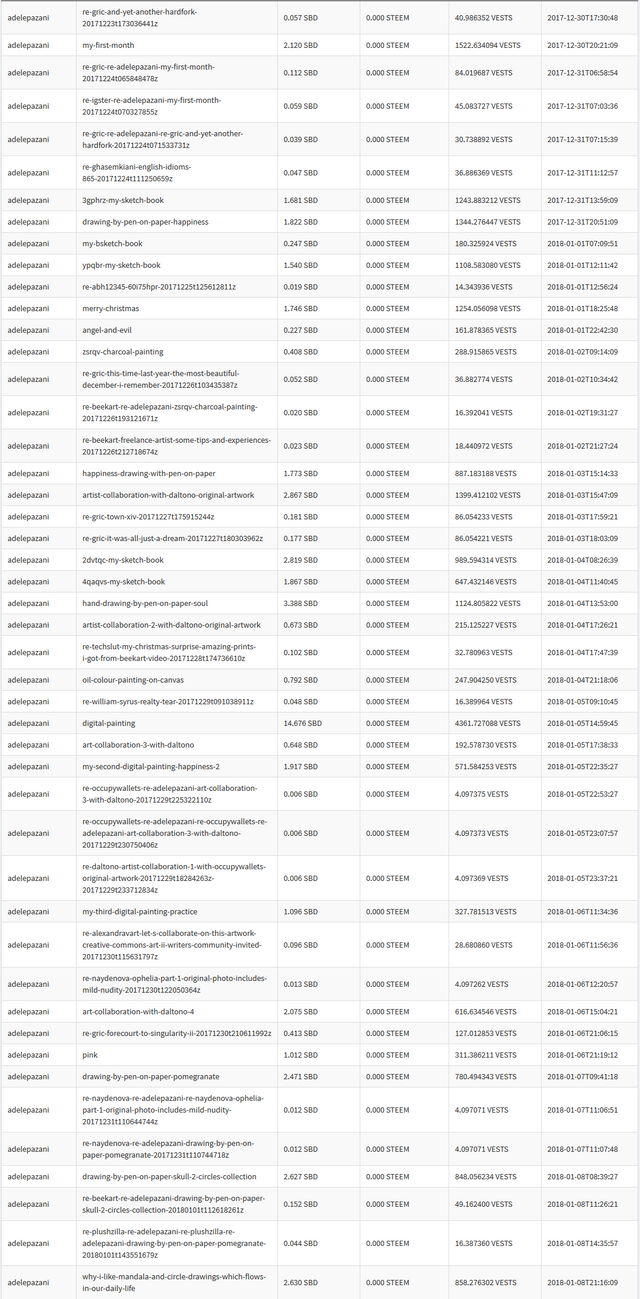 But around this time, apparently Adele decides that she is not getting rewarded enough, perhaps assuming her looks or her being from Iran has something to do with it, so she creates the @adip account on January 4th, 2018
Her name is initially "Bianca"


Source
Then "Bianca" adds a generic avatar:


Source
Which is this image:


Source
Then "Bianca" becomes "Adisa pasha"


Source
Then "Adisa pasha" becomes "Adip"


Source
Then "Adip" becomes "Adip/BiancaGrnalista" and the avatar changed to the image of a mandala and "born in Italy" added in location:


Source
Then the avatar is changed to a vectorized photograph of a woman:


Source


Source
To give you a clue about who operates this account, lets see what the name of Adele Pazani's Pinterest account is:
https://pinterest.com/adipaint


Source
Yes, the name of Adele's Pinterest account is Adipaint
Around the same time, on January 8, 2018, four days after the @adip account is created, the @li-art account is created:


Source
A generic avatar is added to the profile:


Source

Source
Another generic avatar is added:


Source

Source
And on May 16, 2018 the photograph of an attractive young woman is added:


Source

Source
The user then goes as far into ID Theft so as to create a personal banner with that image:
The account @li-art then holds that stolen identity for over a year, until a few days ago, when Jaguar Force detects it and reports it to Steemcleaners:

Source
The user then and only then proceeds to change the avatar and the banner 3 days ago using an image of a painting:

The @adip account doesn't get commented by Steemcleaners, but magically changes its avatar one day ago too:


Source
Coincidentally also to the image of a painting:


Source
The Farming Results
Now, let's exemplify the farming that these accounts perform with one dapp: @dtube
Votes of @dtube for @adip (40 votes)
As we can see, the ficticious account that engages in ID Theft and exploits the Halo Effect gets the highest vote count.
Bonus Art Plagiarism Cases 31 & 32
Post's URL / URL del post: https://steemit.com/dtube/@adip/95baa31o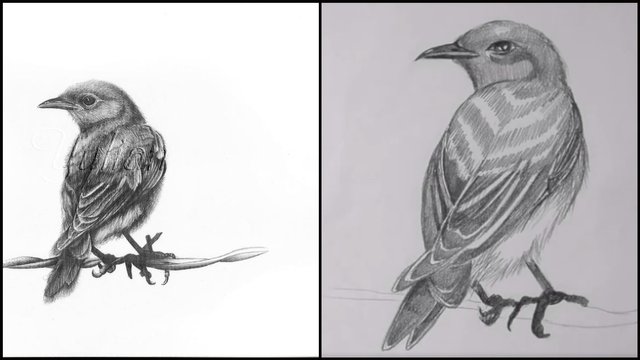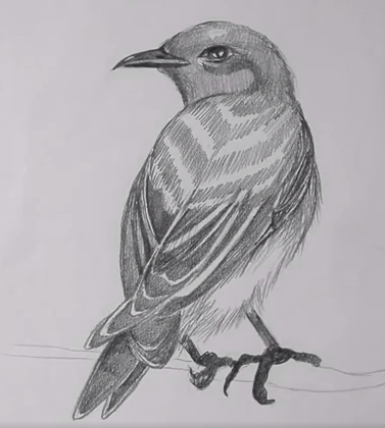 Source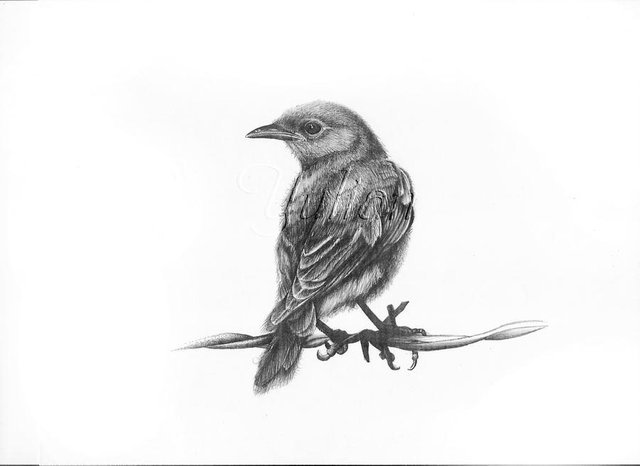 Source
Source of the Art Plagiarism / Fuente del Plagio Artístico: https://www.deviantart.com/conbatiente/art/realism-drawings-102374889
Post's URL / URL del post: https://steemit.com/dtube/@li-art/c92f5l0v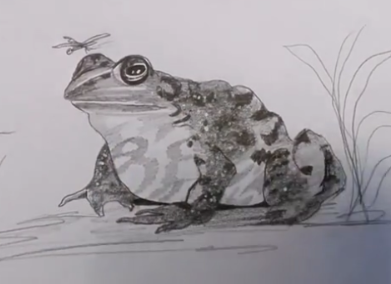 Source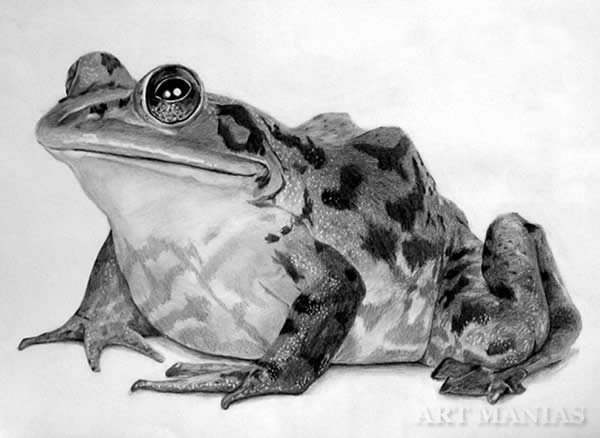 Source
Source of the Art Plagiarism / Fuente del Plagio Artístico: http://clipart-library.com/clipart/dc9rzBazi.htm
This is Jaguar Force,
Reporting directly from the Jungle.
Onwards!