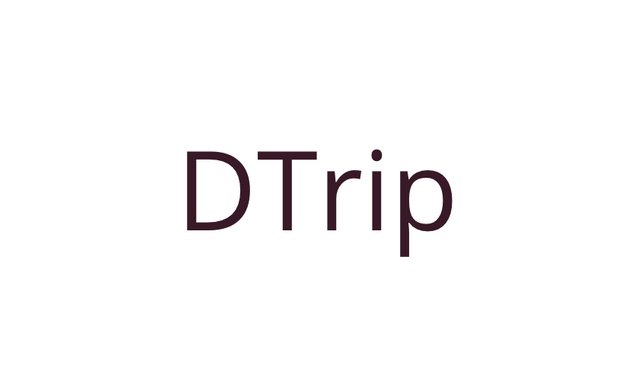 What is DTrip?
DTrip is an app which helps travelers to share their impressions, favorite places, reviews and get rewarded for it. The application is designed to make topics of travel in STEEM more interesting and useful than just publication and view posts with the tag #travel.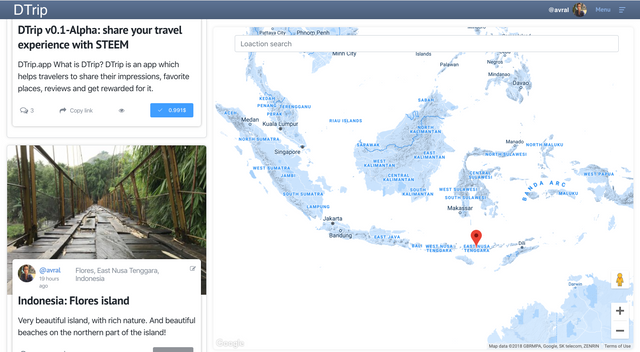 About travel
I believe that people should share resources to help each other and find more rational ways to live together on our planet. This is especially true for travelers. And I want to try to make it more accessible for people. Many travelers already travel around the world, with almost no money, because people usually help travelers or foreigners and do it with pleasure, Couchsurfing proves the possibility of this idea. The main thing in such services is trust between people. Each participant must have their own rating so that other people can trust this person without being personally aware of the person. To implement such a trust rating based on the blockchain would be the most sensible idea.
Alpha version functionality
First developed version with minimal functionality is submitted to the public review:
Publishing interesting places and events on the map, with markdown editor


Feed: sorted by created time
Author profile page
Map with posts
Login by SteemConnect
DApp Technologies Stack
Front-end: VueJS(NuxtJS)/ES7/pug
Back-end: Python 3.6, flask, GraphQL, MongoDB
IOS App: Swift, RxSwift, Dip, Alamofire, SwiftyConnect
NuxtJS is used for server rendering, but it will be possible to develop an SPA version for placing the application in IPFS.
The GraphqQL service is also used to get data, filtering and sorting to be exact.
Of course, that is a centralized option, but, otherwise, the application could not function fully without it. As for example: using the node's API, it is impossible to query filtered points on a specific area on the map. Consequently, the service being used will be maximally adapted for easy deployment and synchronization with the selected node. Now, if you want, you can deploy the service by yourself with one Docker command.
In other words: the information is decentralized, but centrally aggregated. IMHO, at this stage of development there is nothing to worry about.
Roadmap
There are a lot of ideas and I want to combine all the best of existing solutions:
User
Display users on the map
Editing user profile
Information about the user, his place and the ability to receive guests
Map / Post
Attach a route to the post, as an GeoJSON LineString
Search and filter objects on a map by their type (Event, Place, Route)
AskSteem integration for search
Design
UI / UX updates
create Logo
Architecture
chose ESLint standard
IPFS Integration: for storing GeoJSON, media files, and other stuff
Enable beneficiary payouts to support the server and create an IPFS gateway
IOS App: development of the first version started on the initiative of @ooodin
unit tests
Contribution
I do not consider myself a good developer, especially since my main specialization was back-end, so I would be very grateful for any help in the development of the project.
Send your issues / pull-requests to the repository listed in the GitHub column.
I don't understand UI and Design at all, and now I think it is necessary for a project, if you want to help as a Designer or Web Developer, feel free to contact me via telegram.
GitHub
IPFS
The application is deployed in IPFS: /ipns/dtrip.app/
Only for local use. Do not use public gateways, in order to avoid XSS attacks!
Closing Words
I am grateful for the opportunity to present my project here.
I will gladly accept feedback via telegram: @avral
This is the Alpha version, respectively, bugs are expected.
This is rather a prototype of the application, so perhaps the architecture and technology may change to more favorable in the future.
Published by
DTrip
travel app.