I have been struggling with my bills.
Not enough so that I need to power down.
Not enough to unstake all tribe earnings.
Not enough to stop dropping bits of $$$ in to the Blockchain.
But certainly enough to ignore my internet bill (especially because I was going to be out of my house for two weeks, and didn't mind empty house not having wifi).
While at my husbands house, my wifi was disconnected and I was blissfully unaware.
Until I received this email: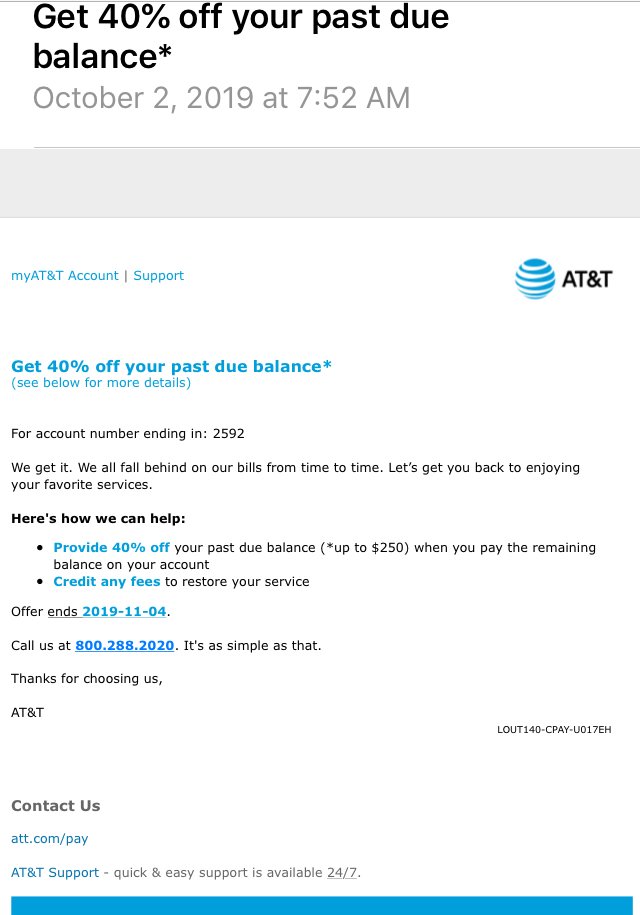 In it, it says that they understand that people fall behind on bills and that they want to help me restore my service.
I decided that I would use that special, but I also decided that I would wait until I was back home to make the payment arrangements.
Today, after I unpacked the car, and put a bunch of stuff away, I sat down with my laptop to relax/steem, and found... not internet connection.
I sighed and finally called the number, ready to get a big fat discount and be on my way.
I was not so lucky. For starters, the person who answered, told me I was calling the wrong number, and gave me another number, who put me on hold for a looooooooooong time, only to tell me that I was calling the wrong number and give me another number and then have me hold for a loooooooonger time, only to have them tell me that I was at the wrong department...
I decided to call the original number and be adamant about getting a resolution.
I was on the phone for hours.
What happened?
The operator, although I read them the email, and the codes on the email, could not find a way to give me a 40% discount. I kept telling them to look again. I kept asking for a manager. I kept asking them to find a solution. I kept reminding them that their employer sent me an email offering me a 40% discount.
Finally, the operator gave in and offered to give me a $50 credit on a $168.00 bill. Not exactly 40% but, then again, I only had to pay an extra $58 to get my internet turned back on.
I can't remember when the last time I paid the invoice was.
I am considering calling back tomorrow and getting a further discount. Because, well, they did send me an email offering me a 40% discount plus a credit on late fees and such.
I surely am grateful for the help, but I surely am annoyed at how hard I had to work to get it.
And I am having a hard time deciding.
Are they "wrong" for sending me an email promotion that they cannot honor.
Or am I "wrong" for not paying my bill on time, accruing late fees, and then expecting them to credit me?

---
Posted via Marlians.com