Twitter threatens to block Trump account .. What do you think in (Steemit)?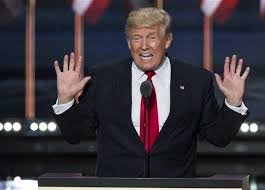 It is a rare incident we present here in (Steemit)
Does Twitter deal with US President Donald Trump as a normal user like any other user?
The answer seems (yes)
Do you close his account like one of my relatives and any other person without fear of the powers of the US president?
Since taking office, US President Donald Trump has used controversial statements between racism, threats and intimidation of public figures
, Via his personal account on the site of Twitter, "Twitter"
Which is followed by about 54.2 million people around the world.
Trump's tweets led to Twitter threatening to block his account, saying that its policies are no exception, including the US president.
The current Twitter threats are a clear indication that sanctions can be imposed on the president of the United States and that he will temporarily stop publishing abusive tweets.
I hold that there are accusations against the US President directed by the (Twitter)
Where the terms and conditions of Twitter, the company prohibits behavior that transcends borders and turns into abuse, including behavior that harasses or intimidates the user and push him to silence.
Do you agree with Dear Steimit on removing and ending the account of US President Donald Trump in Twitter?