TRON and Steemit Integration Celebration Challenge
We hope you are all happy with the great news about the TRON and Steemit integration.
To celebrate this we are running a special Crypto Challenge all about the integration.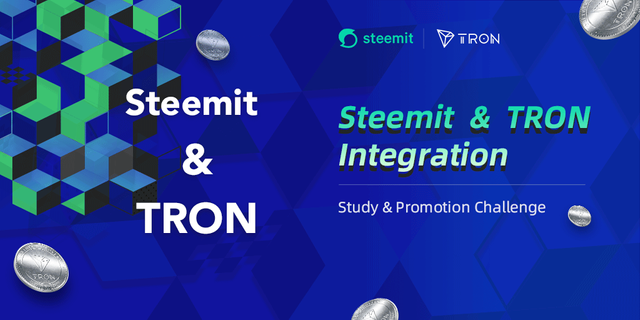 We want to hear your thoughts, views and ideas.
Write a Challenge post and let us know what you think.
And there are also extra rewards if you can help spread news to the big world outside.
---
---
TRON and Steemit Integration Celebration Challenge


We would love to hear your thoughts and comments about the integration of TRX into the Steem rewards system.
To enter this Challenge here are some suggestions of the areas you might like to cover…
What do you think of the integration of Steemit and the TRON ecosystem?
Do you think this TRX integration will bring more TRON users to Steemit?
Will this addition of TRX to the rewards encourage more people to join Steem?
How can you personally use this news to promote Steem and invite people to join the platform?

How can you optimize the amount of TRX you earn?
What will you do with the TRX you earn on Steem?
---
---
The Rules


You can enter the TRON and Steemit Integration Celebration Challenge as many times as you like, but no more than once per day.
Posts should be a minimum of 400 words, and can be in any language.
Challenge entries should include the tag #trxintegration and a tag for your country like #india or #italy in the first five tags.
All posts must be your own original work. Any evidence of plagiarism will result in a banning from our contests and challenges.
Any images used should either be your own or from a stated copyright free source.
This challenge will run until 23:00 UTC on Friday, December 11th, 2020.
---
The Prizes


For this challenge we will not be limiting the number of winners.
We will select all the best posts each day for upvotes from @steemcurator01 (10M SP).
So there will be more chances to win a good upvote from @steemcurator01 - it could be anything from 1% to 100% !
---
The prize votes will be increased for any winning posts set to Power Up 100% (assuming the account is not powering down at the same time).
---
Twitter Sharing & Spreading the Message


We will also be giving upvotes for sharing your challenge posts on Twitter - make sure you include the hashtags #trxintegration.
Put a screenshot AND the direct link to the Tweet in a comment on your post to be in with a chance of winning an extra upvote.
---
If you are a user of other platforms like Medium or Reddit make a post about the integration there too.
Just share screenshots and links in a comment on your post and you will be in with a chance of extra votes.
---
---
The numbers of people taking part in our Crypto Challenges has been growing each week.
This Challenge is an extra special one so we are hoping even more of you will join in to celebrate this great news.
Thank you,
The Steemit Team