COMMON NAMES: water tree, water-berry tree, waterwood Afrikaans: Waterbessie
Water loving tree found in swampy spots, forest margins or near steams reaching height of six to fifteen meters. Display evergreen, almost circular leaves bluish green on top and paler green below, fresh leaves are reddish in colour.
Fragrant flowers in white to pinkish on numerous fluffy stamens producing abundant nectar during August to November.
Fruits are red to dark-purple when ripe, eaten by children, monkeys, bush-babies and birds, fruit is used in water berry jams. Trees are not only beautiful, but abundant in fruits we know little about.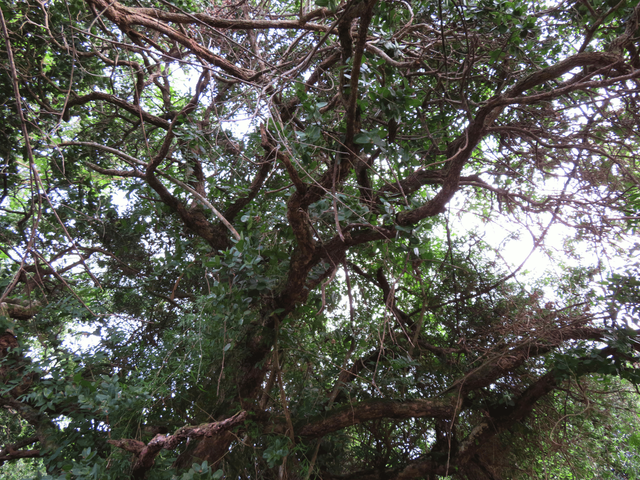 Used to treat chest infections including TB (tuberculosis.), as well as stomach problems and diarrhoea. Powdered tree bark used as a dye for clothing, as is the fruit, also used as a fish poison, I have never heard why this would be done.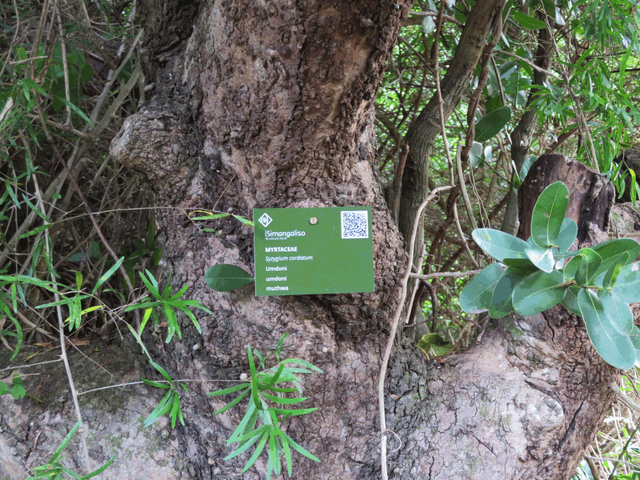 A protected species in South Africa. The wood grain is usually straight, sometimes wavy or interlocked; the texture fine and even.
The wood is medium hard, moderately heavy, moderately strong and durable, especially in water, and is said to be resistant to termites.
It saws easily and works well with standard tools; pre-boring is necessary for nailing; nail-holding properties are good; moulding properties are good, and the wood planes to a smooth surface, taking a nice polish; it glues satisfactorilyIt is used for good quality furniture, window frames, flooring, beams, rafters, railway ties, mortars, utensils etc.
Being durable in water, it is especially suitable for boat building and is used to make jetties and slipways.
Popular as a source of firewood and charcoal. http://tropical.theferns.info/viewtropical.php?id=Syzygium+cordatum
---
Photography has been resized for Steemit (to allow easier transfer on slow internet connection), no software manipulation on my photography, keep it true to what you see.
Thought for Today: If you are filled with pride, then you will have no room for wisdom. ~ African proverb
All photography is my own taken with a Canon Powershot SX730 HS : 1st Photo: f/4.5 - 1/40 sec - ISO-800 / 2nd Photo f/3.5 - 1/80 sec - ISO-400
Tree Tuesday - my contibution to @old-guy-photos

Sign up for Kryptonia Account A blockchain system used to share content further - I do assist anyone using my referral link to build with SUP 2 000 gift

!steemitworldmap -28.1232 lat 32.5564 long Isimangaliso Wetlands Park D3SCR



Animated Banner Created By @zord189