Hello everyone! Welcome back to another post with the Timezone Junkies! In the last post we explored the 'Star Wars' style landscape of the Ancient ruins from the silk road time, Jiaohe Ruins.
This post is going to be about one of our most challenging parts of our journey back to Europe. We had to cross almost 1,400 km of desert in order to reach the ancient city of Kashgar. We had enough food to last 2/3 days in our bags and would try to buy water whenever possible. Let's jump in (heads up, this is going to be long!).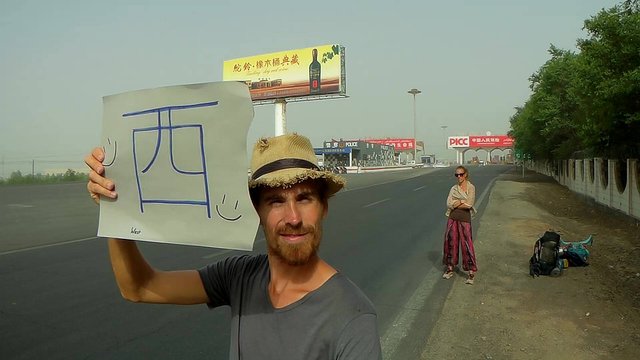 In order to get to a good hitchhiking spot to start the day off we had to walk four km out of town to the main road, this in itself was a challenge! After an hour of walking we finally made it to the main road, found a good spot, and stuck our hands out (using the thumb doesn't work so well in Asia).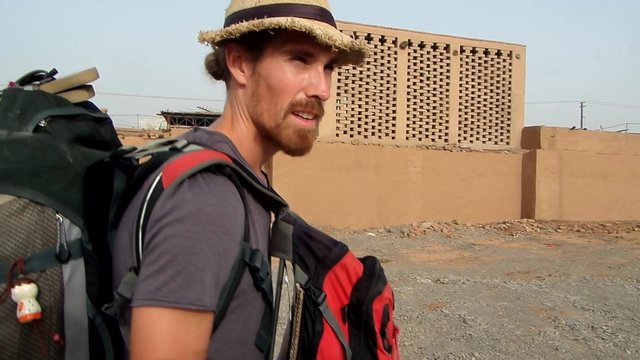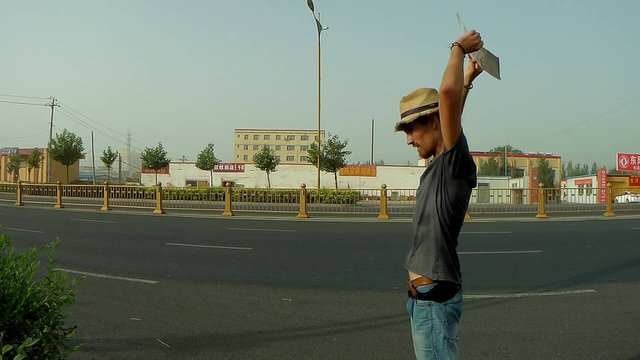 (Stretching after a long and painful walk!)
After a short wait a car stopped and thankfully he could speak a little English and we explained that we needed to get to the beginning of the motorway where there were toll booths and the cars would be driving slowly. Our driver gave us a lift to the entrance of the motorway, which was really nice of him as he was even going that far. The generosity of strangers never stops, incredible!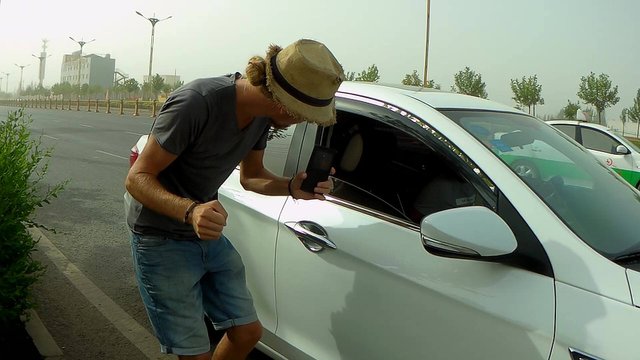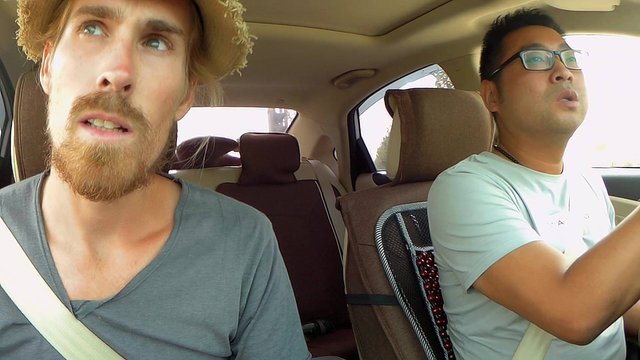 We decided to wait before the toll booths in order to get the attention of drivers before they went through as they would be going nice and slow and would have plenty of time to see us. Behind Alex's head in the following picture you can see a police checkpoint.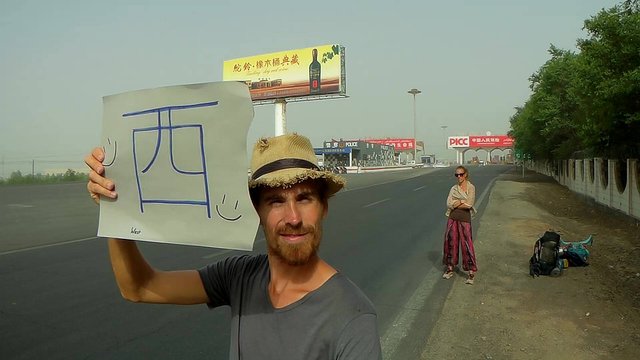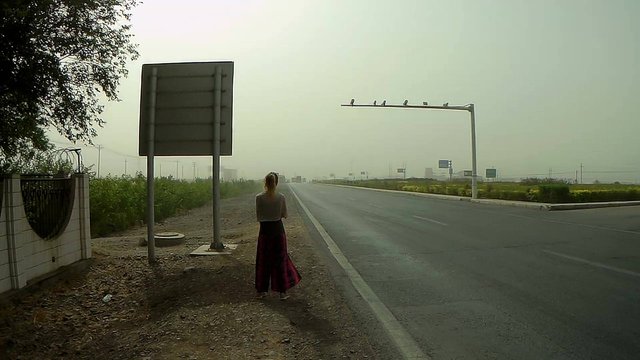 While we were there waiting for a ride they were carrying out some practise operations and had obviously seen us standing there with camera, no one however camp over to us and a little while later two local Uyghur guys picked us up and we headed towards the toll booth. Just as we were about to go through a security officer stopped the car and asked the drivers to head over to the police checkpoint... Poor guys...
Unfortunately, as we mentioned earlier, they had spotted us with our cameras and thought that we had been filming them. We didn't realise what they wanted to start with as nobody spoke English. They held our passports, which they had obviously never seen before as they looked at them confused trying to find our visas and information pages. All the while the two men that had picked us up also had to wait. If you have read anything about Xinjiang recently you can understand why they were feeling uncomfortable with the situation (if you are interested you can check this out, https://www.bbc.co.uk/news/resources/idt-sh/China_hidden_camps).
Thirty minutes later another police officer turned up with an interpreter and explained to us that they thought we had been taking pictures of the police checkpoint and asked us to show them our pictures. Thankfully we had managed to avoid filming them (mostly anyway) and after explaining that it is strictly forbidden to film police buildings, officers and other security locations they let us go! Our two drivers however decided that they didn't want to take us anymore (fair enough) and we walked to the other side of the toll booths.
It seemed that one of the security officers from the booths had stopped a truck to give us a lift to the following junction in the direction of Kashgar, this was a lovely gesture and really helped us get on with our day. The truck driver didn't speak any English but we tried to communicate through Google Translate. He dropped us off and we crossed the road and walked towards the service area. As we were walking into the entrance a guy who was looking at his engine and fiddling around stopped us and asked where we were going (in broken English). It turned out that he was also going to Kashgar!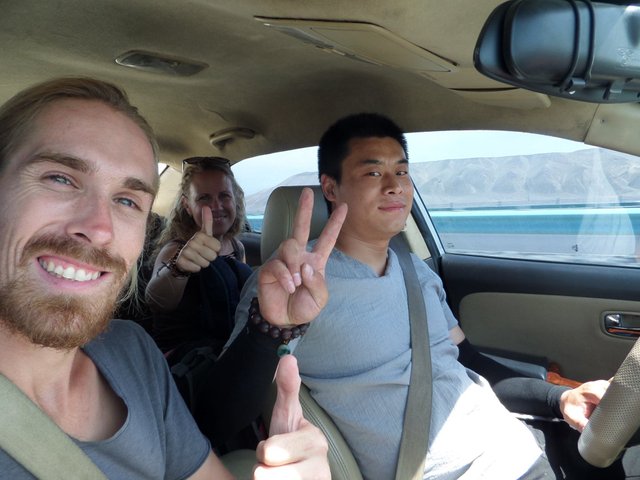 What we didn't realise but probably should have when we saw him with the bonnet of his car up was that his car had a slight problem with the engine overheating! We had to stop several times throughout the journey and sometimes in incredible scenery like this.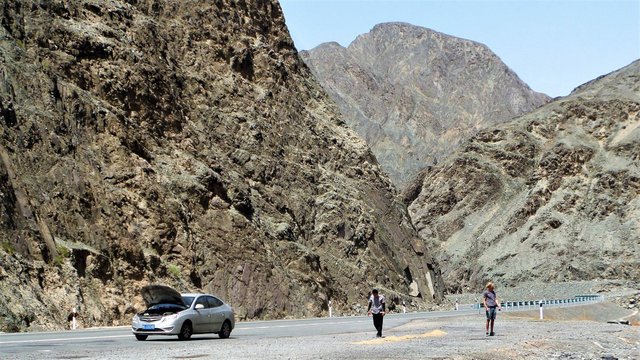 We obviously realised that we wouldn't be making it in one day and we started thinking about where we were going to sleep that night. We were fast approaching the city of Aksu and we decided to take up the subject with our driver. He said that he wanted to camp with us somewhere on the way but after another hour or so he took the junction to head into the city...a hitchhiker's nightmare! We asked him to pull over so we could figure something out. He said he would take us to a hotel and we could stay there together, which was very thoughtful of him but we had to explain about the situation with foreigners and hotels and how it can be very difficult to find any that would accept us. After some tense moments we started looking on the Chinese version of Google Maps and we found a spot on top of a small hill that looked like it had lots of trees and an area for us to put our tent. We drove up to the spot and climbed up to the area we had seen on satellite view and it turned out to be just right!
Thanks to our driver we had found a great spot to sleep outside of the city but still close to the motorway. He was a super nice guy and we thanked him for driving us so far and for helping to find a spot for us to sleep. We were a little sad to see him leave as he made a great travel companion.
When wild/free camping in China you are constantly on edge that someone will see you and report you to the authorities but thankfully nobody came up to our spot that evening and we slept well and got up early the next morning to make breakfast.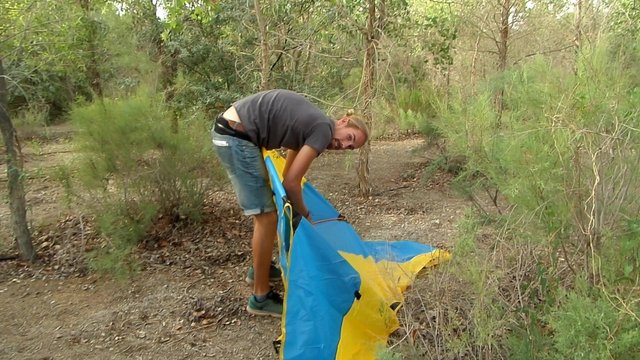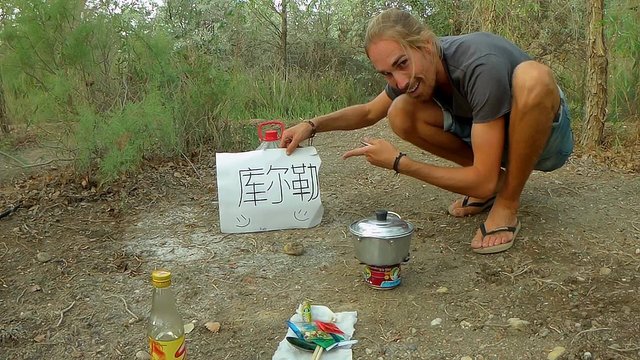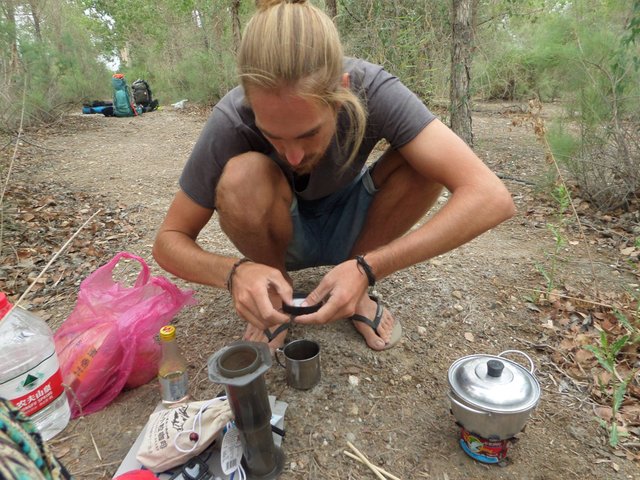 After a filling breakfast of porridge and Aeropress coffee we packed up and walked down to the road that would lead onto the motorway so we could continue our journey towards Kashgar. This, however didn't quite go to plan. We got picked up pretty quickly but the driver misunderstood where we were going and dropped us off at the edge of the city in the wrong direction! We ended up having a really difficult time working out which road was going the right way and stopping traffic was really tough because of the small road. A small side note here, we met some local hitchhikers the morning before and again we saw them while waiting in this spot! Crazy!
Finally two really nice guys stopped after an hour of waiting and took us in the right direction for several hours! Ohh and the car was really comfortable! Again, it was nice to be in a car with people who could speak a little English. They were very interested in our journey and we had some nice conversations with them.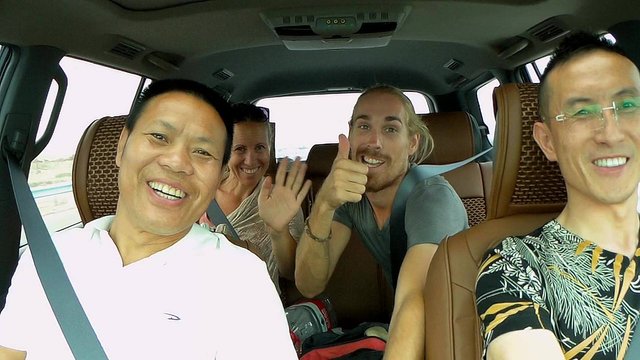 After several hundred km they dropped us off by a toll booth where we had a spot of lunch before getting picked up really quickly by a super friendly local truck driver! He couldn't speak any English or read Chinese so he rang his brother who could speak some English and he even invited us to have dinner with his family. We really wanted to accept his offer but because our visa was running out we didn't have time, sadly.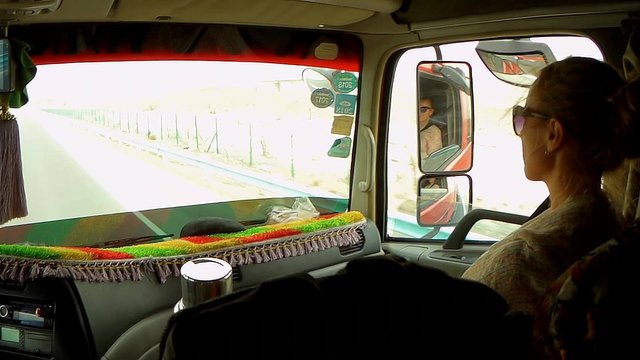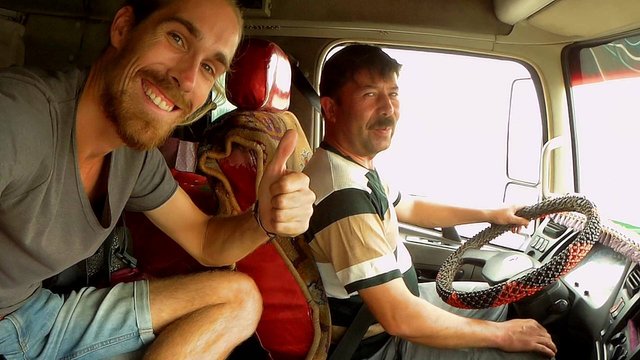 Regretfully, we asked him to stop close to a tunnel that ran under the motorway and he seemed pretty confused by us! We explained that we would use our tent and that we had enough food and water with us but as it had started raining he really tried to encourage us to come with him. We stood firm and got our bags out and thanked him profusely for his help and company on the road and said our goodbyes. We were sad to see him go and knowing that we could have had a really nice local experience but due to time constraints we couldn't have gone with him. We walked over to the road tunnel which was a nice bit of shelter from the wind and rain but unfortunately scattered with goat pooh and the occasional piece of human pooh. It was however covered in sand so our night wasn't too uncomfortable!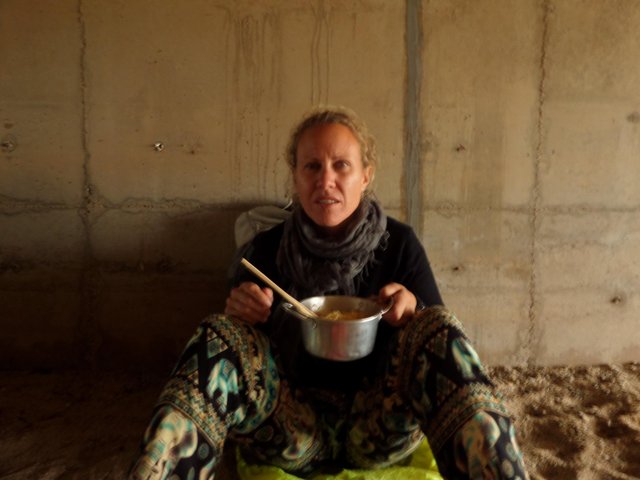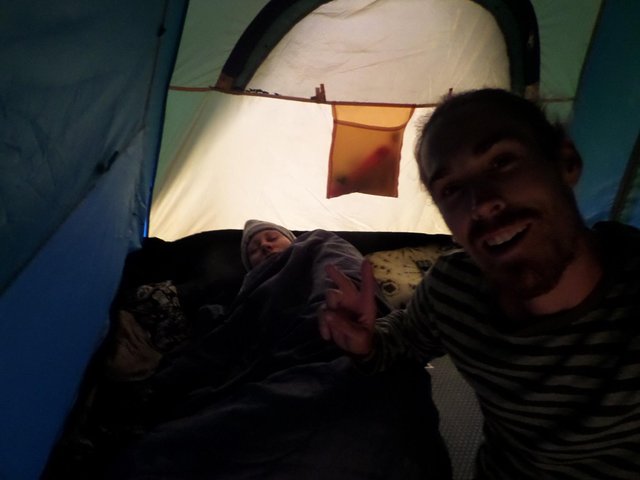 We set up our tent and 'bedroom', cooked dinner, had a cup of tea and called it a night. It did get pretty chilly that night and the following morning we could even see some snow on the snow-capped mountains of the Tian Shan mountain range in the distance. Sometimes it can be pretty chilly so one way of warming up is to do some exercise whilst waiting for cars!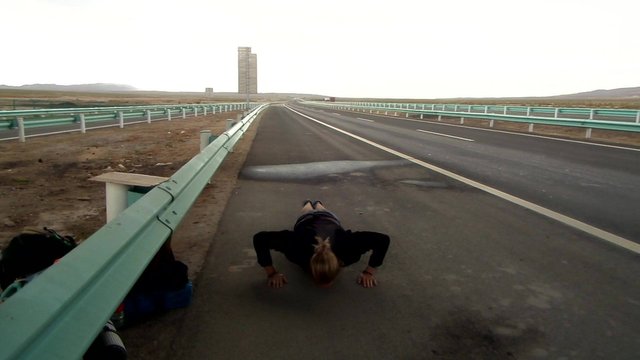 After a good 30 minutes of waiting (there weren't many cars on the road) a car stopped with two men inside and they took us 60 km or so. During the ride we had to stop at another police checkpoint and once again they were confused by our passports. We were really nervous as the officer checking our passports had a cigarette in his mouth and the cherry (hot part of the cigarette) was about to drop off right onto Alex's picture page of his passport, just at the moment when it looked like it was about to drop onto the passport he put it out in the ashtray! Phew!
The drivers dropped us off by another toll booth and we were quickly picked up by 3 Uyghur men. The driver turned out to be a teacher and could speak pretty good English and they even had a small TV screen showing traditional dances and music. It was a very interesting ride which only got better when they stopped at a restaurant and invited us for an amazing lunch of laghman (a traditional noodle dish) and kebab! Wow, this was some of the best food we had eaten in China, really delicious! We tried to pay our part but of course, as in every country they simply refused!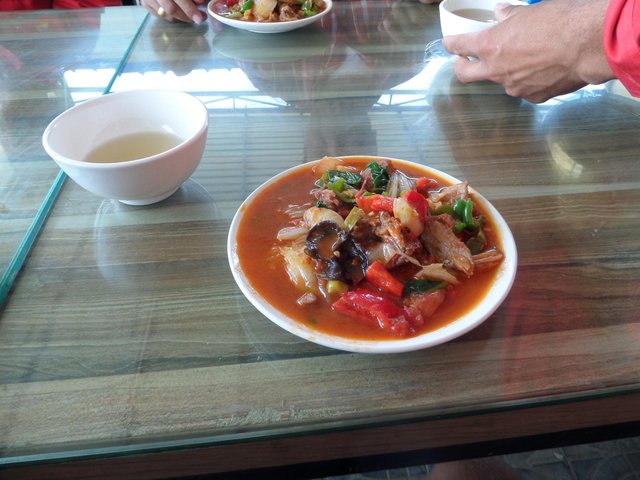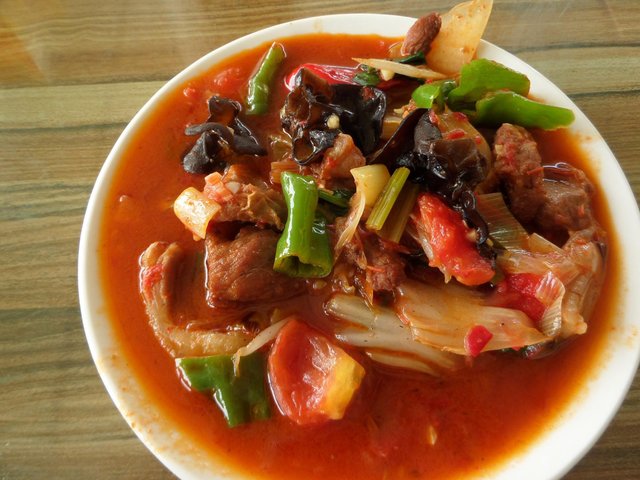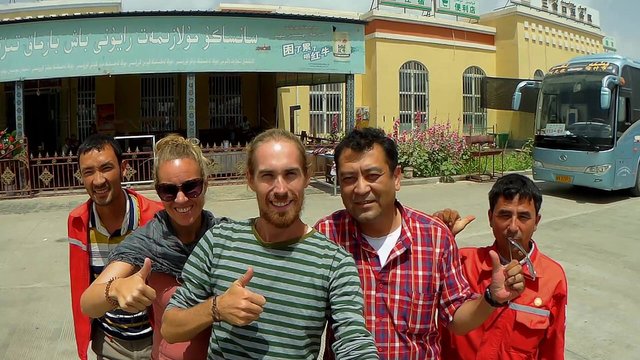 It was really nice to spend some time with these super friendly guys and once again we were sad to say goodbye to our penultimate ride! We walked to the exit of the service area and after only ten minutes a car stopped that was going all the way to Kashgar about 300 km away! What a bit of luck for us! The car was incredibly comfortable and the chap driving was very friendly! The scenery as expected by the edge of the Tian Shan mountains was really surreal. Unfortunately we don't have any pictures with this driver.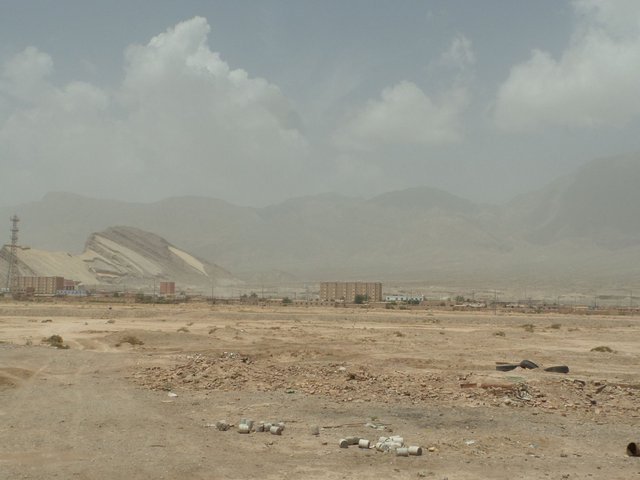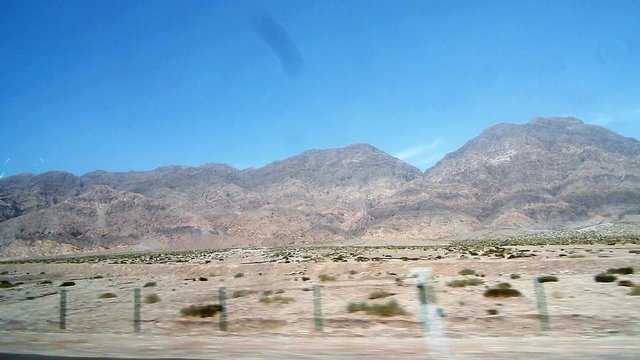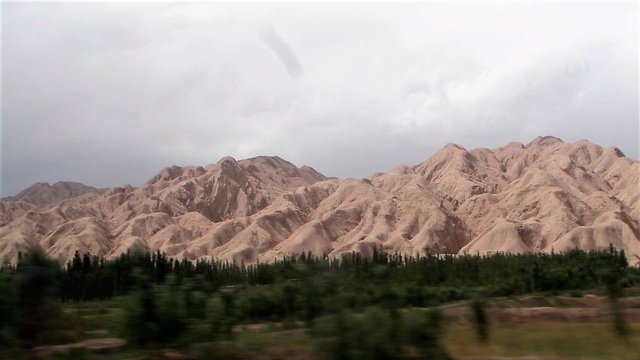 Our driver dropped us off right in the historic part of the city and we thanked him for his help and taking us so close to where we wanted to stay. So after three days of hitchhiking, two nights of wild camping, countless cars, 1,400 km and constant desert landscapes we had made it to our destination, Kashgar!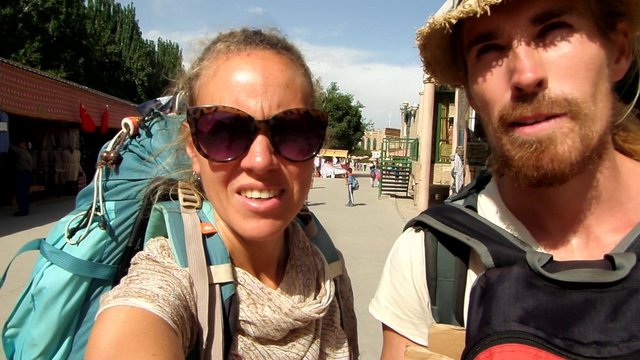 Just to give you an idea of the distance covered in these days here is a map to illustrate just how far it was!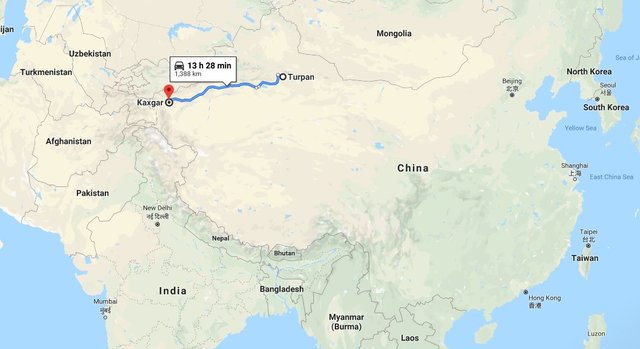 If you would like to see our video from this part of our trip you can find it below.
Here is a map of our whole route from Thailand to Spain: If you are interested in our route you can find it here: https://drive.google.com/open?id=1dKeTjIFM0cgSP2Wefp8L3ZvOgTE&usp=sharing
Thanks as always for reading and if you managed to make it all the way to the end of this then a big thumbs up to you, it was a long read! If you have any questions please feel free to ask!
Alex and Malin