Travel: Exploring Geneva – Part Two
This is the second part of our 'Exploring Geneva' articles. The first one can be found here.
After a restless night, primarily due to a combination of hot hotel room, no AC and a rowdy crowd of beer monsters partying in 'Les Brassiers' right below our window, we made it to the breakfast room around 8am. It was a case of keep the window open and endure the noise of the revellers, or bake alive. We tried both combinations and neither was particularly successful.
A continental breakfast was on offer with particularly nice coffee. We quickly ate and drank our fill, trying to avoid the stares of a white haired Japanese gentleman who would not have looked out of place in Jon Woo's, 'Hard Boiled'. We then made our way to Cornavin central with the intent of boarding bus number 8 headed for 'Veyrier Douane', and then Mont Salève.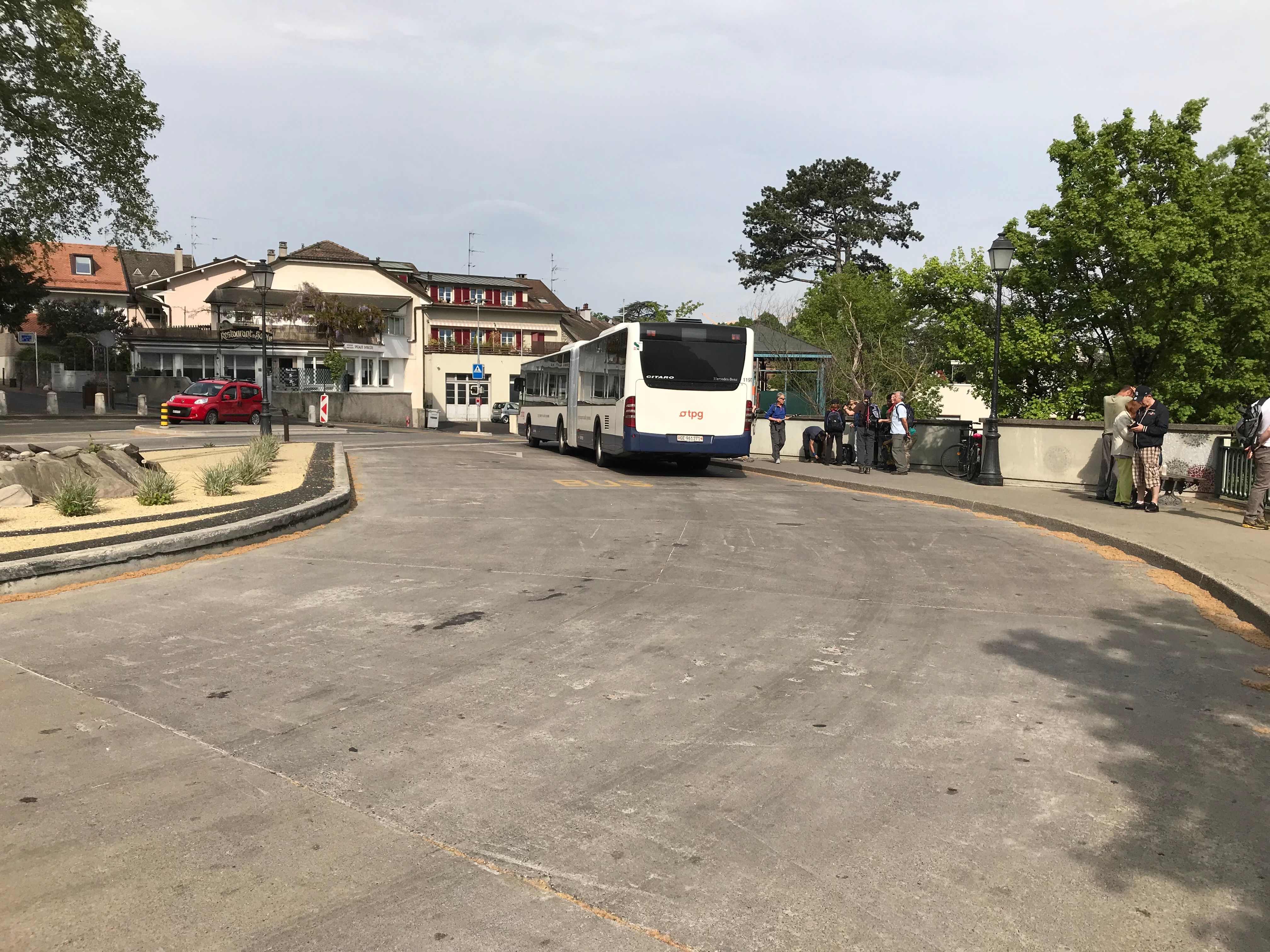 Having done a little reading, I knew we were going to experience very cold weather on top of this mountain, perhaps with temperatures below 0C, and so we were armed with jumpers and coats on this warm day.
We reached 'Veyrier Douane' after a twenty minute bus ride, disembarked and walked over the border to France. The guard post was deserted and there was no, 'Welcome to France', big sign to greet us.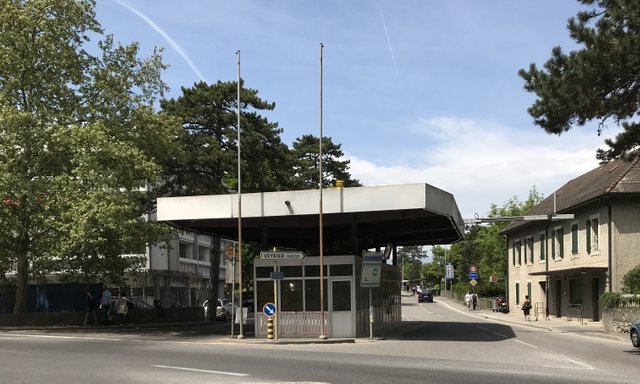 As this was Sunday, we passed a car boot sale! I thought this was an English thing to host on the 'day of rest', but it seems the French like it too.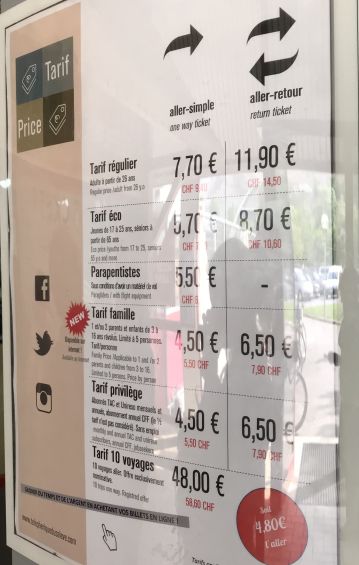 Another half mile or so took us to the foot of Mont Salève and the cable car. The cost of a return trip was 29 CHF, so we paid and waited around ten minutes for the next car to arrive. You can actually hike to the top of the mountain and it takes around two hours, but that was surely not for us!
Ten minutes later we reached the top, and that was the smoothest cable car ride I have ever witnessed. No bumps and booster tower, where the cart sways around making you feel nauseous. I guess cable car technology has advanced somewhat in recent times.
The top revealed a restaurant, of which we visited later. It seemed there were lots of signs to take you to this place and that place; some of them a ninety minute walk. Bugger that! We went for the monastery and the observatory hoping for some good scenic views. The temperature atop the mountain was no different from the bottom. The plan to bring along all this extra clothing had backfired, grrrrr.
It was quite rugged and woody on the top, and not at all like you would envision the top of a mountain; there were trails and paths, with lots of mountain bikers scrambling around and some runners too.
The monastery was a little strange. The sign told us 'Monastre Bouddhiste', but we couldn't go inside because of the sign, 'Ferme' aka closed. It seems the monks have fallen on hard times as it appeared to be an Asian restaurant now, but a little to early to serve! Oh well.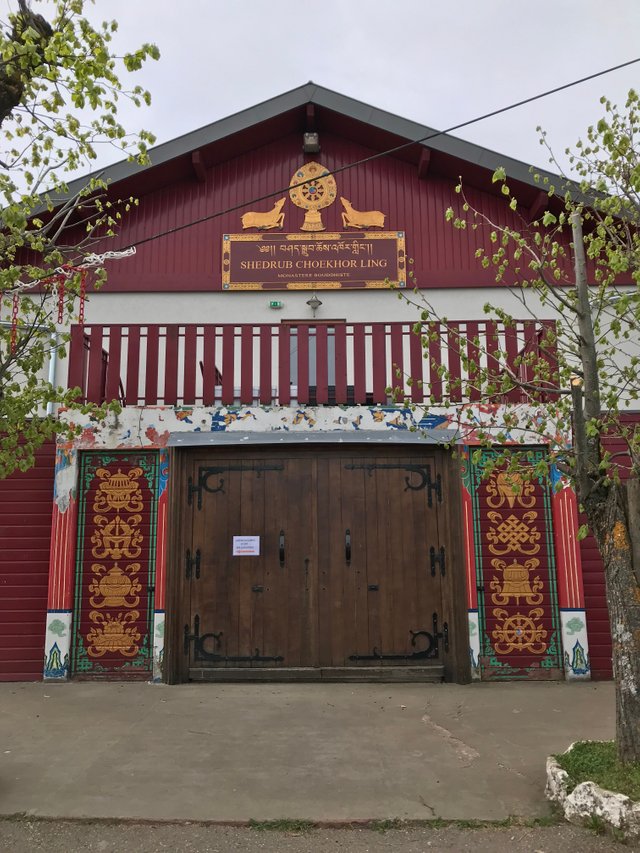 Another mile or so brought us to the Observatory and about as far as we were prepared to work, or at least I was! Just before the top, we found a grassy area that banked on to a near vertical drop. Scary as hell for me, but I suffer from vertigo.
@bingbabe has no such problems and started dancing around the edge and making me feel a little uncomfortable. There was the payback for the claustrophobia in the tower.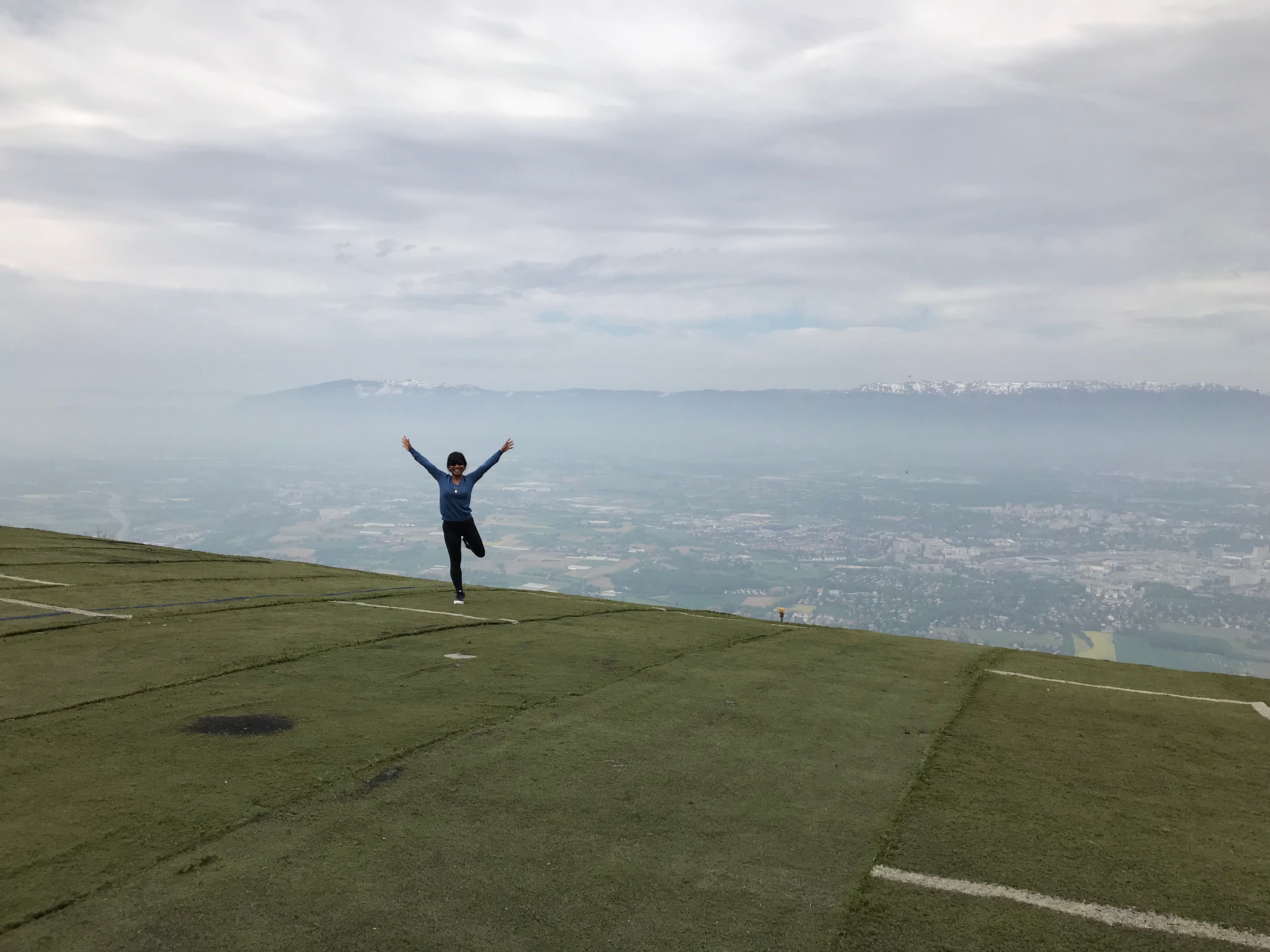 The views were frankly a little disappointing. There was far too much haze, but you can see the 'Jet d'Eau' in the distance, and the whole of Geneva city. I was hoping for some clearer photographs but it wasn't to be.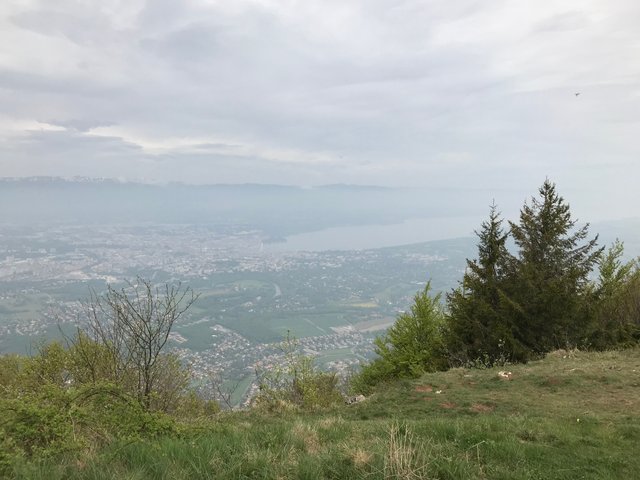 Looking in the other direction at the very top, you can see the Alps and Mont Blanc in the distance.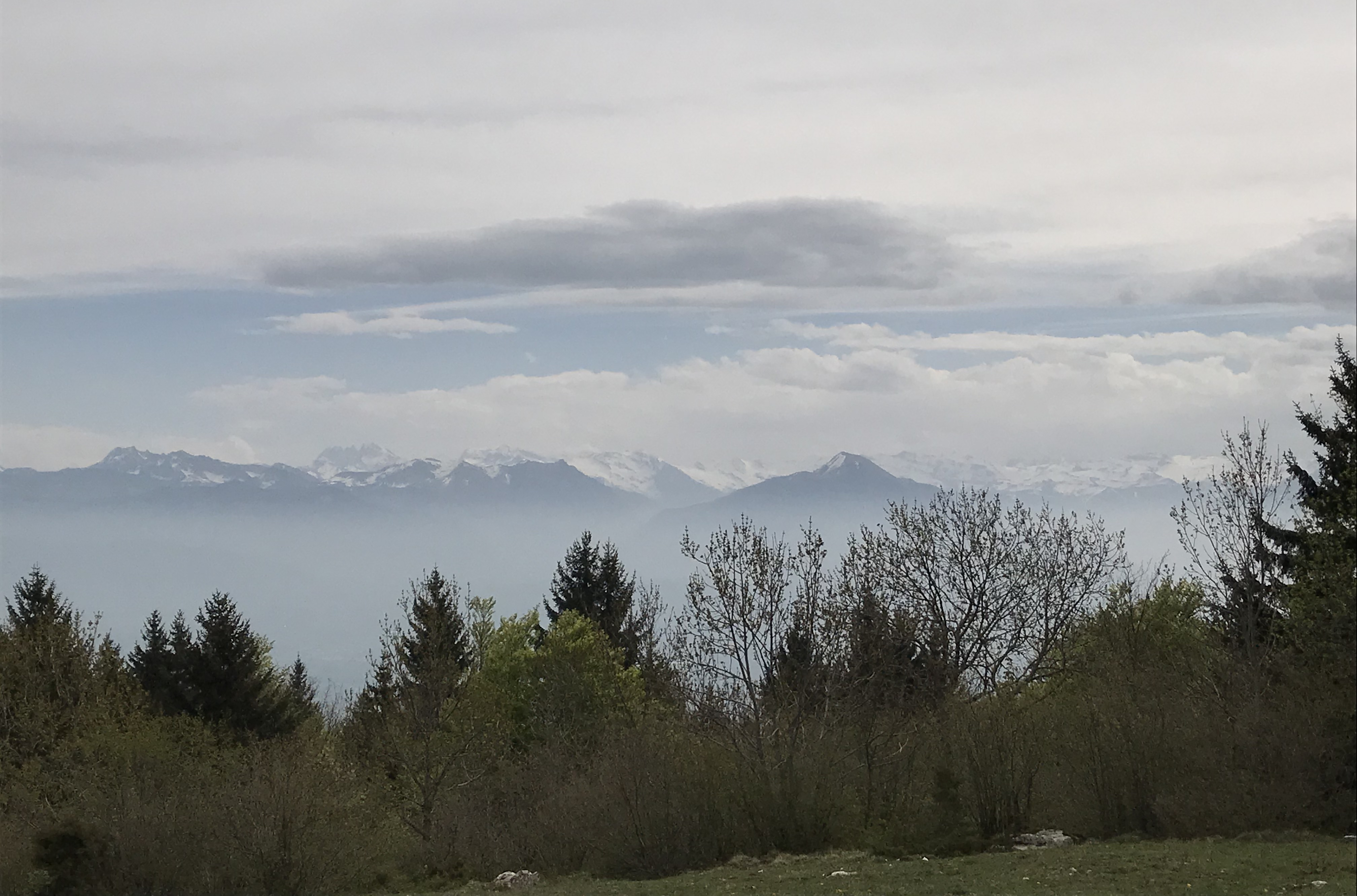 We made our way down the trails again to the restaurant next to cable car and ordered some food. Being in France, it was not so expensive and we enjoyed a nice chicken dish with sauce and some vegetables.
Heading down the cable car, I got a great snap of the other car heading upwards. I was quite thrilled to get this one as I had only seconds due to the cars going quite fast.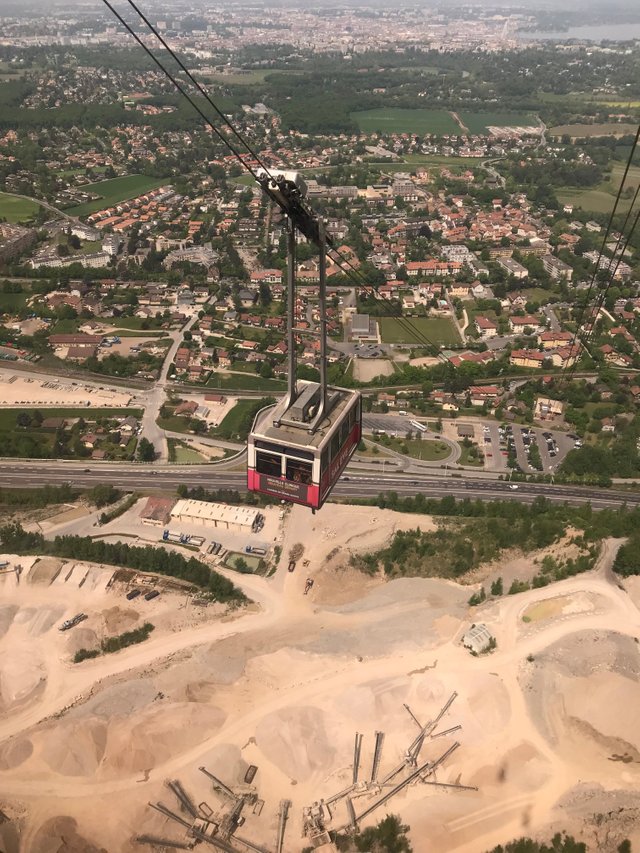 We were pretty tired after all this climbing, rambling and walking so headed back to the hotel for a couple of hours snooze. Fortunately the revellers seemed to have wandered off and left 'Les Brassiers' and gone drinking elsewhere.
This is the end of my second article about 'Exploring Geneva'. I will post the final one in the next few days. All photographs were taken by myself.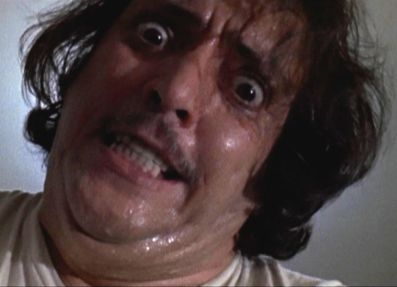 If you found this article so invigorating that you are now a positively googly-eyed, drooling lunatic with dripping saliva or even if you liked it just a bit, then please upvote, comment, resteem, engage me or all of these things.