It was a bit hard to find some good Thai food in Chon Buri, Pattaya, there was one restaurant close to the Airbnb that we stayed at that served decent food but I always wanted the street food.
One day we found a food stall that happened to be just across the coffee shop where my partner and I went a few times during our travel in Pattaya, Thailand.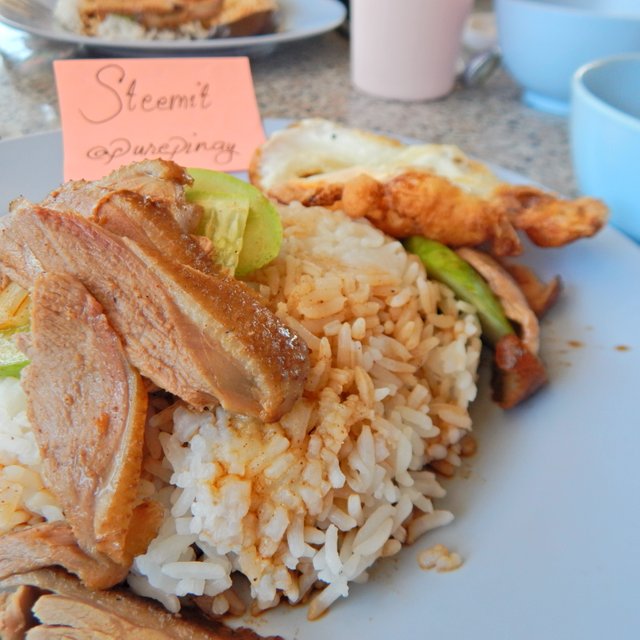 I asked my partner what food do they sell and he this his response "if only I can read Thai writing". I just laughed so hard (it wasn't so funny though, it's just the way he said haha).
I think if it wasn't for the duck sign I wouldn't know what they prepare.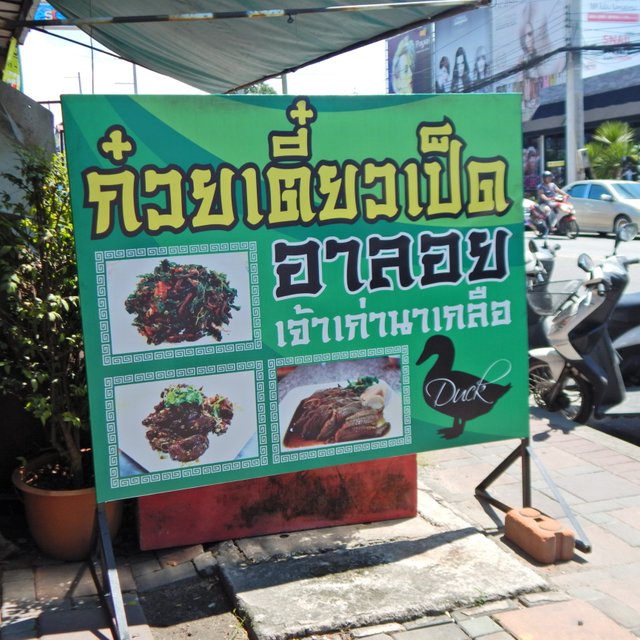 When we crossed the street to where the food stall was, I smelled the amazing aroma. I crossed my fingers hoping this place won't disappoint my cravings for some delicious Thai cuisine.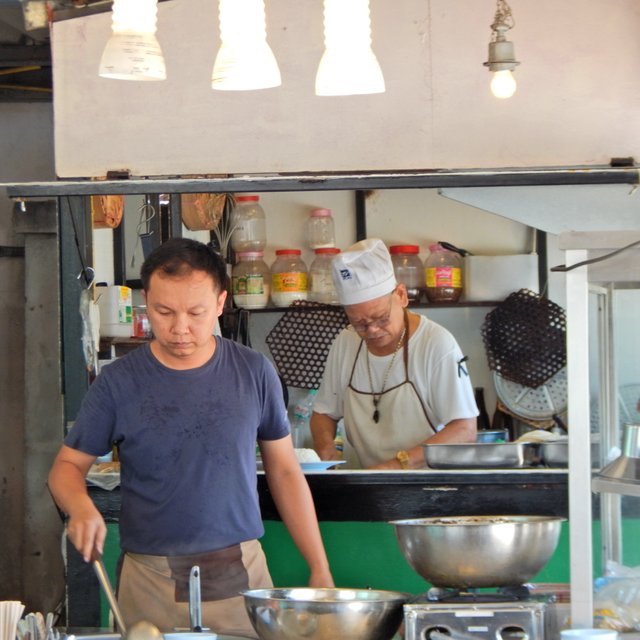 While my partner was on the table waiting for someone to get our order, I took some photos and noticed this guy in a blue shirt stirring something in a big pan so I went up closer and I saw the soup. They saved the liquid where they boiled the ducks and it's got a lot of herbs too, that's where the smell was coming from! I got more excited, I can't wait to eat!
My partner and I ordered the same thing, I forgot how they say it in Thai all I know it's a duck cooked in a broth and some herbs. ;D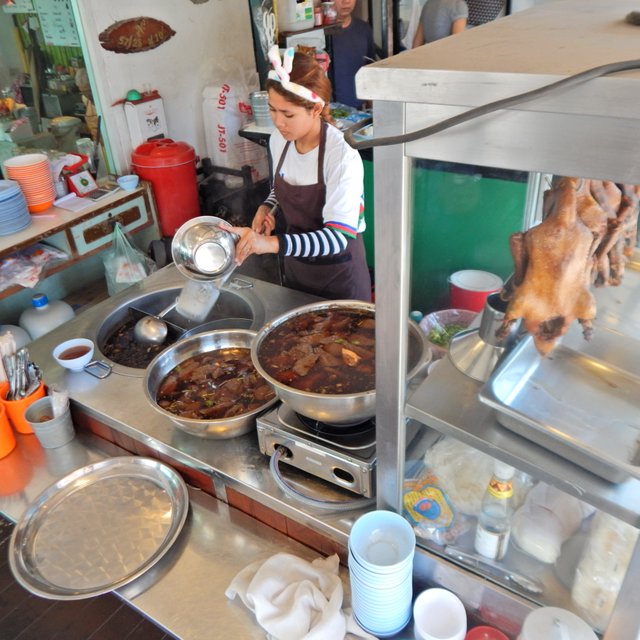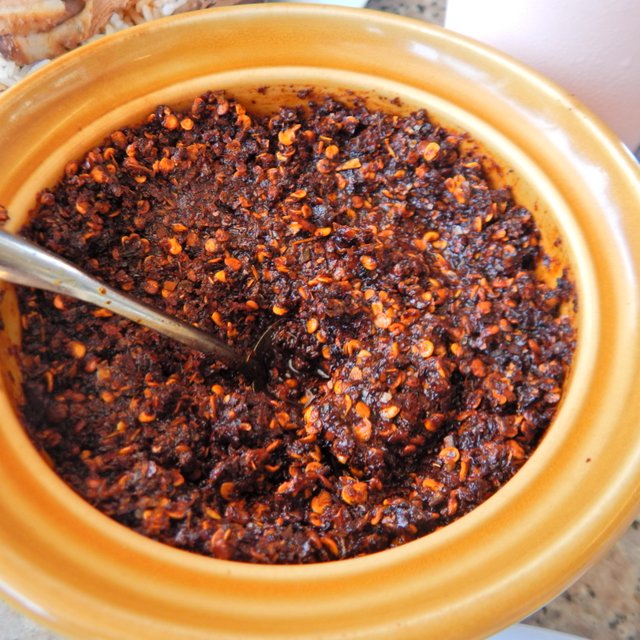 I always see chili paste on the table whenever I eat Thai Food and Islam food in Thailand. If you're not a huge fan of spice you'll be missing out some the good flavors of Thai food.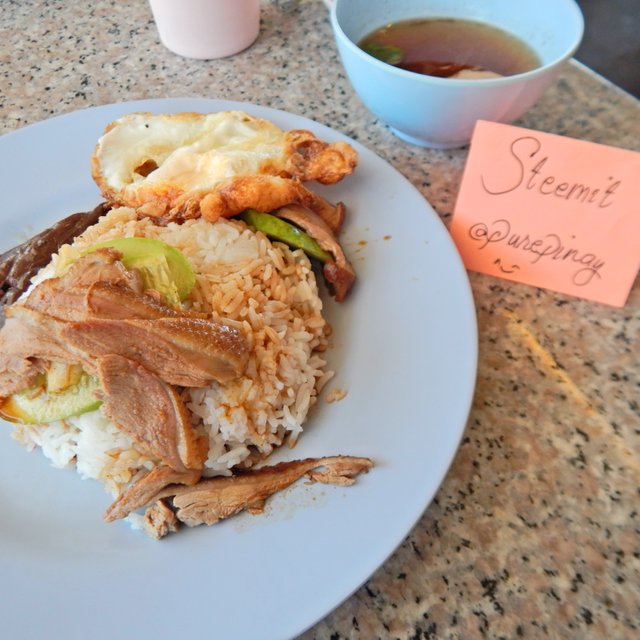 They served us slices of duck meat on top of the rice with sauce. It also comes with liver, fried egg, cucumber and a broth on the side. Everything on the plate went well together except I didn't try the liver. The meat was so tender (ever!), it was so delicious that I couldn't stop smiling and kept praising my food, haha! I forgot how much it cost but it was very affordable and I would even pay double for what the price was just because it was so good! ;)
Tell you what, looking at this photos again makes me hungry, I wish I get this dish in the Philippines. I might have to convince my partner to go back to Pattaya just to go back to this place, lol!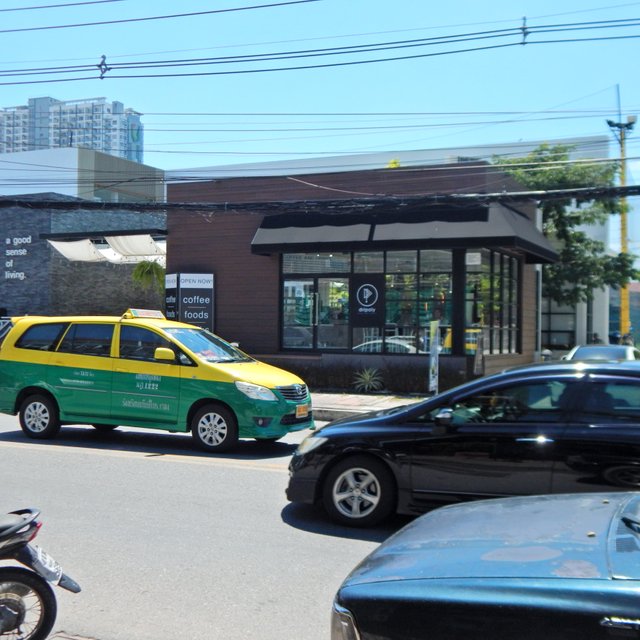 If you happen to visit Pattaya and would like to check this place look for Dripoly on the map and it's right across the coffee shop:
Pattaya City, Bang Lamung District, Chon Buri 20150, Thailand
Also, don't forget to save some for me! ;D
---
Older Post
---
---
Thanks for dropping by!
This post was
created by
---
Show your support
Vote for his witness:
---
---