Giuseppe Pizzeria and Sicillian Roast


My first time going to Giuseppe was when my boyfriend's Grandmother came to Cebu to visit him, and her two Sons, (his Uncles). All of their birthdays run in the same month of September, and this is why we went out to dinner to celebrate. All three of them retired here in the Philippines, and who can blame them for coming to such a great country! :)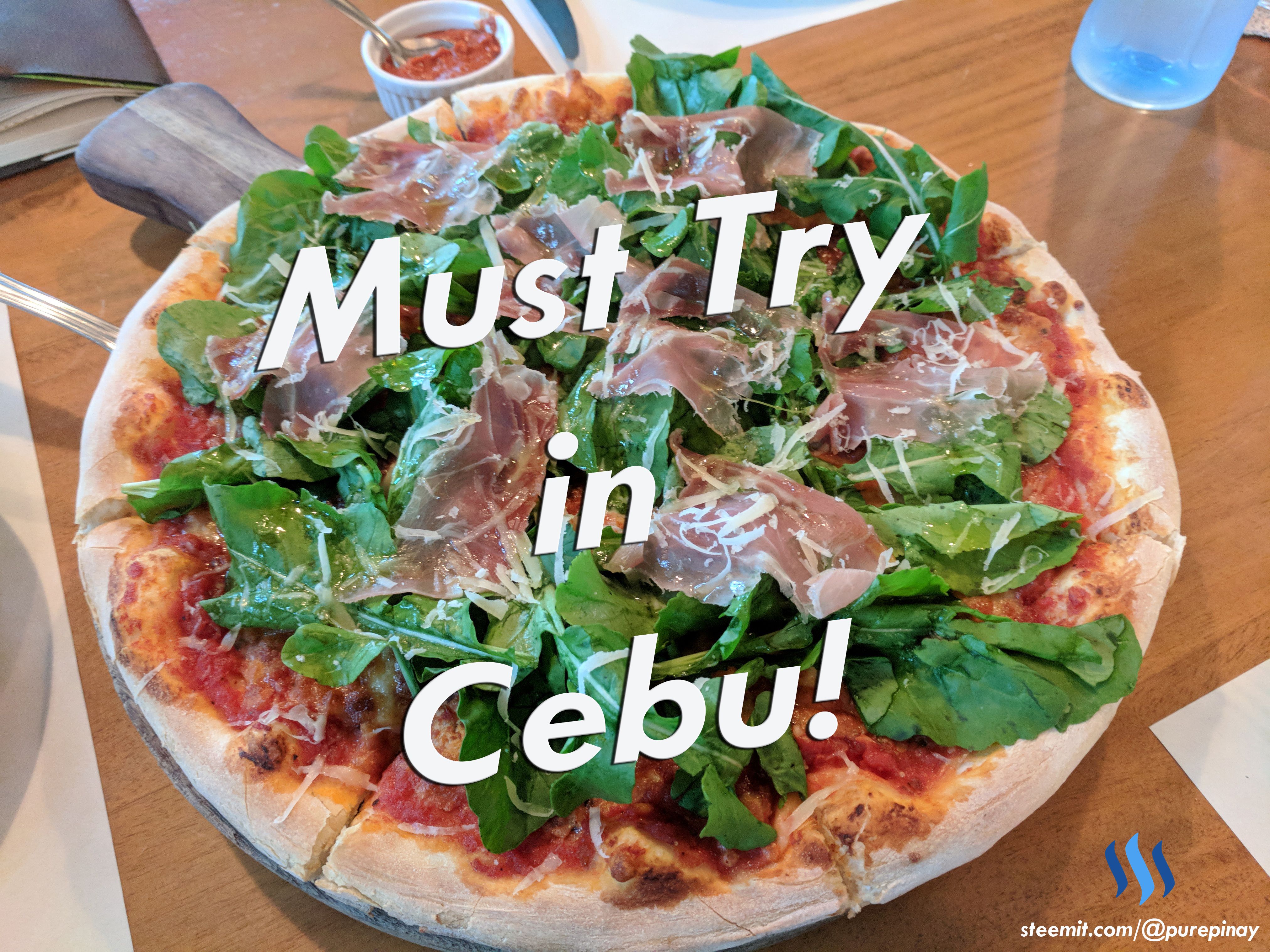 We didn't know where we wanted to eat, and none of us had been to or heard of this place before. Of course, its always safe to choose to eat Italian food when everyone may have different cravings, since Italian food usually has an expansive menu to suit every one.
One of his Uncles, Mark- Did a search online and chose Giuseppe over Anzani (which was closer and had better ratings)- Since the price online for Giuseppe seemed much cheaper. (Side note, I have since eaten at Anzani, and have to say Giuseppe is miles ahead of them in the taste and quality).
We all piled in one car, a Fortuner rather- And made our way to the gates of Maria Luisa subdivision where the restaurant was located. Even though we arrived during rush hour, 6:30 PM, the restaurant wasn't crowded at all.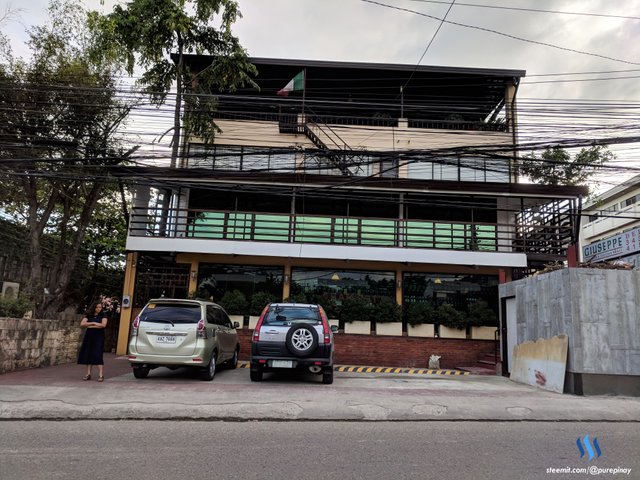 The outside of the restaurant
After we sat down, and they passed out the menus to us all, his grandmother made it clear to order whatever and as much as we all wanted. It was her treat. On the menu, were about 100 meals that I was not familiar with, so I ordered a pepperoni pizza to be safe, while my boyfriend Rob, ordered lasagna. We started with a few appetizers and some rosé wine, and after a few minutes a pizza arrived on our table.
This didn't look like a pepperoni pizza, as it had thinly sliced meat and argula toppings. We called over the waitress, who apologized for sending it to the wrong table, and she took it away. When the manger stopped by to ask us how we were, she also told us the next time we come by, she will give us a free arugula e prociutto pizza for the mishap :) (Smart, because I have been back about 5-7 more times and always order this pizza).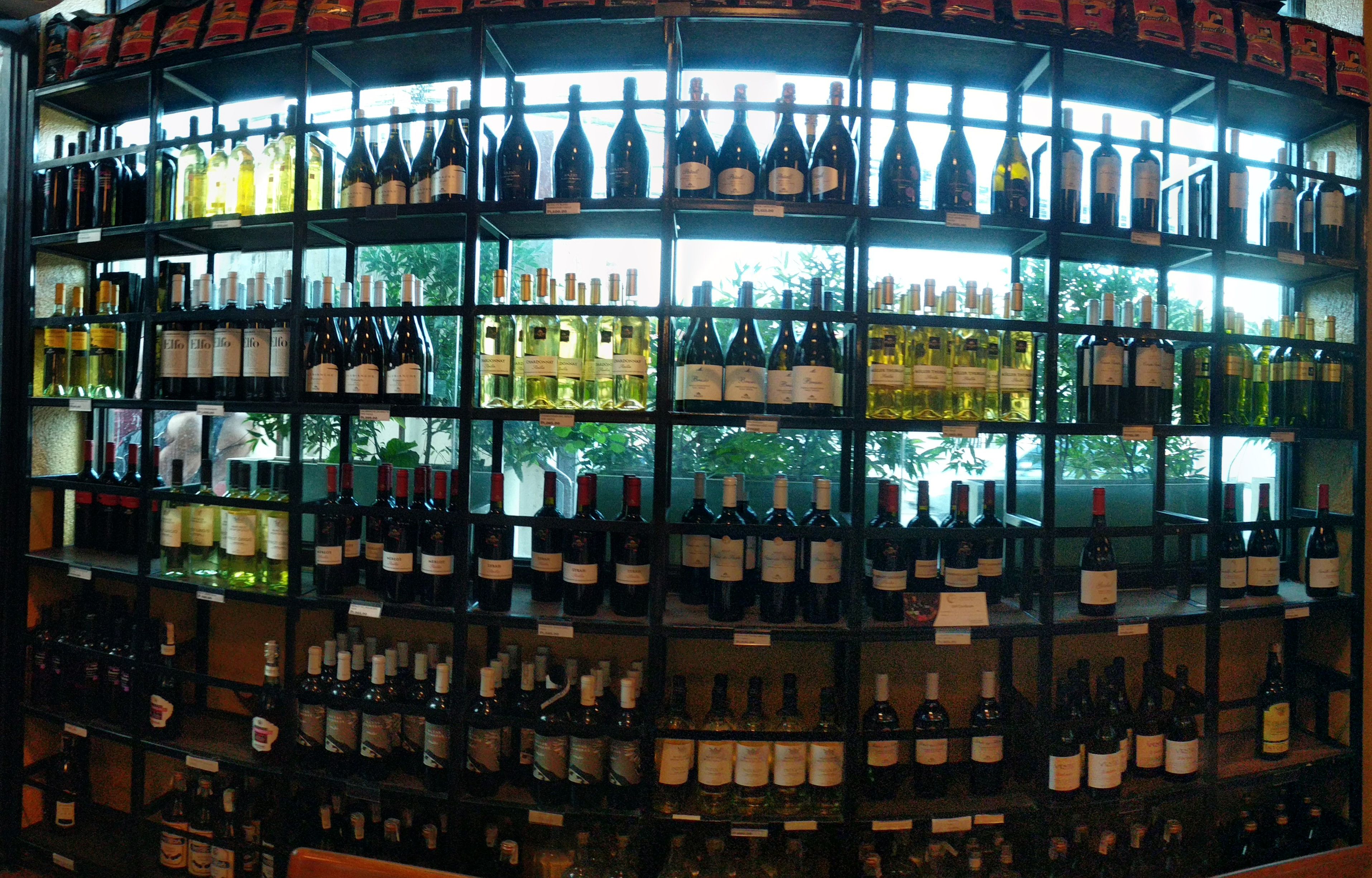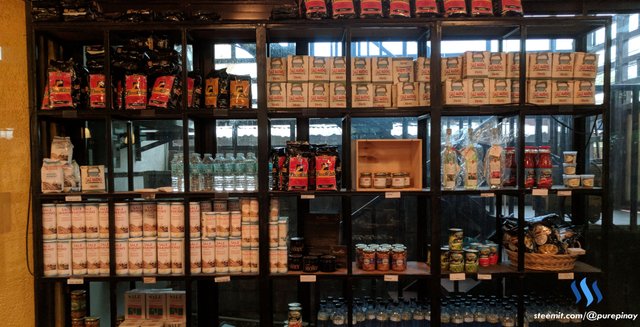 Some wines and other goods being sold at the restaurant
Everything was incredible. I am always a bit skeptical about online reviews, but Giuseppe is seriously underrated. When I checked on Facebook, it was only rated 3.5/5 stars. How is this possible? This is by far, the best Italian restaurant in Cebu. And probably one of the top 10 best restaurants altogether. Sadly, this place isn't just around the corner- So I don't go as often as I would like. I guess though, this is what keeps it great. Since I cannot go 2-3 times per week, I always look forward to the trek (usually in rush hour traffic), to get my arugula e prosciutto fix.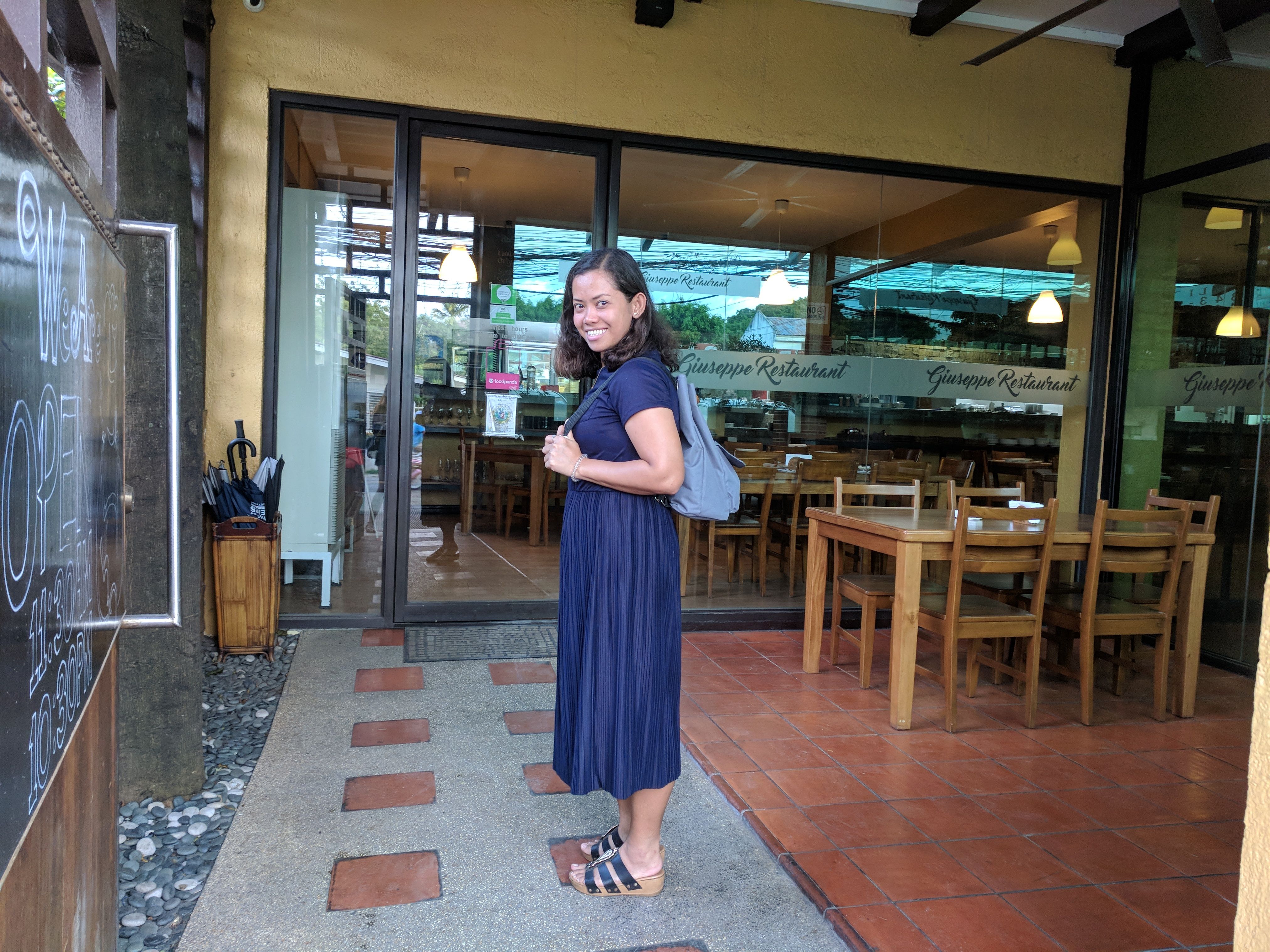 My lovely best friend Floriza
Yesterday, my best friend Floriza stayed the night- And the next evening Rob told us that he wanted to take us to dinner. It wasn't a special occasion or anything, he was just craving pizza. This was great news, since Floriza has never been to Giuseppe before, and I was excited to share the experience with her.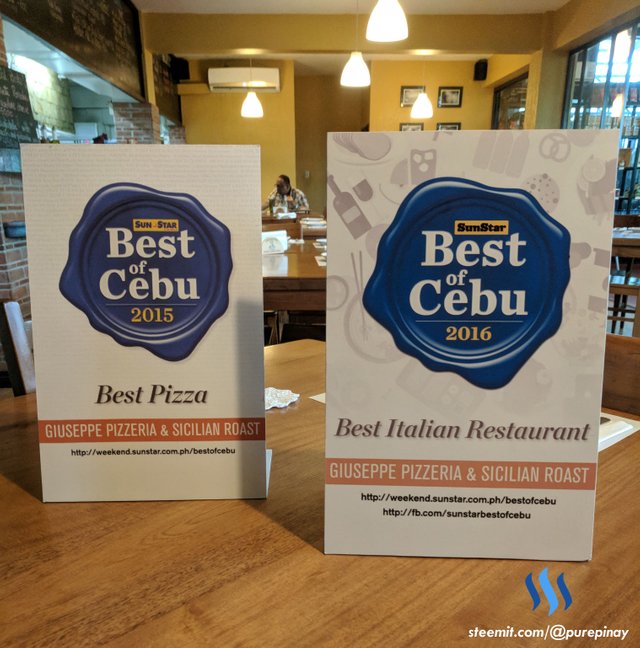 When I walked in the restaurant I noticed this plaque in the left corner and I got more excited when I saw the other plaque sitting on top bar next to the cashier. I asked the hostess, (her name is Mhegai) if I can move the plaque on the table so I can take a better photo of both awards and she gladly said yes. The restaurant has been awarded as "Best Pizza of Cebu in 2015 and Best Italian Restaurant in 2016 published in the Cebu Sun Star, a newspaper based in Cebu City. Mhegai said that the result for the last year hasn't announced yet but she's sure they'll get another award for the year of 2017 and she sounded keen about it.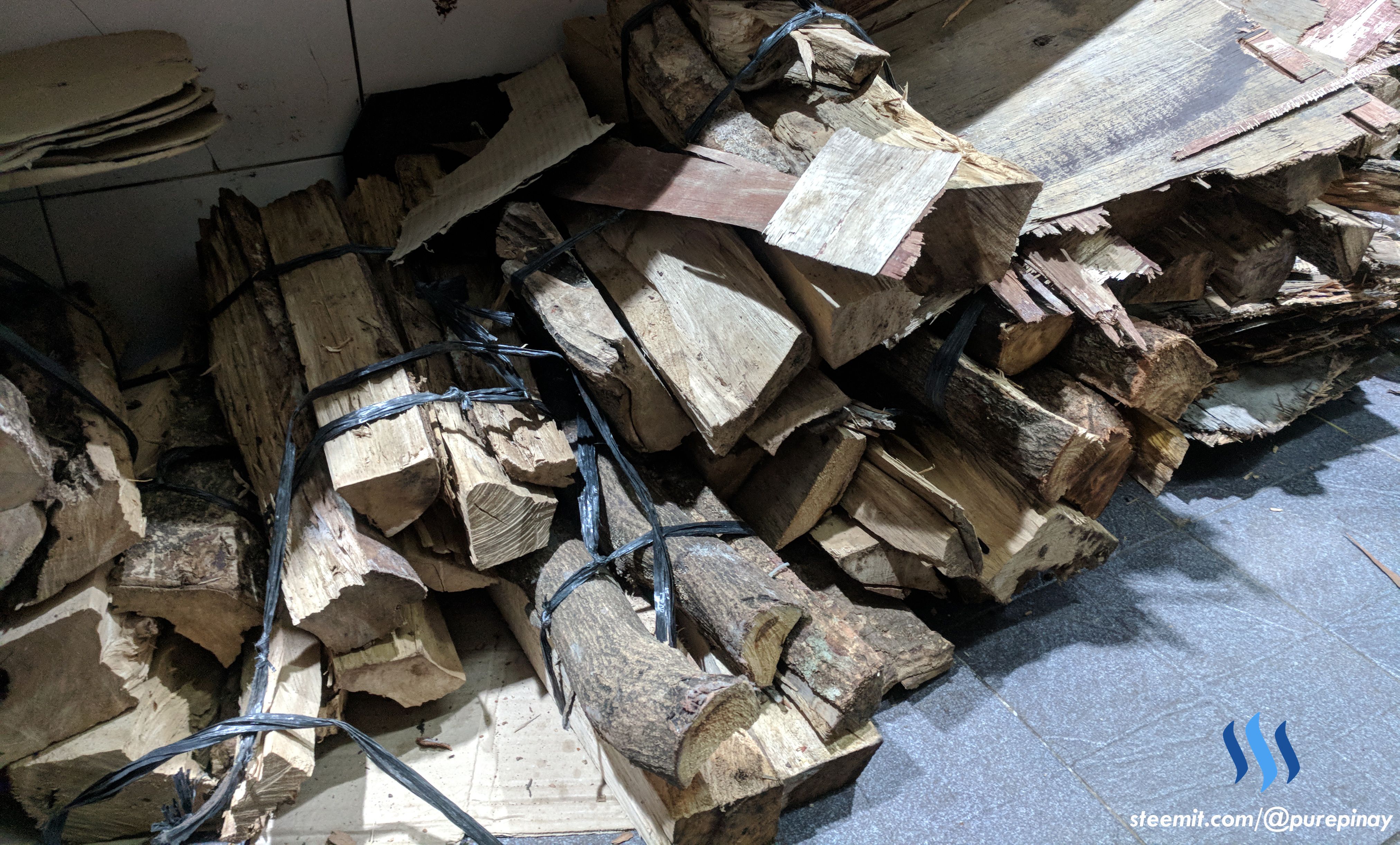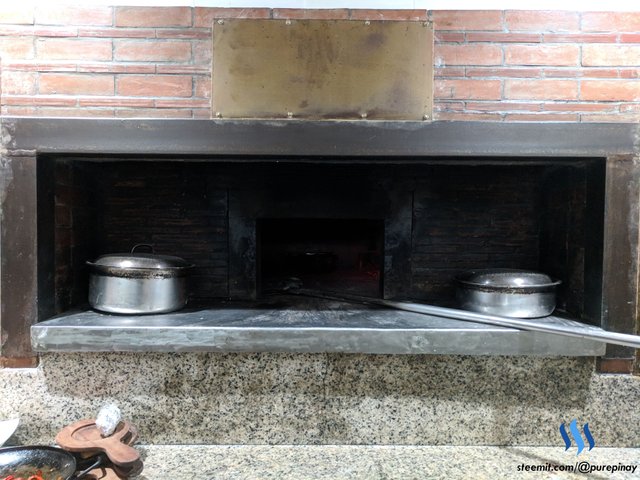 Since Rob already knew what I wanted to order, Floriza and I went into the open kitchen and without any hesitation, I asked Mhegai if we can watch the chef make the pizza. We got to the restaurant right when they opened and there was only one other customer so the chefs weren't so busy -She let us in the kitchen to take photos. Floriza and I watched the chef work the dough, and he made it look so easy that it took him less than a minute to toss and shape the pizza dough! Once the Chef placed our pizza in the over, Mhegai told us some interesting things about the restaurant and its history. She mentioned that Giuseppe has been around for 15 years and the the owner is Chef Giuseppe Genco who worked with the Azani owner, Marco Anzani at the Shangri-La's Mactan Resort & Spa, which is one of the top luxury resorts located here in Cebu, Philippines. 15 years! I thought it was new :)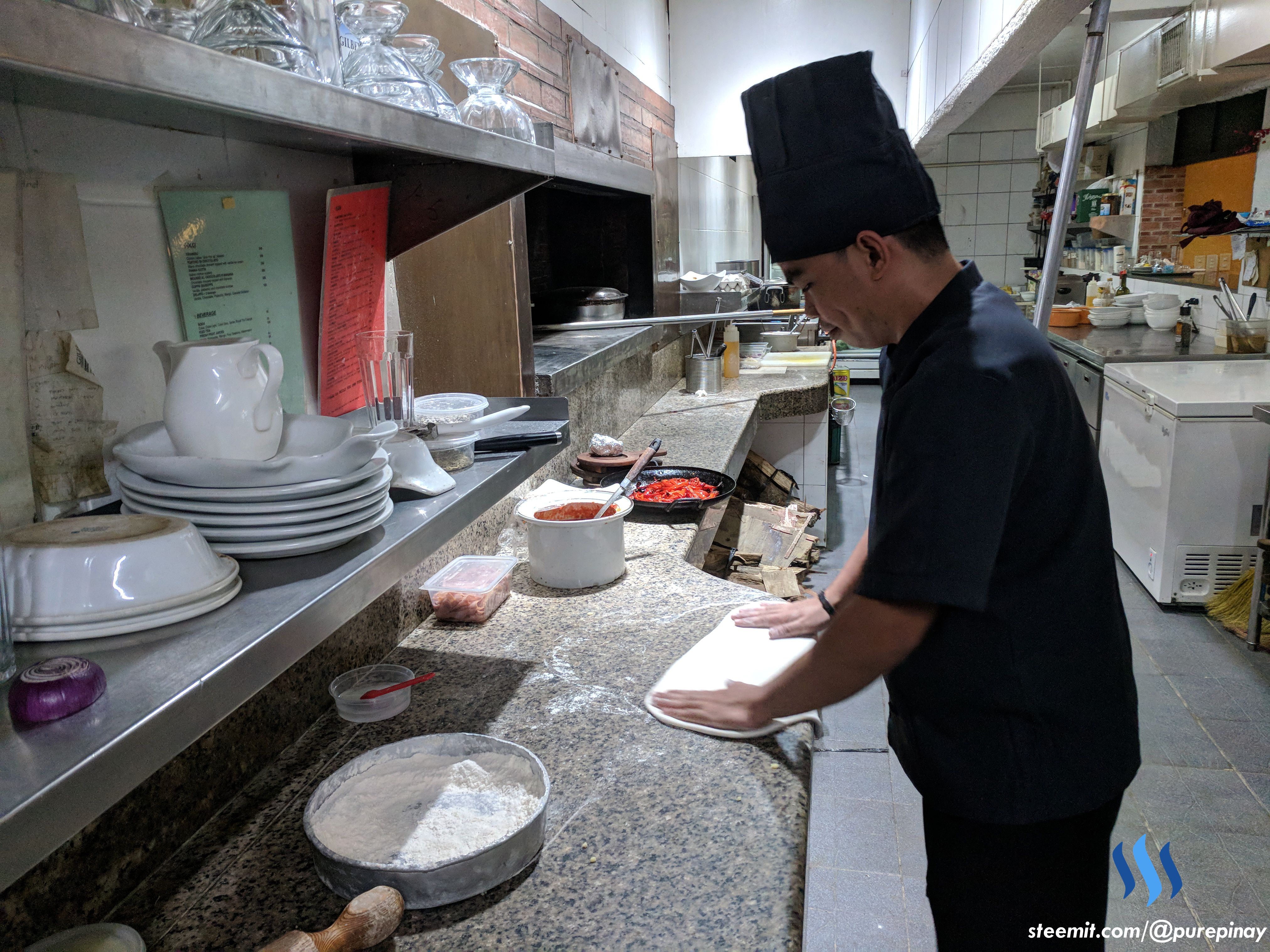 Chef Giuseppe also runs another branch on Alona Beach in Panglao Bohol, Philippines and there are 5 'franchisees' of the restaurant which are located in: Dumaguete, Cagayan, Manila, Tacloban and one on Mactan Island, Cebu. The branch we were at, was on Maria Luisa road, and it has 1 executive chef, Chef Luca Genco and his 7 assisant/sous Chefs. Mhegai the hostess/waitress has been working here for over 4 years already, and was very proud about it.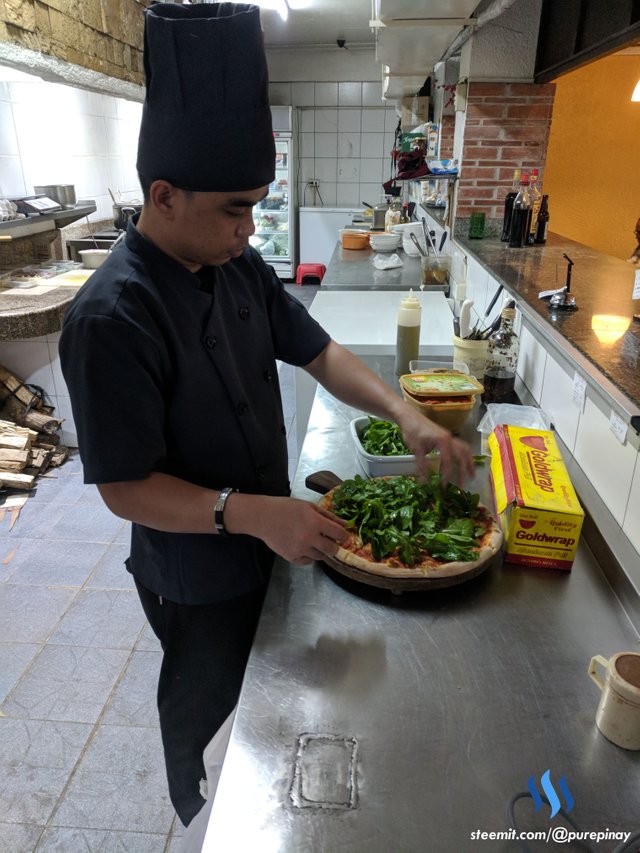 Right on cue, I noticed that our pizza was done baking in the wood-fired oven, and the Chef said since its so hot, over 500 degrees, that it bakes the pizza in just under 5 minutes! How I wish I was able to take a photo of it while it was cooking, but maybe it would have melted my lens lol. Although I couldn't take photos of everything, it's the good story that makes up for it and I couldn't wait for my friend Floriza to try the food here.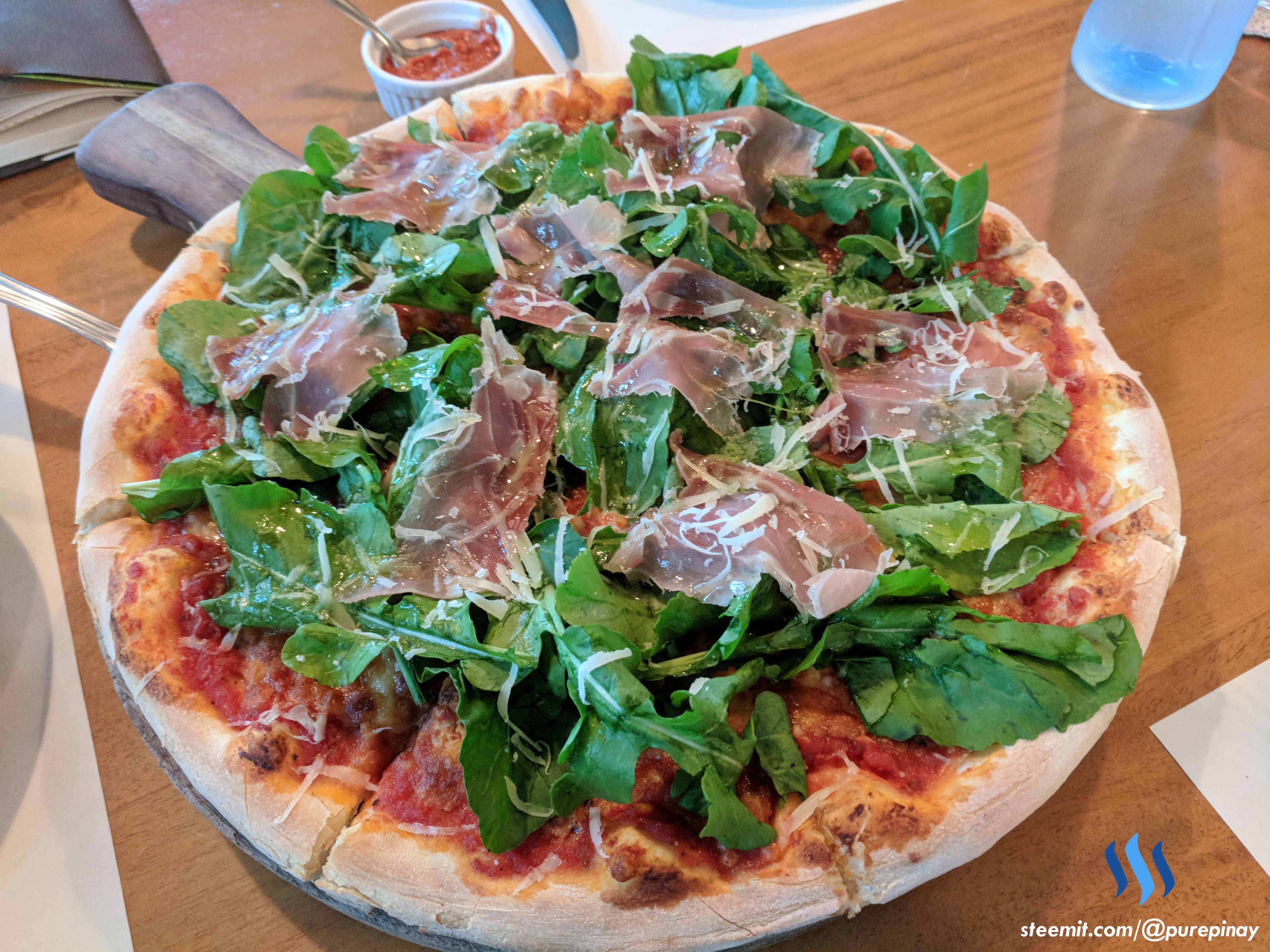 Arugula E Prociutto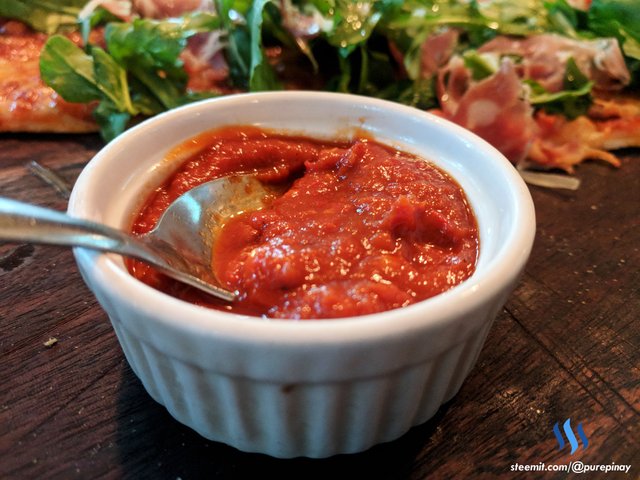 Hot Sauce
We sat down at our table and started off with the pizza, which was super photogenic as you can tell! I have made pizza hundreds of times at home but baking it in a fired-wood oven is far superior. You get that cracking slightly burnt crust which is still chewy on the inside, exactly how I love it to be. The pizza has an exquisite smoky flavor, whuch I always enjoy. They also gave us a homemade hot sauce on the side, it was really good and spicy and I wanted to ask them for a whole bottle to take it home, lol.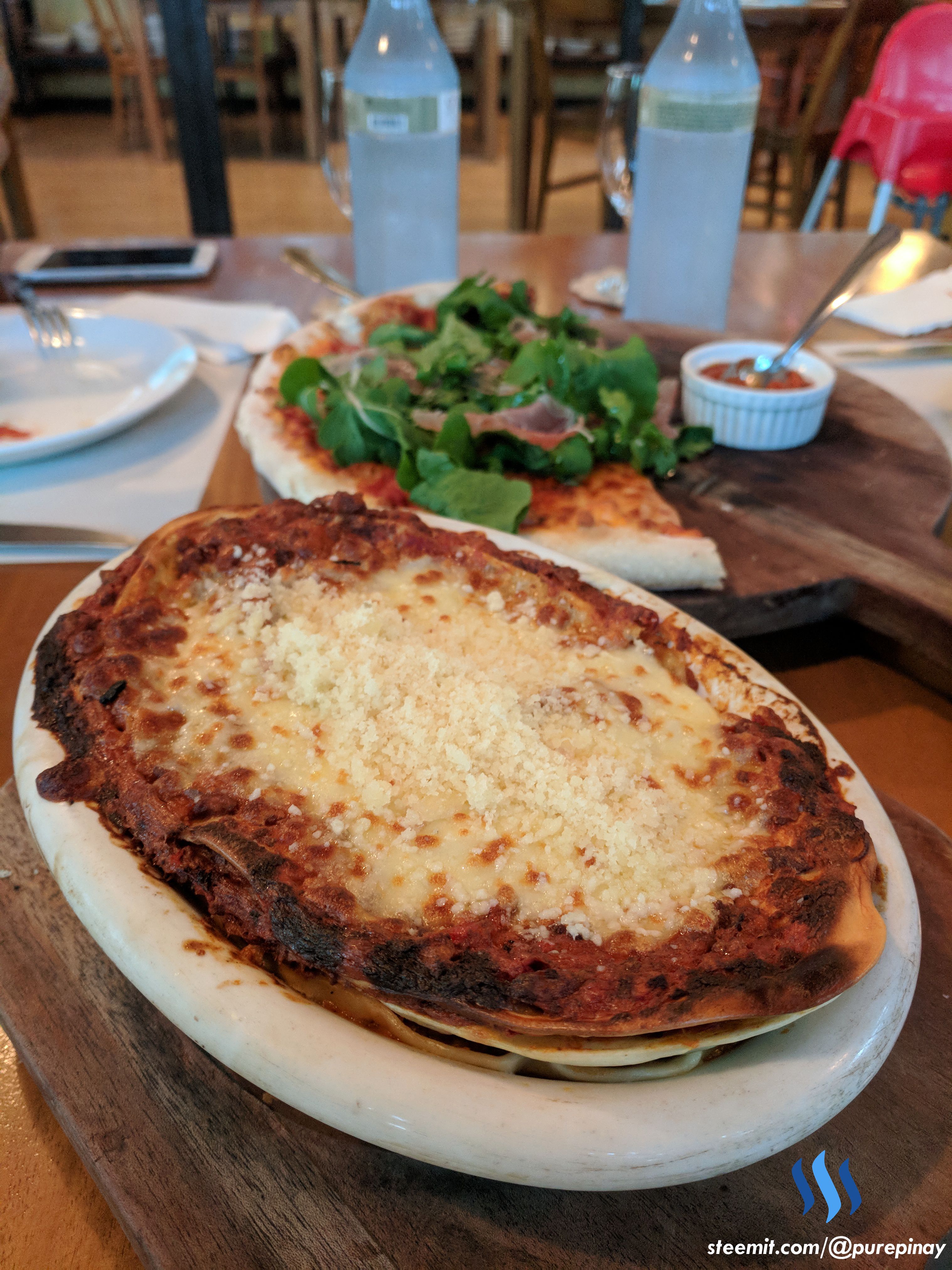 Lasagna di Carne
Our next dish was the lasagna, it had meat, mozarella, and parmesan cheese. Did you notice that the shape of the pasta was the same shape as the bowl? It's because they make there own pasta there. Nothing taste better than homemade pasta! When the osso buco arrived to our table we were 20 bites past full but we ate half of it, and took the rest home.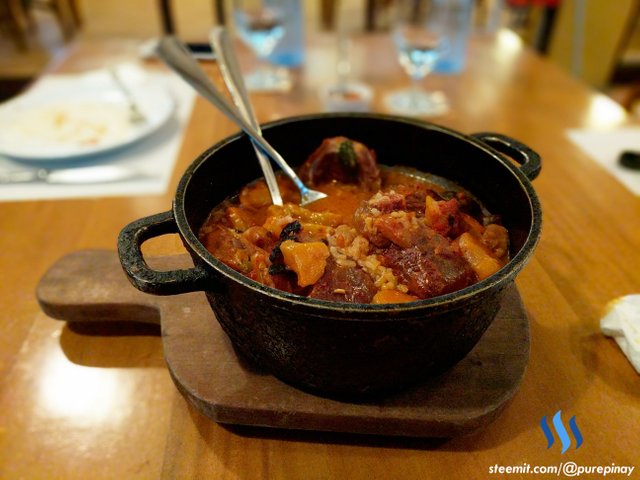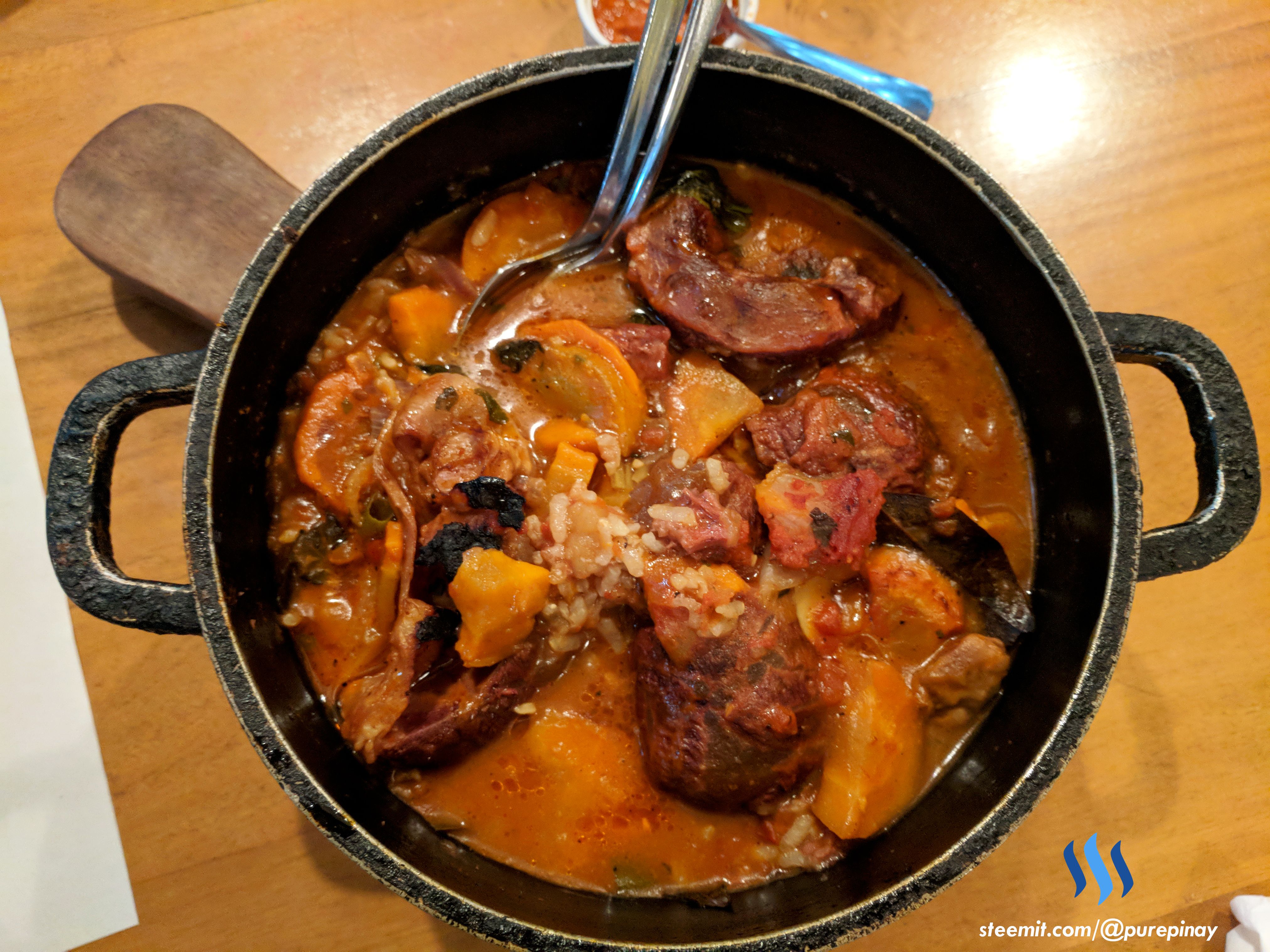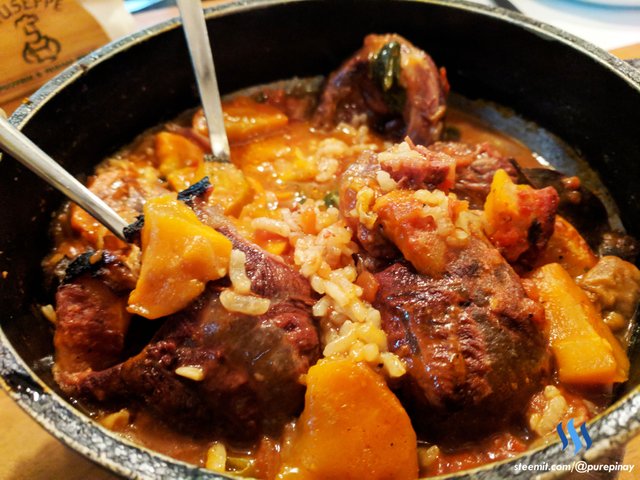 Osso Buco
So we had our top 3 favorite dishes: Arugula e prosciutto pizza, lasagna, and osso buco. This was absolutely way too much food, but we both wanted Floriza to try all 3 meals, and as Rob said it was still much cheaper than eating out in USA. The total bill for this evening came to 2,000 pesos which is about $39 USD.
Adress: Paseo Saturnino, Ma. Kuisa Road, Banilad Cebu City
Hrs: 11:30 AM - 10:30 PM
Contact #: (032) 343 9901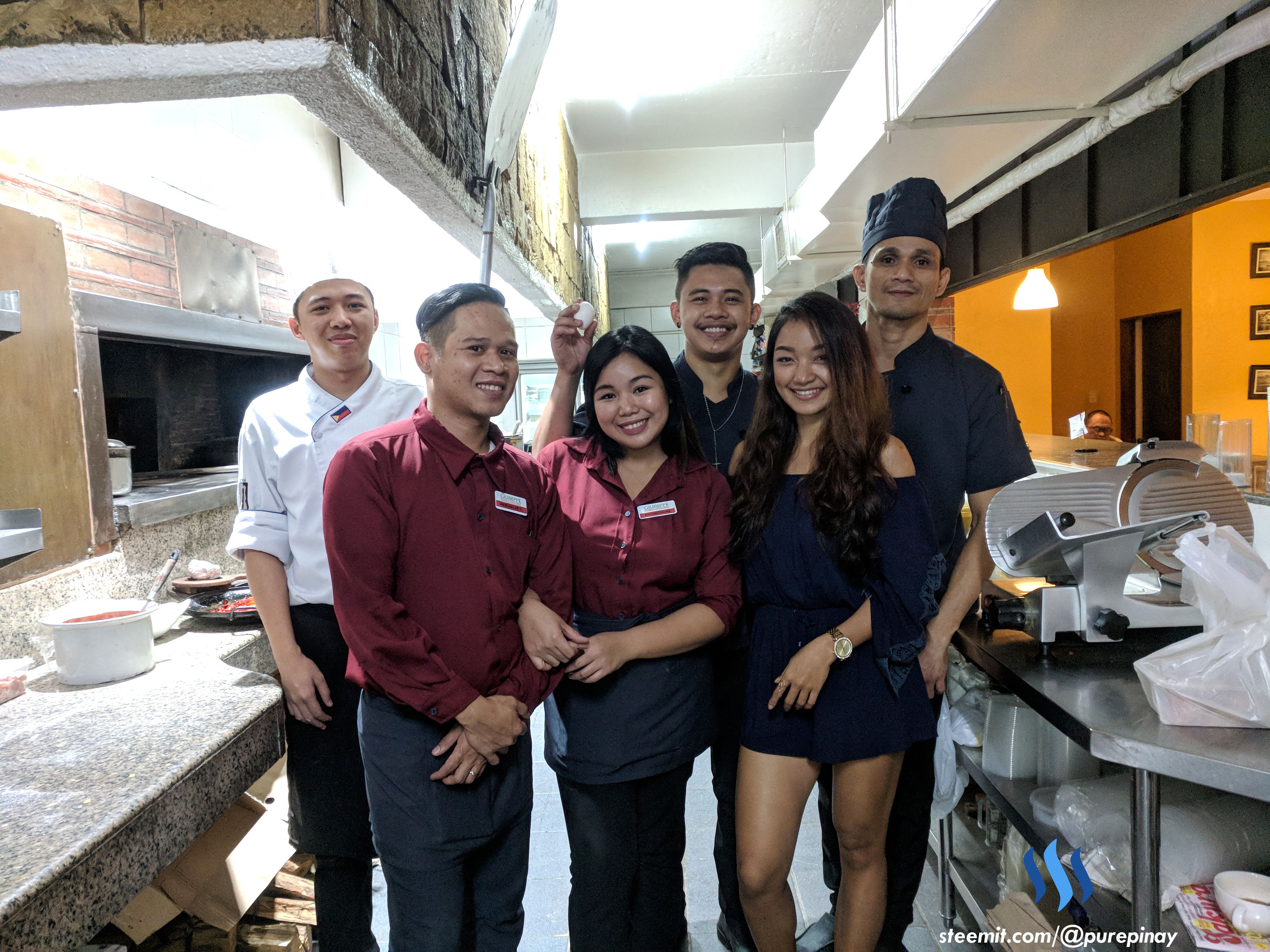 The Staff (Mhegai, the lady in the middle)
This dinner was last night, and as I sit here editing my blog and trying to reorganize my thoughts, these photos and memories are making me already want to revisit Giuseppe for a second round :)
If you are ever in Cebu, and craving great and authentic Italian food, please remember this place- And do not dare to visit without inviting me :)


XOXO,
Gilaine