English

Today I would like to report on a very special journey ... not my own but my father's to Nepal in November 2009. I have already told him a lot about Steemit, but so far I couldn't convince him to write here himself. I don't know why ... maybe I didn't manage to hide the trending page good enough, haha. :)

I already mentioned that my father is working as beekeeper. He traveled to Nepal to see how bees are grown there, but above all he wanted to watch the honey gatherer at work. They are using long ladders made of bamboo to collect the honey in a very risky manner from steep rock faces.

Deutsch

Heute möchte ich von einer sehr speziellen Reise berichten ... nicht meiner eigenen, sondern der meines Vaters nach Nepal im November 2009. Ich habe ihm zwar schon einiges über Steemit erzählt, aber bisher konnte ich ihn noch nicht davon überzeugen, selbst hier zu schreiben. Warum das so ist, weiß ich nicht ... vielleicht ist es mir nicht gut genug gelungen, die Trending-Page zu verstecken, haha. :)

Dass mein Vater Imker ist, habe ich bereits erwähnt. Nach Nepal reiste er, um zu sehen, wie dort Bienen gezüchtet werden, vor allem aber auch, um den Honigsammlern bei der Arbeit zuzusehen, die auf waghalsige Art und Weise mit Hilfe langer Bambusleitern den Honig von steilen Felswänden absammeln.
---
| | |
| --- | --- |
| Imposing mountain peaks of the Himalaya viewed from the village Landruk. There is no street leading to this home of the honey hunters of Nepal but a two-day walk in front of a gorgeous scenery. | Imposante Berggipfel des Himalaya betrachtet vom Dorf Landruk aus. Zu dieser Heimat der nepalesischen Honigjäger führt keine Straße, sondern eine zweitägige Wanderung vor herrlicher Kulisse. |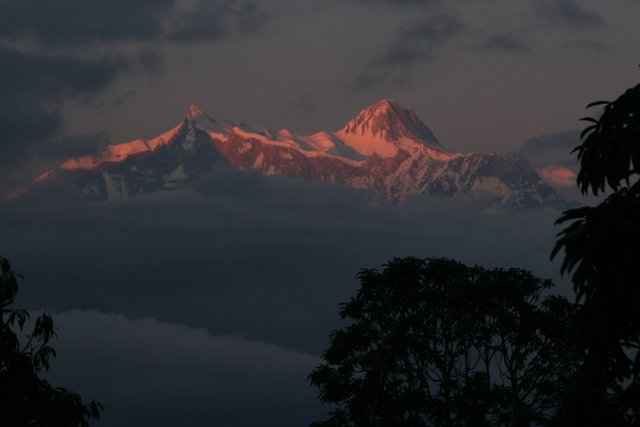 ---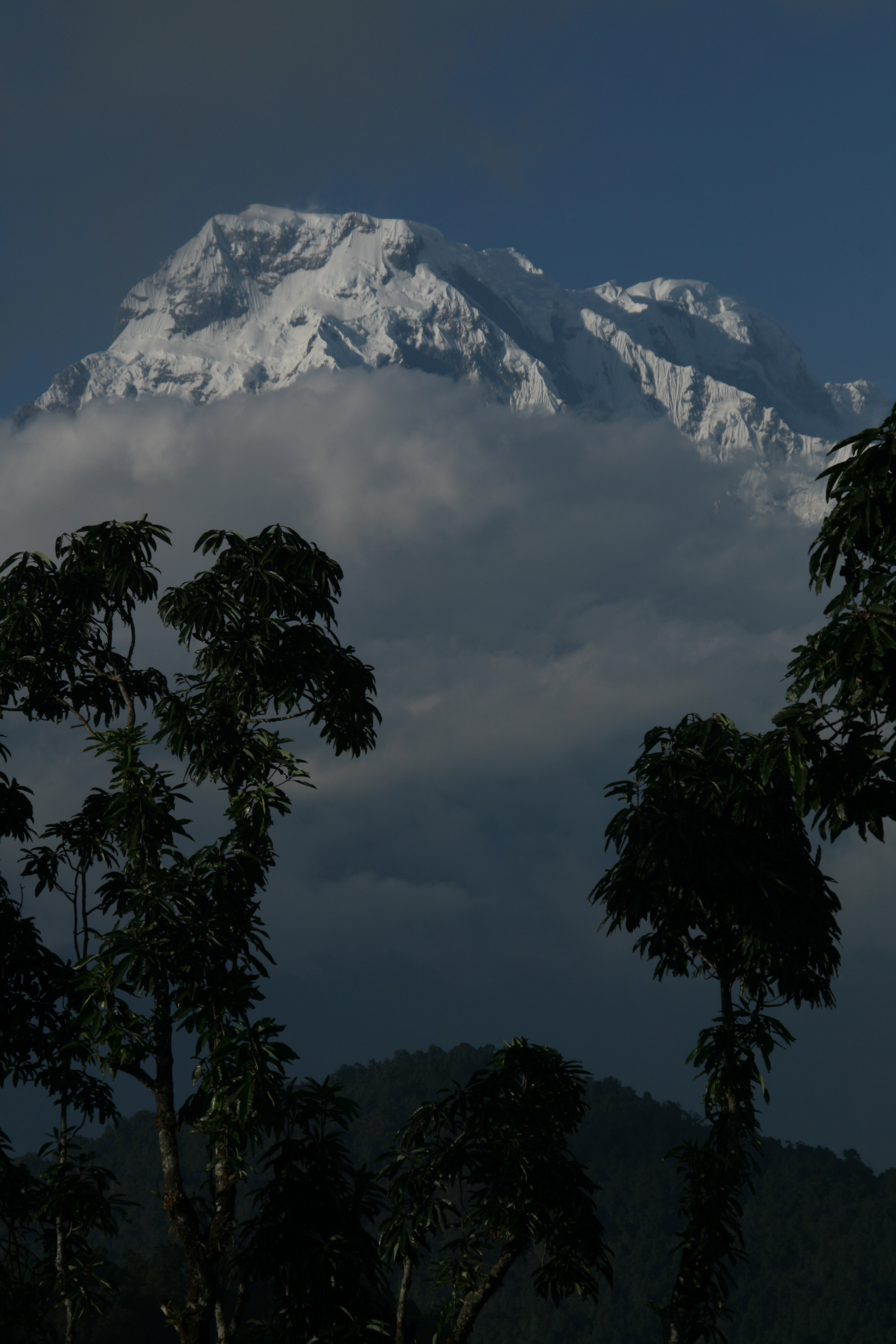 ---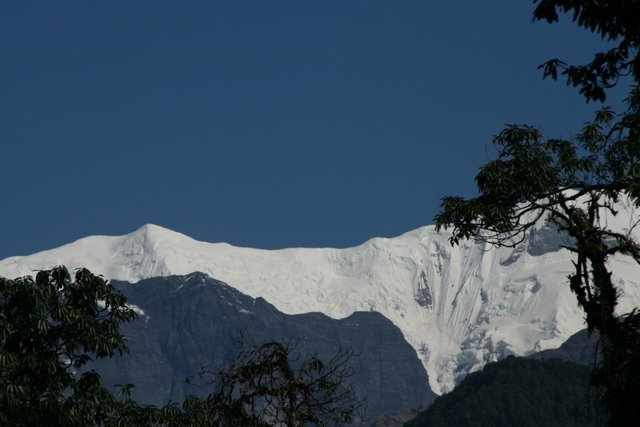 ---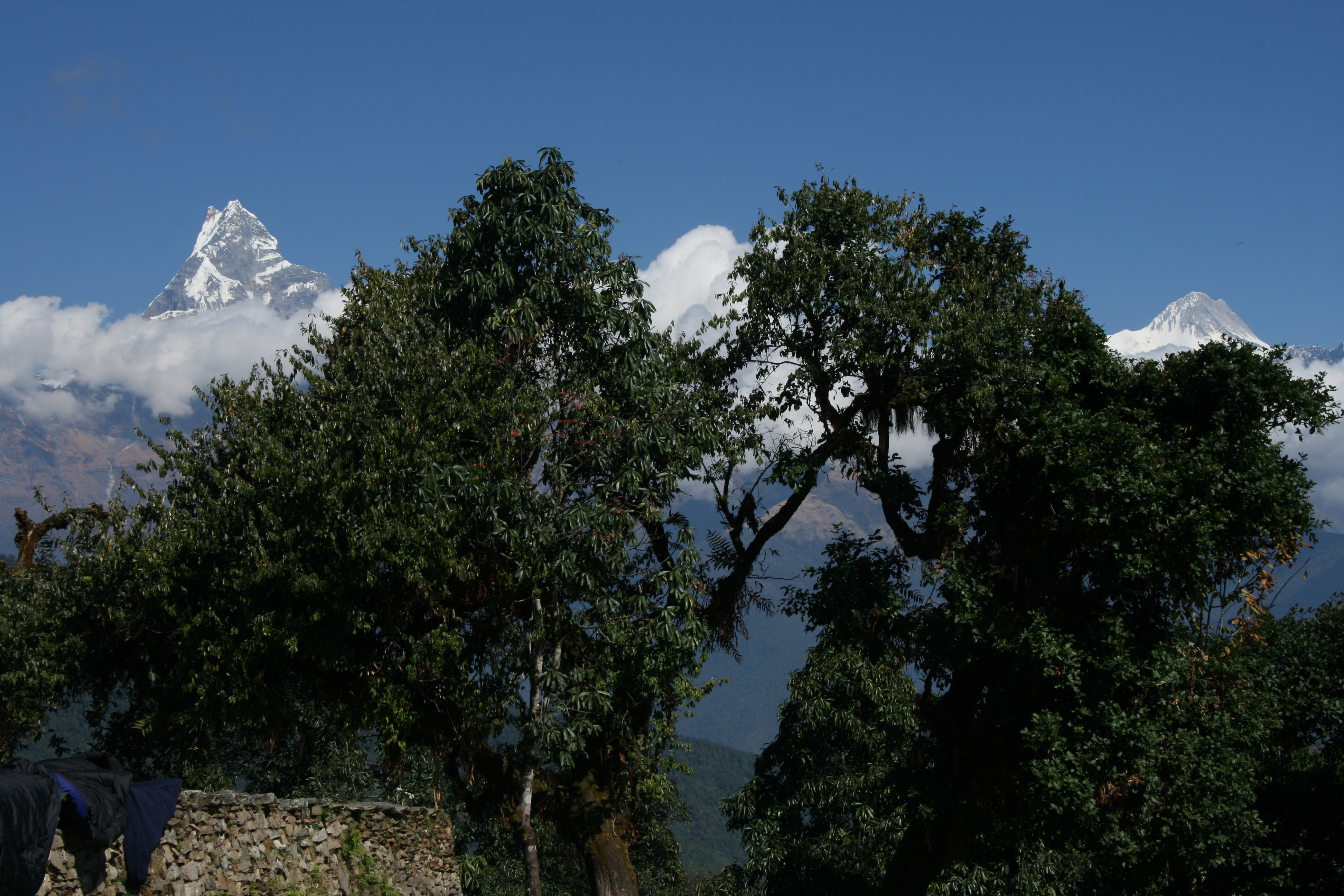 ---
Three bee colonies of the species Apis laboriosa which is with a size of up to 30 mm the biggest honey bee worldwide. The colonies are building free-hanging honeycombs whose diameters can exceed one meter.
In attacks, for example of hornets, it shows an interesting defense behavior: wave-like movements are running over the honeycomb, whereby worker bees put their bodies perpendicular to the honeycomb and then lower it again immediately - a kind of lightning-like Mexican wave.

In this rock wall are living altogether 18 bee colonies, about half of it are harvested. In Landruk this type of honey harvest has been practiced for 300 years, whereby the number of bee colonies is remaining stable, and the bee population isn't endangered. The bees are just before their annual migration to the south, they wouldn't survive the Himalayan winter.

Drei Bienenvölker der Art Apis laboriosa, der mit bis zu 30 mm größten Honigbienenart der Welt. Die Völker bauen frei hängende Waben, deren Durchmesser einen Meter überschreiten kann.
Bei Angriffen, z. B. von Hornissen, zeigt sie ein interessantes Abwehrverhalten: wellenförmige Bewegungen laufen über die Wabe, wobei Arbeiterinnen ihre Körper senkrecht zur Wabe stellen und sie dann sofort wieder senken - eine Art blitzartiger La-Ola-Welle.

In dieser Felswand leben insgesamt 18 Bienenvölker, etwa die Hälfte davon wird abgeerntet. In Landruk wird diese Art der Honigernte seit 300 Jahren ausgeübt, wobei die Völkerzahlen stabil bleiben, der Bienenbestand ist nicht bedroht. Die Völker stehen unmittelbar von ihrer jährlichen Wanderung in den Süden, den Himalayawinter würden sie nicht überleben.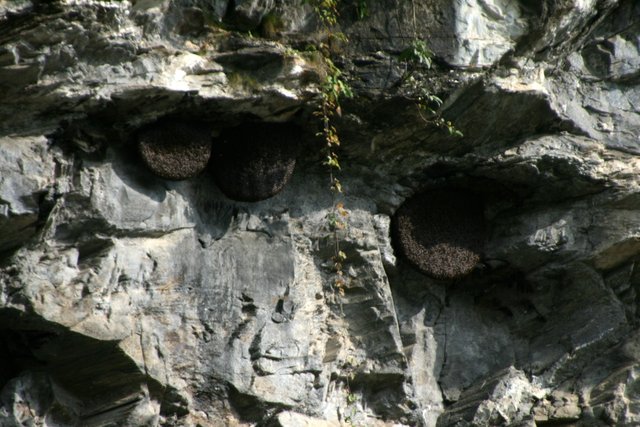 ---
| | |
| --- | --- |
| That the villagers have attached traditional bee houses directly above the entrance of a toilet shows how fearless they are. :) | Dass die Dorfbewohner sogar direkt über dem Eingang einer Toilette traditionelle Bienenbehausungen angebracht haben, zeugt von ihrer Furchtlosigkeit. :) |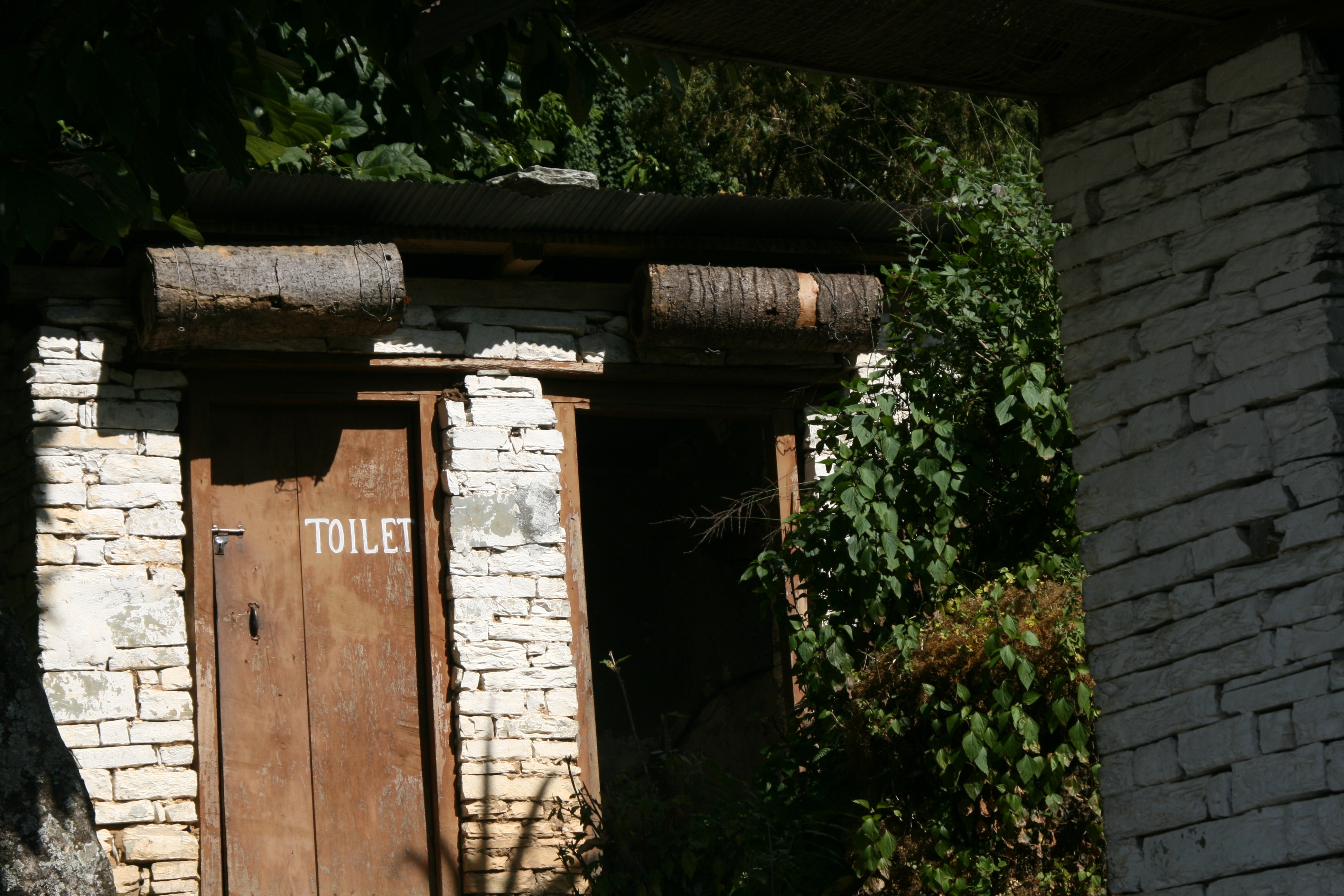 ---
| | |
| --- | --- |
| These are the ladders used to collect honey in the mountains. They are made supple by soaking in the river, then checked very carefully and patched with bamboo strips if necessary. The life of the man who climbs into the rock for harvest depends on them. | Das sind die zum Honigsammeln in den Bergen verwendeten Leitern. Sie werden durch Einweichen im Fluss geschmeidig gemacht, dann sehr sorgfältig geprüft und mit Bambusstreifen soweit nötig ausgebessert. Das Leben des Mannes, der zur Ernte in den Fels steigt, hängt von ihnen ab. |
---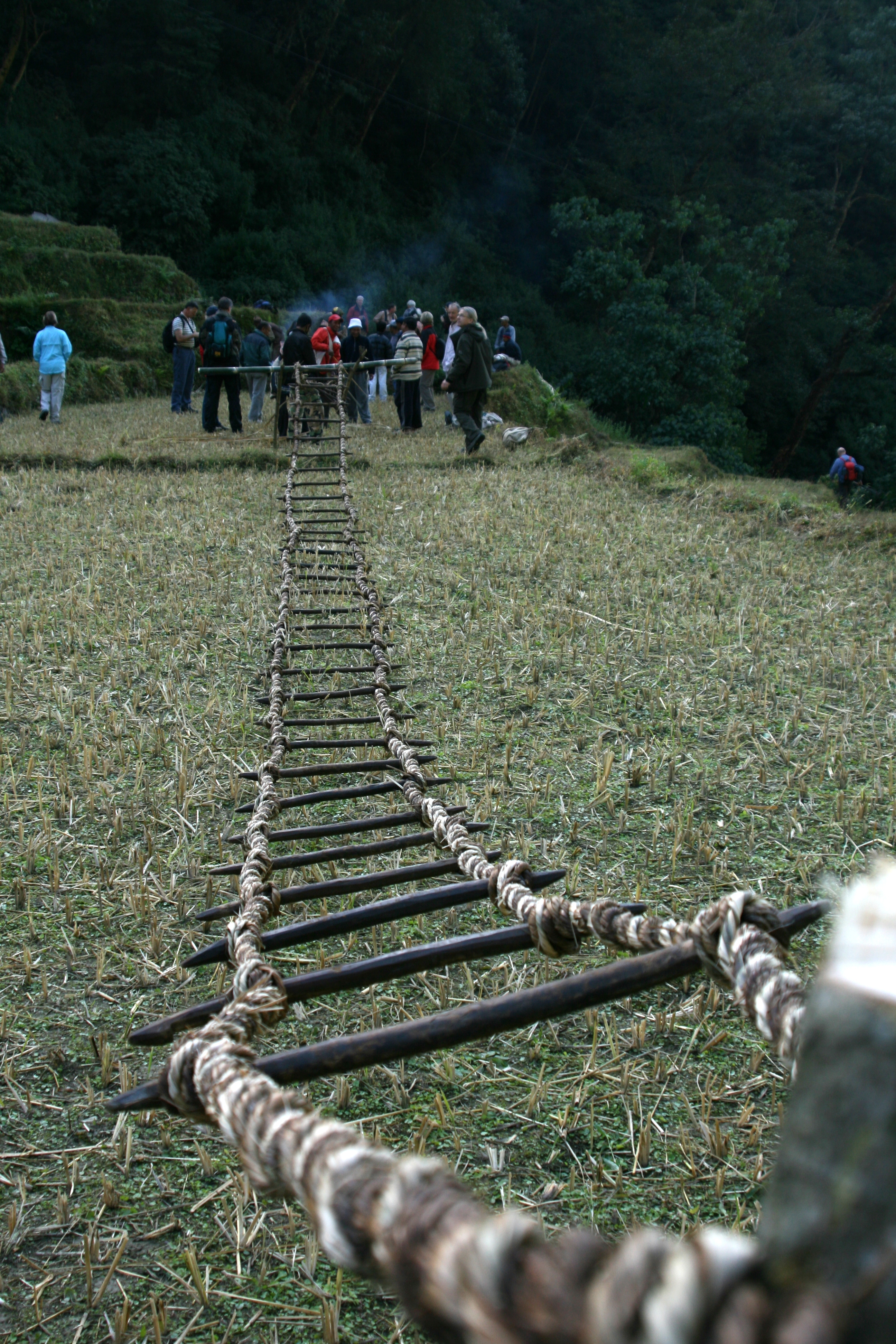 ---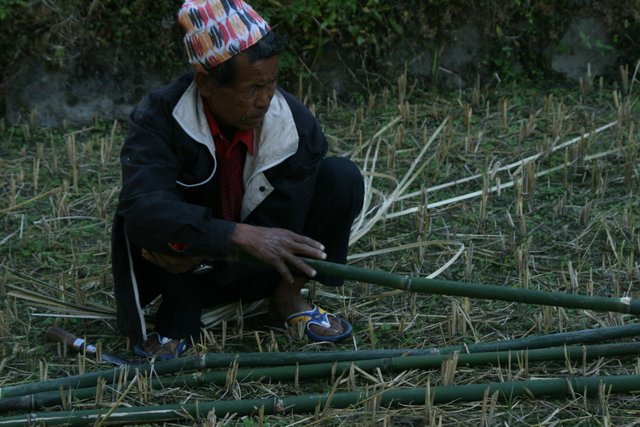 ---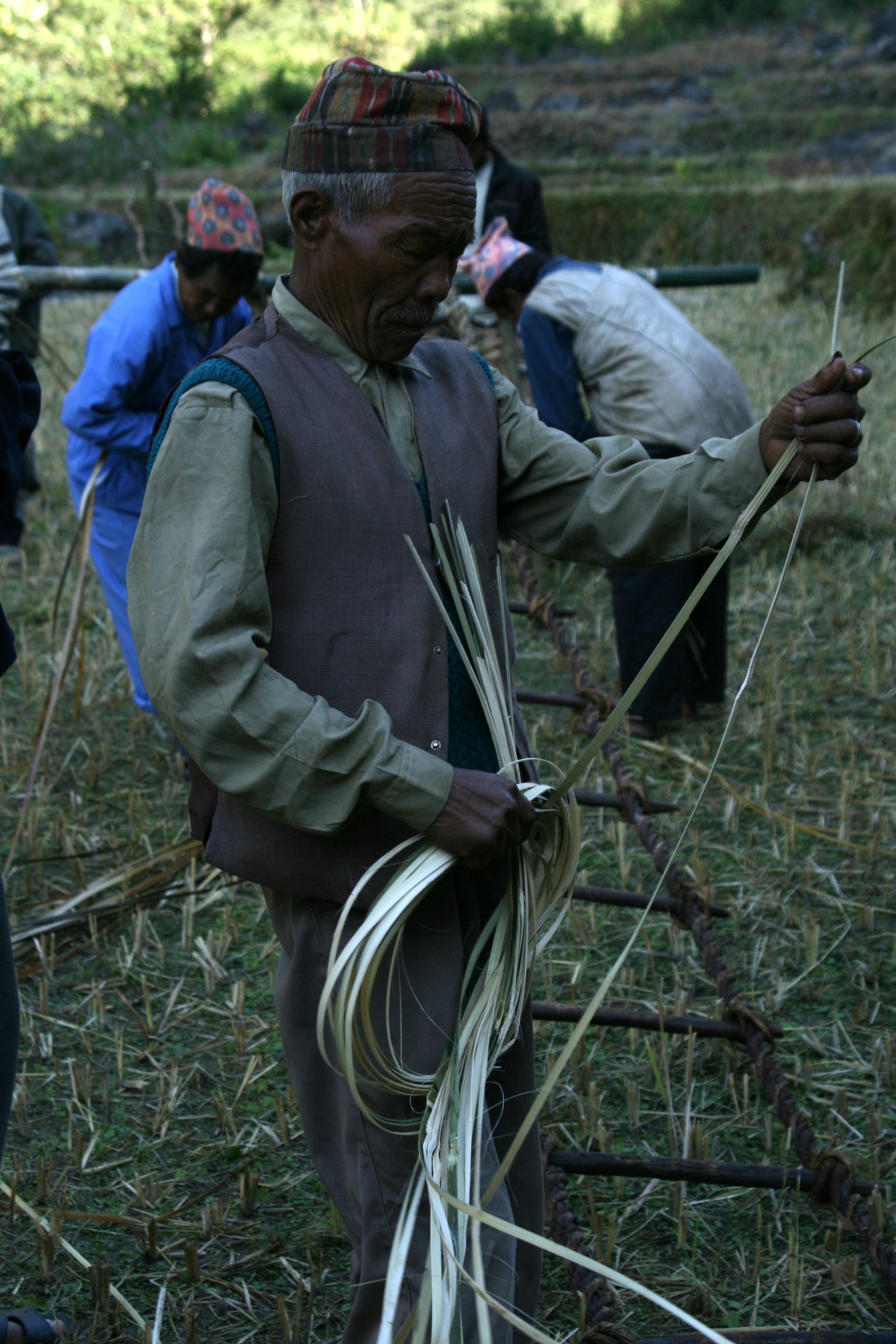 ---
| | |
| --- | --- |
| | |
---
| | |
| --- | --- |
| Nobody starts the dangerous enterprise without the blessing of the village priest. With the offering (round flat bread, rice, barley, flowers, fruits) gods and demons are appeased (this custom is a mixture of Buddhist and Hindu elements). Then he blesses the hunters by painting a spot of cinnabar on their foreheads - and any eventual observers with them. :) | Niemand startet in die gefährliche Unternehmung ohne den Segen des Dorfpriesters. Mit der Opfergabe (Fladen, Reis, Gerste, Blüten, Früchte) werden Götter und Dämonen besänftigt (es handelt sich bei diesem Brauch um eine Mischung buddhistischer und hinduistischer Elemente). Dann segnet er die Jäger, indem er ihnen einen Flecken Zinnober auf die Stirn malt - und etwaige Beobachter gleich mit. :) |
| | |
---
| | |
| --- | --- |
| My father with the red vermilion spot on his forehead. | Mein Vater mit dem roten Zinnoberfleck auf der Stirn. |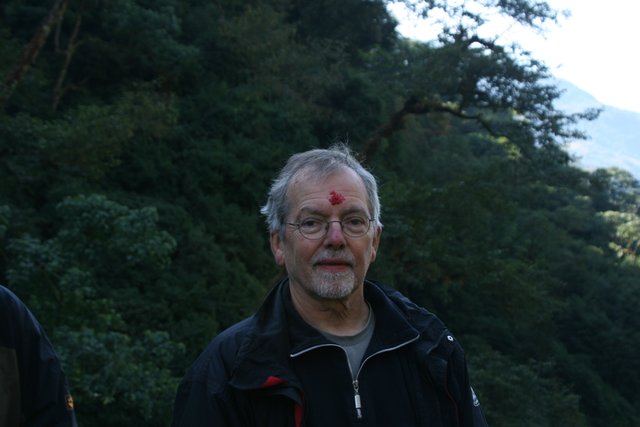 ---
| | |
| --- | --- |
| At the foot of the rock smoke is produced which serves to drive the bees away from their honeycombs. | Am Fuße des Felsens wird Rauch erzeugt, der dazu dient, die Bienen von ihren Waben zu vertreiben. |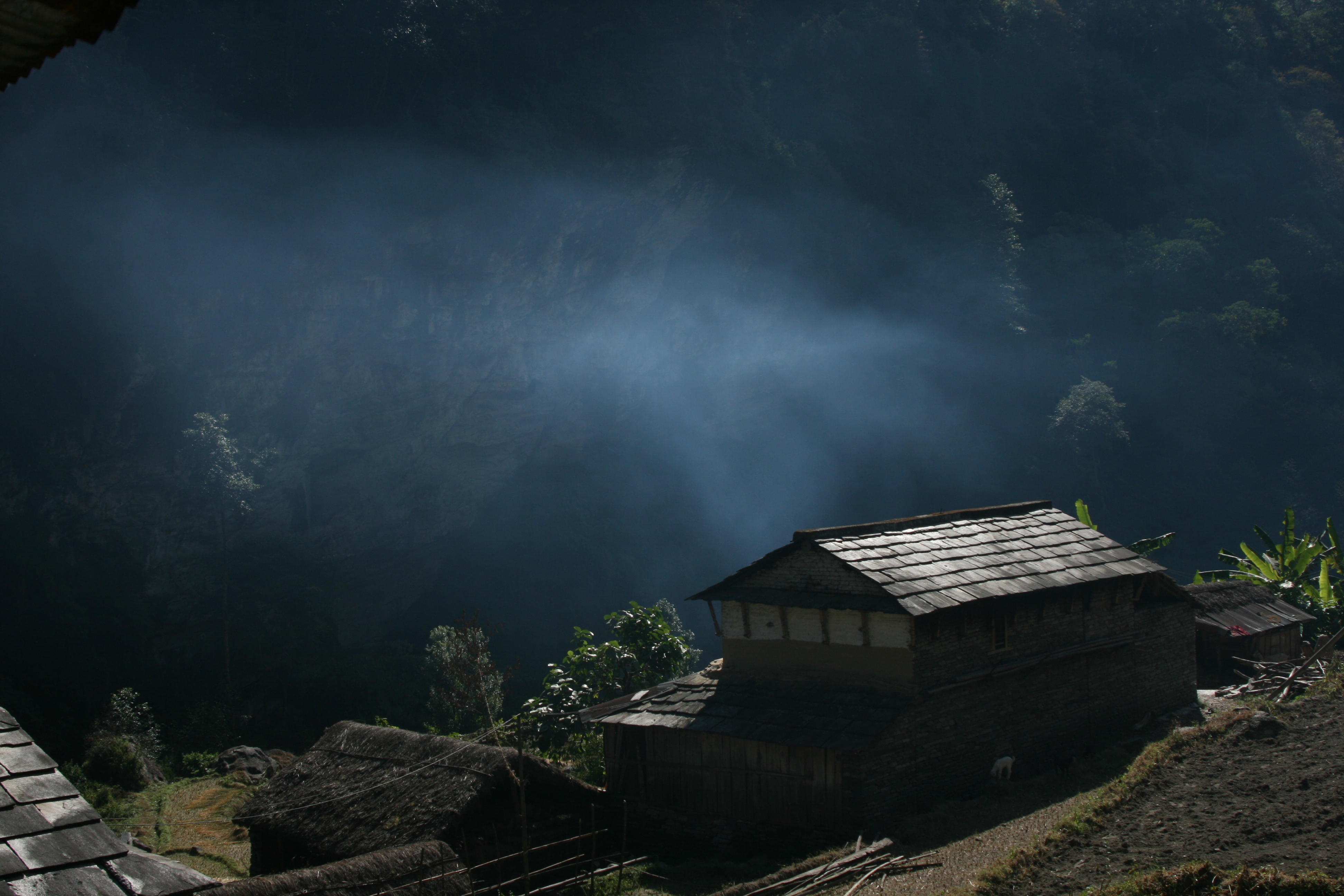 ---
| | |
| --- | --- |
| Hunters and observers wear protective clothing against the bees on alert. | Jäger und Beobachter tragen Schutzkleidung gegen die sich in Alarmbereitschaft befindlichen Bienen. |
| | |
---
| | |
| --- | --- |
| The ladder is lowered. | Die Leiter wird herabgelassen. |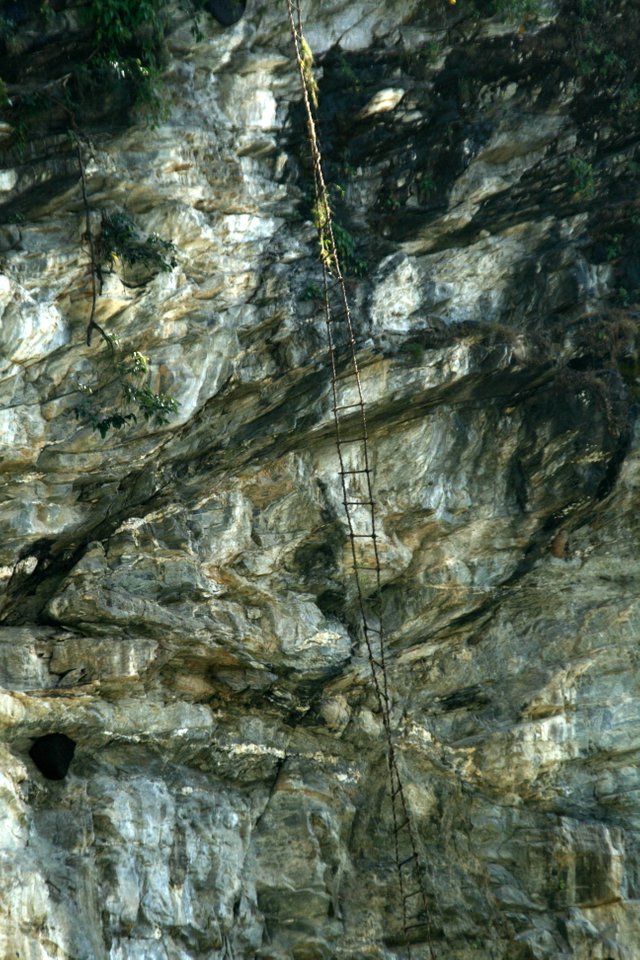 ---
---
| | |
| --- | --- |
| A smoking plant tuft is lowered and then swung under the honeycomb. Due to the smoke the honeycomb is very quickly bee-free. | Ein rauchendes Pflanzenbüschel wird herabgesenkt und sodann unter der Wabe geschwenkt. Durch den Rauch ist die Wabe sehr rasch bienenfrei. |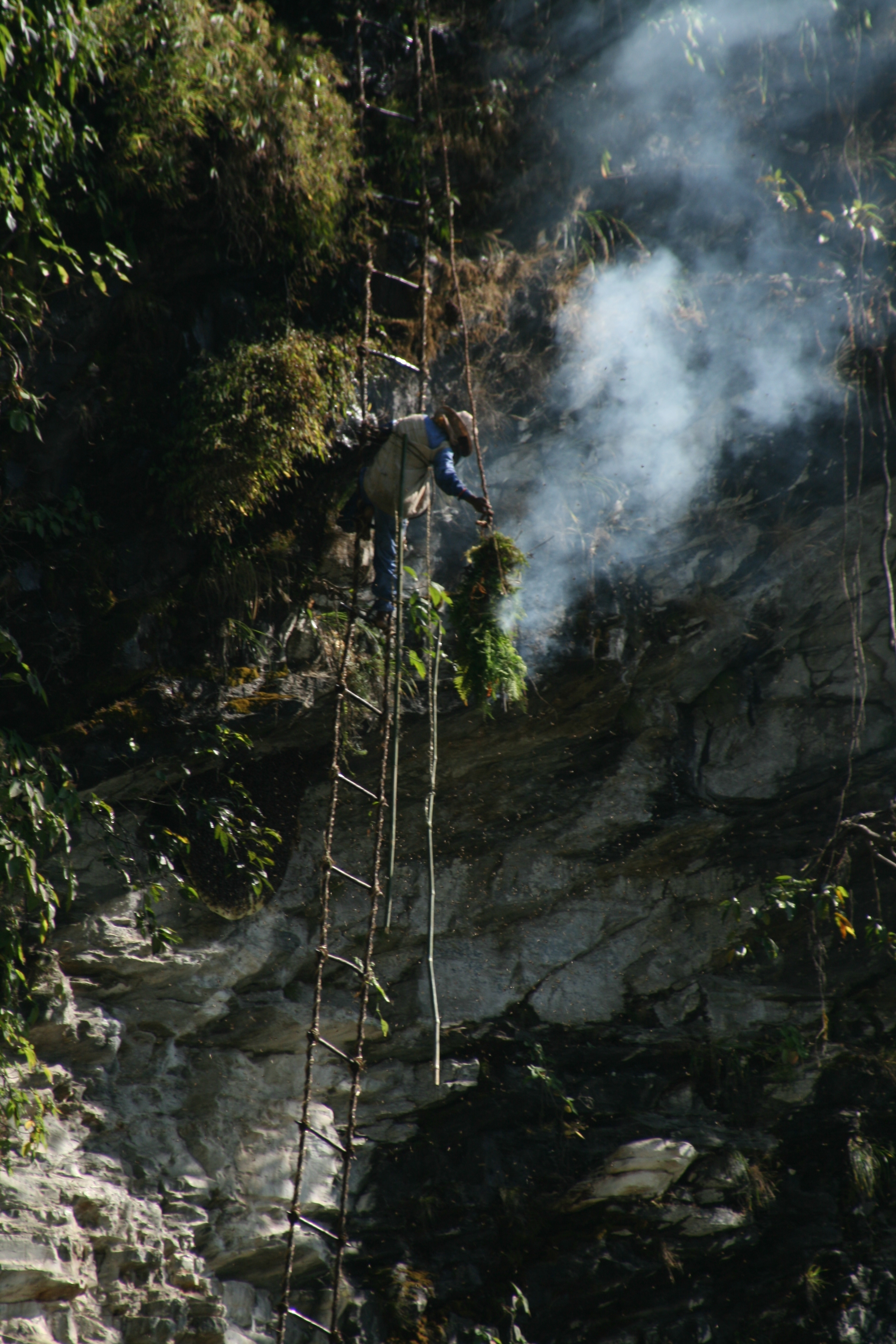 ---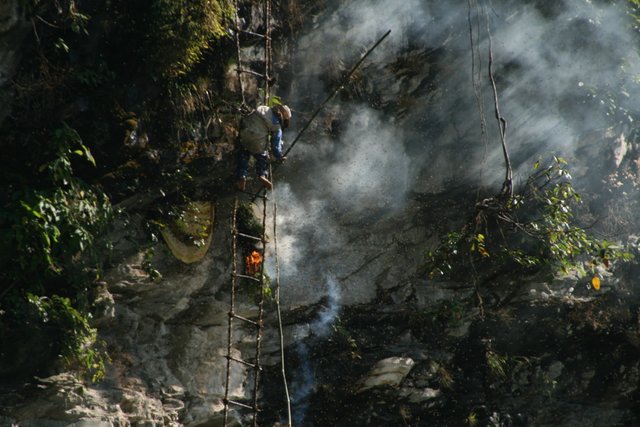 ---
| | |
| --- | --- |
| The bee-free honeycomb is punctured in two places, and two small crossbars, on which safety ropes are fastened, are inserted - now the honeycomb is secured. With a bamboo stick a broken edge is stung, and on demand the men above pull up the honeycomb. | Die bienenfreie Wabe wird an zwei Stellen durchbohrt, und zwei kleine Querhölzer, an denen Sicherungsstricke befestigt sind, werden eingeführt, so dass sie fixiert ist. Mit einem Bambusstab wird eine Bruchkante gestochen und auf Zuruf ziehen die Männer oben die Wabe hoch. |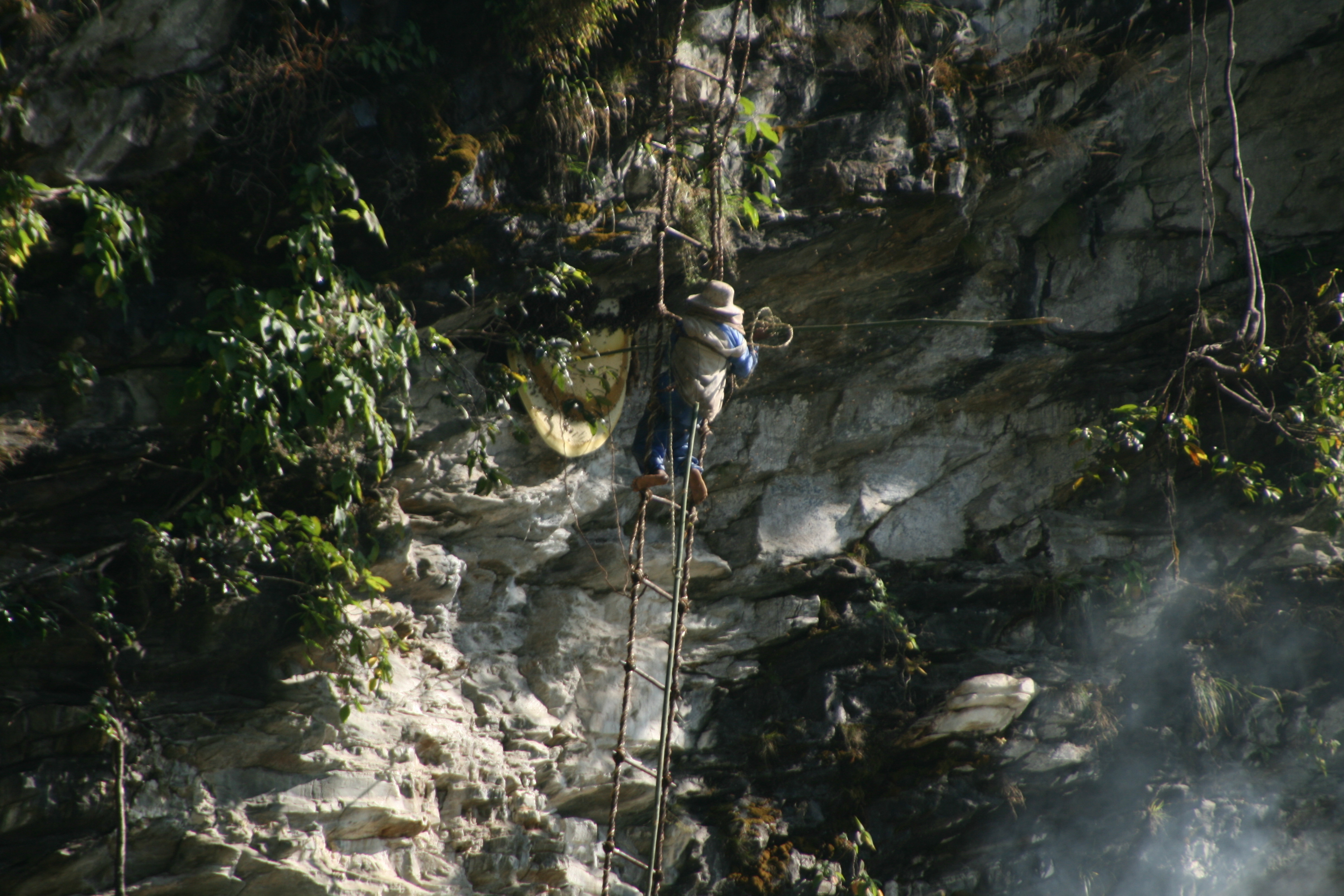 ---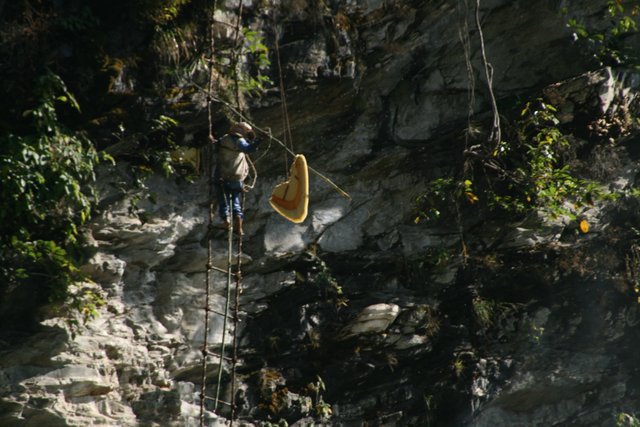 ---
| | |
| --- | --- |
| The second honey hunter, same procedure ... | Der zweite Honigjäger, selbe Prozedur ... |
---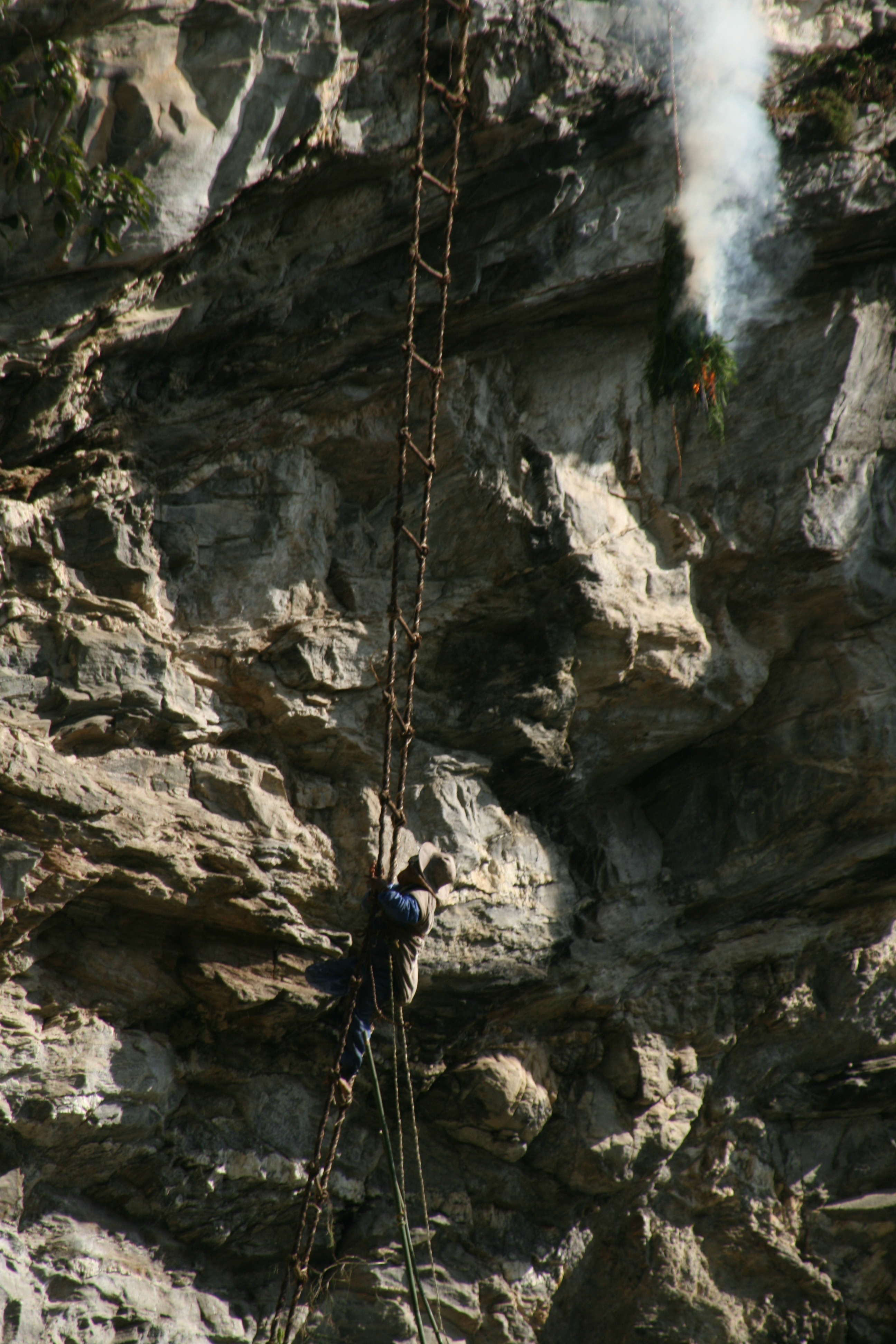 ---
---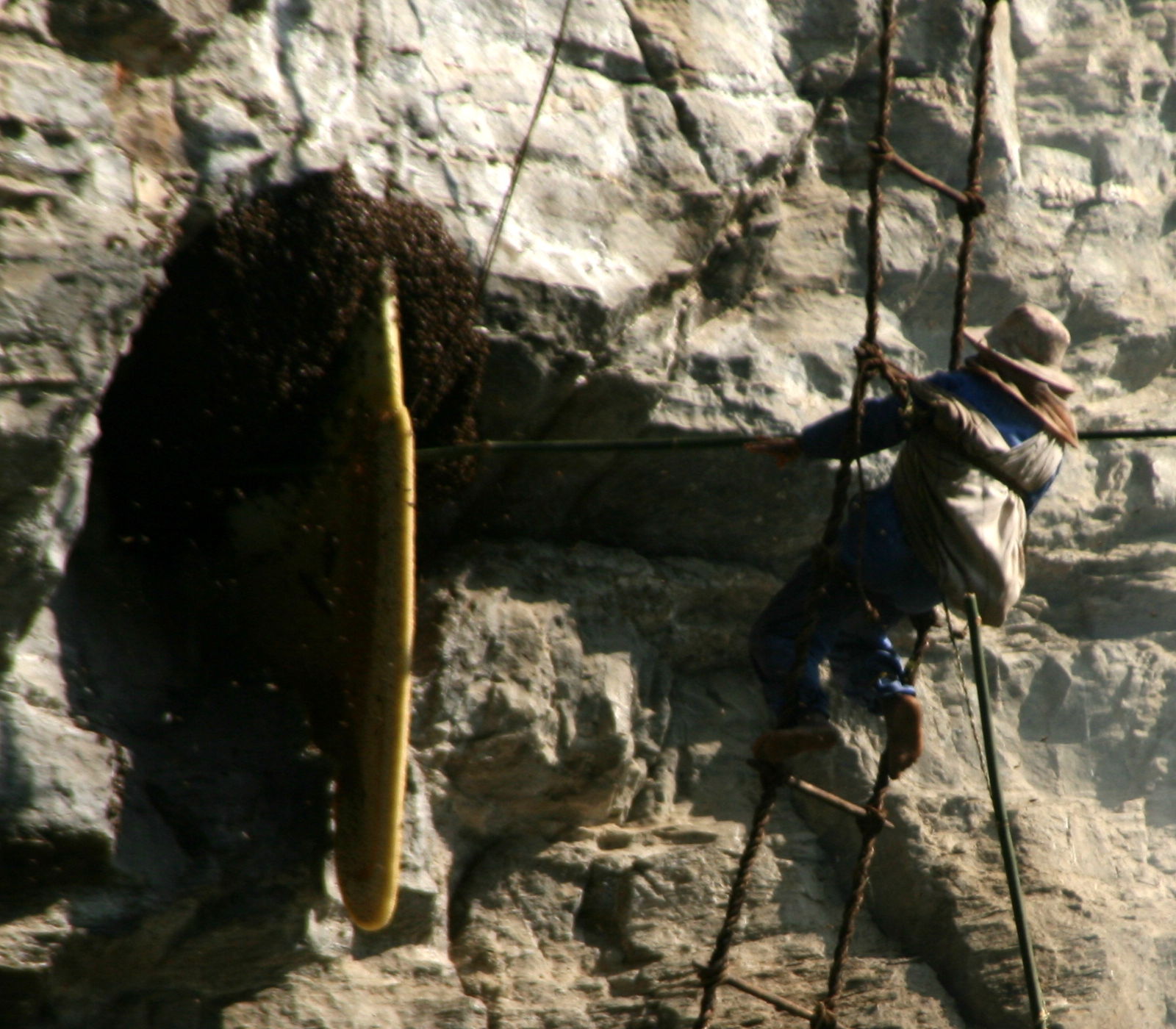 ---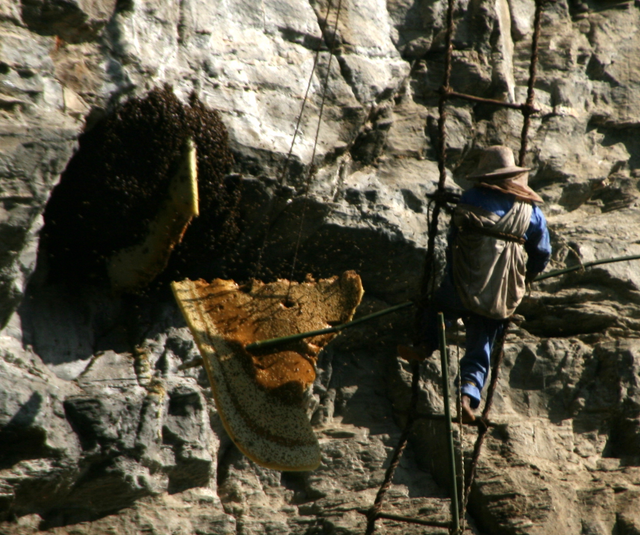 ---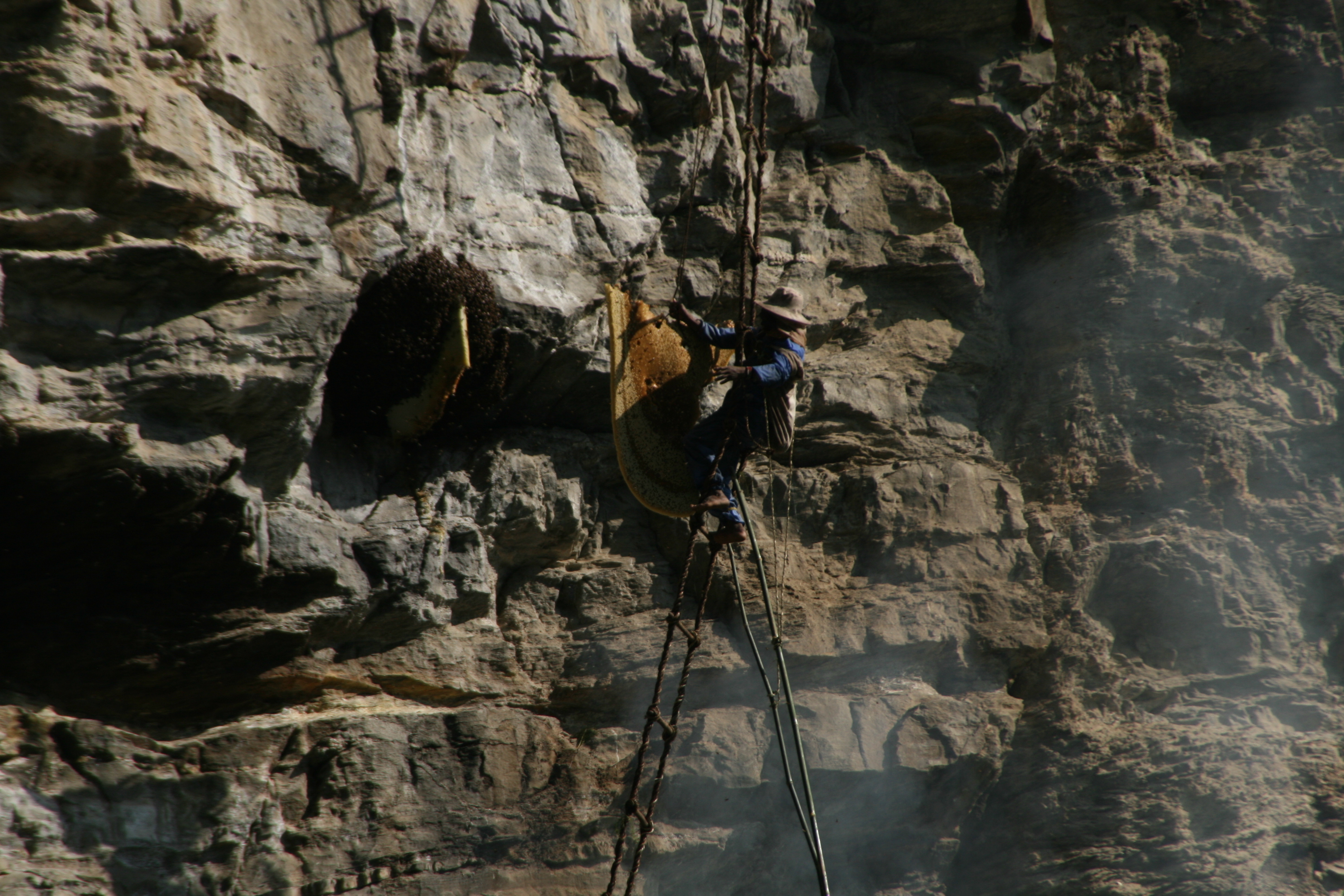 ---
| | |
| --- | --- |
| Lastly, one sees how the hunter uses one stick to push a basket under the honeycomb residue and the other stick to scrape it from the rock. Finally, the full basket is pulled up. | Zuletzt sieht man, wie der Jäger mit dem einen Stab einen Korb unter den Wabenrest schiebt und ihn mit dem anderen Stab vom Felsen kratzt. Danach wird der volle Korb hochgezogen. |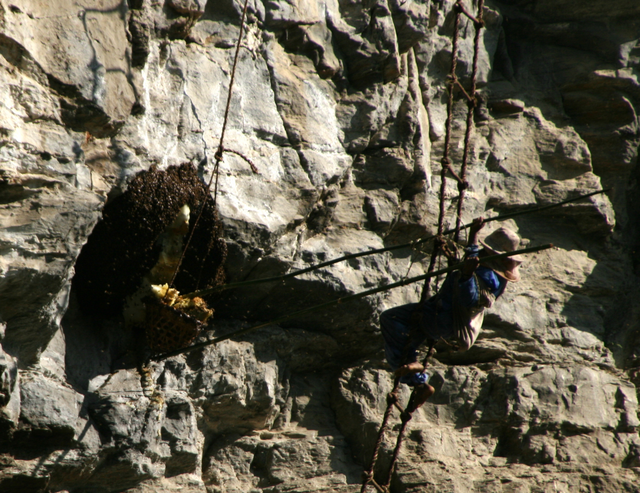 ---
| | |
| --- | --- |
| On the left: one of the harvesters. On the right: Nakkal Gurung, bee hunter for 35 years. | Links: Einer der Erntenden. Rechts: Nakkal Gurung, Bienenjäger seit 35 Jahren. |
| | |
---
| | |
| --- | --- |
| Enlarged pictures of the bees and their honeycomb: | Vergrößerte Bilder der Bienen und ihrer Wabe: |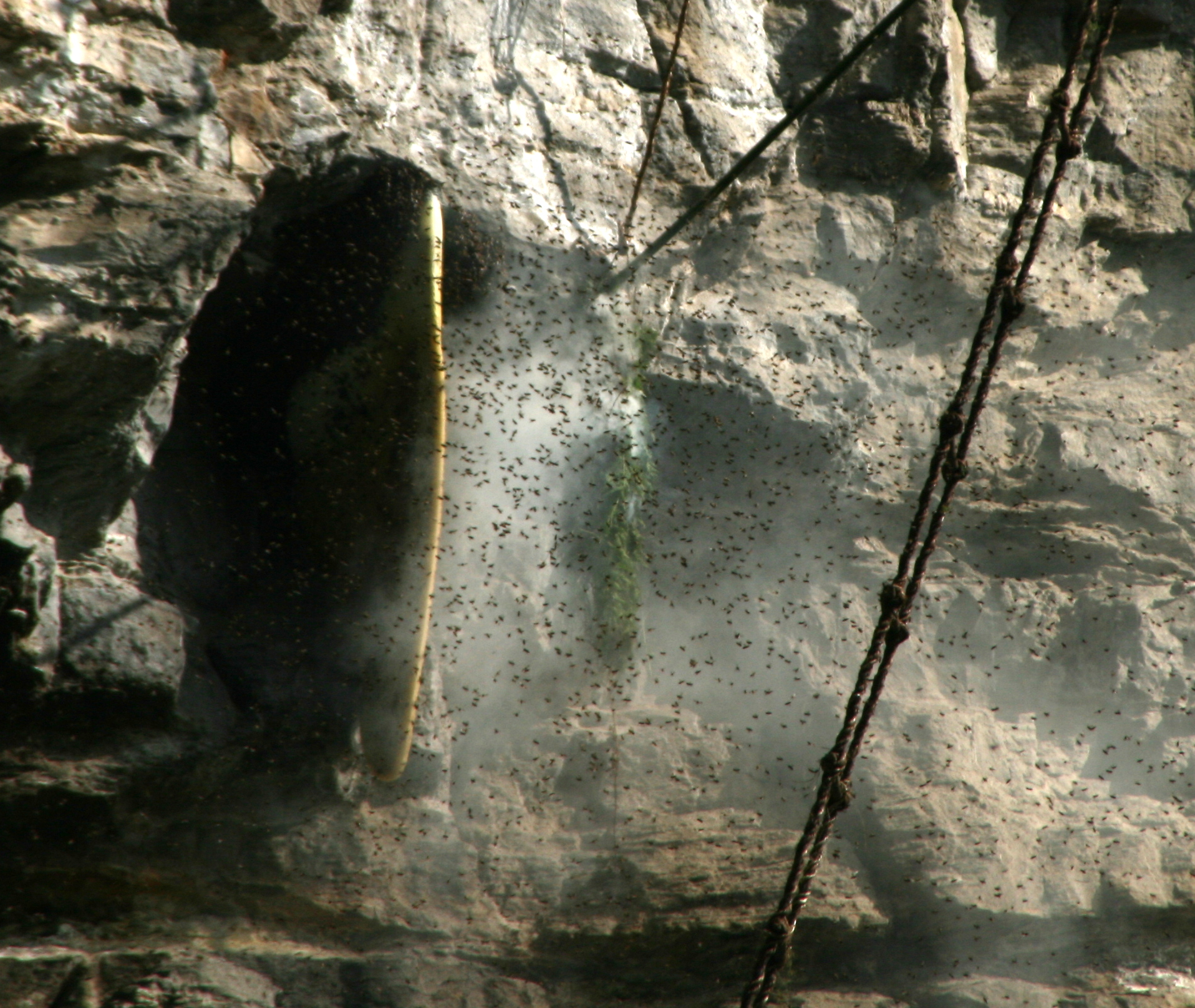 ---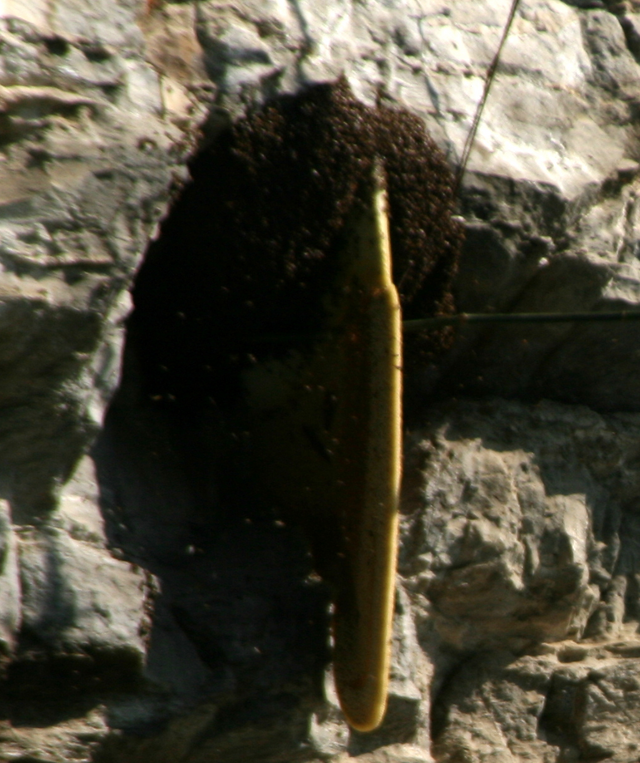 ---