In just a few days time a bunch of you are going to be descending upon Thailand and for a lot of you this might be a very different experience than you are accustomed to... and that is part of the idea right? When i first moved here I wasn't terribly accustomed to lizards of any sort other than the few weirdo friends I knew that insisted on having very strange pets like Iguanas. So when I started seeing them in my day-to-day life, I was a little freaked out.
I'm here to tell you that you don't need to be. Embrace them (well, not literally because you won't be able to catch 'em.)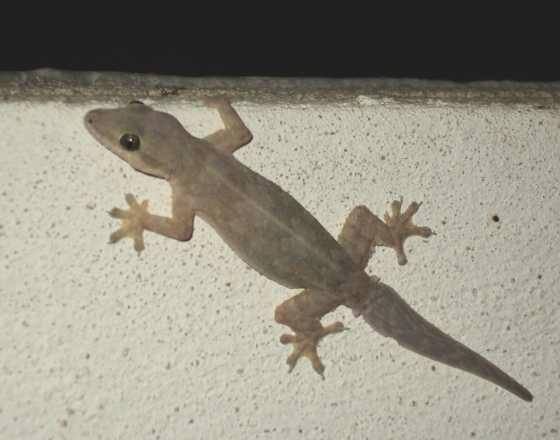 source
This first little guy is called a "Jing Jok" and you are extremely likely to encounter them anywhere in Thailand, even on the walls of your semi-posh hotel room in Bangkok. Their torso is about half the size of your little finger and they have a tail that can extend at least as long as the rest of their bodies.
I am not sure what these are called in English but I think they are related at least a bit to Anoles, which are indiginous to many parts of the world including in the South East of USA.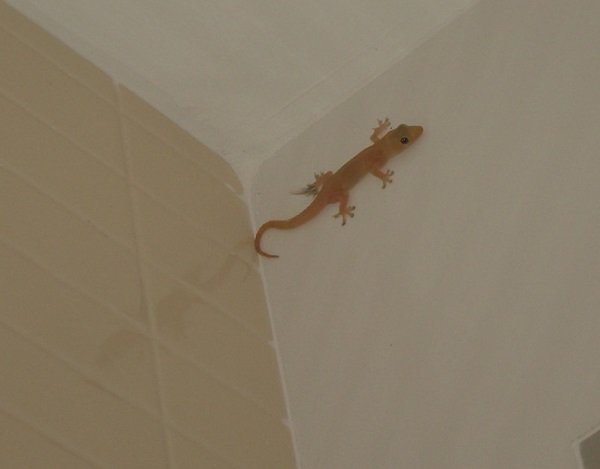 source
They tend to hang out up high in rooms or near light sources because this is where they get their food (bugs.) If you see one in your room in Thailand don't alert hotel management... there is nothing they can do about it other than kill it and since these guys eat mosquitoes as well as other flying pests i prefer to have them around. Mosquitoes are responsible for more than a million deaths annually, whereas"jing jokes" are responsible for exactly zero.
---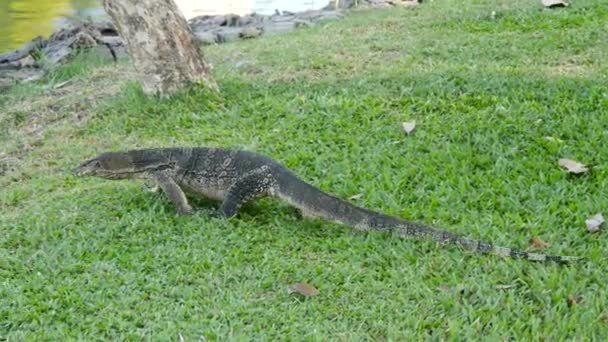 source
In Lumpini Park it is possible to see Bangkok's prehistoric beasts. This was not intended to be an attraction of the park, but seeing as how almost all the rest of Bangkok is made of cement, they didn't exactly have much other place to go.
Unlike our previous lizard buddy on this list, a monitor lizard is very capable of hurting you... however, they will only choose to do so if you leave them no choice. They will run away if you approach them but I wouldn't test this theory if I were you. They have very strong jaws and a whip from their tail will send even the most aggressive street dog running. However, they don't really kill anything and tend to eat dead fish or turtles, which are also residents of the lake in Lumpini park.
The Thai word for this lizard is "Hia", which is also a slang word that means pretty much the worst thing you can say in Thai, so maybe just refer to them as lizards, just to be safe. An angry misunderstanding with a Thai person is far more dangerous than a monitor lizard is.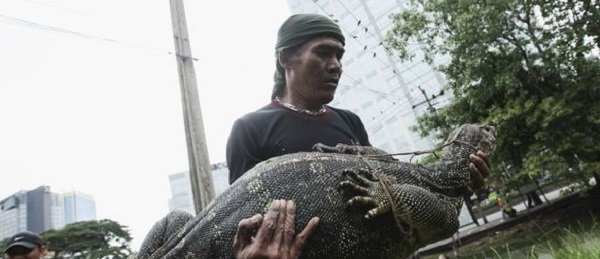 source
Recently the population was getting a little out of control at the park so rangers relocated around half of them to jungle areas outside of Bangkok. I was there a few years ago and trust me, it was necessary. This is not an enormous park and the lizard people were taking over.
---
The last member of our list is probably the most "freaky" and despite the lore surrounding it, I used to live in very close proximity to these guys on a daily basis and I have never actually known anyone that they have harmed.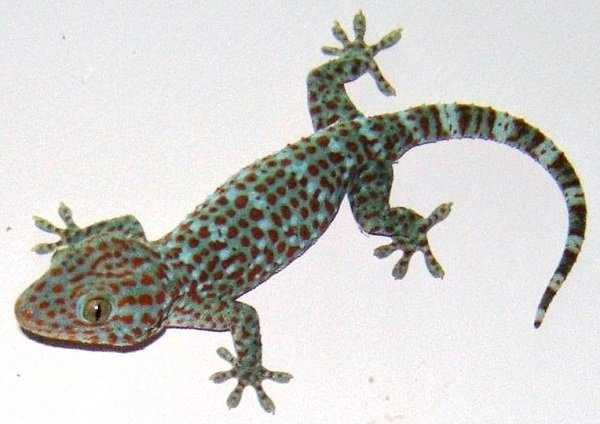 source
It is known as a "tookay" "tu kae" or something spelled like that in English (ตุ๊กแก in Thai) and there are a lot of legends surrounding this quite common and ominous creature. An adult one can get up to around the size of an adult human forearm, and that's just the body. It's a pretty scary thing to notice in the corner of your room. It is nearly impossible that you will encounter this creature in any sort of heavily populated area like Bangkok but if you travel to the islands, you will almost certainly see one somewhere.
It gets its name by the sound that it makes at night, which I can only presume is some sort of mating call. It sounds exactly like the word suggests "Took Kae!" and this is why it is known, accidentally, by basically the same name in all the different languages in the various countries that this creature lives. If you hear a took-kae call at night and the amount of times it repeats its chant is an odd number, that means good luck because odd numbers are lucky in Thailand (and no, i don't know why.)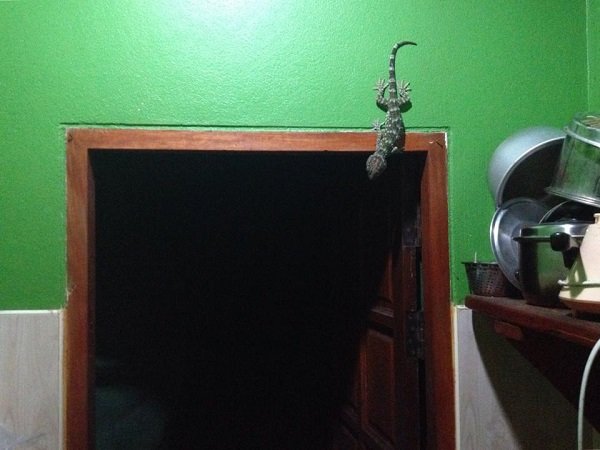 source
The main reason why this animal is feared is because it scares people. They mostly stand still until you move a picture, pot, or piece of furniture that they are hiding behind. Once, when i was moving house my friends and I picked up a book-shelf only to have me come 4-5 inches face-to-face with one of these guys. I was not happy about that and I don't think the lizard was either.
There are a lot of rumors about these guys ripping fingers off and what not but I'm gonna state that I don't believe it. I think these are merely legends meant to scare little kids. For one thing, a Took Kae doesn't want anything to do with you and secondly, their teeth are like a millimeter long.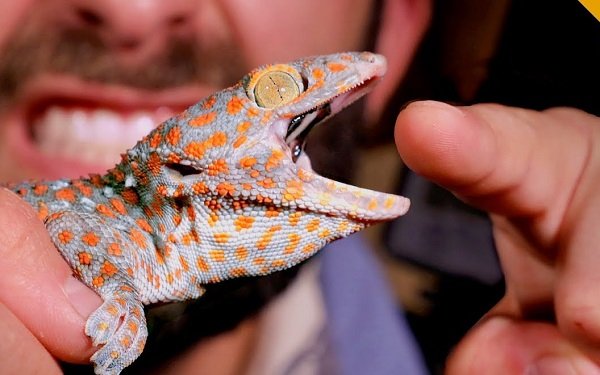 source
you're gonna have to do better than that if you wanna scare me with your teeth
They are exceptionally difficult to capture because their "magic fingers" will stick to almost anything. I've seen them gracefully walking across a polished concrete ceiling and i can't even begin to understand how that is possible.
Now if one of these guys were in my jungle bungalow, i might ask for another room but mostly because they are noisy, not because it is going to get me. When i lived in the jungle years ago they were frequent visitors to my house and unfortunately I was forced to kill one of them that refused to find a new place to live. I took no joy in that. Afterall, they do also eat insects (insects such as centipedes, which actually can kill you.)
---
So when you are in Thailand, seek these guys out. If you travel around you are almost certainly going to encounter them and honestly, there is no reason to be afraid of any of them. Take a photo and come to terms with the fact that these kinda scary-looking fellas are actually beneficial to humanity due to their never-ending hunger for mosquitoes.
Aside from their creepy eyes they pose no harm to you unless you happen to be an insect or an already dead fish.