4 Nights at the Mercure Koh Chang Hideaway Hotel!
Today I'm going to share with you photos of our stay at the Mercure Koh Chang Hideaway Hotel on Koh Chang island, Thailand. Koh Chang has many types of accommodations for all budgets and if you like to be in a more isolated area, then you will like this hotel.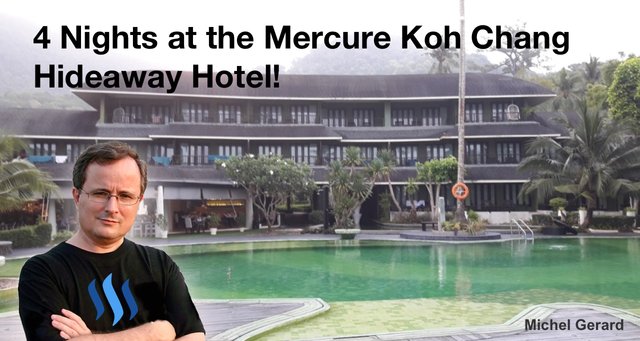 We stayed two nights at the Novotel Rayong Rim Pae Resort Hotel before that and you might be interested to read this post: Two Nights at the Novotel Rayong Rim Pae Resort Hotel
Yesterday's post was about the journey from Rayong to Koh Chang: A 5-Hour Trip from Rayong to Koh Chang!
4 Nights at the Mercure Koh Chang Hideaway Hotel!
We arrived at the hotel yesterday at around 3:00 p.m. and these are a couple of photos of the entrance.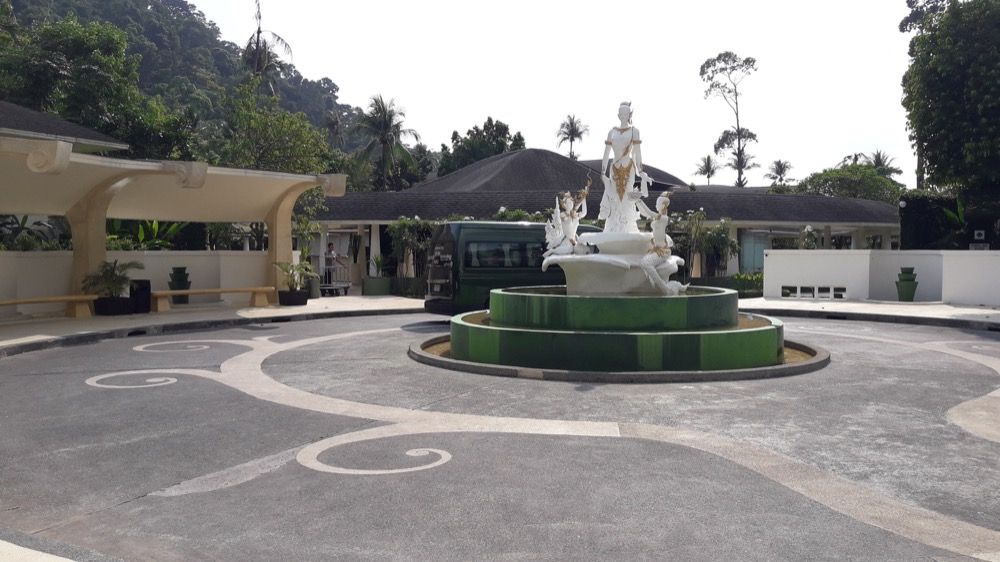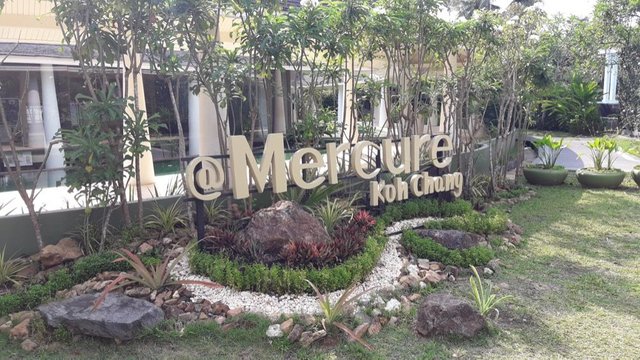 Some information about the Mercure Koh Chang Hideaway Hotel from their website.

Address:
Mercure Koh Chang Hideaway Hotel
111/1 Moo 1 Tambol, Amphur Koh Chang
Trat 23170, Koh Chang, Thailand.
Map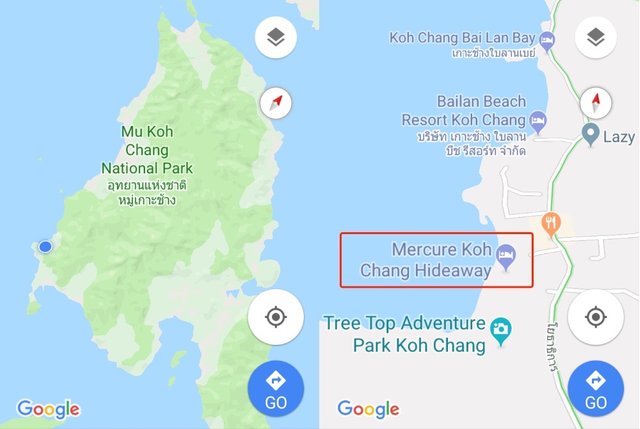 Website:
https://www.accorhotels.com/gb/hotel-8463-mercure-koh-chang-hideaway/index.shtml
All images in this post are mine, taken with my Samsung phone.
Mercure Koh Chang Hideaway Hotel
Before you can get to the hotel, it is a 25-kilometer drive on small roads with very up and down sharpe curves. It is very isolated and quiet, there are a few restaurants and a local mini-mart nearby the hotel, as well as a Police booth and ATM machine, but that's all. If you like the nightlife, this might not be the place for you.
That said, let's have a look at the lobby.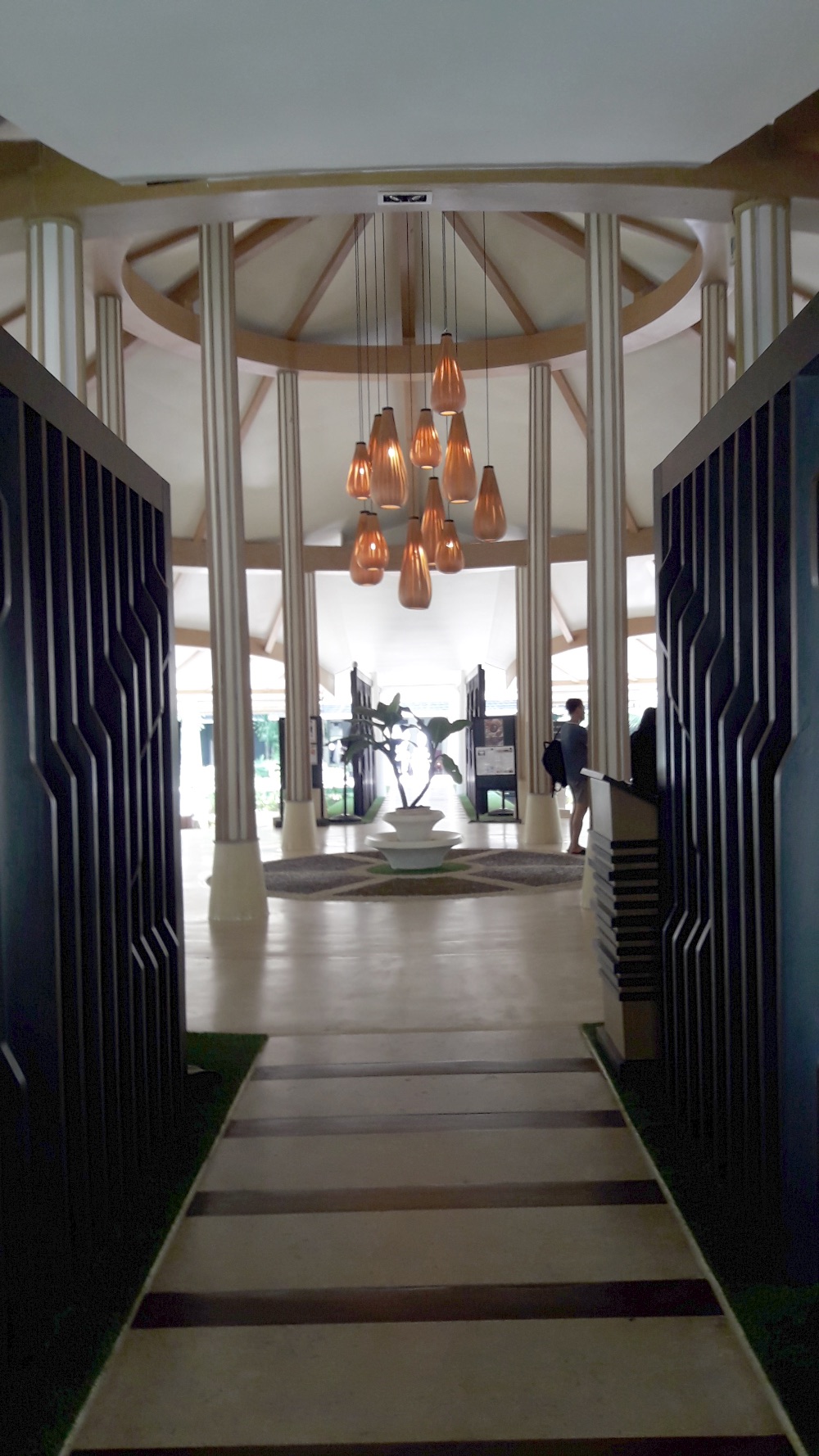 I like these lights.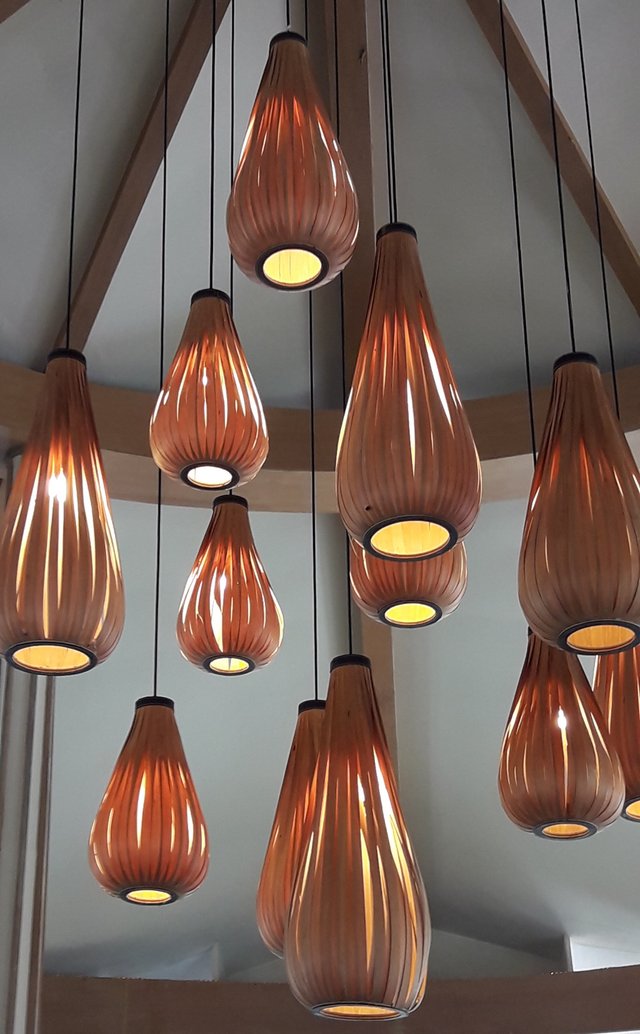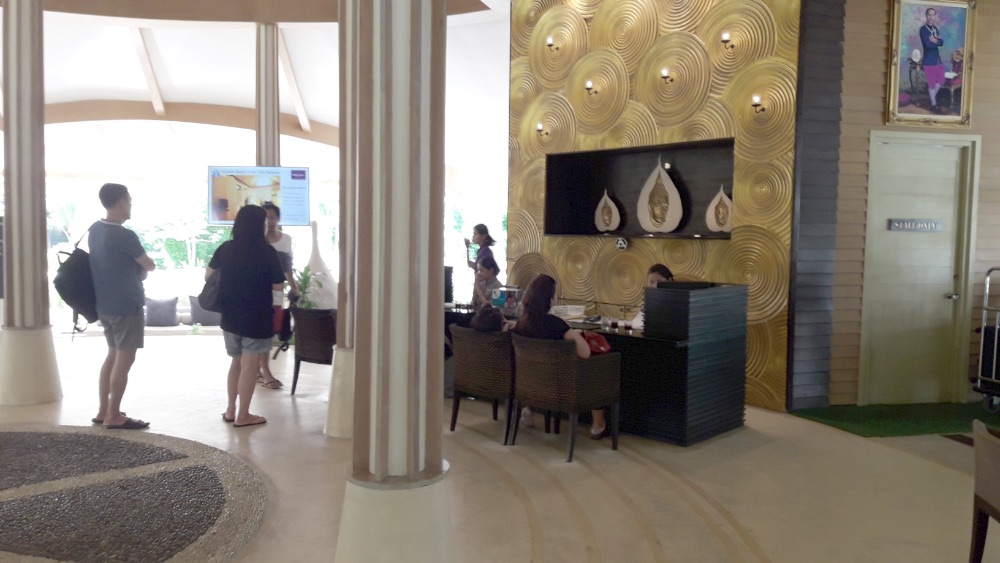 Our Pool Villa
We were supposed to stay in a Deluxe room for two nights, and then the Pool villa for another two nights, but they upgraded us and we got it for four nights.
Here are the photos.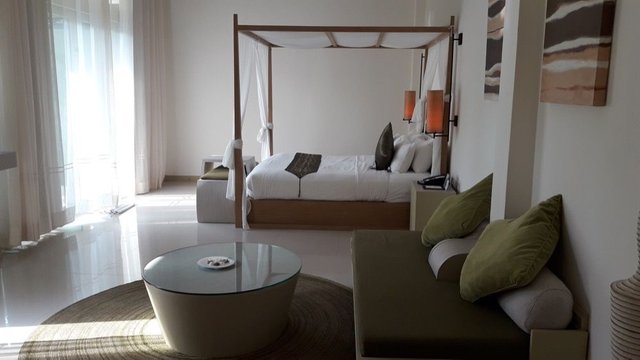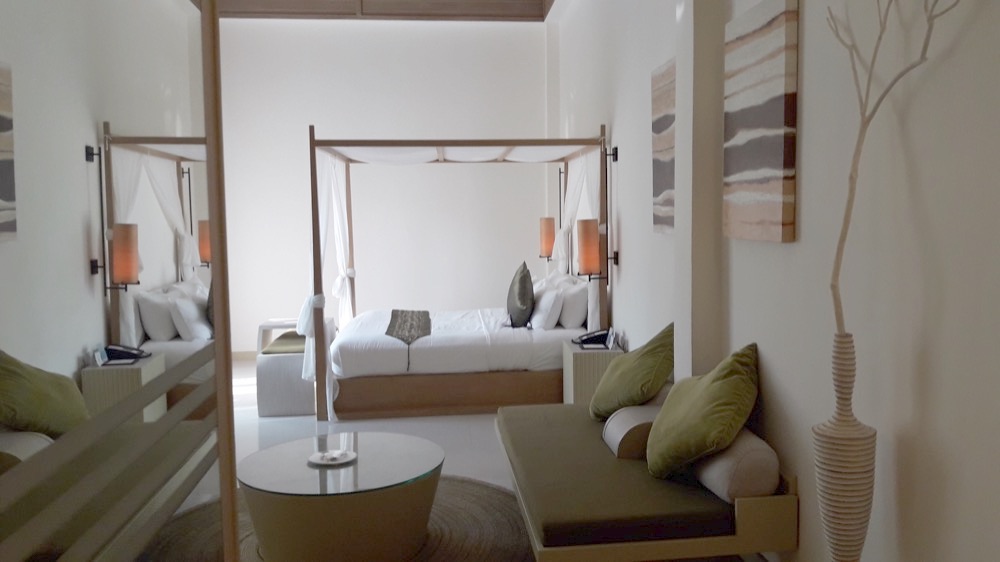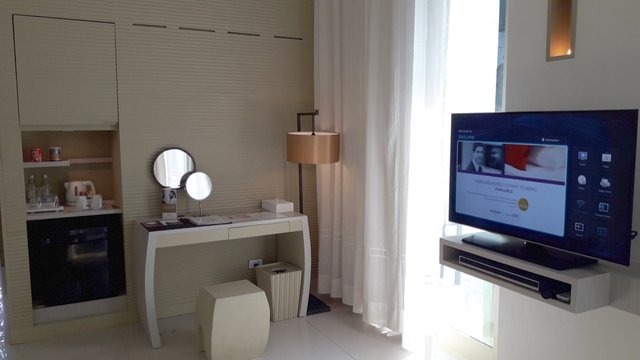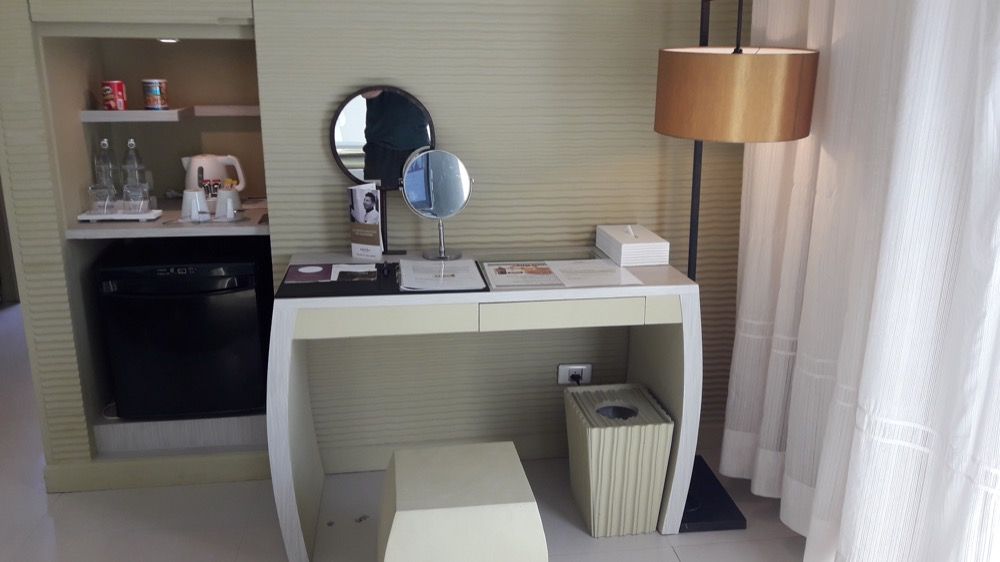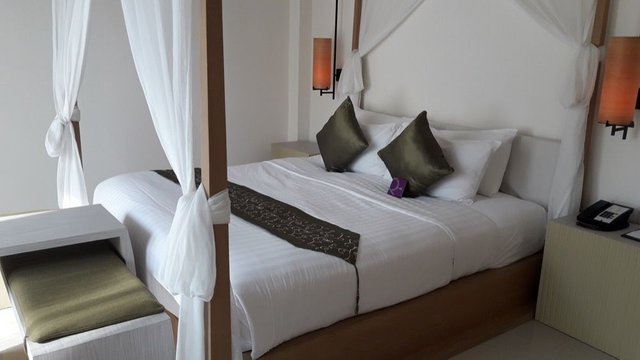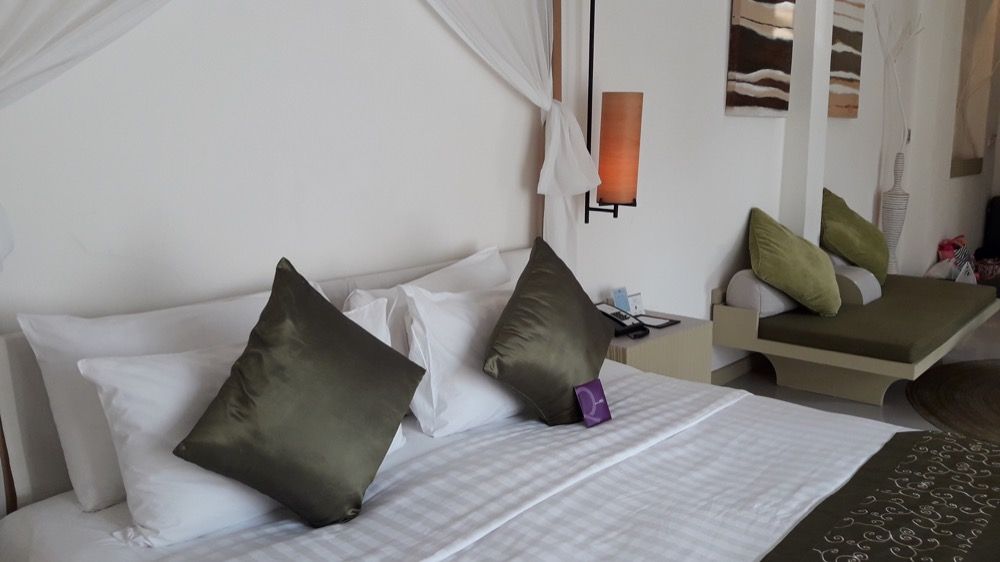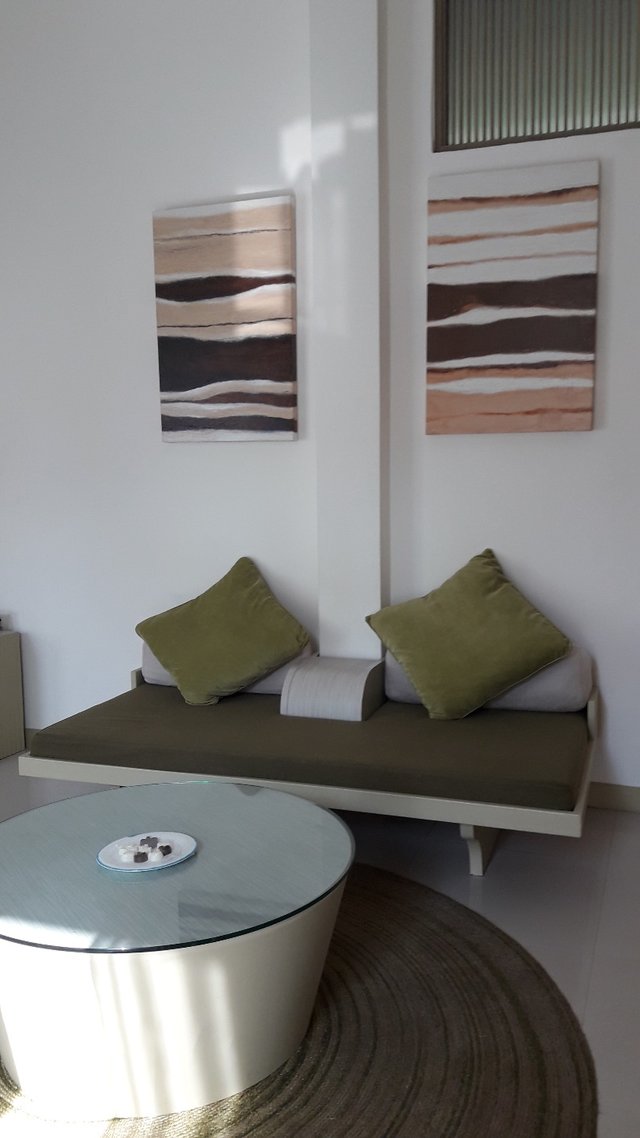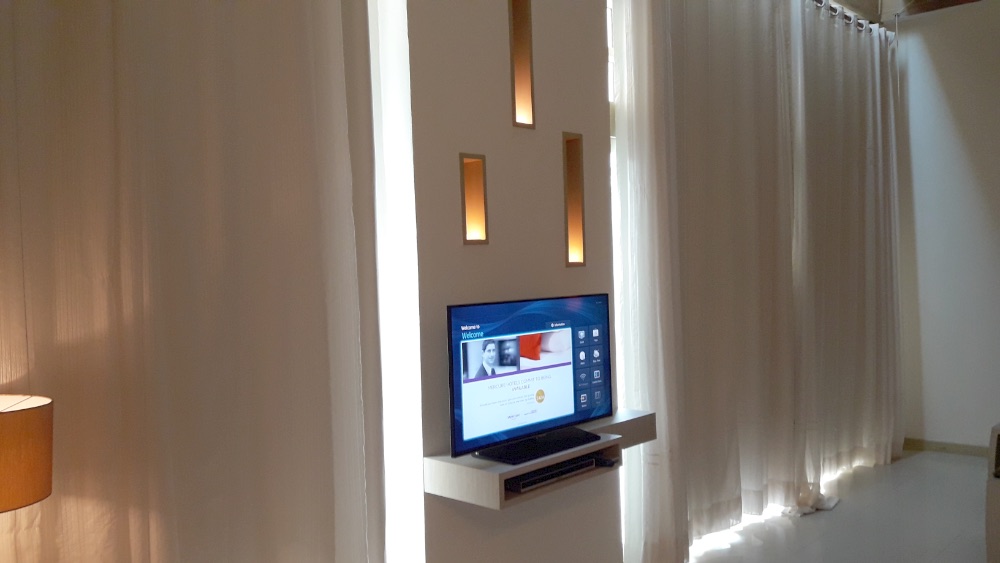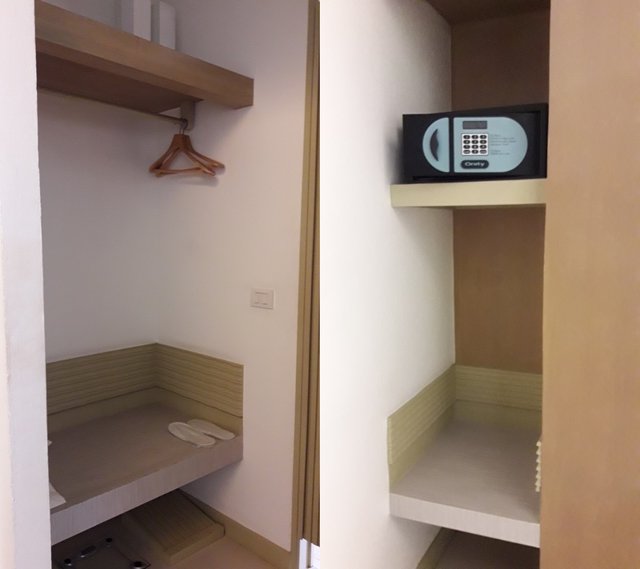 You can open the curtain and let the sun come in.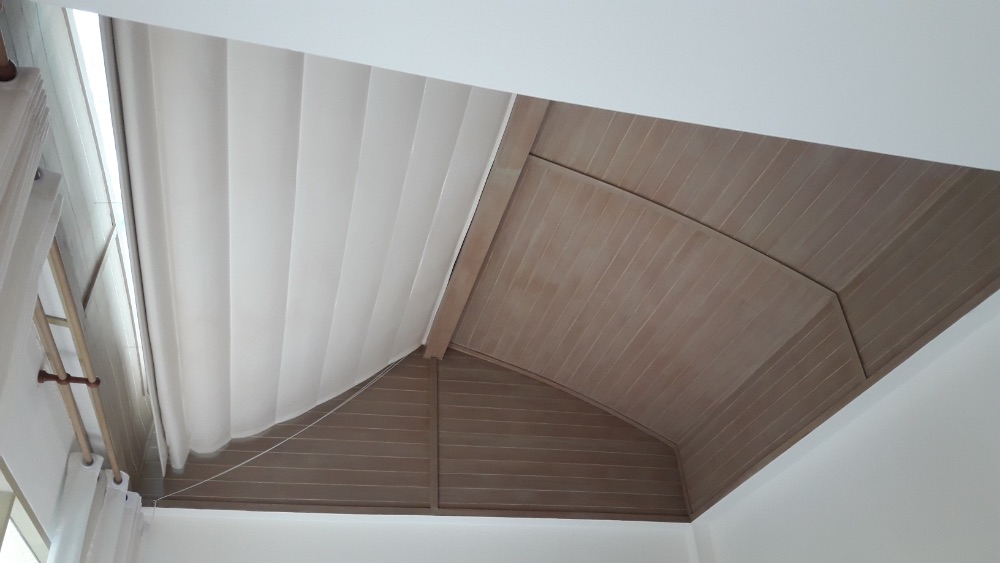 That's the private pool.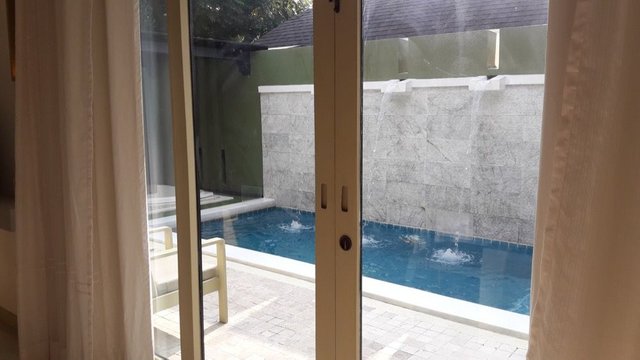 The bathroom
A huge bathroom with two sinks, a shower and a jacuzzi outside, next to the pool.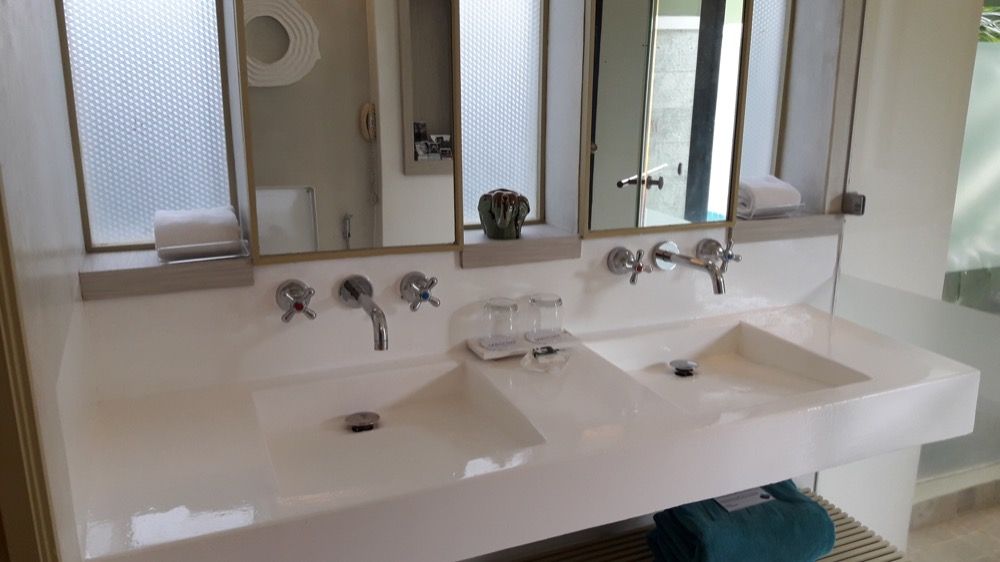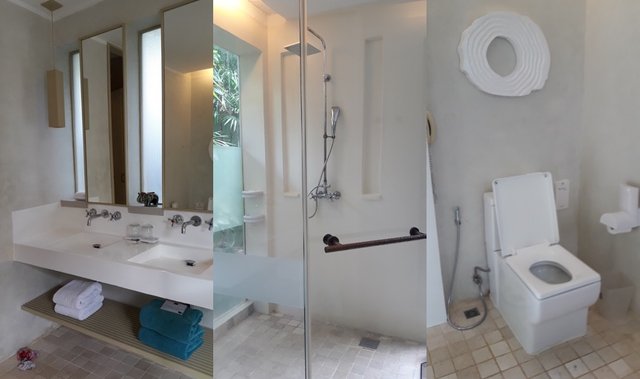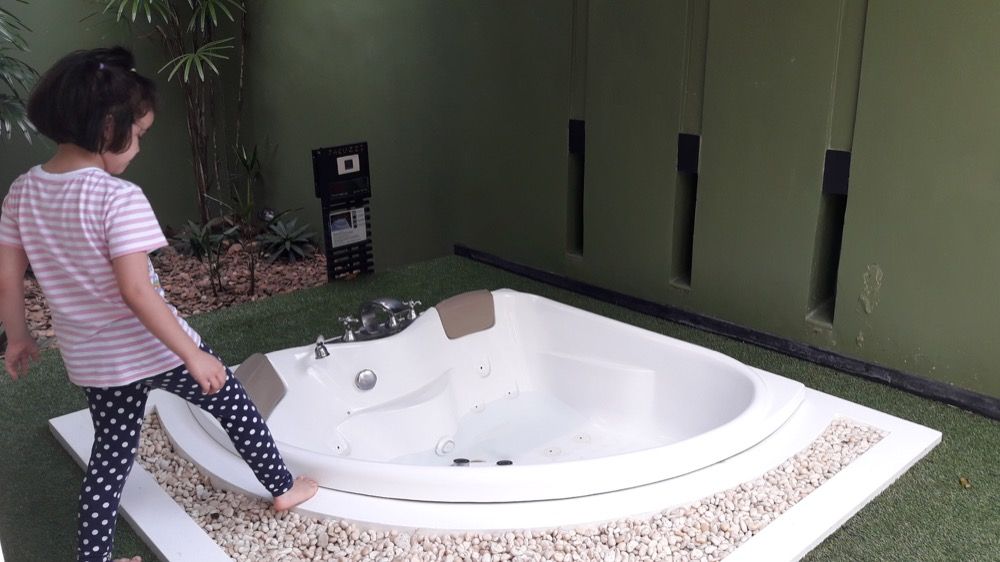 The private pool
This is very cool to have a private pool where you can go whenever you want, and you don't have to share it with anyone.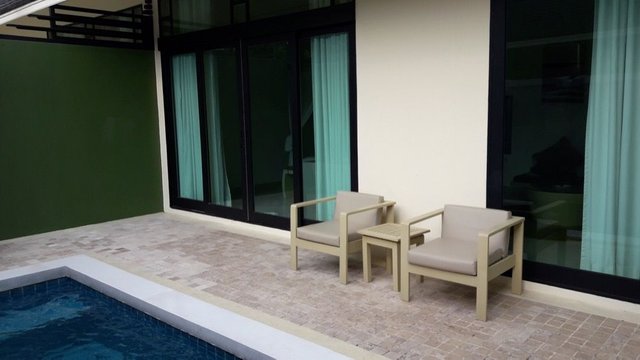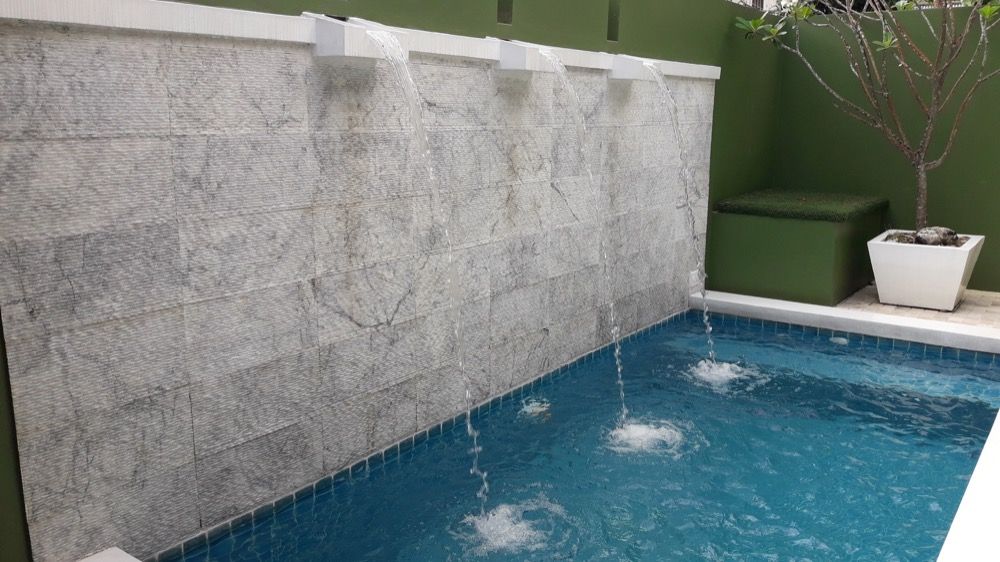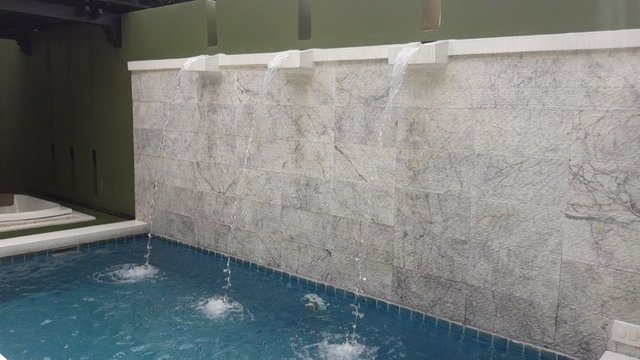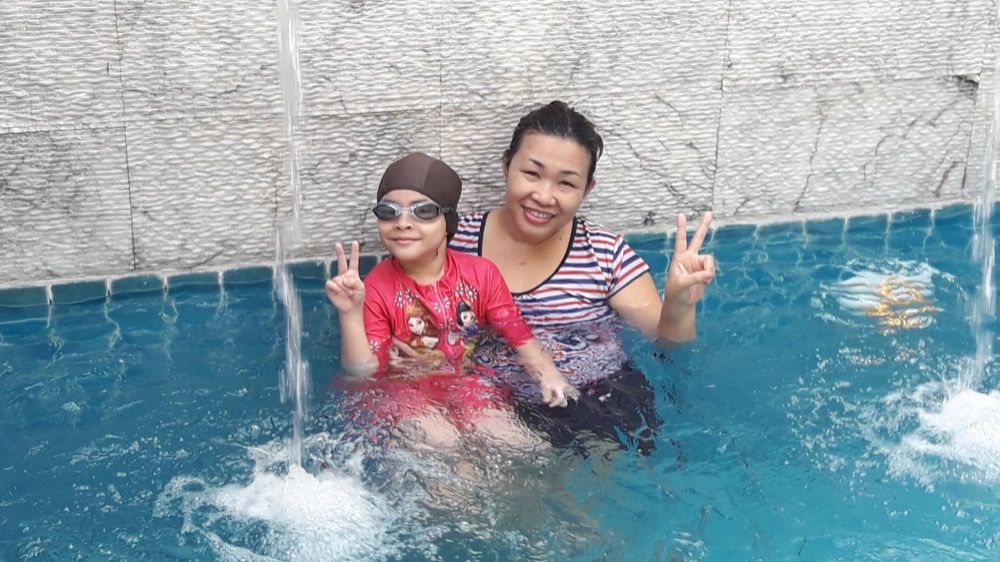 Fitness and Kids Club
A Kids Club is as important as the Fitness room in a hotel and they have both.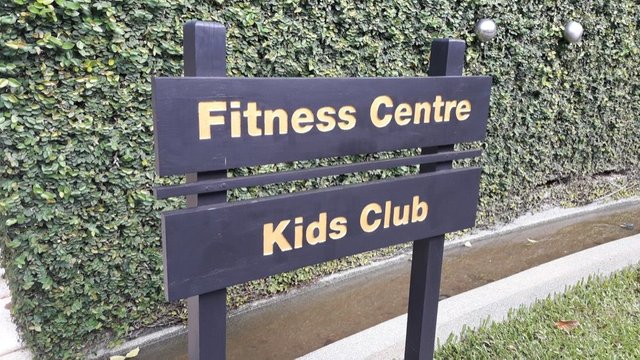 I visited the Fitness room this morning for my 40-minute exercise routine.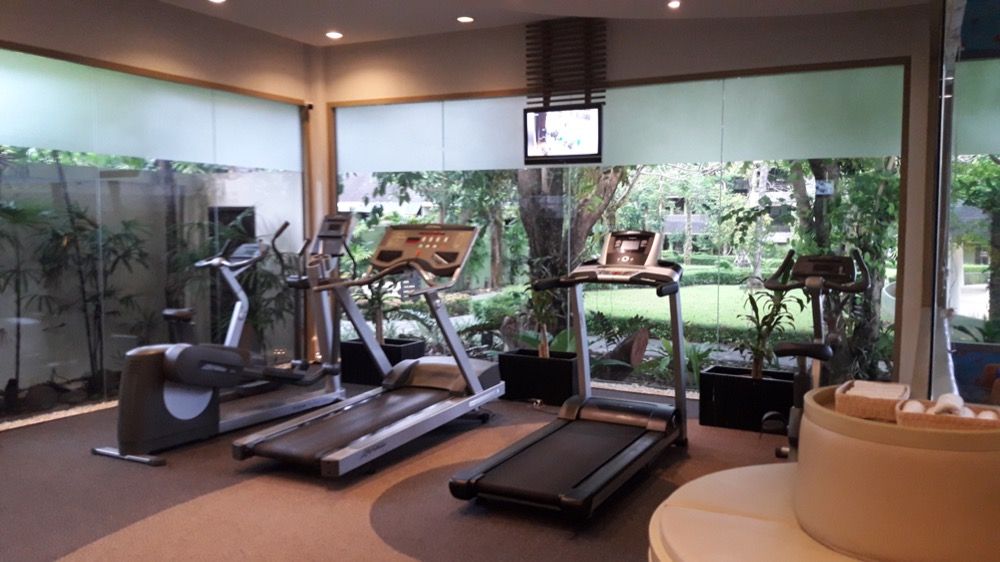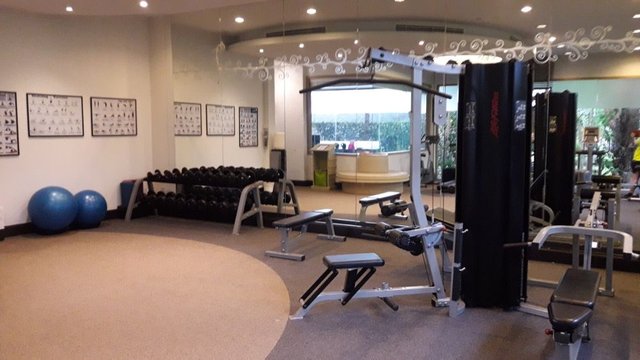 The kids club is for children below 6 years old and is not supervised, so stay with your kids.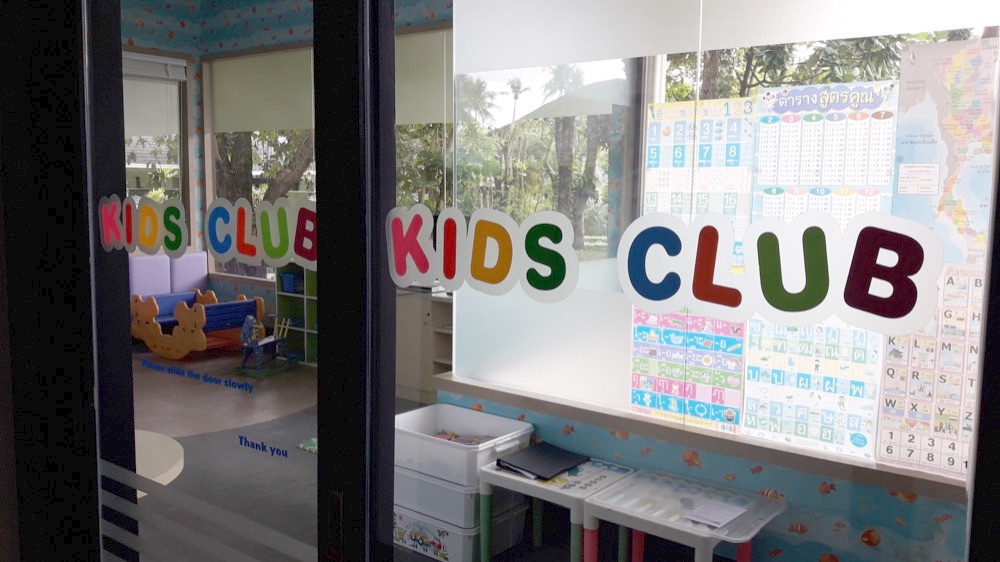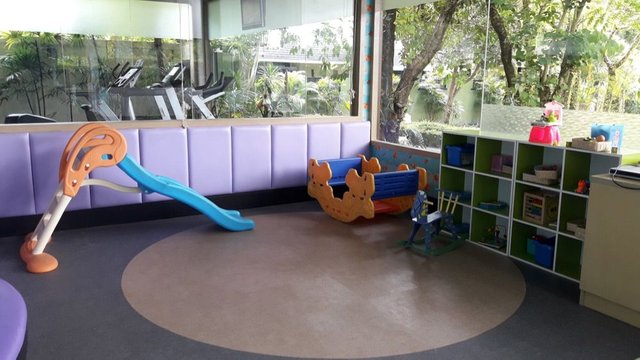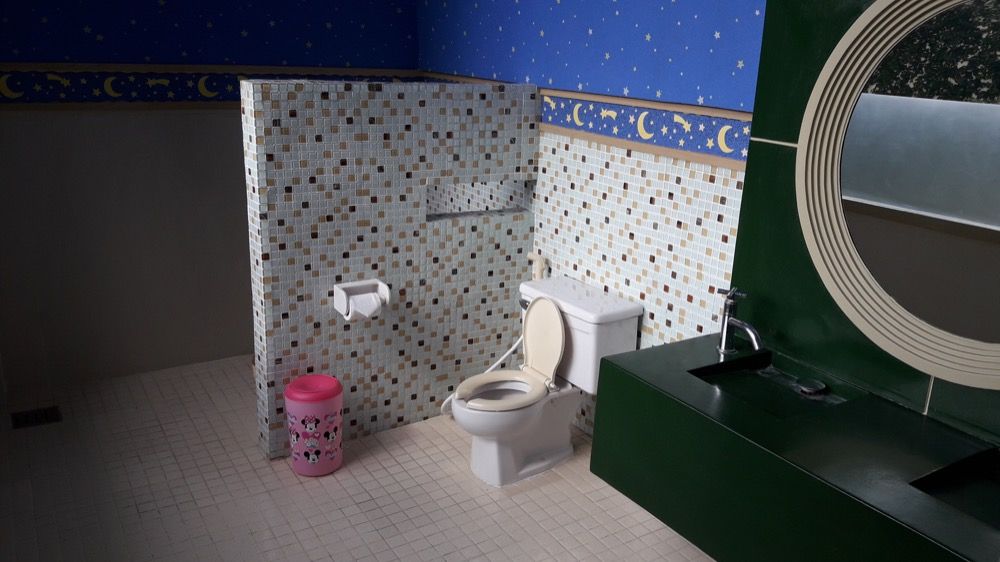 The Swimming-pool
They have a huge swimming-pool with seating areas and jacuzzis. The water appears to be green because the tiles of the pool are green, not because it is dirty. Maybe not the best choice of color for a swimming-pool!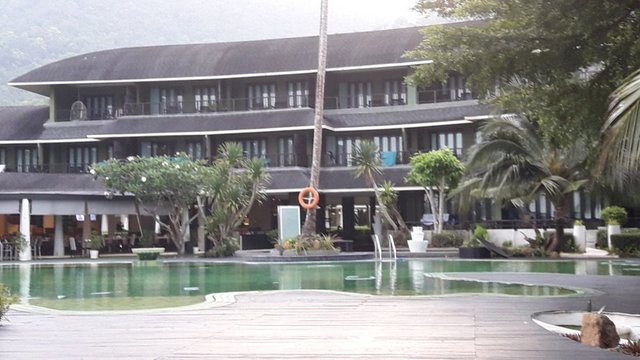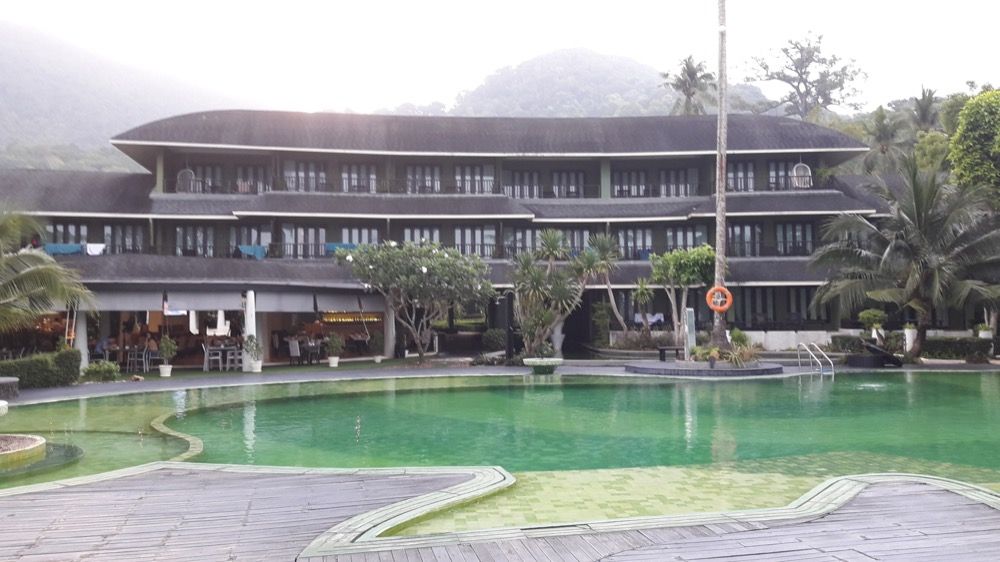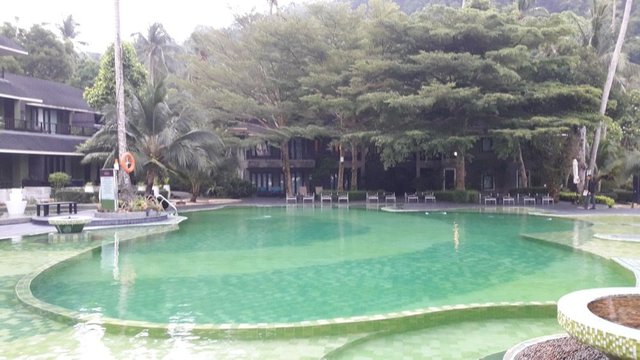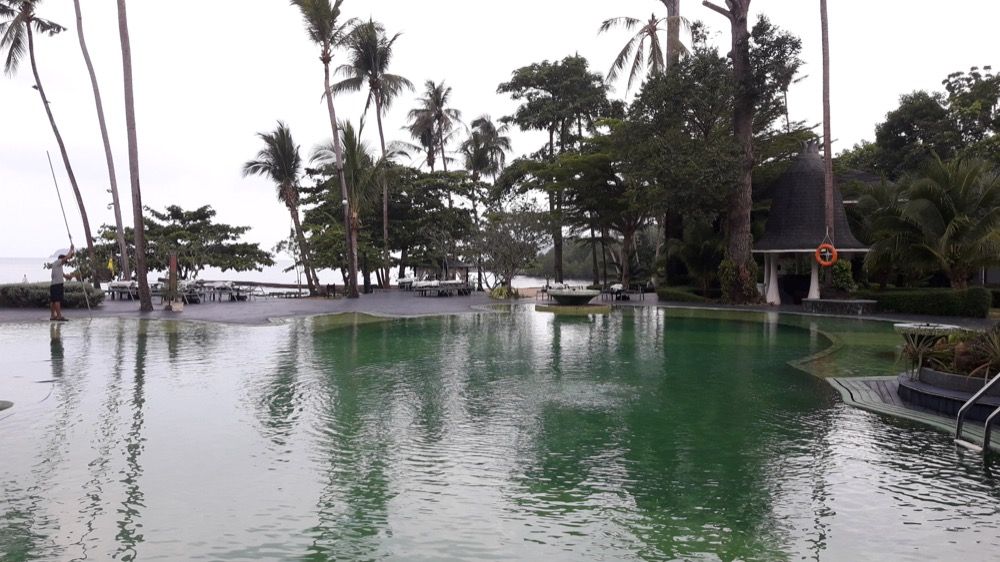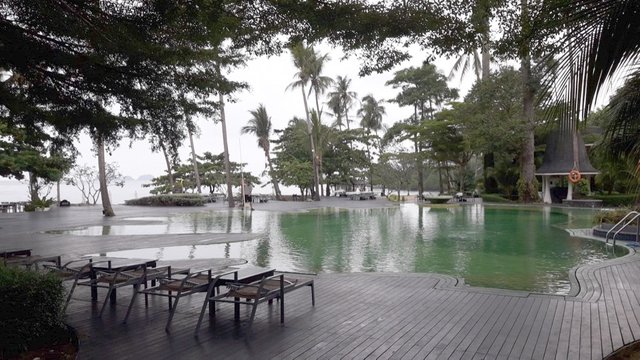 The beach
When the tide is low in the evening, the beach is not as beautiful as when it's high in the morning.
The hotel has a board saying that the beach is public and there is no life guard on duty. The same applies for the swimming-pool, I believe.
These photos were taken in the evening.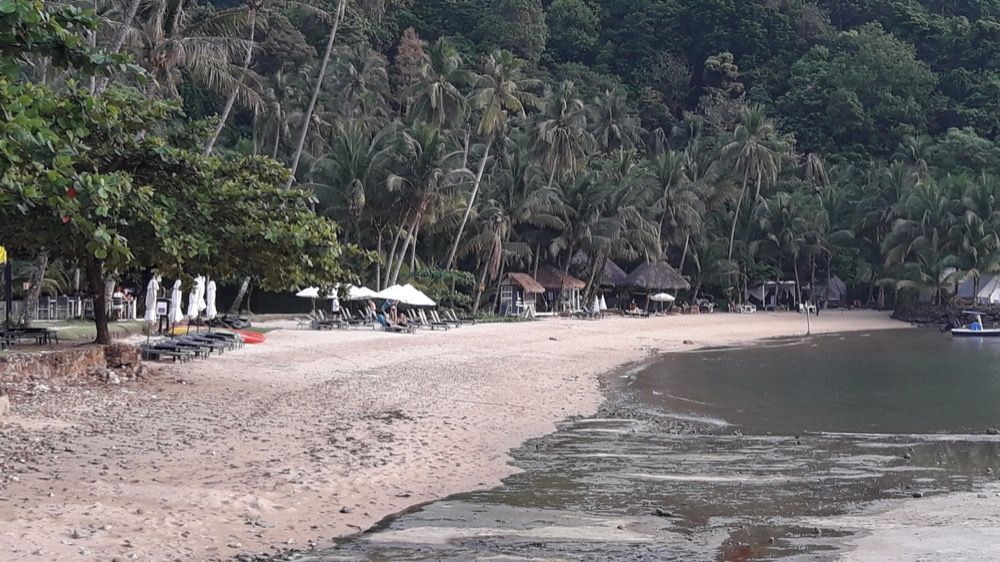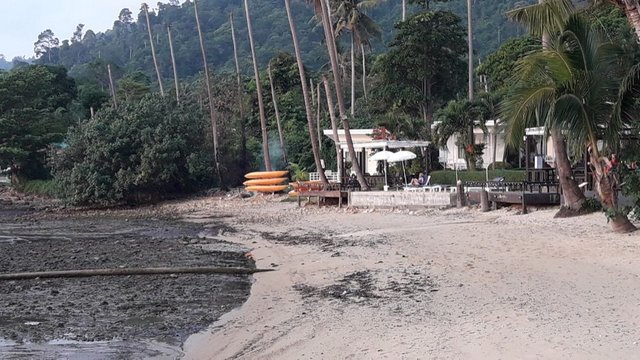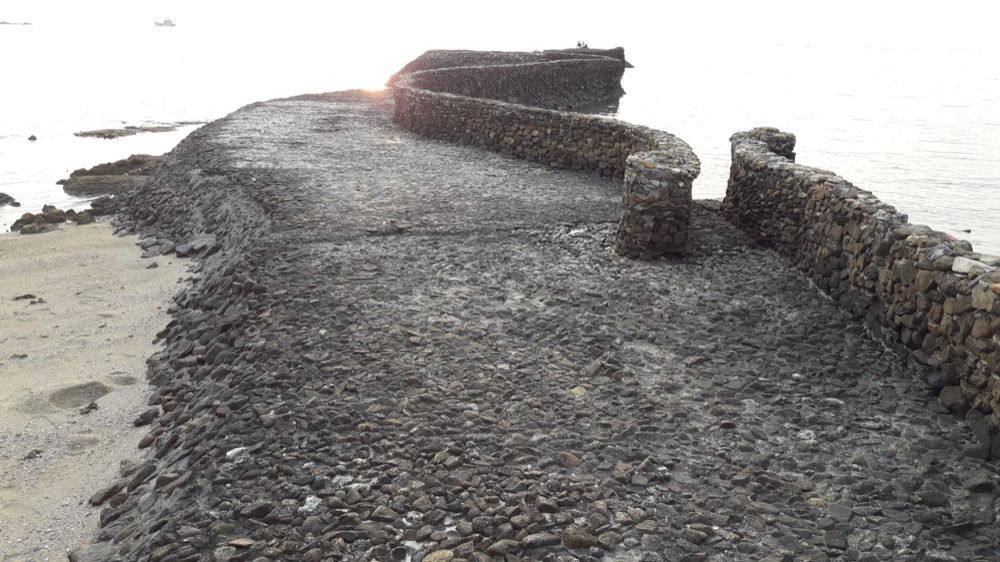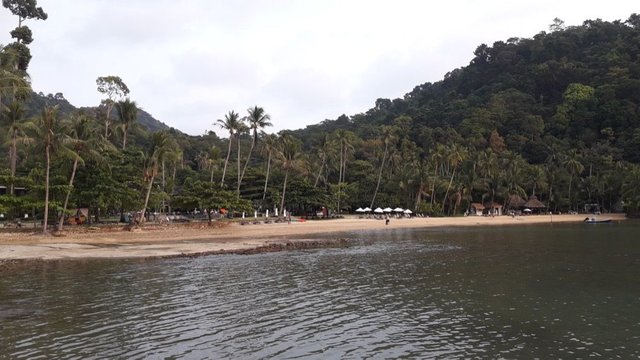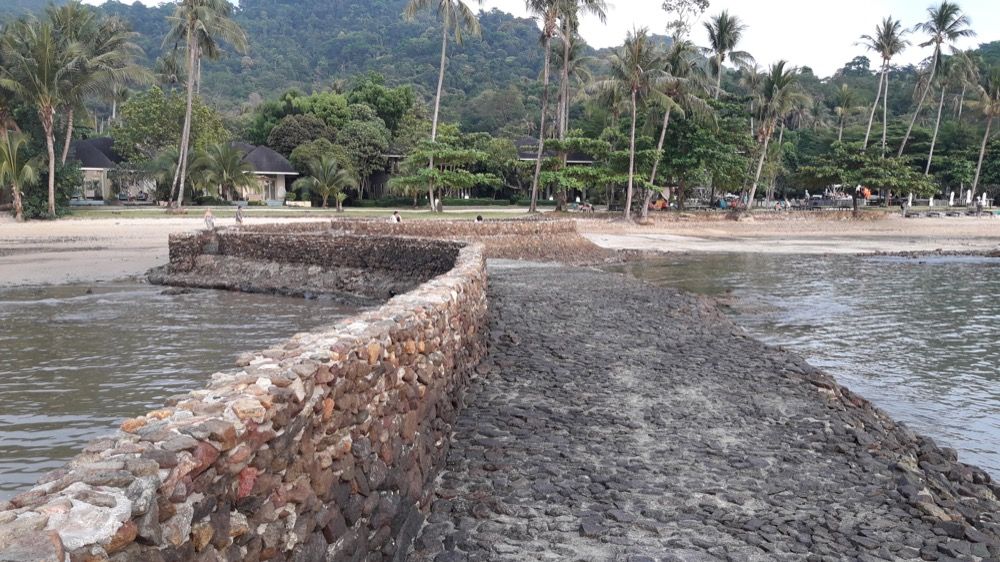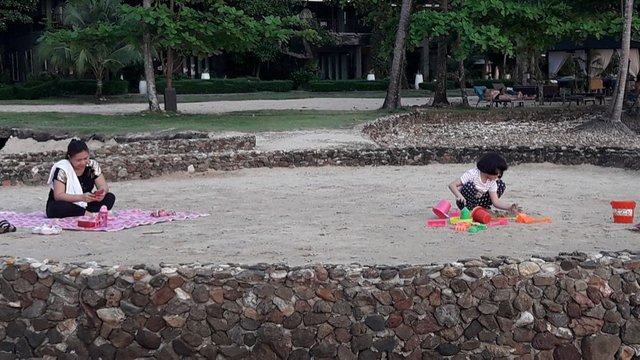 These photos were taken in the morning.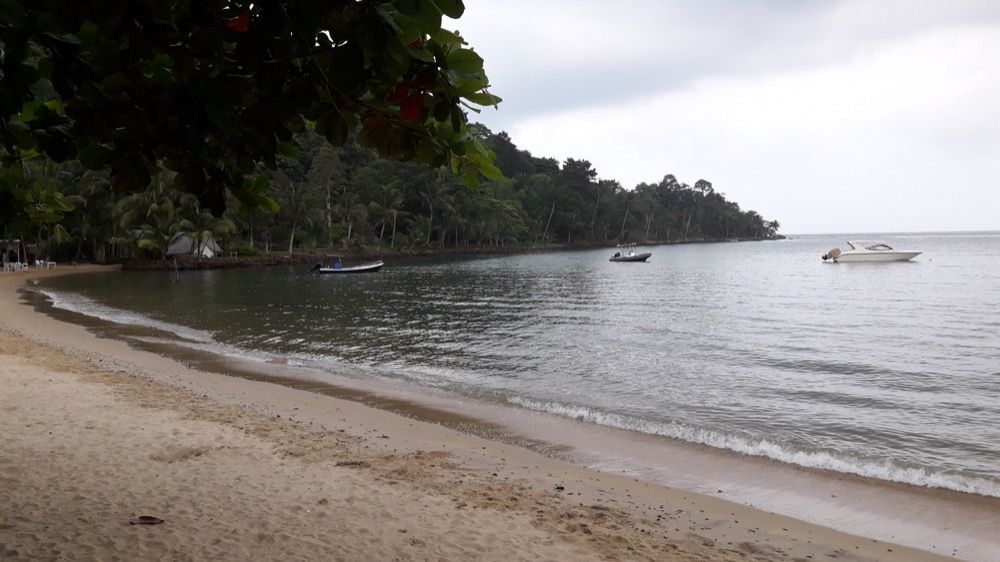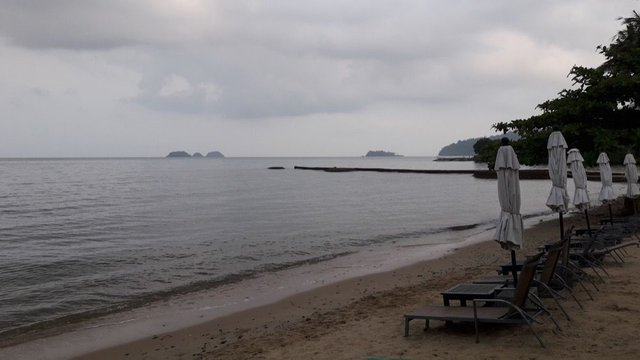 The Restaurant
Yesterday evening we had our dinner at the restaurant and we both had Thai dishes.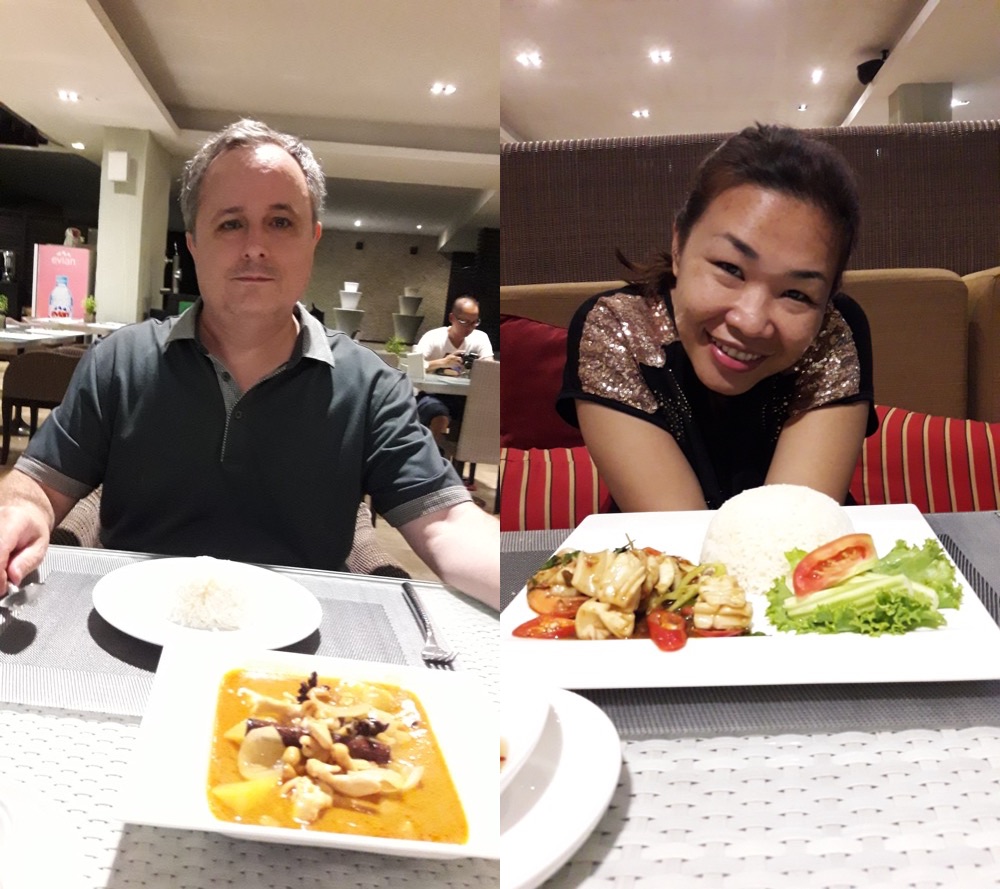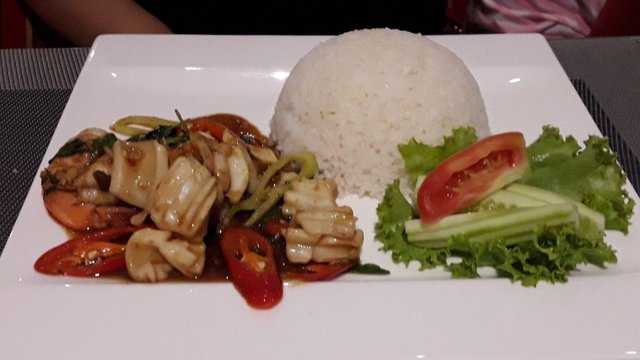 I asked them not to put any spice for me, and it was as I wanted it. Thank you!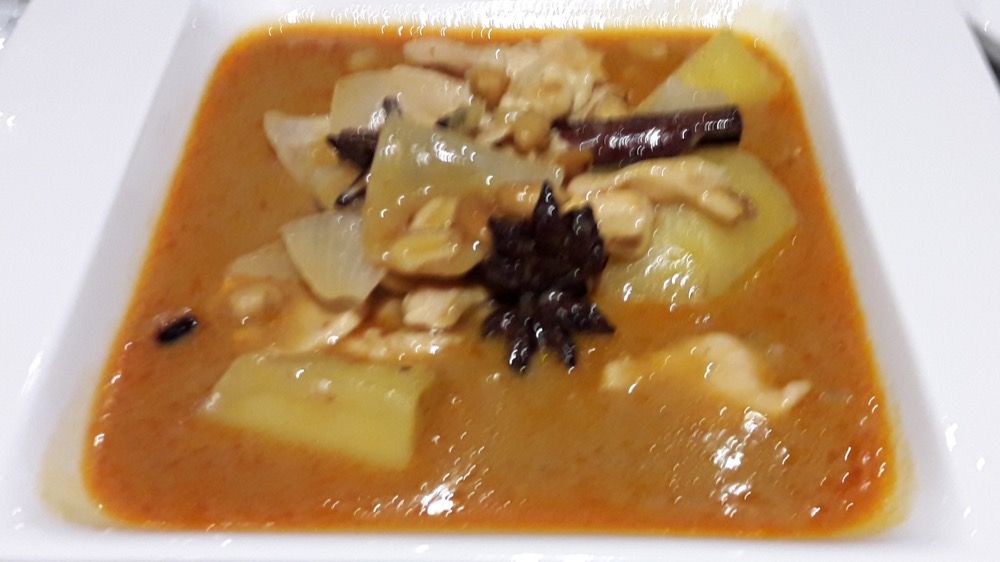 Breakfast at the Restaurant
We had breakfast at the hotel only once as we preferred to have a light breakfast while exploring Koh Chang. They have a lot of food, which is excellent, and they also have a blender to make a fruit smoothie.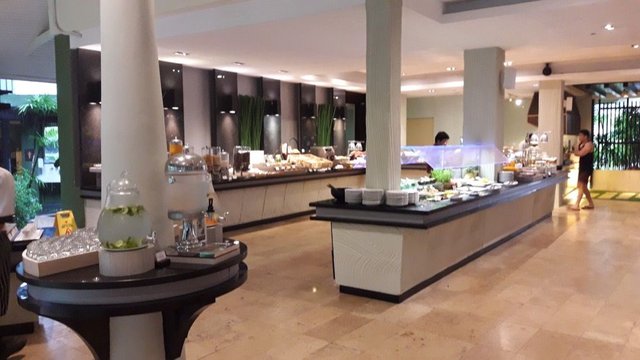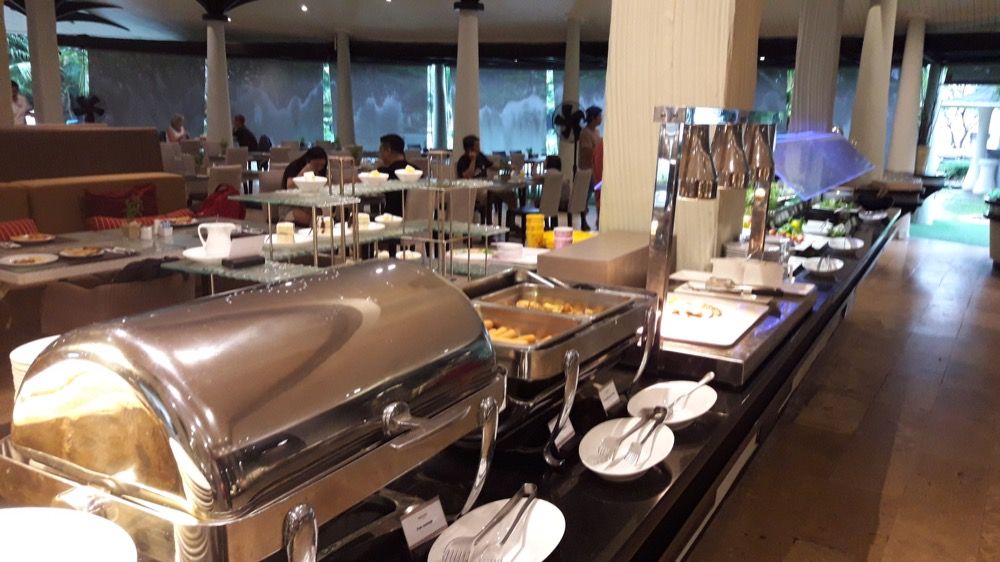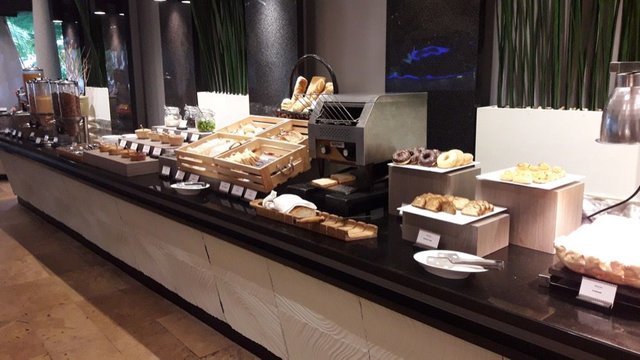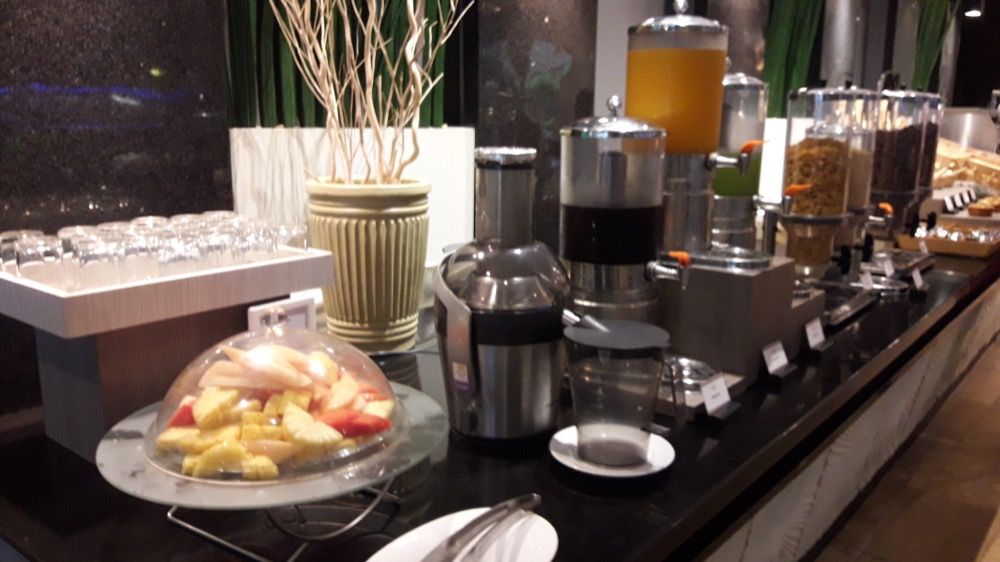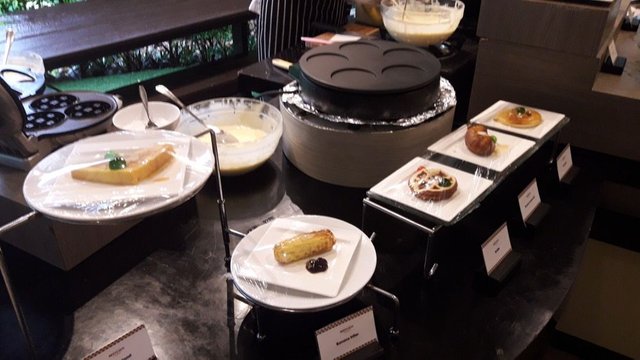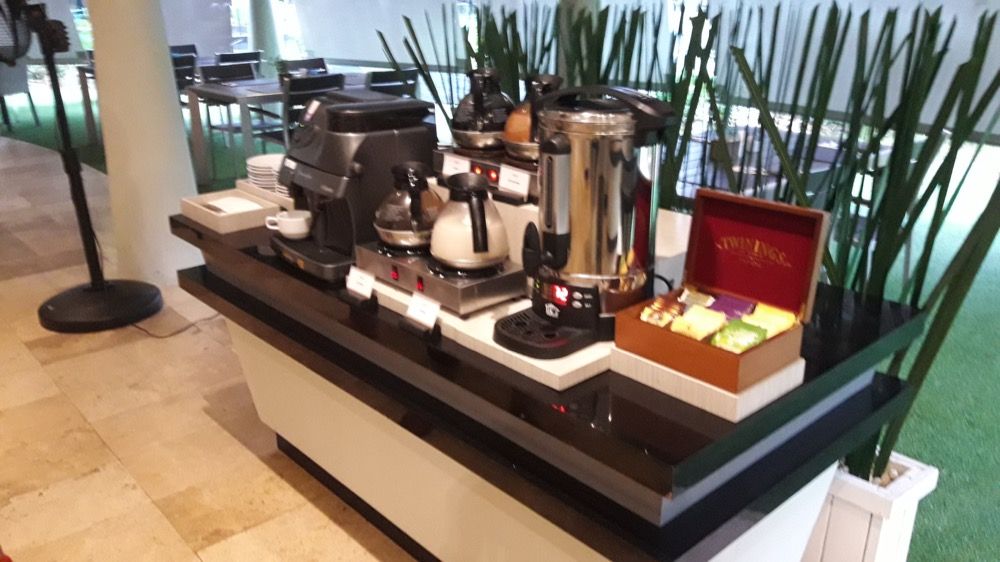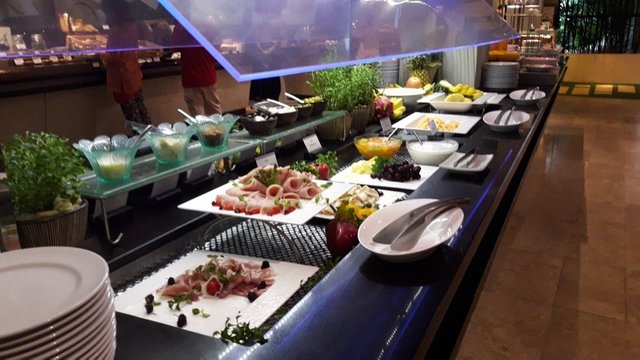 It's what I had!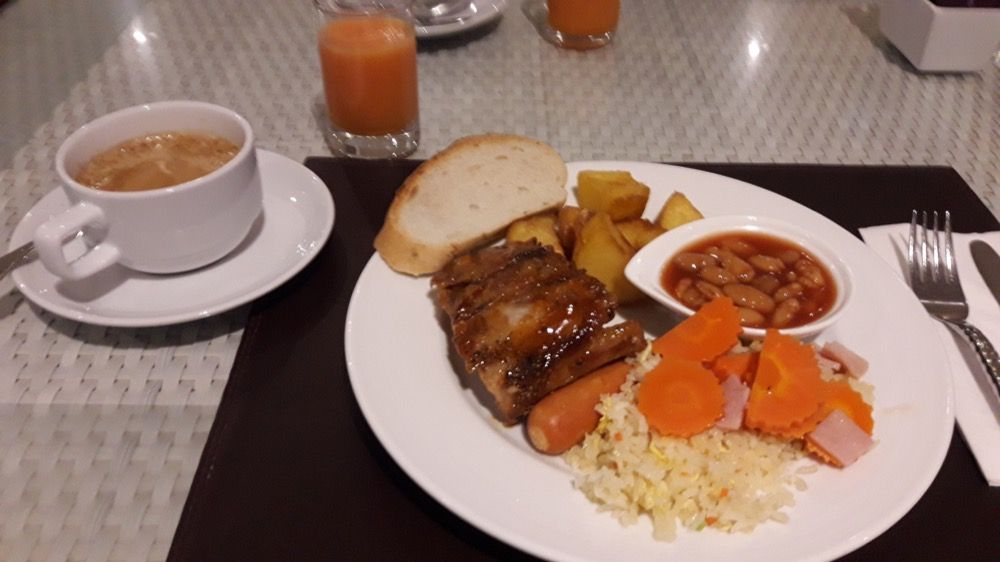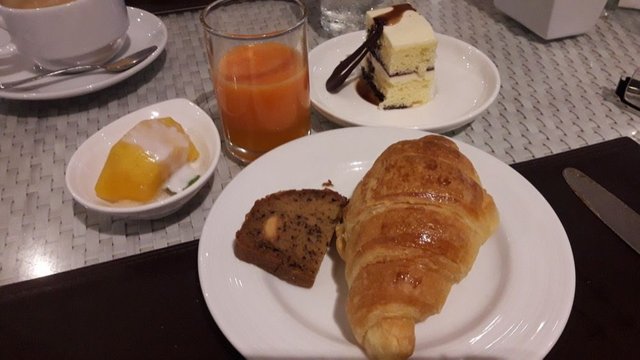 I hope you enjoyed this post.
All photos are mine and taken with a Samsung mobile phone.
Would you upvote this travel post and follow me for more because this will encourage me to write more posts like this one?
Would you please help @jerrybanfield become a top 20 witness because you can help funding projects to build Steem as explained here? Vote for jerrybanfield as a witness or set jerrybanfield as a proxy to handle all witness votes at https://steemit.com/~witnesses. Read the 5 reasons why I'm voting for Jerry Banfield as a witness and how to vote in my post.
Michel Gerard