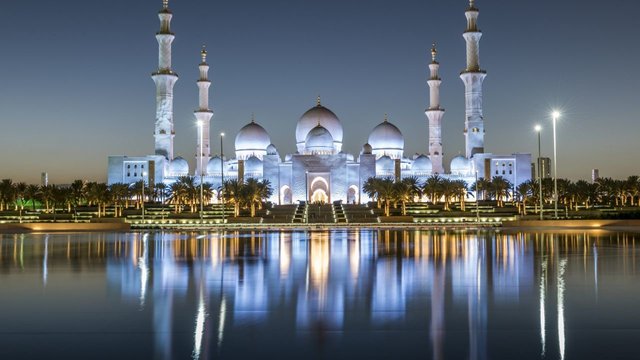 Ben ilk kez yurt dışına Dubai'ye seyahat ettim. Dubai herkesin merak ettiği ve görmek istediği mükemmel ve eşsiz bir yerdir. Ben Dubai'yi gezme şansına sahip oldum.
Ben ilk olarak Dubai'nin başkenti Abudabi'ye gittim ve orada Şeyh Zayed Cami'yi ziyaret ettim.
Şeyh Zayed Cami Hakkında
Şeyh Zayed Cami, Abu Dabi'de Birleşik Arap Emirlikleri'nin kurucusu, 2004'te hayatını kaybeden eski Devlet Başkanı Zeyd bin Sultan el-Nehyan'ın anısına, 2007 yılında ibadete açılan camidir. Şeyh Zayed Camii, Birleşik Arap Emirliklerinin başkenti olan ve Basra Körfezinde bulunan Abu Dabi'de ibadetin merkezi olarak kabul edilmektedir. Dünyanın sayılı büyük camileri arasındadır. Şeyh Zayed Camii'nin eni 290 metre ve boyu da 420 metredir. Şeyh Zayed Camii, 12 hektarlık bir alan üzerine inşa edilmiştir. Şeyh Zayed Camii, özellikle Cuma günlerinde ve Ramazan Bayramlarında Müslümanların namaz kılmak için en çok toplandığı ibadet mekânlarından biridir. Ramazan boyunca 40 binden fazla insanın camiyi ziyaret edebileceği belirtilmektedir. Şeyh Zayed Camii'nin mimarisini Almanya, Fas, Türkiye, Malezya, İran, Çin, İngiltere, İtalya gibi birçok önemli ülkeden gelen tasarımcı ve ustalar belirlemiştir. Caminin yapımında Fars ve Endülüs cami mimarisinden yararlanılmıştır.
Abu Dabi'de bulunan ve 2007 yılında halka açılan Şeyh Zayed Camii, ziyaretçilerine yalnızca İslam kültürünü sergilemek için değil ayrıca diğer dinlerle karşılıklı etkileşimi desteklemek amacıyla inşa edildi.
Şeyh Zayed Camii'de kullanılan birçok malzeme Türkiye, Yeni Zelanda, Almanya gibi Dünya'nın birçok farklı ülkesinden getirildi.
Şeyh Zayed Camii'nin kapıları yalnızca Müslümanlar'a değil ayrıca Musevi, Hristiyan ve Ateist'lere de açık.
Şeyh Zayid Cami gerçekten hem büyüleyici hem de eşsiz bir güzelliğe sahiptir. Ben bu camiye hayran kaldım ve hayatımda gördüğüm en muhteşem camiydi. Gerçekten görülmeye değer bir camidir.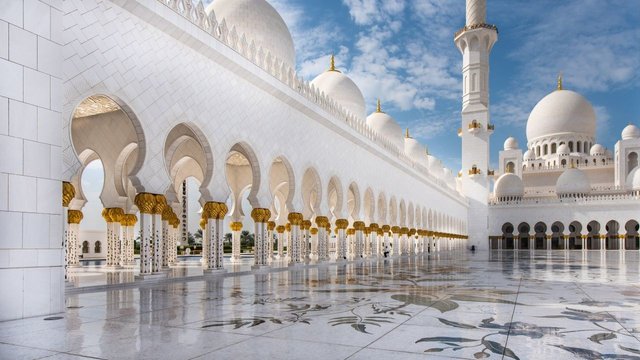 ŞEYH ZAYED CAMİSİNDE BÜYÜLEYİCİ IŞIK GÖSTERİSİ
THE THIRD GREAT MOSQUE OF THE WORLD - SHEIKH ZAYID MOSQUE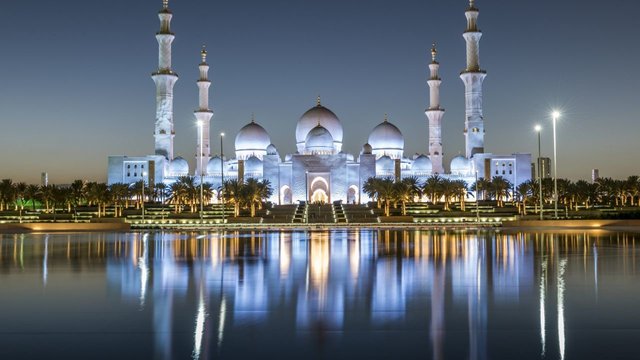 I traveled to Dubai for the first time abroad. Dubai is a perfect and unique place that everyone wonders and wants to see. I had the chance to visit Dubai.
I first went to Dubai's capital, Abudabi, and visited the Sheikh Zayid Mosque there.
About Sheikh Zayid Mosque
Sheikh Zayid Mosque, the founder of the United Arab Emirates in Abu Dhabi, opened the worship service in 2007 in memory of former President Zayd bin Sultan al-Nahyan, who lost his life in 2004. Sheikh Zayed Mosque is considered to be the center of worship in Abu Dhabi, the capital of the United Arab Emirates and located in the Gulf of Basra. He is one of the greatest in the world. Sheikh Zayed Mosque is 290 meters in width and 420 meters in height. The Sheikh Zayed Mosque was built on an area of 12 hectares. The Sheikh Zayed Mosque is one of the places of worship where Muslims are most frequently gathered to perform prayers, especially on Fridays and Ramadan holidays. During Ramadan it is stated that more than 40.000 people can visit the mosque. Sheikh Zayed Mosque architecture, Germany, Morocco, Turkey, Malaysia, Iran, China, England, has identified several major designers and craftsmen from countries like Italy. Fars and Andalusian mosque architecture was used in the construction of the glass.
The Sheikh Zayed Mosque in Abu Dhabi, which was opened to the public in 2007, was built not only to exhibit Islamic cultures but also to support mutual interaction with other religions.
Sheikh Zayed Mosque in many materials used in Turkey, New Zealand, was brought to the world in many different countries such as Germany. Sheikh Zayed Mosque's doors are open not only to Muslims but also to Jews, Christians and Atheists.
Sheikh Zayid Mosque is truly both charming and unique. I admired this mosque and it was the most magnificent mosque I have ever seen in my life. It is truly worth seeing.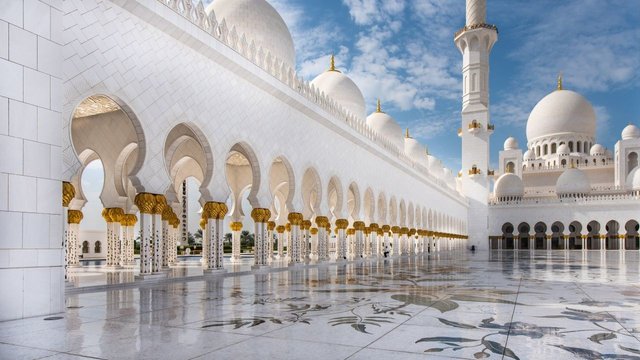 CHARMING LIGHT SHOW IN THE SHEIKH ZAYID MOSQUE