Half day in Prague
Today's post highlight is from Prague, one of the most beautiful capitals in the world, also known as "the City of a Hundred Spires".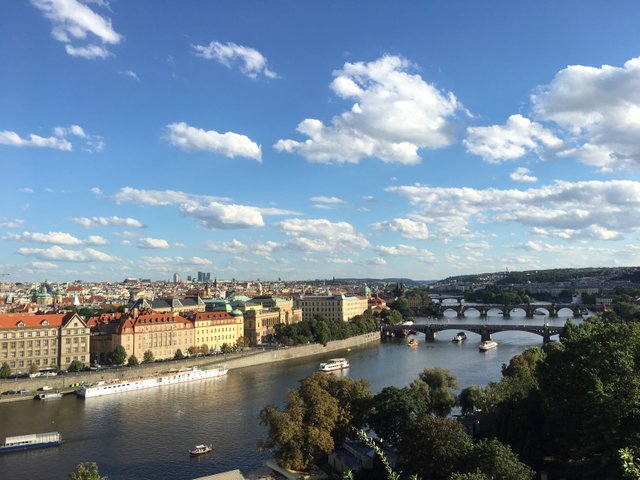 I got stuck on this post for a while, probably my EuroVelo batteries are running low and I need to charge them, hopefully I will be able to continue on route 7 sometime later this summer.
Let's begin with some general facts about Prague. It is the 14th biggest city in EU and the historical capital of Bohemia with a population of about 1.3 million people (2.6 million metropolitan area included). It is the fourth most visited European capital after London, Paris and Rome. Its rich history and outstanding architecture makes it a popular tourist destination and as of 2017, the city has received more than 8.5 million international visitors, myself included :).
So only half day to discover Prague, where should I start and what should I see first? The correct answer for me was "it doesn't matter" cause it's so little time for a capital that the only reasonable thing to do was to just relax and start walking to the nearest touristic landmark with no other plan in mind. I also took the bike with me hopping I could discover more of Prague in this short time, but soon I realised that wasn't the case because the historical centre is packed with tourists and carrying a bike around wouldn't be of much help.
May be you are wondering why I was in a such hurry to leave Prague? So, my initial plan was to cycle from Linz to Dresden in about 10 days and then catch the plane back home from Berlin but I guess I was a bit to optimistic when planning, considering the distance of about 650 km between the two plus a capital on the way.
I should have planned for at least a full day in Prague but I was so focused on the plan that I lost track of what matters most, which is the journey not the destination. Anyway this was a good lesson for me and Kings of Leon, the US rock band says it even better in one of their songs: "take the time to waste a moment".
And so I started my day in Prague, first with a good cup of coffee near my hotel which was located somewhere in Prague 6 district. I found Hotel DAP on booking.com app being a good option for my budget and so it was, a bit far from the centre but luckily for me only a 10 min walk to the Prague Castle.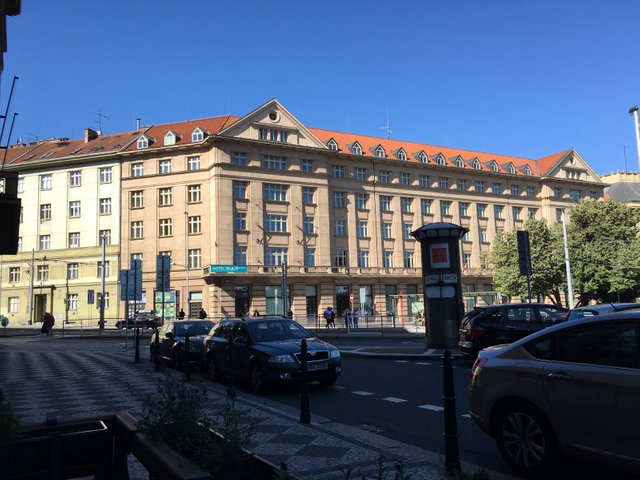 So the next logical step was to go to the Castle which I did. As you can see I was blessed with perfect weather back in august 2017 when these images were taken.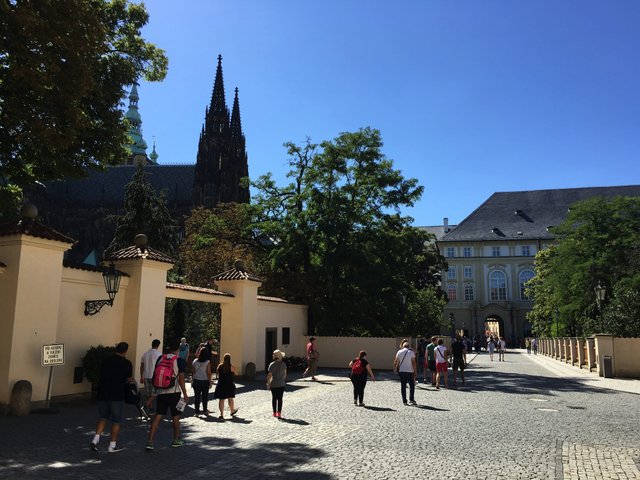 The St. Vitus Cathedral is a true Gothic masterpiece being the most important church in the country and the seat of the Archbishop of Prague. Its tower stands 102.8 m high and I bet it offers a fantastic view over Prague for its visitors (I'll definitely go up there to have a 360 look around next time when I plan to stay longer). The cathedral is part of the Prague Castle complex which dates from the 9th century and according to the Guinness Book of Records is the largest ancient castle in the world. Today is owned by the Czech government and is the official office for the President of the Czech Republic.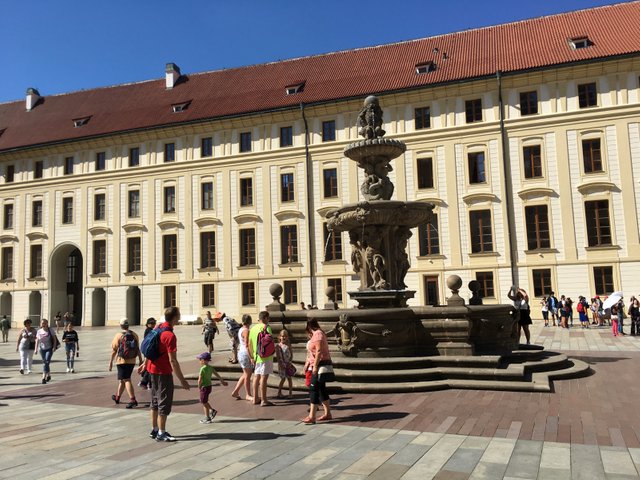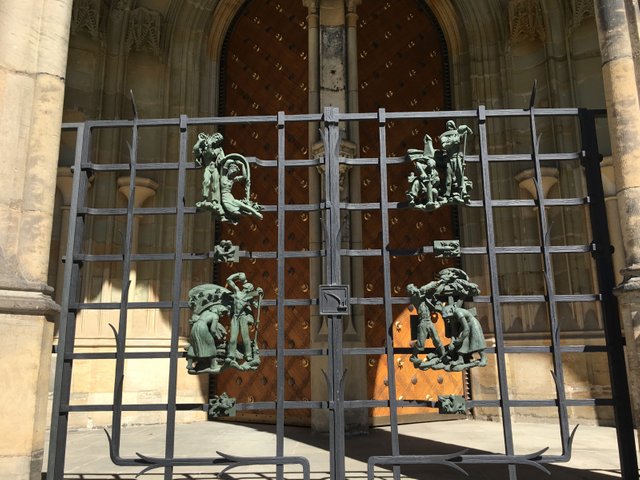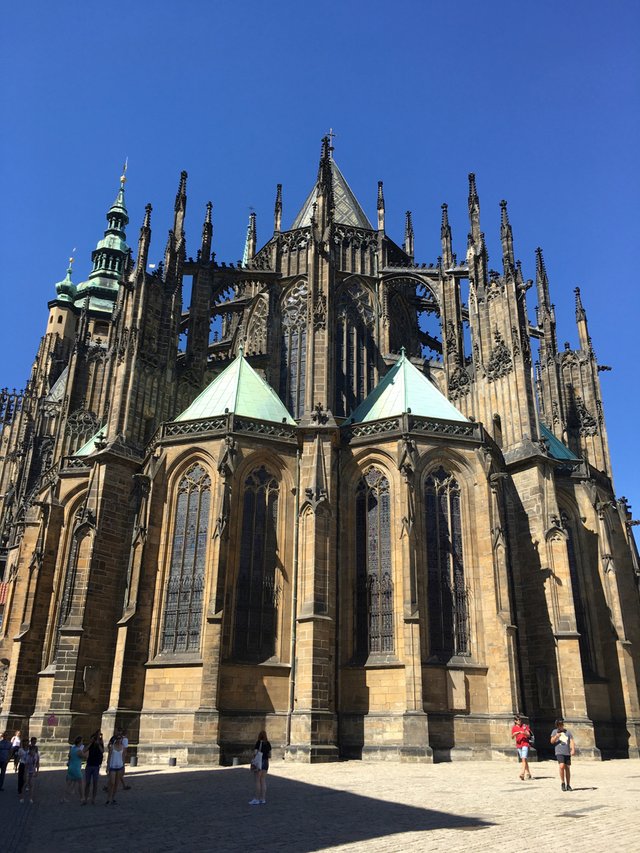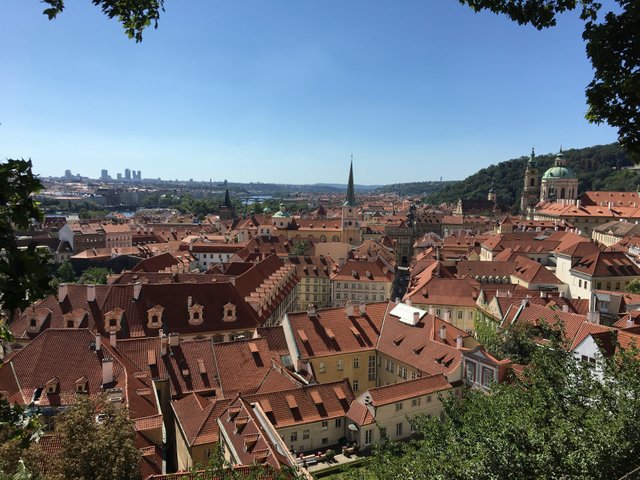 The view from the castle garden over the city is amazing, probably that's why is called the Paradise Garden.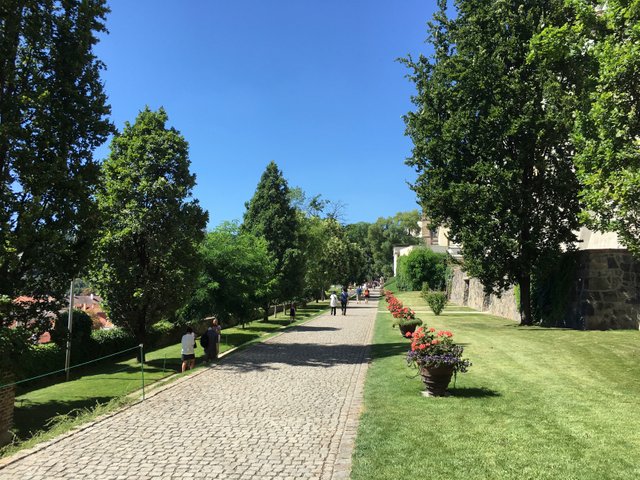 Continued to Wallenstein Garden at the Senate palace, 17th century gardens with ornamental pools & baroque statues before heading to the Charles Bridge and crossing to the right bank of Vltava.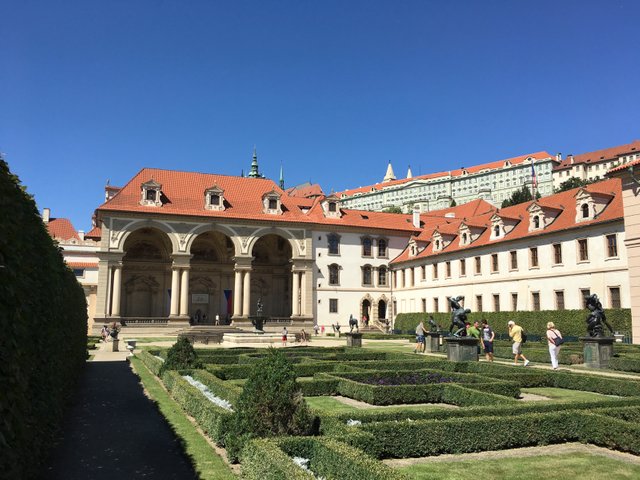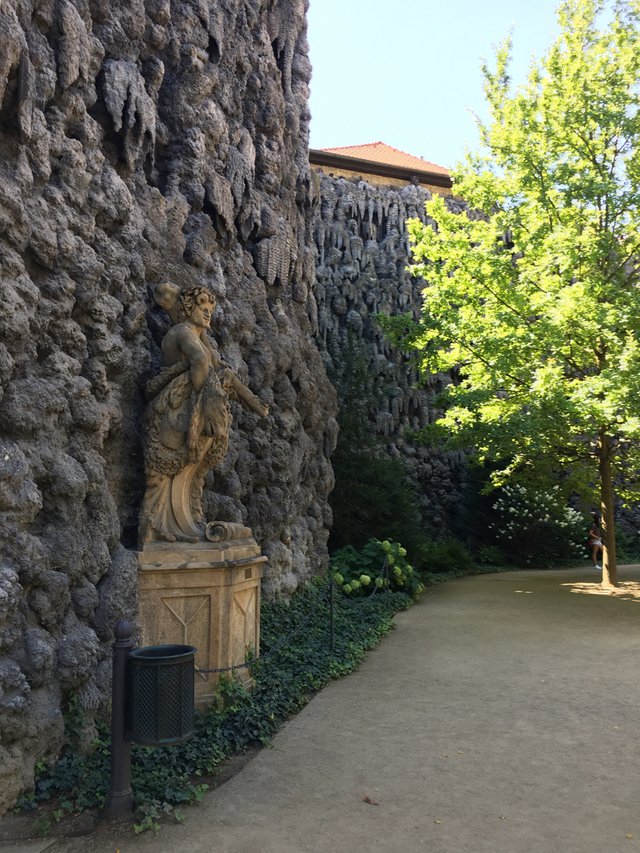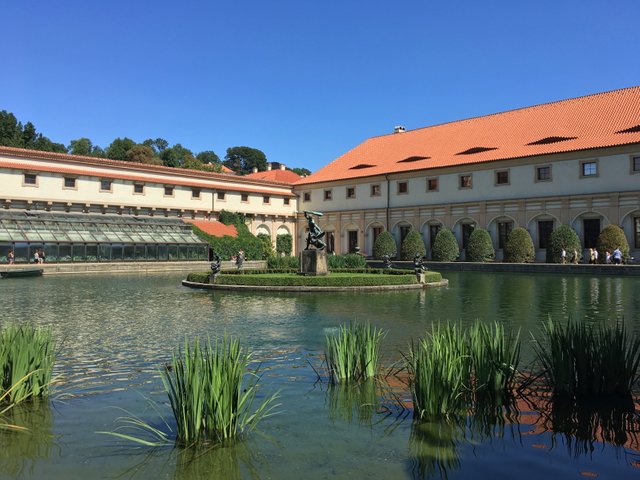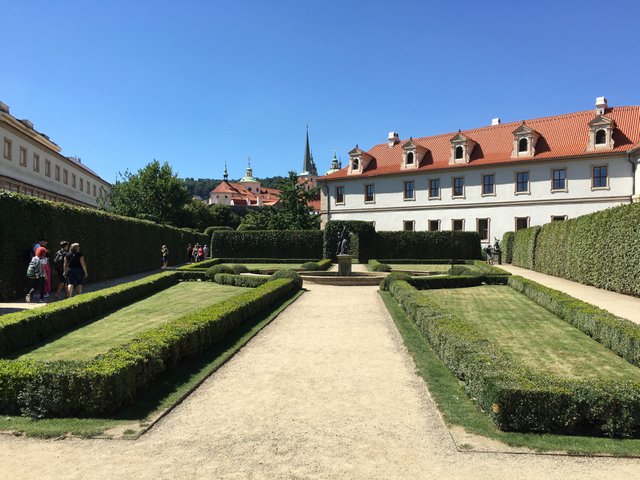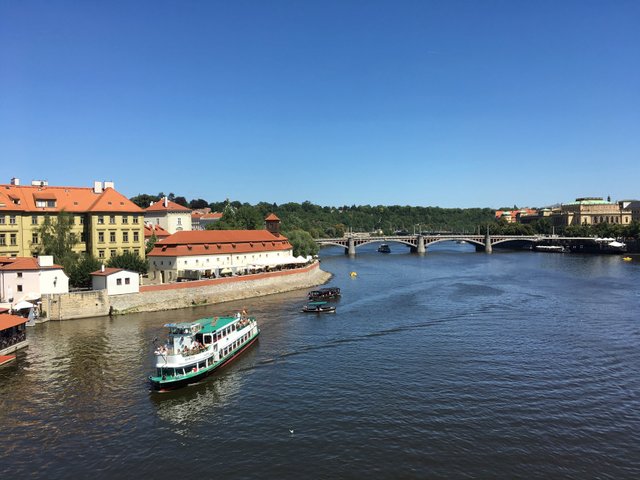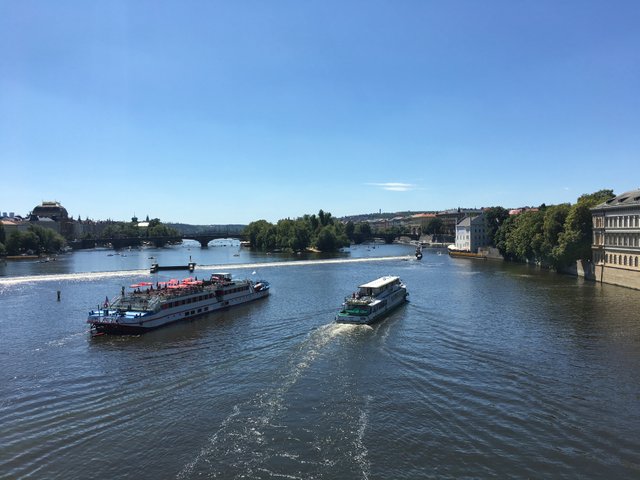 Once on the right bank I just followed the signs and the crowd which led me to the Old Town Square, the oldest square in Prague surrounded by beautiful gothic and baroque buildings dating back to the 10th century. Here I decided it was a good place to enjoy an ice cream and have a closer look around before continuing with my exploration.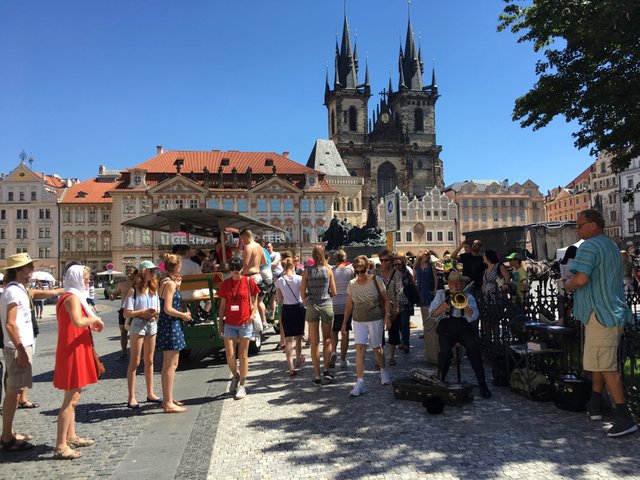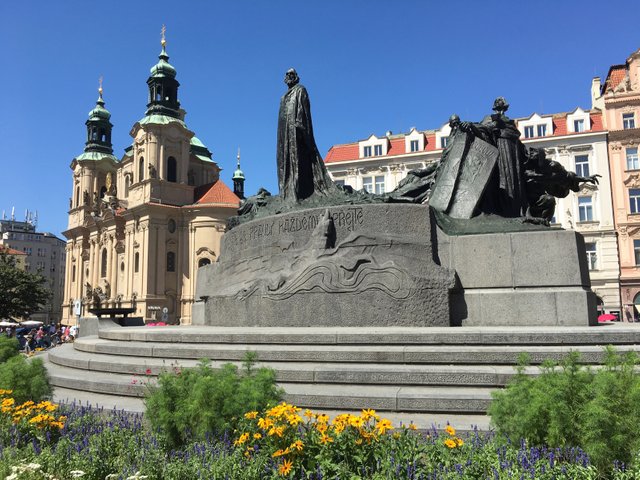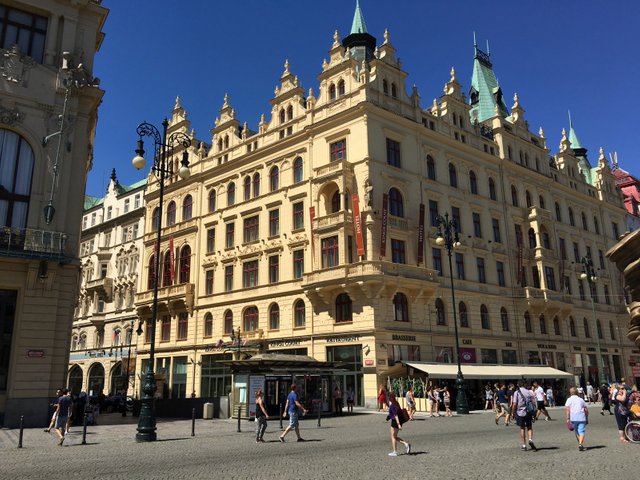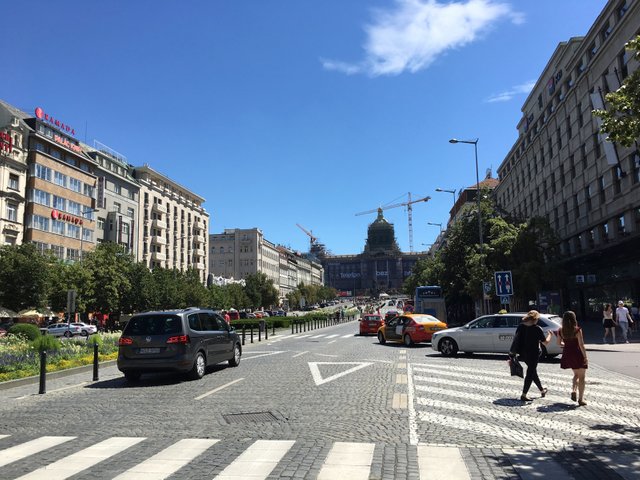 On my way to see the unique Prague TV tower I could also see from the distance the Prague main train station opened in 1871, presently serving more than 53 million passengers.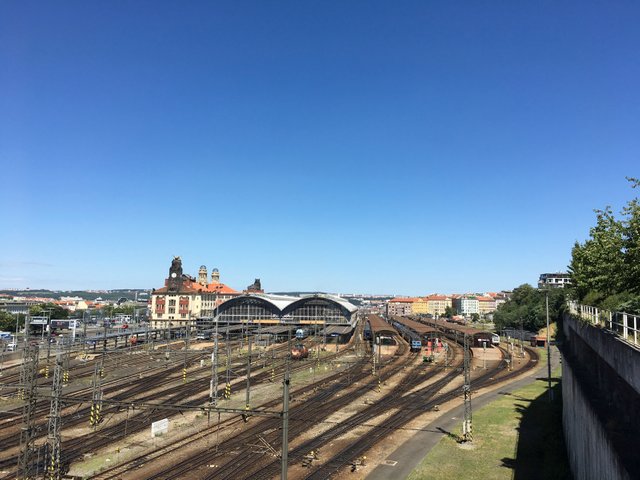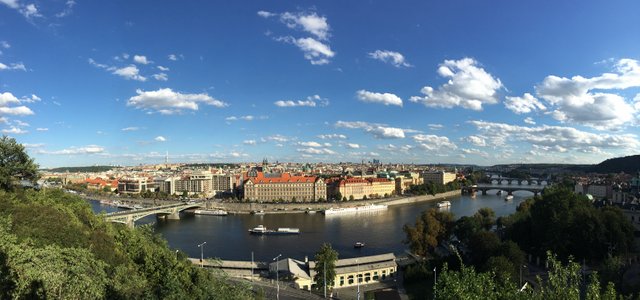 Žižkov Television Tower was completed in 1992 and stands 216 m tall. It has an unconventional structure for a TV tower, some say it's ugly, others see it as an example of megalomanic communist-era architecture, however I found it quite interesting and unique and I'll definitely remember it, especially the baby sculptures crawling up and down the tower's pillars. There is an observatory and a restaurant up there and even a luxury one room hotel, so plenty of reasons to take the elevator and see Prague's panorama from a different angle. Was not the right time for me to get up there but it's on my bucket list because I know I'm going to come back to Prague for more than one day sometime in the not so distant future. Now it's time to go back to the hotel, pack the bags and continue our journey on the EuroVelo 7 route.
| | |
| --- | --- |
| | |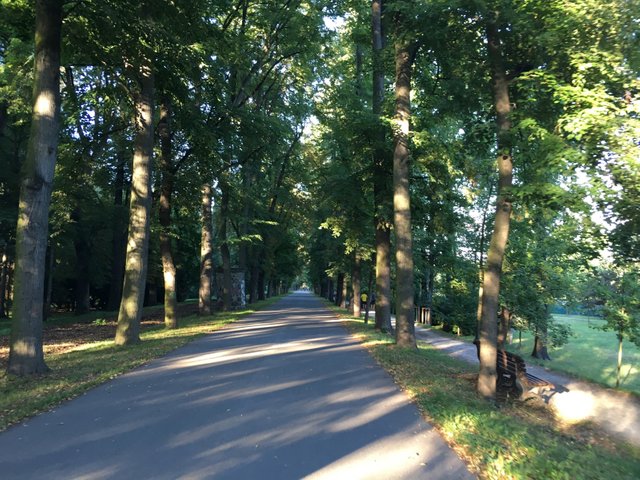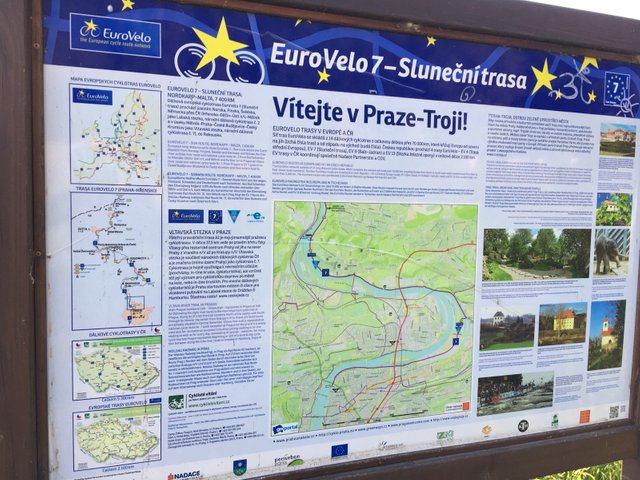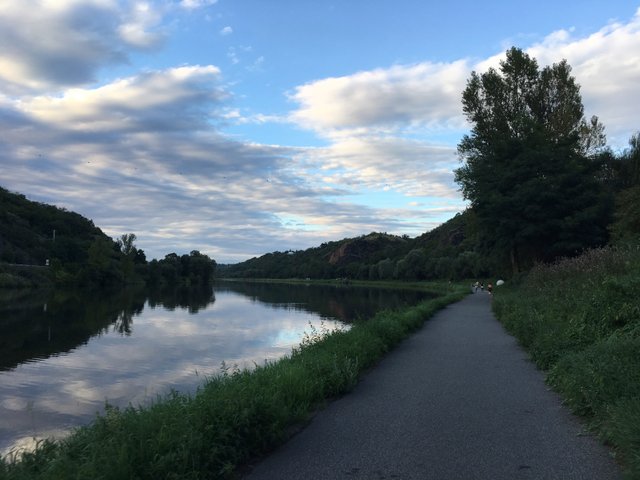 Left Prague around 5 PM with a bit of regret for not staying longer but with only two more days left until my flight back, I wanted to cover as much as possible of EuroVelo 7 to Dresden that year, however being back on the bike and riding along the mirror like waters of Vltava away from the city noise felt like the right thing to do for me. 30 km later that evening just before dark I arrived in Kralupy.
Here is the map with our progress on EuroVelo 7 for today:
Until next time,
©Discover EuroVelo
---
Do you plan to travel in the future? You can use my link here to get 10% off your next hotel room on Booking.com while also supporting Discover EuroVelo project (I'll get US$15 from them too), so both of us can travel a bit cheaper next time. Thank you!
---
All photos were taken with my iPhone 6S.
"EuroVelo, the European Cycle Route Network" are registered marks of ECF asbl.