The Upper Room (Cenacle) - Jerusalem, Israel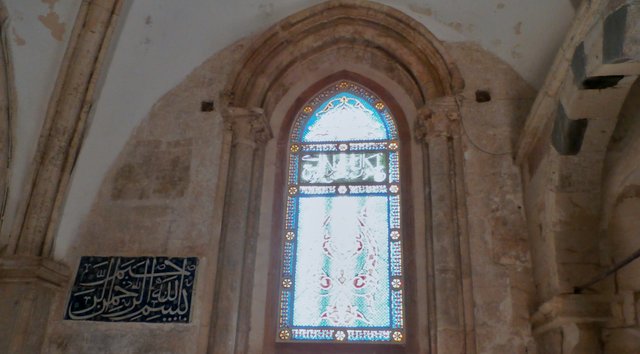 In the Gospels, several events happened that are attributed to an Upper Room, a place now known as The Centacle. It is difficult to identify the actual place where these events occurred, which include the Last Supper and Pentecost. The current location marks a spot where Christians had a church since at least the fourth century, with suggestions of a church at this location as far back as 130 AD.
In the second century, Christians were still persecuted with regularity. So the existence of a Christian church at this location would be significant. If accurate, this location must have been held as very important to early Christians. Attempts to verify this location archaeologically have been unfruitful. First, the existing structure is not the original. Second, had the earlier structure(s) been used as a church, the earliest would likely have been a house church. The repeated destruction and rebuilding at this location makes it more difficult to trace the roots. Written accounts can place a church here as far back as a Byzantine era church in the mid-fourth century.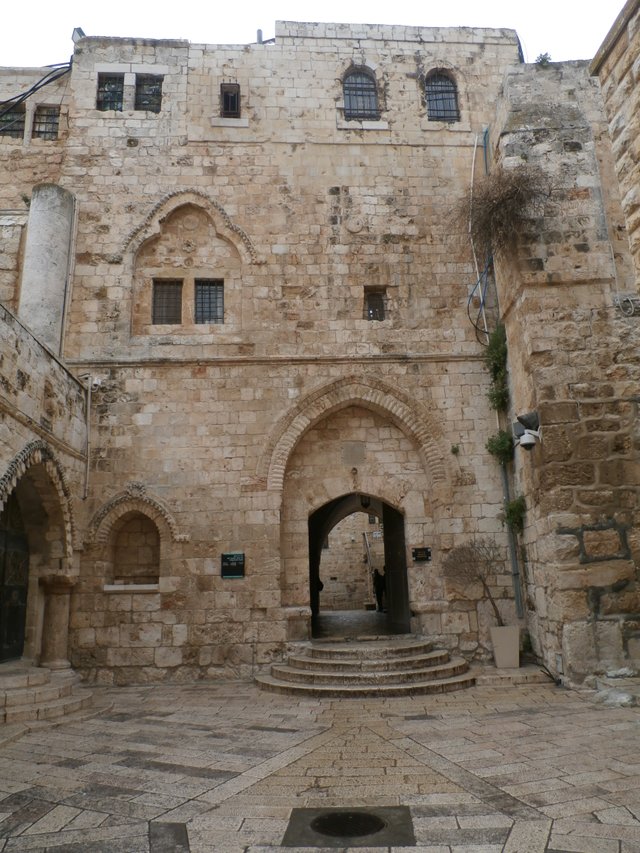 To be honest, I was a little bit disappointed with the Upper Room. There is not a whole lot to see here. The room itself only dates back centuries. It is interesting that this location shares significance with both Judaism and, to a lesser extent, Islam. It was used as a madrasah for many years, as evidenced by my first photo. The photo shows an Islamic stained glass portal as well as signage that dates to the time of the madrasah. Below this room is another. It claims to be the Tomb of King David. But the provenance of both sites is tenuous. The tomb of David may be in the City of David, which lies to the south of the current walls of Jerusalem. David may also be buried in Bethlehem. The historical links to this location at the Upper Room are a bit stronger than the tomb, as the time frame between events if far shorter and there isn't anything substantive to place the location elsewhere.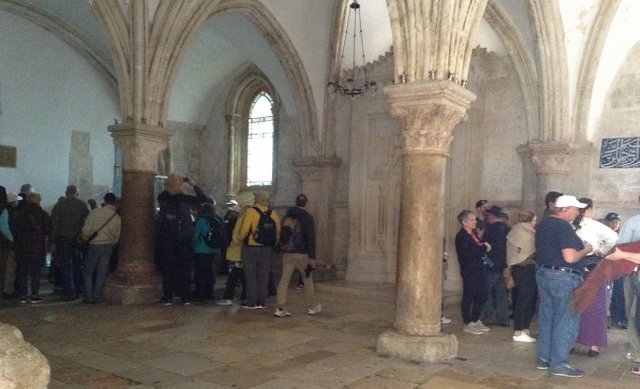 Aside from the potential link to significant events in Christianity, the Upper Room does have interesting architecture. While the link back to the first century is questionable, the architecture is worth seeing. One interesting element is a sculpture depicting a pelican whose babies are pecking its breast. It is a symbol of Christianity. The pillars and sculpture date to the twelfth century. The layer of religious influence at this site are like much of Jerusalem. It is difficult to walk ten steps in the city without seeing some layer or influence of one of the major religions.
Ultimately, this site was worth the visit. It only takes a few minutes to visit both the Upper Room and the Tomb of David, so go for it. I don't know exactly what I was expecting, but I do know I was a little bit disappointed. Probably in the weak provenance of the location more than the subsequent construction. Many of the sites I visited contained elements of Byzantine Churches destroyed and rebuilt in the Crusader era. But most of those other locations had a stronger link to the past for me. This structure is still nearly a thousand years old. Recent in terms of Jerusalem, but still worthy of visiting.
I hope you enjoyed reading. Please take time to read my other experiences in Israel!
A Christian Guide to Israel
Hotels
Cinema Hotel Tel Aviv, Israel
Ron Beach Hotel, Tiberias, Israel
Prima Park Hotel Jerusalem, Israel
Attractions
Caesarea National Park Caesarea, Israel
Mount Precipice Mount Kedimum, Israel
Sea of Galilee Boat Ride Tiberias, Israel
Yigal Alon Museum (Jesus Boat) Ginosar, Israel
Capernaum, Israel
St. Peter's Restaurant Kinneret, Israel
Caesarea Phillipi Banias, Israel
Gadot Lookout and Memorial Golan Heights, Israel
Jordan River Baptismal Site Yardenit, Israel
Beit She'an National Park Beit She'an, Israel
Mount of Olives, Jerusalem, Israel
Garden Tomb Jerusalem, Israel
Western Wall Jerusalem, Israel
Western Wall Tunnels Jerusalem, Israel
Bethlehem New Store Gift Shop
Pools of Bethesda Jerusalem, Israel
Via Dolorosa Jerusalem, Israel
Israel Museum, Jerusalem, Israel
Yad Vashem, Jerusalem, Israel
House of Caiaphas the High Priest, Jerusalem, Israel
The Upper Room, Jerusalem, Israel
Tomb of King David, Jerusalem, Israel
Masada National Park, Masada, Israel
The Dead Sea, Masada, Israel
Churches
Discalced Carmelite Monastery Muhraqa, Israel
Basilica of the Annunciation Nazareth, Israel
St. Peter's Church Capernaum, Israel
Church of the Multiplication Tabgha, Israel
Church of the Beatitudes Tabgha, Israel
Church of All Nations Jerusalem, Israel
Church of Saint Anne Jerusalem, Israel
Church of the Holy Sepulcher Jerusalem, Israel
Church of the Nativity, Bethlehem, West Bank
Unless otherwise indicated, these photos are my own. They may be used with permission.