Red Fort is also known as "Lal Quila" is a very famous fort in India. The Fort is in the center of Delhi which is the capital of India. The Red Fort is the largest monument in Delhi. It was named "Red Fort" because most of the construction was done by using the red sandstones. This site comes under "UNESCO World Heritage Site" and is taken care by "ASI," archaeological survey of India.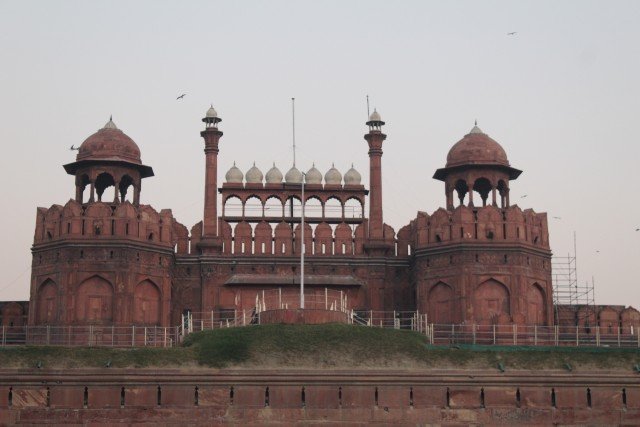 History of Red Fort:
This fort was constructed by the 5th Mughal Emperor Shah Jahan. The fort lies along Yamuna river. The Emperor wanted to move his capital from Agra to Delhi. Shah Jahan built this palace for the royal stay. The construction of the fort started in the sacred month of Muharram in 1639, and it took almost ten years to complete it. The fort has seen various important historical events including multiple times invasion of the fort by other Mughal Emperors, British rule. The fort also came under a treaty signed between the Mughals and the Marathas in 1752. Jewels, artwork and other precious stones were used in this palace but looted when Nadir Shah invaded the Fort in 1747.
Once India got freedom, this fort was a military cantonment. The control of the Fort handed over to Archaeological Survey of India on December 22, 2003.
Indian Politics:
Red Fort is an integral part of Indian politics. The prime minister of India hoists the national flag at the Red Fort on Independence Day (August, 15) and shares his thoughts with the Nation. This speech also broadcasts on national television and all other significant channels in India. The Red Fort even got an honor to print on India currency of Rs 500 note.
Structure and Architecture:
The Red Fort is enormous and spread across 250 acres of land. This fort has a massive structure and has:
Lahori Gate and Defense:
Lahori Gate is the main entrance gate to the Fort and named before the direction of the gate towards the Lahore City. The gate along with the Fort's walls is gigantic and provided the defense to the fort. A wall 2.4 Kms in length surrounds the Fort. There is a vacant space just before the main Fort wall. That area used to fill up with water and hungry crocodiles were there so that no enemy could try to climb the wall. It added to the defense of the fort.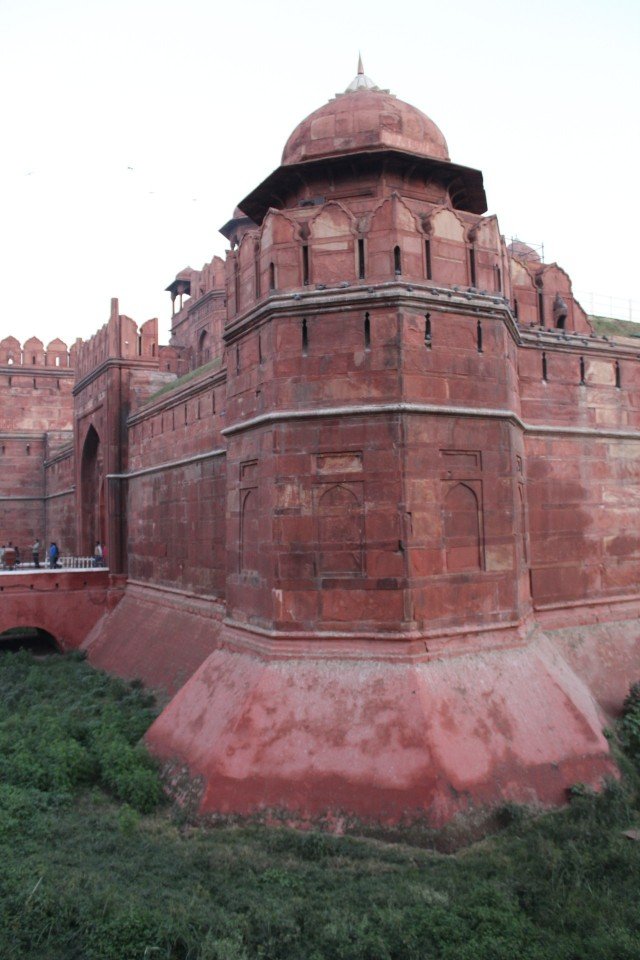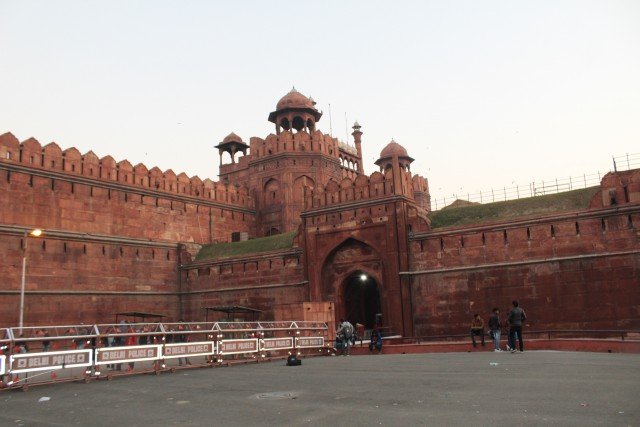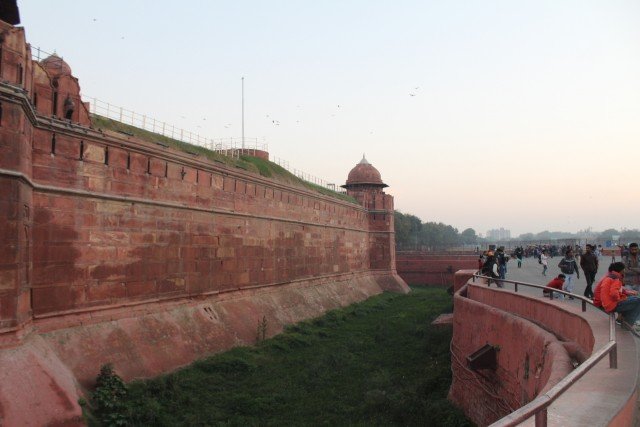 Naubat Khana
The site was a multi-story building for entertainment. Drums and music were the primary sources of the entertainment at that time. A courtyard is also there in front of the "Naubat Khana."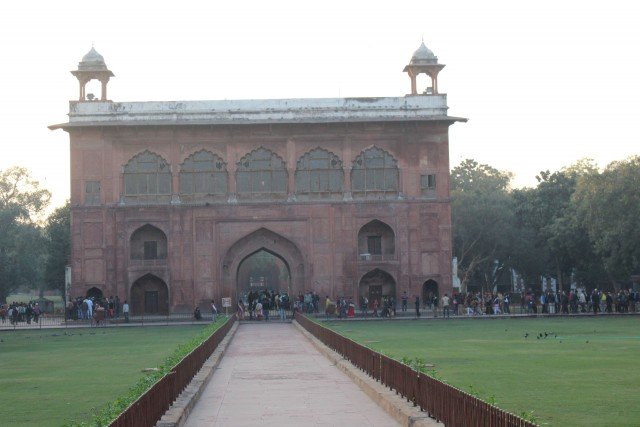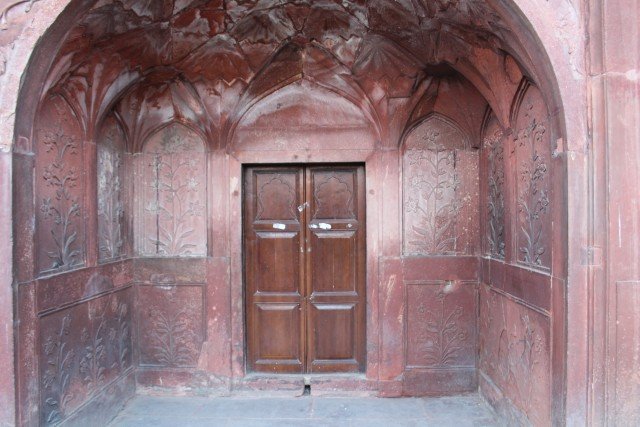 Diwane-i-Am:
In Urdu, "aam" means general and we use this word for ordinary people, meaning those who do not belong to royal families. As the name suggests, this was the place for ordinary civilians of that time. Here, the trial of different cases used to happen. Shah Jahan along with a group of superior people who used to hear those and then give a verdict. This place has a big Emperor throne decorated with precious stones. Arcaded departments, where chief people used to stay are all around this building.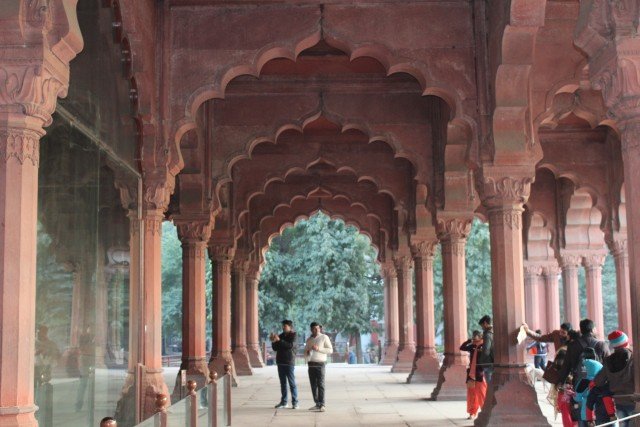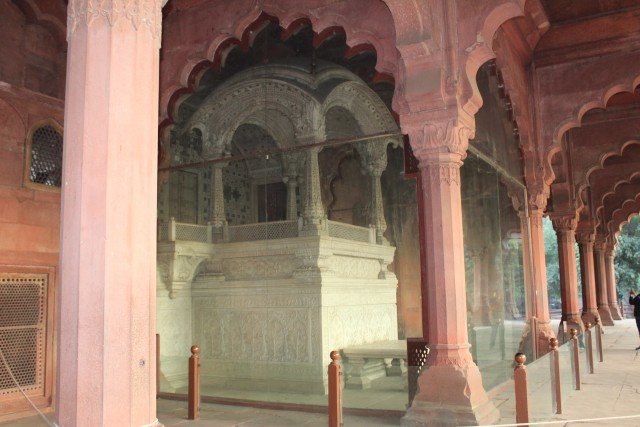 Diwan-i-Khas:
In Urdu "Khas" means "special". So, it was a place for royal people. This site has a significant arcade-like structure which was all covered by white marble and with fabulous artwork. This area inlaid with the precious stones. One can see the artwork now as well. This site also has a significant garden in front of this building which now has a big sitting arrangement. People can sit here, take rest and can enjoy the view of different structures within the Red Fort.
Diwan-i-Khass also had a Hammam, a place to take a bath and a Masjid named "Moti Masjid."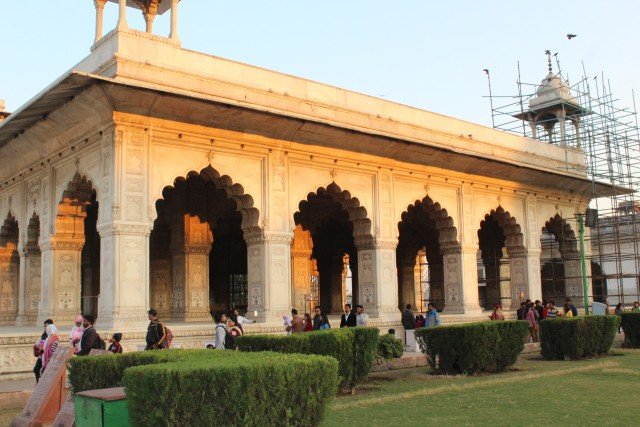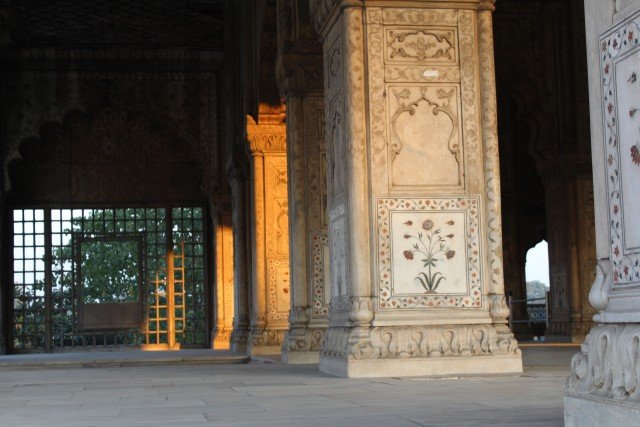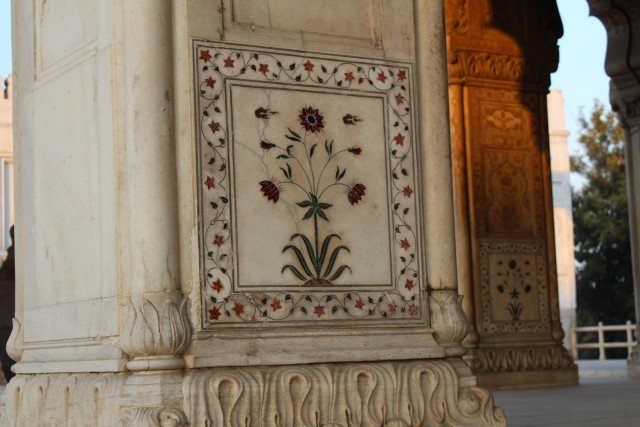 Others:
Rang Darbar means place of "colors." This building had multiple colors and divided into six compartments.
In front of Rang Darbar there is a fountain where a musical fountain show runs. This musical play depicts stories about great Mughal emperor.
Red Fort place also had some other beautiful buildings and many small and significant gardens.
This entrance of this place also has a market to buy accessories stuff, monuments and books related to "Red Fort" and other famous areas in India.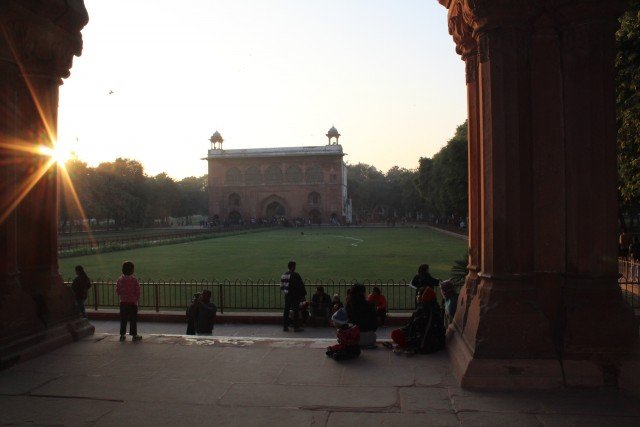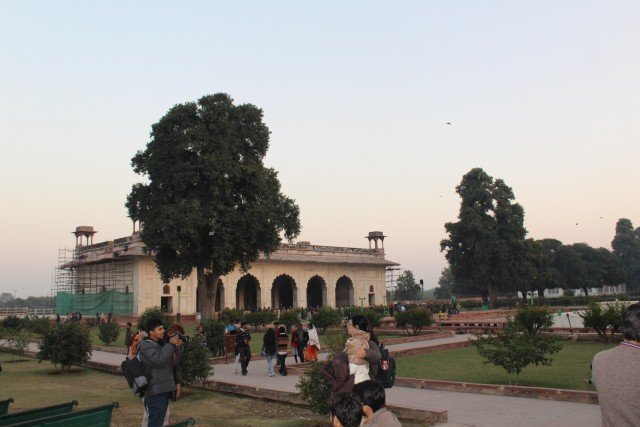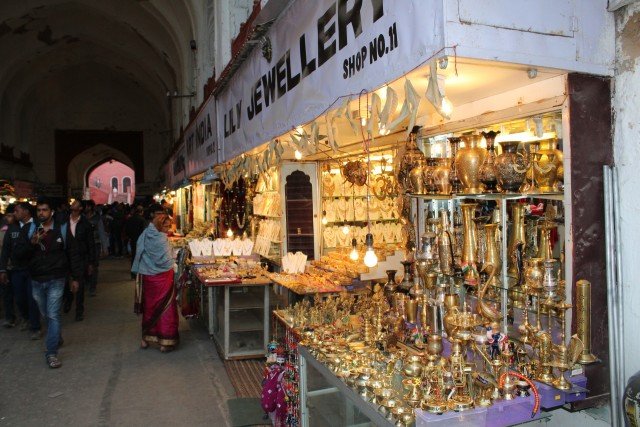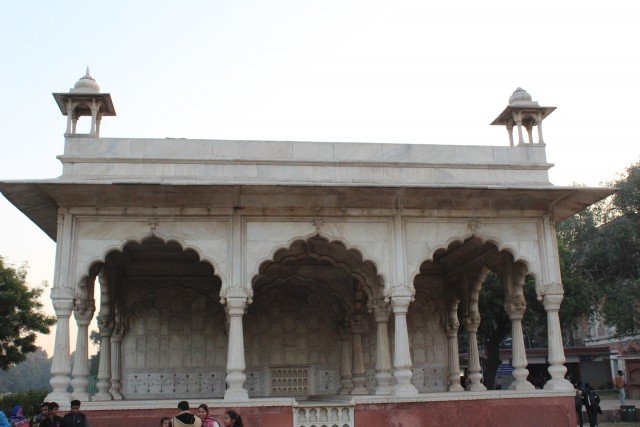 What Else Is There To Do?
Red Fort is in the center of Delhi, which is just in front of one of India's biggest retail market in many segments including publication houses, electronic market and others. The name of this place is Chandni Chowk, and which has a presence in many Bollywood movies.
Fried Paranthas:
Chandni Chowk has many places which are there for centuries now and are famous for fried paranthas (a type of bread). Big celebrities including the Prime Minister of India have also visited these places.
Natraj Chat:
This place is also good for munching some fast food.
Shish Mahal:
It's a gurudwara (a place where Sikh worships). One can visit this beautiful site as well if that person attends here.
Keep Travelling
Authored by: @qagiri
Click on the coin to join our Discord Chat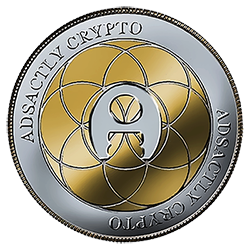 ---
Vote @adsactly-witness for Steem witness! Go to: https://steemit.com/~witnesses
In the bottom of the page type: adsactly-witness and press vote.



Use small letters and no "@" sign. Or, click here to vote directly!
Thank you!

---