Tackling The Skageflå - Homlong Trail In Geiranger
The Skageflå farm in Geiranger is one of the most unusual landmarks in all of Norway and Europe for that matter. It sits high above the Geirangerfjord on a steep mountain ledge overlooking the magnificent Seven Sisters Waterfall. It can only be accessed by steep narrow stairs or a long hike from the village of Geiranger. It's one of a handful of farms on the mountainside ledges of the Geirangerfjorden in Stranda, Møre og Romsdal county, Norway.
The Skageflå farm is no ordinary farm. The King and Queen of Norway celebrated their silver wedding anniversary here back in 1993!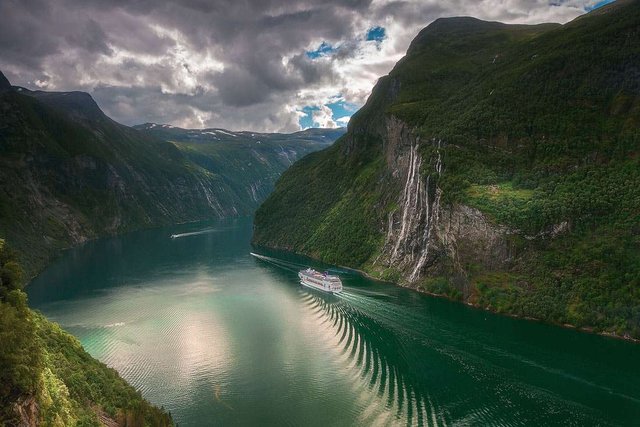 Seven Sisters Waterfall
The Geirangerfjord is one of Norway's most recognizable tourist attraction. It graces covers of magazines and postcards and is the gateway some of the most adventurous activities in Norway. I was out and about exploring and looking for places to hike when saw a postcard in the tourist information center. There on top of the fjord sits a mountain farm. Appearing magnificent and impossibly built.
Geirangerfjorden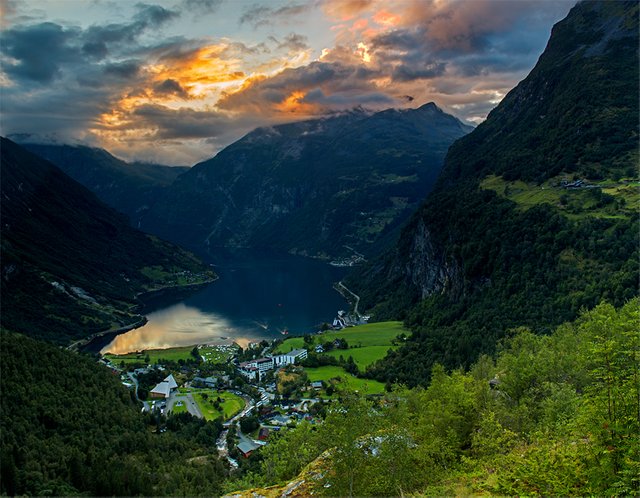 Geiranger
Though there were a bunch of hiking trails in the area, I was so enamored by the postcard photo that I wanted to capture the scene for myself with own my camera!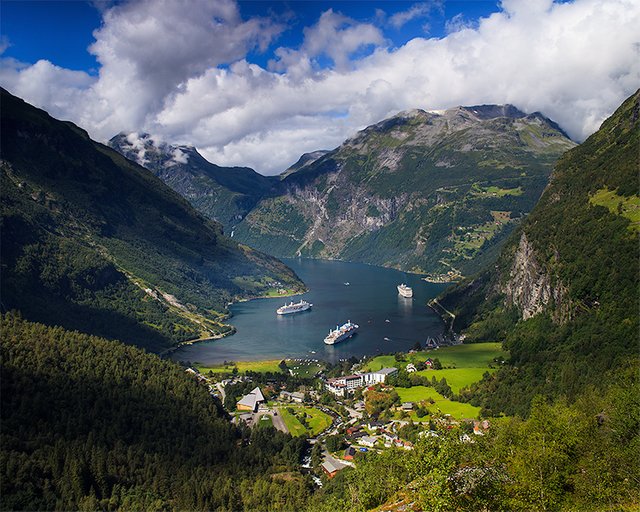 Geirangerfjord In Daylight
The Adventure Begins
There are two ways to get to the Skageflå farm. You can hike from Geiranger to Skagefla on a round trip hike covering 12 Kilometers or you can take a water taxi to Skagehola and hike up to the farm making your way back to Geiranger.
I swear I was a pirate in my previous life because I just had a hankering for a boat ride and I've been driving around too long and was starting to feel like a land lubber. So I decided to take the water taxi route and do the hike back to Geiranger. This route is very steep but steps have been carved into the rocks and supports are in place along the most exposed stretches. There are also hand rails on the most difficult sections.

Saying ahoy mateys! As I embark on a land adventure
You might want to do the round-trip route instead if you have any fear of heights. I saw a guy slowly getting carried by his buddies on the way down because he was hyperventilating from his fear of heights. But this is an adventure blog, what's an adventure without a little danger, right? Hell, I looked down every so often on the way up and my legs would feel weak from the sight of sheer vertical drop below.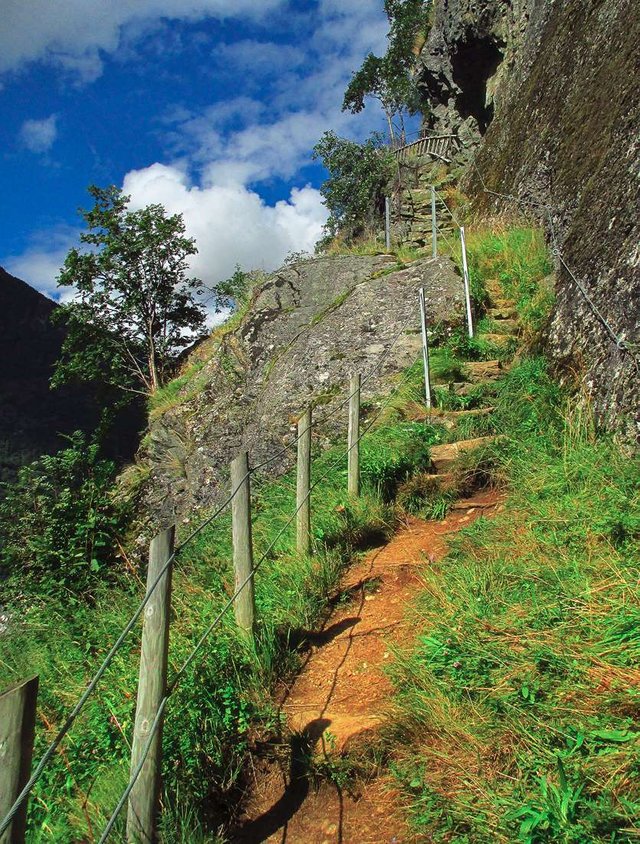 No worries the trail is well maintained. But this shit is steeper than it looks
Don't look down!
In many of these mountain ledge farms, people had to tether their children and animals on ropes so they don't fall to their deaths in the fjord below. After this harrowing ascent, you finally arrive at Skageflå. The farm was abandoned in 1916 but it was once one of the richer goat farms in Geiranger with 2 or 3 mountain pastures for its animals. A rock slide in 1873 destroyed much of the cultivable land. It is now a major tourist attraction and the world heritage celebration in 2006 was held there.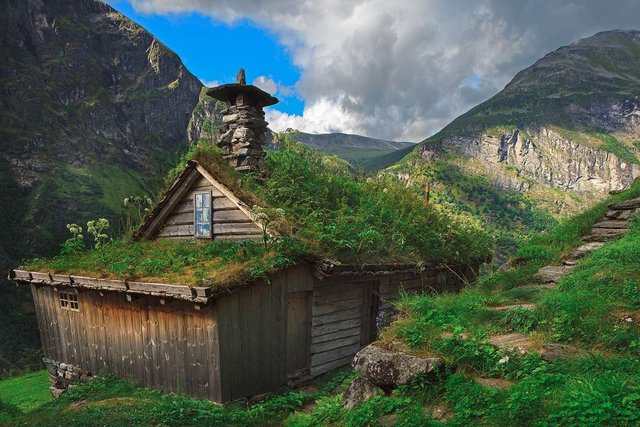 Grass Roofed Farm Houses
The views of the fjord from the farm are very dramatic and you can see the Seven Sisters waterfall flowing directly across the fjord. From there you can see yet another mountain farm on the ledge next to the waterfall. It makes you wonder what sort of madness drove these people to build farms this high up.
There and Back Again
The trek to town and back again would be such a miserable ordeal. There are no convenient stores nearby. No roads for cars. It's just a narrow stairs to the fjord or a rugged trail to the village. You'd have to trek 6 kilometers just to get a soda! I mean, if I was a billionaire and had a helicopter service, sure maybe. But we're talking about medieval folks here with just donkeys and their own feet for transport. Crazy!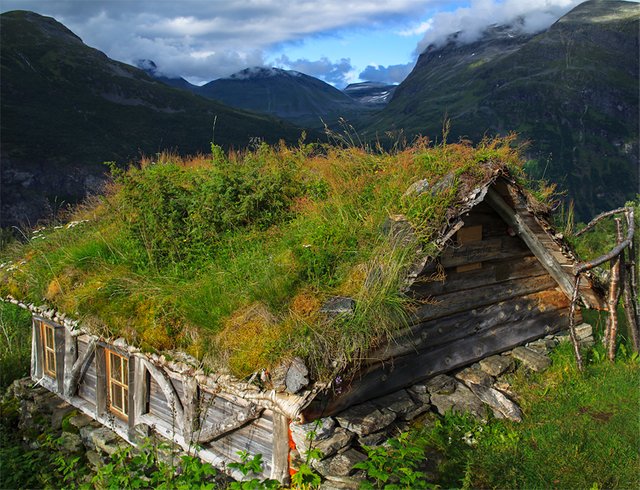 Filthy little hobbitses and their filthy little hobbit holes
I left the farm and continued to hike up the steep terrain. The steepness slowly diminished as it led me to the summer dairy farm, Homlongsætra. Here's yet another dramatic view of the Geirangerfjord with houses that look like it's plucked out of a Tolkien novel. It makes wonder if anybody will open one of those wooden doors and somebody would walk out yelling: "No, thank you. We don't want any more visitors, well-wishers, or distant relations!"
Continuing past this leads yet to another dairy farm, Bjønnastien where the trail slowly grows milder as it tapers downhill towards the Homlong and slides down close to a precipice the Geirangerfjord. There are markers along the way warning you of the dangers on the trail. There are holes in the ground that drop directly below into the fjord, so take caution! Once you're past this section the trail will join the Geirangerfjord, past a couple of campgrounds and you're back in the village of Geiranger.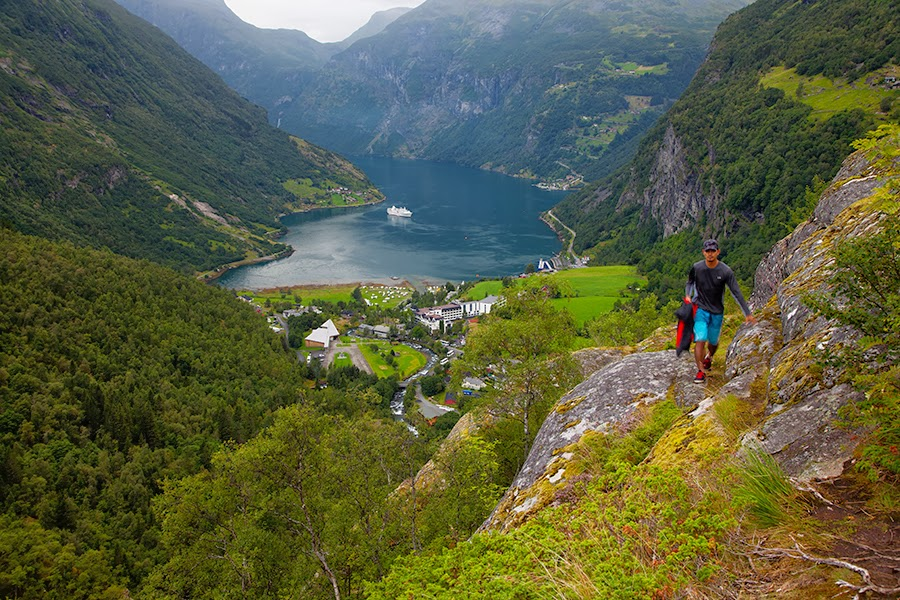 The famed view of the Geirangerfjorden
HIKE THE SKAGEFLA FARM YOURSELF!
To get to Skagefla you can take the bus directly to Geiranger from Oslo international airport.
There's a high volume of tourist boats that frequent the Geirangerfjord so the town has built up a very solid tourist infrastructure.
You can do the round-trip hike from Geiranger to Skakegfla or take a water taxi across to Skagehola – this is the steepest section you can choose to avoid if you take the round-trip route.
There are a lot of knee popping sections that will keep you honest. Take hiking poles if you must.
Good hiking shoes like the Vasque Breeze is a must. There are a lot of steep and slippery sections.
If you need a place to stay in Geirangerfjord, I recommend the Homlong Gjestetun, which overlooks the fjord!
Take your time. The views here are stunning beyond words. You don't want to rush anything like this.
Carry a camera like a mirrorless Sony A7ii, mount it on a Carbon Fiber Tripod and take a bunch of pictures!
HAVE YOU BEEN TO THE GEIRANGERFJORD?

"Travel is fatal to prejudice, bigotry, and narrow-mindedness." - Mark Twain
All photos are taken and articles are written by Adonis Villanueva of Always Wanderlust unless otherwise stated.

USE YOUR SP TO EARN PASSIVE INCOME - SMARTSTEEM
GET MORE FOLLOWERS - Steem Engine
THE BEST TRAVEL CONTENT - TRAVELFEED
Have a Laugh!
The Spider in the Patio
Detained for Drugs in Norway
Unforgettable Ride on a Chicken Bus
The Love Valley
---
Twitter Page, AlwaysWanderlust
Facebook Page, AlwaysWanderlust
Instagram Page, AlwaysWanderlust
Website, AlwaysWanderlust.com
Join the Steemit Travellers on Discord
© 2017 AlwaysWanderlust.com All Rights Reserved